Well, today we have ourselves another double whammy. This time around we have Kurt Russell's new Stolen Bikes edit that you can check out above. Then you can check out his interview below to find out more about the guy. Check it out and leave him some love in the comments or "Like" it while you are at it!
Name: Kurt Russell

Location: SF bay area
Sponsors: Stolen bikes
Years riding: 9 years
What was it that first got you into BMX? Any early memories come to mind?
As long as I've been able to ride two wheels I have been into jumping my bike. I don't think it was until I needed a bike part from the local bmx shop at the time (Drews BMX) and the Fox video was playing. I think rubens part was on, either way that was the first actual shredding I had seen.
How are things going with Stolen these days? Do they have any team trips or anything you are getting excited about going on?
Yeah, everything is going good. We just did a trip through the east coast which was cool because I had never been to the east coast.
What's up with the Bay $mog crew? What are they all about? It seems like you all have been pumping out a ton of edits lately. Do you guys have anything coming up people should be psyched for?
Bay $mog is an alternative outtake on the BMX scene in the Bay Area. Bay Smog edits have been coming out for a while now. I think since 2008. The edits are meant to spotlight the hidden talent and unique styles from the Bay Area and it's just fun and whats happening. I think it would be cool to do a DVD at some point or maybe even a t shirt or stickers.
Any other sponsor news you can tell us about?
I have nothing going on besides Stolen at the moment. I've been going thruogh shoes like crazy though. I would be pumped on somthing like that…..
Speaking of Bay $mog, how's things in the Bay lately? Any spots you have been real psyched on?
It has its ups and downs. It's the game of searching for new stuff, but theres all kinds of things to ride. The hardest is figuring out what you wanna go ride because of the choices. I just got some trails going so I've been out there a lot latley.
I know over the years that area has produced quite a few real talented riders like your self. Any up and comers you think people need to check out?
Definitely a lot of young kids who will shine in a few years for sure. As of now though, my buddy Mike Jonas is seriously unreal on a bike.
What are your plans for the rest of the summer looking like travel wise? Anywhere you want to get to that you have never been?
Travel wise I'm trying to line up a west coast trip with Stolen and catch a ride to Interbike. I have a season pass for the waterslide park so I'll do that, hit the trails, look for spots and party.

Photo: Joey Cobbs
You spend quite a bit of time in San Diego chilling with Dennis Enarson, right? How did you guys meet? Do you feel like having him to ride with has pushed you to ride as well as you do?
Yeah definitely like going down there and I wish I could more. I'm friends with a lot of San Diego locals. Dennis inparticular I met at Wooodward years ago. We have just been friends since. Plus he lives with 3 dudes from up here that I grew up riding with,(Christian Rigal, Connor Lodes and Greg Micklas). Dennis always treats me like family and lets me stay at his house and sleep on his couch. Riding with him is definitely motivating because he just does shit and makes me feel like I can do shit or try stuff at least, like the time when I saw him ollie the Carlsbad gap!
I'd imagine you have been collecting some clips lately. You had an edit drop today with this interview. Do you have any video parts coming along or other edits in the works? You killed it in that Stolen east coast trip.
Hey, thanks. Yeah I've been stackin some clips not sure what there going for yet.
Let's say you are in a game of B-I-K-E. What's one trick that will get you every time?
Depends if it's flat ground. I would say a barspin. If it's a park I'd say footjam toothpick…
Who are some of your biggest influences when it comes to BMX?
Garret Reynolds, Dennis, Connor Lodes, Sean Sexton, Ruben, Dakota Roche. This list is long really, so I'll say any shredding is influential.
What do you think you would be up to if you never got into BMX?
Probally working a 9 to 5 and going to bars on the weekend…. That or hanging with the wrong crowd doing donkey hippie shit.
What are you usually up to when you aren't riding? Do you work or go to school or anything?
I'm sleeping or eating!!!!
I feel like you know how to party. What's the wildest situation you have been in lately? Ever been arrested or anything cool like that?
Nah, I'm pretty good at running from the police or lucky I guess. I saw mad wild shit though… two cousins naked eating each other out while one was on her period or something… You know… Shit like that. Fights, burn outs, all that…
What makes for a good night out for you usually? What's the drinks of choice?
Malt liqour 211 PBR somthing like that and whiskey for drinks…
Are you really good at anything other than BMX?
I feel like if you can BMX you can do anything. Personally I think driving.
What's something about yourself that might surprise people?
I don't get reactions to poison oak or ivy, bee stings or anything like that.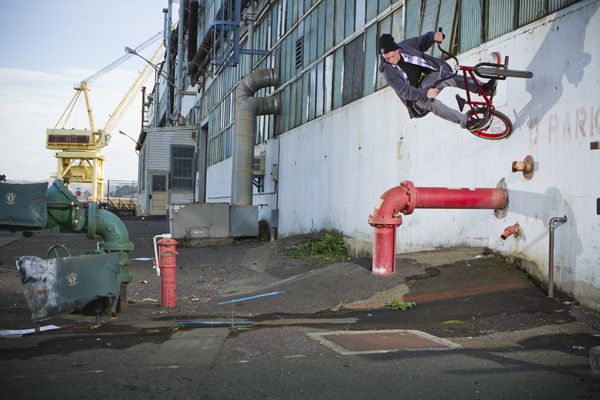 What's one thing you could use more of, and one thing you could use less of?
More money, more big shit poppin and little shit stoppin', less haters in BMX.
You find a big bag of cash in a duffel bag along the road. What's the first thing you buy?
Riims for the cougar and pay all these tickets off.
How are the ladies treating you these days? Any go to moves you want to share or advice for those who aren't sealing the deal?
It's not how they're treatin me, it's how I'm treating them… Just tell them hoes what they wanna hear, lie if you have to, if you're not trying to wife her up. Just pretend to be her man, ya dig?
What's the last song you heard, movie you watched and website you visited?
Last song husalah"through the night" last movie-the mac. It's a must see yo. Last website –sjbmx.com
Where do you see yourself in the next few years?
Hopefully in the next few years I can start making more of a career with BMX.
Do you have any shout outs or thanks?
Shouts out to the homies at Stolen bikes, Franchise bmx gang, Bay Smog, Felipe Gonzales for fiming the Bay Smogs, Dennis, S.D, bay area moms.
Anything else you want to say?
Sup haters we out here.
VISIT:
FRONT PAGE
//
DAILY SECTION
//
BMX COLOR APP
//
BMX VIDEOS
//
RAD - Full Movie