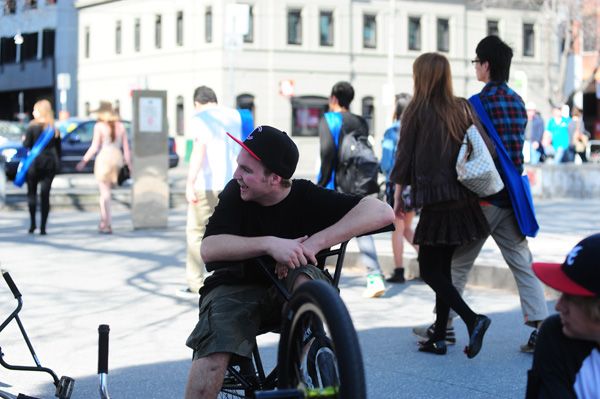 All Photos and Captions by Cooper Brownlee
Marnold is one of those riders from Australia that I've been taking a lot of notice of lately. The videos of him absolutely killing the peg game and his part in the Colony DVD have been more than enough to indicate the guy is on it. I figured it was due time to get ahold of Colony's newest pro team member and find out a little bit more about the man known as Marnold. Let's take a look at what he said.
Name: Marc Arnold A.K.A Marnold

Location: Melbourne, Austraila
Sponsors: Colony and Focalpoint
Years riding: Since '03
What was it that first got you into BMX? Any early memories come to mind?
One of my mates used to roller blade and he had an old Haro Revo. When he used to roller blade, I would just use it to ride the bike down there and just got into by watching the other guys riding BMX.
You were bumped up to the Colony pro team a few months back. How are things going with that so far? Any trips or signature goodies in the works you can tell us about?
Yeah, I was pumped! When Millar asked me, it made my day. It's pretty much the same as it was before, I still ride as much as I did before, so not to much has changed… Nah, no goodies as such as yet, but hopefully in the future we will work something out.
Any other fresh sponsor news you can tell us about?
The 2012 range of new Colony parts are off the hook. Get into your local shops and buy it!!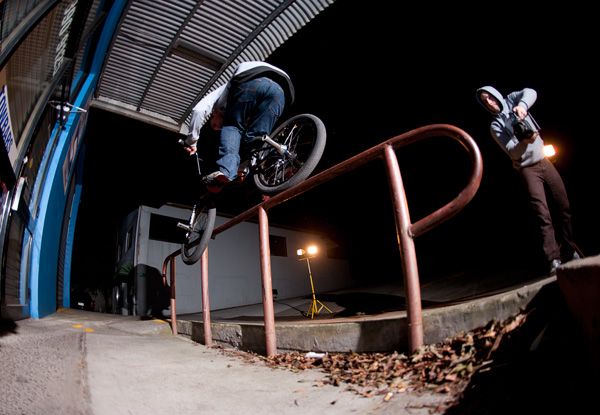 "A few months back we went through a stage of lighting up spots during the weeknights because of the shitty weather we were getting. Over oppo smith on a quite well known Melbourne spot."
Now that the Colony video has been out for a while now, and I'm sure you have watched your section enough to burn out the disc. How do you feel your part came out? Was there anything you wanted to get done, but didn't have the chance?
I actually haven't watched it that many times, but stu did a really good job on it. I'm very happy with the way it came out. I don't usally listen to that music, but it worked really well so I'm happy. Yeah, there were a few clips that I didn't do for it because I bitched out on them, but im still happy with the way it was done.
Can we expect any fresh edits out of you any time soon? What about video parts?
Yeah, I'm sure a few new edits will be coming out in soon. We are always filmin' on the weekend, so yeah, I guess so, haha.
It's starting to get into the summer season down there, right? What are your plans for the summer? Do you have any trips you want to make happen?
Yeah, it's a couple of months away, so its starting to get a little bit warmer which is good. Usually in the summer a whole bunch of beers get drank and the river and beach get hit up a lot, so deffinalty more of that. There's no doubt that there will be a few trips around. I would like to go to Perth again. That place is really nice in the summer, so hopefully I can head there and to Brisbane again as well.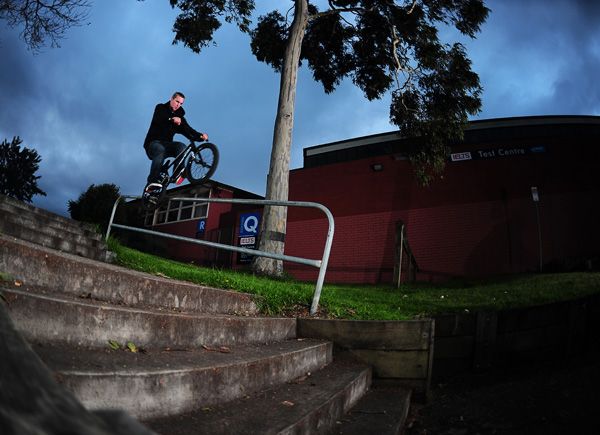 "Marnold took out one of my flashes on the shot before he pulled this but Vivitars can handle pretty much anything."
Where have you been riding the most lately? Any hot spots you have been psyched for?
Mostly just in the Melbourne suburbs. There are so many spots around. It's easy to hit anything you want to ride. Not so much as hot spots, but rails that I have been psyched on.
Over the years you have had the chance to travel a fair amount. Have you ever considered moving from Melbourne? Where could you see yourself living other than there?
Yeah, I've been traveling a lot lately thanks to Clint flyin my ass around the place. It has been a lot of fun.
Nah, not really. You can't beat Melbourne. It's just such a nice place and it has everything I need.
You're pretty notorious for your dialed grind skills regular and switch. What's one trick that you are hoping nobody throws your way in a game of B-I-K-E?
Haha, I don't know about dialed but I don't mind the ol' oppo grind. I'd most likely say backwards grinds. I suck at them bad, haha.
What kind of money would it take to get you to take your pegs off and throw on brakes for 6 months? Stevie Hamilton style. Haha, that is a good joke in itself! I'd rather not ride then have no pegs. I could deal with the brakes but no pegs would definitely suck.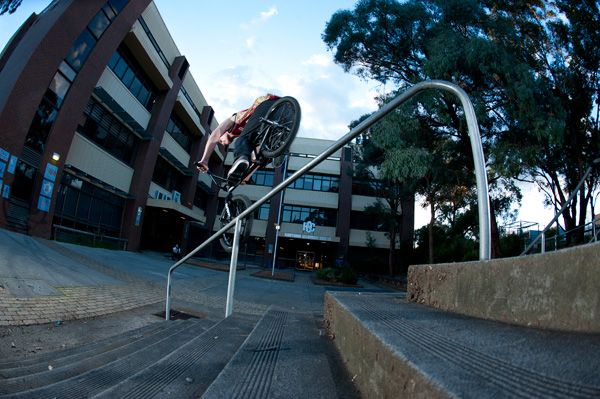 "This rail is weird because it's at the corner of a stair set. We shot this last week when daylight savings kicked in."
I'd imagine after riding for nearly 10 years it's hard to imagine what you might be doing if you didn't get into BMX. Any guesses at what you might be doing?
I would be playing some sort of sport or going out and partying a lot more.
What are you usually up to when you aren't riding?
I'm usually working on my car or hangin out chillin with mates or workin', haha.
What's the choice drink of one Marnold? Approximately how many of those does it take to get you on the dance floor? How about to take a fat chick home?
There is only one drink for me. It's VB beer. You can't beat a nice, cold frothy. I don't need much once were at the club. I love to dance and make an ass of myself so not many. Hahahaahahahahaha, none. I've never taken one home and most likely won't.
Don't lie… it happens to everyone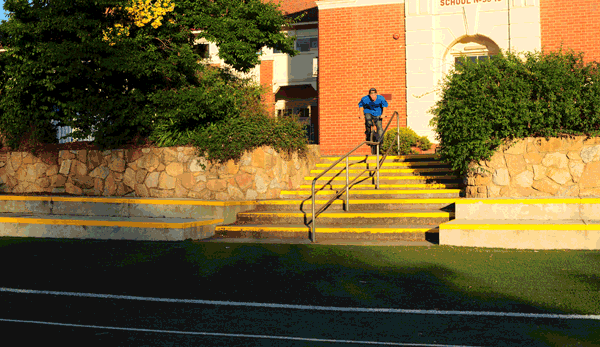 "This kinker is to go to pass up even with a very average run-up."
Cooper tells me you are pretty into Holden Commodore's. What's that all about? How did you get into those cars? Are you rolling in one currently?
Oh yeah, I don't mind them. I just like spending money on my car doing it up to make it look nicer and sounding better. Ever since I got my car, I've got to know a few boys who drive them as well. Once you get talking about them, you kind of just get into it. It's quite fun, I drive an '02 VX.
Word on the street is you dropped some serious coin on a stereo system for your car. What kind of music is blasting out of your unit? What are the first 3 artists that come to mind?
Haha, yeah, it goes pretty hard. I think I'm going a little bit deaf from it, but it's well worth it. There's a lot of Gucci Mane, Lil' Boosie and Yo Gotti with heaps of bass so it sounds good.
How good are you at giving yourself a haircut? Have you considered going to school for it?
I'm actually pretty shit. My sister usually cuts my hair since she is the wiz behind it. Nah, fuck that. I hated school when I was there. There's no chance I'd go back.

"You would have seen this in Marnolds recent DVD leftovers video, this angle shows the solid drop he is taking." – Which you can see below…
Have you been caught up in any crazy situations lately? I feel like BMX is a magnet for wild stuff. Care to give us a good story?
It would definitely have to be when we were in Barcelona. Coopers bike was taken by the police. It was crazy because they didn't speak English and we didn't speak Spanish so it was hard to actually work out exactly why they took it.
What's something about yourself that might surprise people?
I have 4 sisters and no brothers,
Are you any good at anything besides BMX and haircuts?
Not really except talking absolute shit, haha.
If you found a duffel bag loaded with cash in a ditch. What would be your first purchase?
Straight to the bottle shop get a shit load of beers and get blind drunk!
What are a few things you would like to accomplish in 5 years? Any idea of where you want to be in life?
Just have enough money to be able to afford a house and have a steady job and a misses that's about it.

"We would always joke to marnold about this because a few years back when he was injured we hit up this spot and he called out oppo iceing it but back then he couldn't even do them so it has been a running joke ever since. He just shut us down."
Any words of wisdom?
Stay true to who you are and don't let anyone change you.
Do you have any shout outs or thanks?
I'd really like to say thanks to my dad and sister who helped me out through a few hard times. I'd also really like to thank all of the Focalpoint crew. I love riding with you guys had a heap of good times and I bet plenty more to come. Thanks to Clint Millar for everything that he has done for me. I couldn't ask for anything more from him it's the best riding for Colony.. but most of all to Cooper Brownlee, he has done so much for me since '06 putting up with all my shit talking, winging, getting my hangover ass up outta bed and getting me to ride really appreciate it mate, thanks!! Also, Kurt for giving me in the interview thanks!!
Anything else you want to say?
Keep shreddin' and let the good times roll!