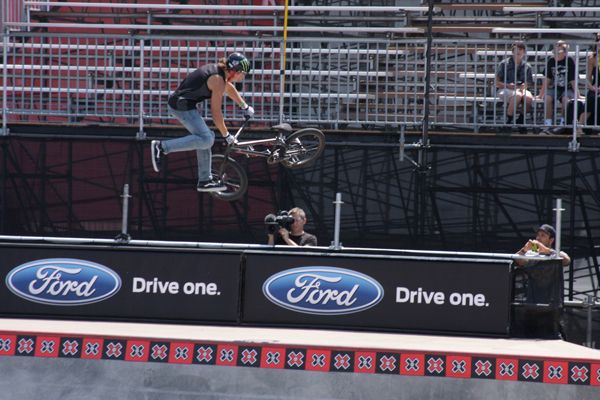 Photo: Robbie Morales
Scotty Cranmer is one of those riders who never fails to blow my mind. Every new edit he produces is wilder than the last and he can ride a Dew Tour or X Games course and take home some hardware then show up to the Texas Toast Jam and kill it like all he rides is weird stuff all day. Scotty has definitely turned a lot of heads in BMX (and probably outside of BMX) over the years, and I figured it was time to get him an interview on here. Let's find out a little bit more about the guy…
Name: Scotty Cranmer

Location: Jackson, New Jersey but currently in LAX
Sponsors: Monster Energy, Vans, Felt bikes, Fox Racing, Pro-Tec, Duo, Exclusive BMX
Years riding: 16ish years
What was it that first got you into BMX? Any early memories just come to mind?
Pauly Clites, the badass that lived outside of the trailer park I grew up in. He was the reason I fell in love with BMX. He was really good, he could jump, and he had the nicest bike ever. He used to show me Props and then we would go ride "Reefer's Ridge" our trail spot. I never knew why they called it that until I was a bit older! Crazy my mom would let me refer to that place as Reefer's everyday of my life!
How are things going with Felt these days? Your signature frame, The Franchisekiller, came out a bit ago, right?. Care to tell us a little about that?
I have been with felt since 2003! That's crazy feels like yesterday and forever at the same time.. I love Felt, I love the freedom and the choice of direction they have always given me. They truly engineer every part and take real pride in their work. The Frachisekiller is my new signature frame, I love it, and I should, I did design it! The frame is stronger than Big Daddy and much prettier! I am proud of it and honored to have it under the Felt name.
I'd imagine you have some sort of trips or projects or more signature goods planned with Felt, right? Anything you can tell us about?
Felt expanded this year. Sponsored more riders and has hopes of doing more trips and vids for the internet. I am excited to get back in the sattle, even though our early web vids make it very hard to live up to!!
(This edit from 2007 is up to over 500,000 views.)
How are things going with DUO these days? Do they have anything in the works with you these days?
DUO is such an awesome experience. An awesome purpose, an awesome team, and awesome products. From the beginning, I have felt like I have been part of something special. They are always coming out with top of the line and ground breaking products and the sky is the limit!
I know you had a real good Monster edit drop recently. Do you have anything else in the works with them you are psyched for?
Yes, my Monster edit! I was so pumped on the way it came out! Will Stroud is such an amazing videographer to collaborate with him is always a dream come true.. I wanted to further show the BMX world what kind of rider I am, and that I ride for all the right reasons. Monster has big plans for future vids and hopefully soon!!!
Do you have anything going on with Fox, Vans, or any of your other sponsors you can tell us about?
I do a lot of stuff with Fox and Vans that deals with promotions. And I love that. Fox brings us to the coolest places, Puerto Rico, California adventures, and even Farmington, Missouri! We went to MO last month for a shop meet & greet and all the kids were so pumped! And a bit surprised to see us as well! As for Vans we get to go to amazing places like Japan, Guam, Italy doing military demos for the troops and their families! They are so much fun, and so fulfilling I am lucky to be able to represent such caring brands!
Contest season is starting to hit hard for you. How do you feel things are going so far? What did you think about X-Games this year?
Contest season is always stressful! It sucks that people judge your riding by how you ride a course for 45 seconds with no practice due to 60 other money hungry fellows! I hate it, but it's not going to change and it's part of my career that I need to just power through!
X games is crazy! It's the big show, and everyone takes it serious! This year was no different the course was difficult the competition equally challenging and I got my 5th medal!!! I am pumped, it means a lot, and can't wait for next year!
What's the next big one for you? Any events you are looking forward to in particular?
I am looking forward to Dew Tour. I am in a good state of mind and I am actually looking forward to these crazy comps this year! Then I have a few random vids that I want to produce over the next few months as well
You dominated the Texas Toast Jam a few weeks back. How psyched were you about that? Would you rather hit more contests like that or are you still into the bigger contests?
Texas Toast was what BMX is in my eyes. So many truly amazing people and so many enjoying them selves for all the right reasons! It was the kind of event that Pauly Clites made me watch when I was a kid on Props! Even though I knocked myself out the worst I ever had it was still amazing!!! Can't wait til the next one
Do you have any non-contest related trips coming up at all?
Not really. I'll be home in between the comps riding Incline and the bike shop learning more tricks and spending time at the beach with my beautiful girlfriend!
Let's say you get a huge budget to take a trip for a week. You can only bring 5 riders, one filmer and one photographer. Who do you bring, where do you go and why?
Okay let me think.. As for the riders I would bring the dream team Ronnie Surridge for more personality clips than riding. The guy is nuts, but hilarious and can do a great 360 next rider would be. Big Daddy as long as he leaves any and all mentioning of "thrillbillys" at the door. Next would be Cory Nastazio dude is a legend.. Next rider Augie Simoncini He's pretty much my tanner twin brother. And he ain't scared of nothing. Next would be Diogo Canina he's too good and needs to be on this trip. As for the filmer/ photographer I would get Justin Kosman to do both and give him half the money then tale the saved money and invite Deuce for comedic relief and he could be the trip mechanic.
To go somewhere would be hard to decide maybe somewhere ridiculous like Egypt
How are things going at the Incline Club these days? Is there anything new since you built that massive section of the park?
The incline club is at it's peak right now, best setup, best customers, and best vibe! The new setup is way too much fun, I can ride it everyday, and I plan to!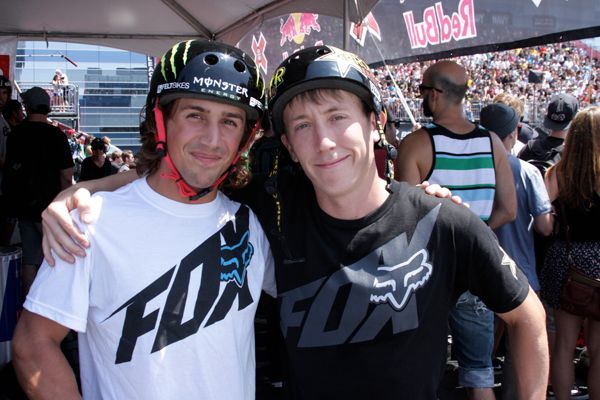 Photo: Robbie Morales
I've noticed you have been riding dirt way more than before. Have you been real psyched on that lately, or is it just something you really wanted to work on?
I grew up racing and riding dirt. Then the park opened and I rode park and street the most but I would still ride dirt when I could. I would have rode more dirt but there were lack of spots to build around me. I started riding dirt contests in '09 and that year was fun! Last year sucked for me and dirt comps, I couldn't balance both events. So this year I'll just be riding park.
Do you have any fresh edits or video parts in the works you can tell us about?
New Felt edits coming up soon..
I've always wondered what's one trick you can't do for the life of you?
720s I can do them, and do them good 1 week, then suck at them next week.. I'll get em!
Outside of riding, what else have you been up to lately?
I have been playing piano and guitar a bunch and that has been a blast! I have been riding my road bike and I have also been playing horseshoes
I'd imagine this is kind of a weird question, but what do you think you would be up to if you never got into BMX?
That's the hardest question.. Probably in a Bruce Springsteen cover band..
So you recently picked up a Lambo. How has that been rolling for you so far? I don't even want to know what you pay in insurance…
The Lambo has been amazing so far! It's a car that I always wanted when I was a kid! Me and Ronnie have always joked about getting Lamborghinis one day.. We almost won the lottery once, and we had this huge trip planned out all revolving on us and Murcielagos!! Ronnie was away at Woodward for about 2 weeks. And me and my cousin were at the bike shop talking about new GTRs when we decided to see how much used Gallardos were.. And they were surprisingly cheap with low mileage! I did some more research on reliability and maintenance and it really isn't a bad car at all!! I found one like 2 days later and drove my GTR in and left with the Gallardo! In life there are things that you get congratulated for like marriage, a baby, buying a house, X Games medals.. But wouldn't believe how many people congratulate me on the Lambo…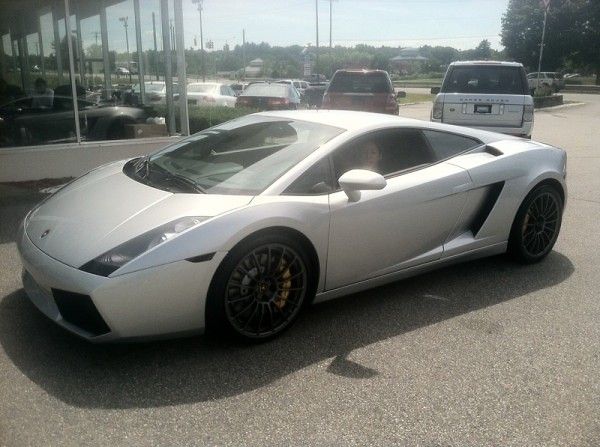 Speaking of cars … what's that craziest thing you have been pulled over for?
I was pulled over for running a redlight in a NJ town and the cop was pretty pissed until he read my license. Then it turned out that he used to race BMX and remembered me! He then Said that he was looking into getting a new bike. I then invited him to the shop and told him that we could get him a really good deal!! Everything worked out!
Do you think you would be as into cars as you are if it wasn't for BMX? I feel like some of those X-Games wins helped pay for this other love.
Definitely not. Cars were just a way to spend my time besides BMX. It's been a good run and I have owned pretty much all my dream cars. That's pretty crazy..
It seems like you have been doing some pretty crazy stuff with your house. Have you made any new additions to that?
The house was used for so much besides living in.. It's been ridden in, played every sport under the sun, and has had a music video filmed in it! The house needs a break for a bit!
If you could have any super power, what would you choose and why?
Fly, I have had way to many realistic dreams that have made me wish I was sleeping again.. I would do the coolest things possible
What's the last song you heard, movie you watched?
The last song I heard intentionally was probably Bruce Springsteen's For You and I am currently watching the movie Arthur on the plane right now.
What's something about yourself that might surprise people?
I have never drank a drop of Alcohol
Do you have any shout outs or thanks?
Thanks to my family for the endless support. My sponsors for believing in me.
Anything else you want to say?
Remember, in the end. Nobody wins unless everybody wins.
Felt Bikes: Scotty Cranmer Edit – More BMX Videos