Jared is a awesome guy. Not only does he ride like a champ he seems to always have a smile on his face doing it. When I saw Ride BMX's Insight I became a bigger fan of his riding. Brian Tunney had sent me over a whole bunch of questions to go along with mine. It turned out real good. Let us know in the comments!
Name:
Jared Washington
Location:
Sayreville NJ
Sponsors:
Federal Bikes, Animal
Years riding:
11
What was it that originally got you into BMX and did you ever expect to take it to where you are today?
I always just loved riding around my town and jumping off curbs and all that, then i saw a bmx plus in my school library and started racing after that. then i sold my race bike and bought a chrome Hoffman Taj. then it was on.
How long have you been on Federal for and what all do you have going on with them these days? Any signature parts, road trips, full length videos, or anything like that anytime soon?
hmm I was on Federal flow for a long time.. but after the split I got put on the pro team and I think its been about two years. It's awesome, all of them over ther are really cool. I've got a signature part in the works, and I think we're going on another trip sometime soon.
How are things with Animal? What is it like to be on that team, and what is the best part about riding for Animal?
Things are good, its the best being on the team, I've known all these guys for so long its cool we just go out ride and chill it's like a family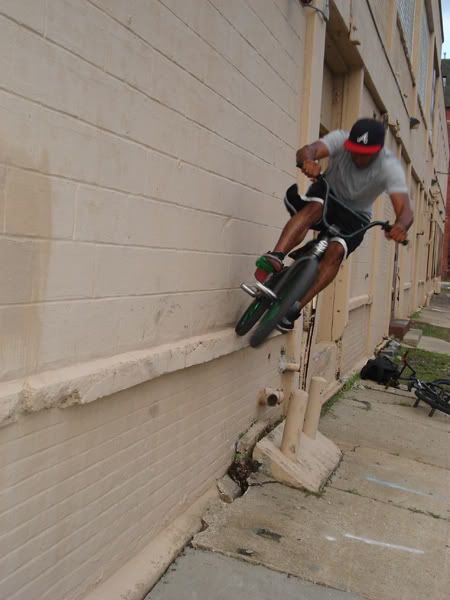 Your last video part in Insight was real good. What is the most challenging thing about filming a part and how do you feel it turned out personally?
It's cool. I liked it for like a week, but yea for the most part I did a lot of things I've always wanted to do.
When can we expect to see another video part or web video out of you?
yeah fo sho… the next Animal video is what I'm filming for now, and I should have a little federal web edit out this week. also a rodeo peanut web video we're filming for.
Seeing that you have been riding for a while accidents happen, what is your injury list looking like these days?
for a while i was dislocating both of my shoulders like twice a week, they would even pop out in my sleep.I went to physical therapy for that and they are alright now. I fractured my skull cause so little fat fuck crashed into me at a skatepark once. I messed up both of my ankles. and my right wrist is messed up right now, I dont know what's up with it though.
Being as terrible of a bike mechanic as you are, why did you ever work in a bike shop?
haha.. I was like 15 and I got parts for cost, so I rarely ever even got paid because I would run up crazy bills haha
If you could make a video with yourself and five others, who would you pick to ride, film, and edit?
I'd pick Chris Reyes, Mike Brennan, George Dossantos, Dominic Biro, and Rat Kid. I'd have Navaz Film it and Bob Scerbo edit it.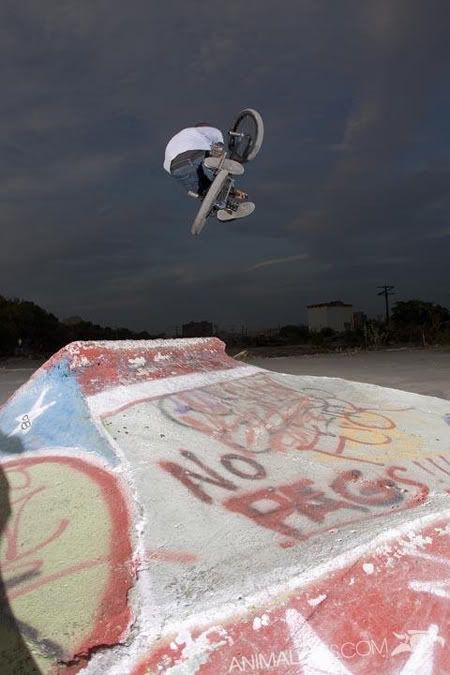 Out of all of the spots you have ever been. What is your all time favorite and why?
Asbury Park Pool. I would give up every spot for that pool again. It was just the best.
Who all is in your regular riding crew and how much time do you find to ride? From my understanding your a busy dude with work and school.
During the week I ride with my friends Gollup, dominic, and QC. I definately dont ride every day haha, probably like 4 times a week. I work from 8 to 4 and i have school still and shit so some days I just want to relax.
How many years have you been in college now?
hahaha.. seriously not that long.. 5 years
What is it that you do for work? Did you really send a text message to your girlfriend calling your boss a dick which you then mistakenly sent to your boss?
I work for the board of education, doing asset tracking, and I meant to text a co worker and tell him my boss was a dick… but some how i sent it to my boss…. i dont know how the fuck i did that, but i was out of work for about 3 weeks because of it haha oh well.
If you could give up any of your tricks for a trick you could never do, what would you give up and what would you take?
i would give up superman seat grabs for regular supermans.
Who or what do you think influenced your riding the most growing up?
Just all of my friends i grew up riding with, riding with them everyday and all you know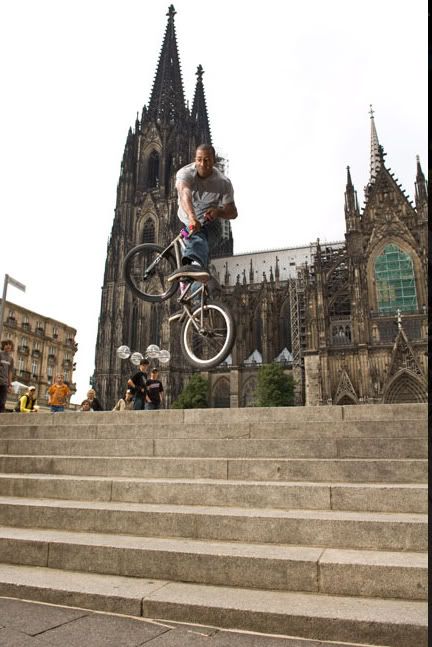 Do you ever get into those bike games to play like foot down and b-i-k-e?
foot down, no. But yeah i'll play bike once in a while.
Do you have any good stories involving cops/security/homeless people/hookers/or angry pedestrians while out riding? Feel free to tell all.
hmm. on a road trip once we stayed at this ridiculously sketchy motel our room had blood on the wall and this hooker was staying in the room next to us, and we heard her getting banged out all night, and at like 3am she called our room to see if we wanted to hang out. So we asked her if she would be into getting spanked with a skateboard on tape… she wasn't down. but then we were sketched out even more.
What do you think you would be up to if you never got into riding BMX?
I would probably just be into cars and working or skateboarding haha or I'd probably have like 4 baby mommas I dont know man.
Did doctors really mark you as "caucasian" on your birth certificate?
no.. It's on some hospital record thing. I was really light when I was born and my mom is spanish and italian so i guess they just assumed haha
What happened to your dreadlocks?
i cut them off. and i shouldvedone it a lot sooner
Why do you smile so much? Even after some rough crashes your still smiling.
I think thats just the way my face looks, I would always get in trouble when I was younger in school cause teachers would think I was up to somthing cause I'd be smiling. but for the most part im just in a good mood so I'll smile.
What is the key to success with the ladies?
haha I dont know, I don't let them know how immature I am at first.
Are you an anal commando?
operation stick it in the butt hole (No Homo)
Does anyone know that you used to wear Converse All-Stars and Misfits t-shirts while riding a Trail Boss?
haha they do now, I'm pretty sure I have a clip in Can I Eat with a misfits shirt on.
What is the first song that comes to mind right now?
Anal Commando(No Homo)
First movie that comes to mind?
Beverly Hills Cop.. Part 3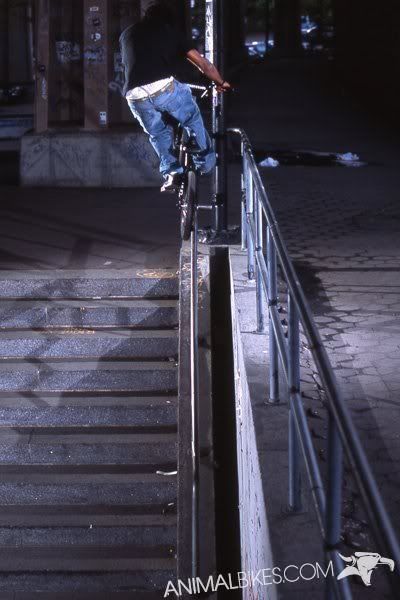 Did you really go surfing with your T-Mobile Sidekick in your pocket?
Yes.. I did actually
And how many cell phones have you owned in your lifetime?
Too many
How do you destroy every CD and DVD you ever touch?
Because they suck, they should be stronger. I am sorry I gave you a dvd back with milk on it Tunney.
What are some things you would like to accomplish in the next few years? Also, where do you see yourself in 5 years?
Finish school. keep riding and having fun, and get a porsche. Just to pay off all my bills, hopefully living comfortably and still riding.
If you could have any super power what would you pick and why?
I'd want to go back in time, even if it was only like 5 minutes, you could get yourself out of a lot of bad shit if you could do that.
Do you spend much time on the computer? Any favorite websites?
None. I don't even have a computer, but I go on sites on my i phone. I go on myspace, and audizine, vwvortex, thecomeup, rodeopeanut.com.
Have you ever been in a fight, and did you win?
I was in one in 7th grade that I lost, but it was to a 16 year old 6th grader…. I got in some wild brawl in philly last summer and fractured my hand on this assholes face. That sucked
What is the most important thing to you?
my friends and family.
What is the best advice you have ever been given or been able to give somebody?
travel. go see everything you can.
Do you have any shout outs or thanks?
yea definately want to thank my parents, I wouldn't be shit without them being there for me, my girlfriend Christine, everyone at federal for always hooking it up, those guys are the best, every one at animal definately, and Brian Tunney.
Anything else you would like to say?
People need to spend less time on the computer talking a lot of stupid shit and just go out and ride or do somthing else..