All photos: Jake Geisel
Jeff Wescott has been on fire lately. After joining the Amity Bike Co. team a little over a year ago, he has been making moves all over the world and is constantly on the move these days. It's cool to see that if you put in work, you can make things happen for yourself. Jeff has been mega busy as of late handling the U.S team manager roll for Amity while putting in a ton of time in front and behind the camera. I figured it would be a good time to catch up. Check out what he's rolling on these days with a bunch of extra questions. Sounds like he's got some warmth in his future…
Name: Jeff Wescott

Location: Here, there and everywhere…
Sponsors: AmityBikeCo, FlawBMX, Osiris Shoes, Coalition, The Gully Factory.
Years Riding: 10+?
Frame: Amity RD
Bars: Amity RD
Fork: Amity RD
Stem: Coalition Topload
Grips: ODI O Grips
Headset: Coalition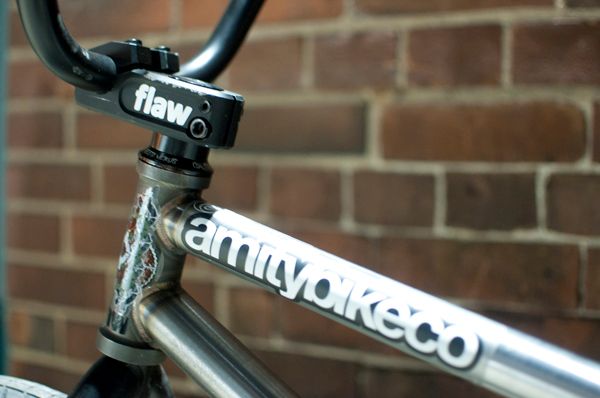 Sprocket: Amity
Cranks: Amity
Pedals: DUO
Chain: Shadow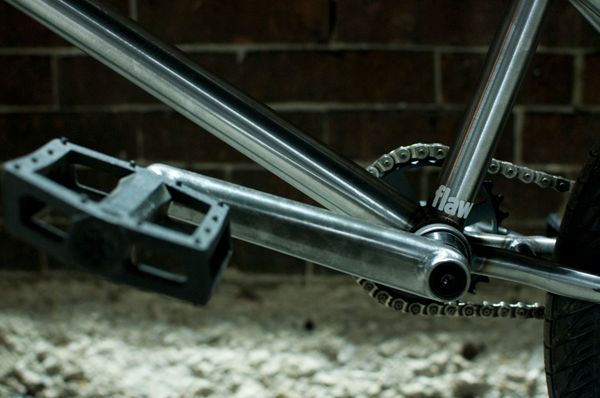 Seat / Post / Clamp: BSD/Wedgepost
Front Wheel / Tire: Coalition Hub / Sun Big Baller Rims / Duo 2.2
Rear Wheel / Tire: Coalition Cassette Hub / Sun Big Baller Rims / Duo 2.2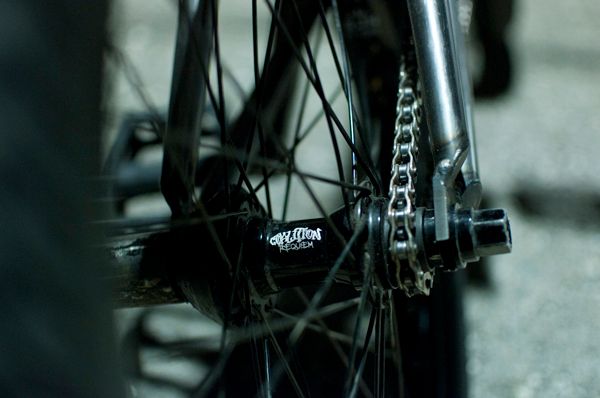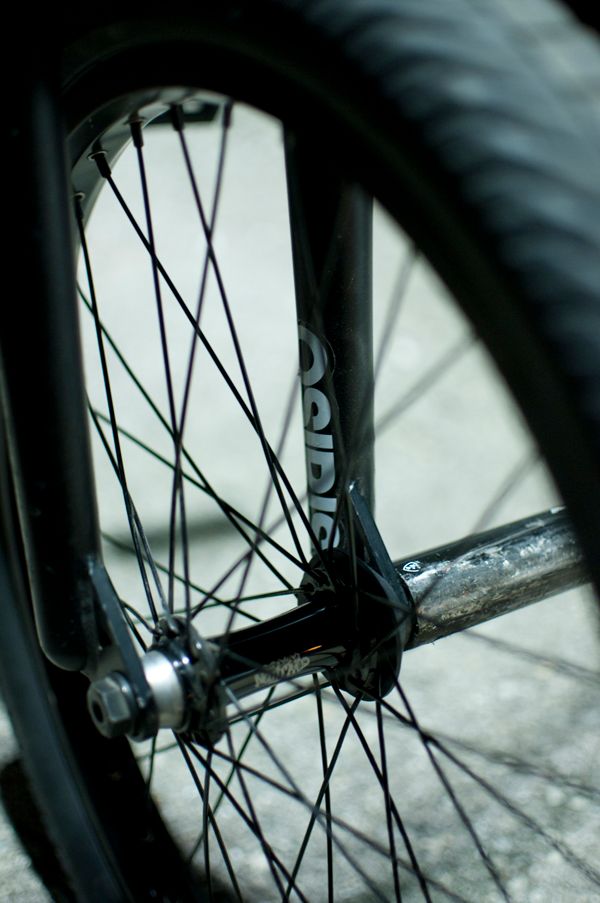 Pegs: Subrosa
Hub Guards: BSD
Brakes? Off at the moment…
Modifications: Cut bars, cut steertube, everything else is as it comes. Simple.
Do you set your bike up in any particular way that if it's not that way it feels completely wrong?
I like my bars in a certain spot, and I like everything tight but smooth. If something is loose or bent, I fix dar with the quicks.
Being a pro has a lot of perks like an always dialed bike. How often do you build up a new bike?
Yes having a dialed bike is a definite plus, I love having a fresh setup! However I like to get proper use out of a frame, I'll usually ride a setup until I have to get a new one.
What's the oldest part on your bike these days?
Probably the chain, I dont know though… I go through parts pretty fast sometimes.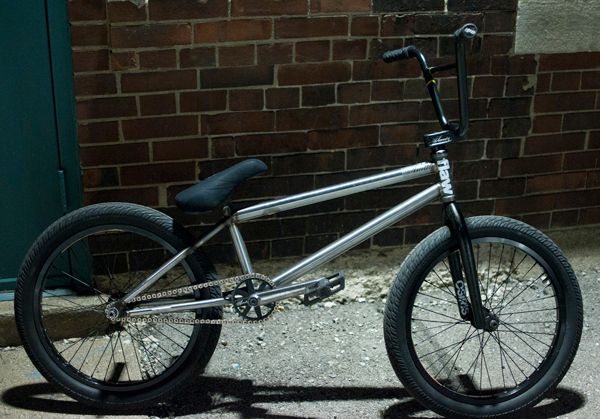 What do you usually burn through the fastest?
Tires, pedals, spokes. I don't know, the usual stuff I guess…
How are things going with Amity these days? Do you have any big plans with them in the works you can tell us about?
Things are going great with Amity! I love being involved with the progress of the company as well as the team projects we are doing. I recently just took role as the US Team Manager so I look forward to expanding the team and getting more of a presence in the US in 2012! As far as new projects go, we are hiring a house in Tenerife (Canary Islands) at the beginning of February for a little over 2 months… It's real cold in England and the majority of the States this time of the year, so this idea just made sense to get everyone a dope trip and a good opportunity to ride some amazing spots. Sam Wise and myself will be on scene to capture what goes down, I could not be more stoked! We also just sorted out US distribution through Chain Reaction Cycles, which is a big step for the brand in the States. So yes, the ball is rolling and I'm definitely stoked to be involved with it all!
Do you have anything going on any of your other sponsors that you are getting psyched for?
I'm currently out in Vegas right now working on an edit for Osiris Shoes. I'll be out here until February 10th so we might take a short trip somewhere soon to wrap that up. Also, there is a Flaw trip roughly planned for this summer sometime, but this Tenerife trip might put that on hold until I get back.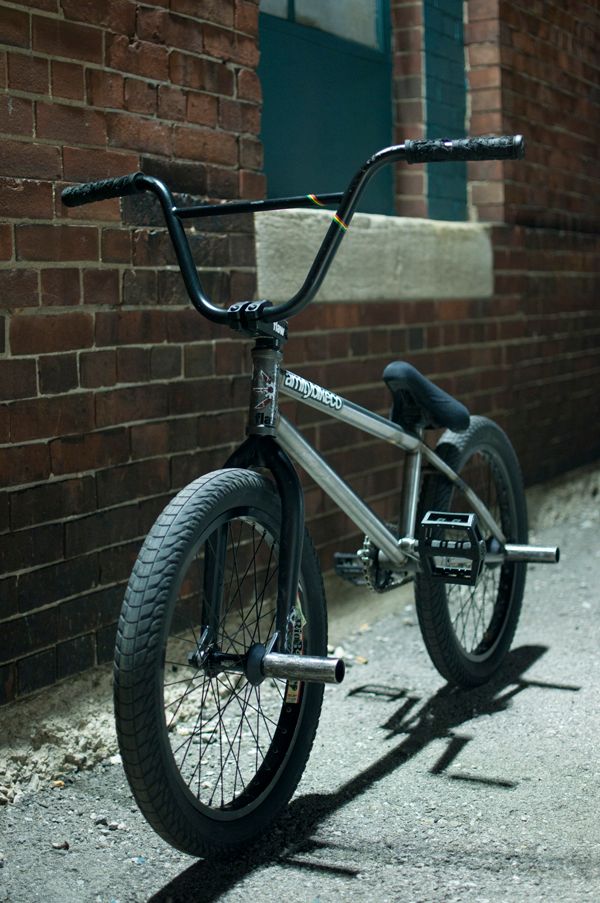 I know you have been spending some time down in Las Vegas and California lately to avoid the cold weather in Chicago. What are your plans for the rest of the winter? Any trips you would like to make happen?
Yea I spent like 5 weeks out west right before the holidays last year. Went to Nashville, Tennessee for a week right after I returned. Back to Illinois for X-mas and New Years. Blasted to Tulsa for a week right after that, and now I'm back in Las Vegas until the February 10th. I will only be back in Illinois for a little over a week before this Amity trip to the Canary Islands for like 2 months or something. So, yea the plans for the winter is basically escape the cold weather and stay productive in one way or another… So far it's been successful.
I know you are constantly filming. When can we expect some fresh footage out of you in the form of a web edit or video part?
Yes man, I love filming! Whether it's filming someone or getting clips myself, the camera is always getting put to use. I love having everything to look back on for my memory has faded over the years, haha! But as stated above, I have an edit in the works for Osiris as well as other random nugs popping up here and there.
What have you been up to when you aren't riding these days?
Well I just started doing freelance video work for ESPN, so I'm usually working on projects related to that. Other than video stuff, just trying to stay up mentally, get rachet with my good friends and enjoy life to the fullest.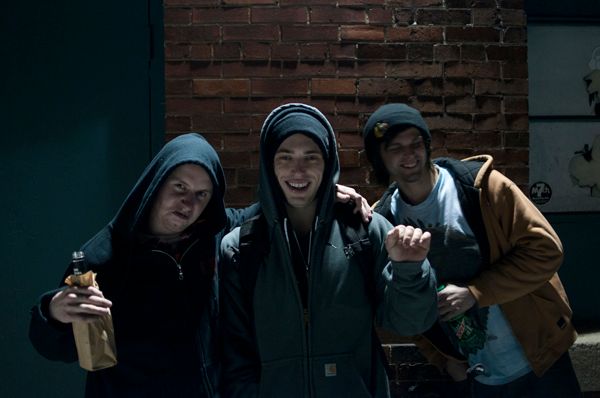 What are some of your goals or plans for 2012?
Main goal is to KEEP KEEP ON PUSHIN'!!! I'm just trying to stay motivated and positive with all projects I'm involved in and get in the mix with some new stuff I haven't experienced yet. Hoping that 2012 will be the dopest year to date, which I'm sure it will be.
What's the last song you heard, movie you watched and website you visited?
One More Chance – Notorious BIG
Step Brothers
www.THEGULLYFACTORY.com
Do you have anything else you want to say?
Thanks so much Kurt for doing this update. Big ups to all the Gully goons back home that I don't get to see as much as I would like. HUGE thanks to everyone that helps me out for making this possible and keeping me motivated. Charles Ready knowche.
Want more Jeff? Click here to see all past posts involving him.