I can't think of the first time I came across something involving Jeff. I'm sure it was over a year or two ago from through an edit, but yeah. Basically, Jeff has been killing it lately on his bike, and been behind the lens for a lot of edits and videos popping up latley. Tony Malouf hit me up with an edit of his and asked when he would get an interview. I responded with "I'm on it" and now it's done. Check out what Jeff has to say and then leave him some love in the comments!

Photo: Jake Geisel
Name: Jeffery Ryan Wescott

Location: Hometown – Rock Falls, IL, Currently DeKalb, IL
Sponsors: None.
Years riding: Around 10 or 11.
What was it that first got you into BMX? Any early memories?
The time was around 6th grade. I was actually skating this ledge spot and I seen these dudes roll up and grind the whole ledge. I was real amazed since it seemed so impossible on a skateboard… From that day on I was hooked.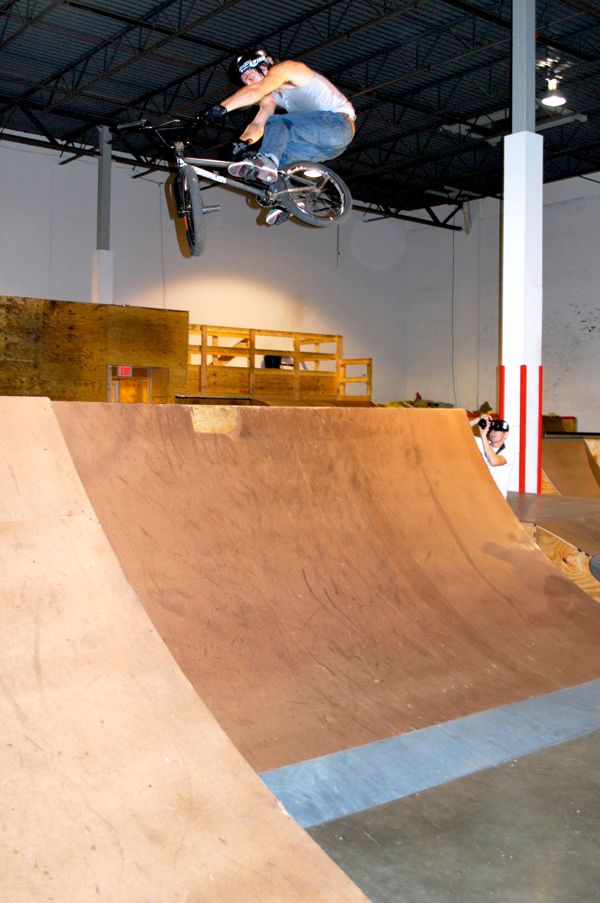 Photo: Sasha Vasquez
What was the deal with your crash recently that involved your face?
Care to share what that's all about? Last year a week before spring break, I was riding in Milwaukee with Joey Bags and Dook Wallace. I was riding the mini ramp and my tire slipped sideways on a footjam and I fell into the flatbottom. I landed on my back and my bars landed on my face, shattering my sinus cavity and depressing my cheekbone. I had to get rushed to the hospital for immediate surgery. I was obviously in mad pain, but I was also so pissed because I had plans to go to Tulsa in a week, which obviously wasn't about to happen now. I couldn't ride for over a month straight. Once the school year got over, I was on a mission to get to Tulsa so I stayed down there for a month until Tattour started. That first month of summer was so bomb until on the beginning of Tattour I bashed my face again on some bullshit(you can see it in the video) so I was pretty disoriented on the beginning of that trip… But time passed and luckily I'm all good now. I try and just put that shit behind me.
You have been popping up quite a bit lately with videos like every other day. Have you been riding a ton lately, or is this just normal?
I would say it's normal. I love riding and I ride whenever I get a chance… If I get a 30 minute break in the day I'll cruise across the street and ride campus. But lately I have been makin' moves and getting around to ride Chicago and Milwaukee a bunch before it gets too cold outside.
Living in the midwest, you tend to get screwed right about this time of the year. Where will you be found riding these days when the cold sets in and the snow flies?
Yea winter sucks around here! I try and ride outside until I cant take it anymore, but recently a new indoor park popped up in St. Charles, IL. It's a real fun park and it's only like 25 minutes from my house, so I'll be between there, 4 Seasons or any other random trips.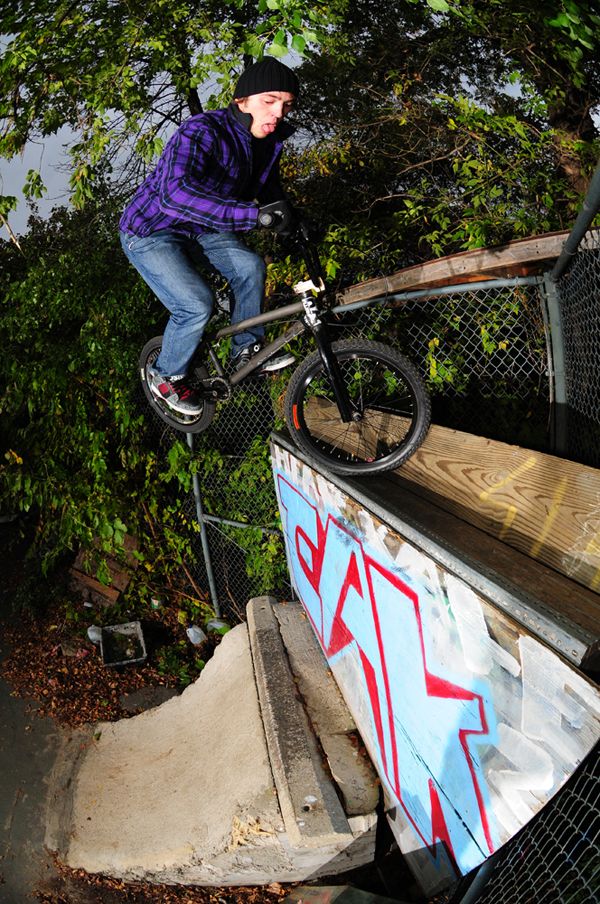 Photo: Jake Geisel
Do you have any trips planned for the winter? Where are some places you would like to go at some point?
Well so far, me and Malouf are trying to get a 12:35 trip going to film for our DVD project. Other than that I travel when the opportunity comes up. Like if I'm off school for a few weeks or whatever for school, chances are I'm going somewhere gutchy. But a lot of times when I travel it's spur of the moment. Sometimes my schedule is tight then I get random few days off and I'll hit up Cleveland or something with some homies.
You spent a lot of your summer up at Lake Owen right? Were you there to help the kids or what? What's the deal with the Lake Owen video?
When I was in Tulsa early last summer, I got the opportunity to film at Lake Owen for their DVD. I had previously never been there and I was real excited. So right after Tattour got over I took off for that. I was just there to film everything for like 3 weeks. I probably rode more than I filmed though. That place is sweet and I'll probably be filming for them next summer as well. As far as the DVD goes, Joey is editing right now and it will probably be done at the before the end of the year.
Who is your usual riding crew? I feel like all your edits have appearances from some guys that is killing it. Any up and comers we should keep our eyes out for?
I ride with a few gully characters locally but I take a short drive weekly to ride with the 12:35 crew, which loosely consists of Josh Eilken, Matt Markese, Crunch, Mike Dinello, Dook Wallace and Malouf when dudes in town. The 12:35 crew go hard yardigs me? Those aren't the only riders to shred with but I shred with them on the regular. I'm pretty close with the Milwaukee dudes too and they pretty much all kill it on the regular. As for up-n-comers, keep and eye out for Markese. Filming with him this summer amazed me…
You just had a part in the Tattour video that should be out any day, and I recall your part being pretty good. Have you been filming for any other parts?
Thanks man! Tattour was crazy and probably the best time of my life! But I have been filming for my 12:35 section which has been going well. Other than that and the rest of the crew for the DVD, I've just been filming this and that for G-Fact edits and other random type stuff. I really like filming and I feel your filming can progress just like riding if you put in the time and practice.

Photo: Sasha Vasquez
Who's section goes the hardest in 12:35?
AWLUHDEM! Haha, if you check the gully you know what it is.
So you helped with filming Tattour, You are doing a bunch for the 12:35 video, Lake Owen video, and you have a ton of web edits. When did you get into filming and editing?
Well back in the day when I really got into the "scene", midwestbmx.net ran the web video game. Jeff and Dom put out gutchy on the regular and I, as with everyone else in the midwest, was a huge fan. I bought a cheap camera and started to mess around with editing and whatnot. Shortly after that I really started dialing in my film game and picked up a TRV900 and a baby death. Tony and I filmed an edit for this company EVIRD back in the day. It got used for a section in the Aloha Vult DVD so that was probably the first legit filming deal. It's been on ever since.
Is this something you are pursuing as a career?
Yea I actually just changed my major to Media Studies and I really enjoy filming and editing so I would love to get a job in the field. As mentioned, I filmed for the Lake Owen DVD and I would love to get involved with other DVD projects. I work for the online campus newspaper putting little weekly edits together for them as well but the pay is shit so I'm about to venture off there. I would love to get a weekly edit deal for some BMX website or something. If anyone is looking for a quality filmer hit me up! ha
So you are in college. What do you got left for that?
Yes, I go to N.I.U. in DeKalb, IL. I'm about 1 year from getting my major in Communications – Media Studies.
Do you feel like it's harder to get behind the camera, or in front of the camera?
Depends… Some spots I would rather film someone and vice versa. Sometimes I get psyched out when I'm trying to get something filmed but for the most part getting filmed doesn't bother me. Also I'm not around a "filmer" regularly so a lot of times when I get people to film shit of me it doesn't turn out, and/or, I end up having to do something over and over, which sucks. As far as shooting, I'm real comfortable behind the camera. I feel if someone is about to do something, my camera is ready and I will get it first go.
When it comes to riding, what are some of the most important things you need to have a good time?
I have a good time just being on my bike riding anything. I get more psyched on riding when I'm with my friends clownin. We go hard on spots but for the most part we're just chillin and havin fun. I ride becuase I love it, but I think the less serious you take riding, the more fun you can have. That's what it's all about anyway, right?

Photo: Jake Geisel
What do you think you would be up to if you didn't get into riding?
Man I don't know, I used to play ice hockey so maybe I would still be playing. That sport was real fun but who knows?
What are you usually up to when you aren't riding, filming, or editing?
School occupies a lot of my time, and I have a little side job here that puts a little loot in the account. I have a girlfriend I like to spend time with. I also like to just get out and see something new, wether I'm riding or not. Going exploring or going on small roadtrips with no destination and no reason behind them are the best.
What kind of blunt is your favorite, and who taught you how to do such a good twist?
Anything light and baby bottom fresh… Gotta pay homage to T-Loof for learnzin me, but my games proper now.
Who are some of your favorite rappers? Can you throw us a few lines right now?
I like a bunch of different kinda of hip-hop, but if I were to name them off they would occupy the whole page. I'm just into whatever sounds good. I like hip-hop that shows the artist has skill rather than a bunch of money you know? But as far as lines go, I got em for days… See me in person and I'll drop some flow no doubt.
What makes for a good night of partying for you?
Similar to riding as long as I'm with my good friends, I'm pretty much guaranteed to have a good time. I like getting buck but I could big chill at the same time and be good. Kids at school here have nothing better to do than drink the cheapest beer every night of the week, so going out and doing the same old shit gets old for me. At that point, I'd rather be riding.
How do you feel about The Gully Factory? What is that all about anyways?
The Gully Factory started late this summer. After I got back from Lake Owen, I stayed in the 12:34 turf with Malouf for a few weeks to film for the sequel "12:35 – The Minute After". Just big chillin on night, the subject of starting a blog to post gully shit for us to clown about. After the summer was over, Tony took the initiative to set up the email, vimeo and blog and from that point it was on. Now me and the rest of the 12:35 crew post shit on the regular. It's blowin up fast. We are currently working on designing t-shirts and stickers so if anyones interested in sportin either or both, hit up gullyfactory@yahoo.com for more information. They should be done in the near future and as expected, they gonna be ultra-gull.
What is with all the Yars?
The yarrs started this summer on what I like to call a Lil' Wayne overload in Tulsa. It's like saying yea, but extra leaned out so you say yaaarrrrrrr. It's more like a noise than a word and if you aint feelin it you aint doin it right. Tulsa gets ultra buck pretty frequently so we were yarrin' like crazy. It carried over to Tattour and from then it just stuck… Our terminology changes a lot, sometimes daily, so theres a bunch of different versions of the yarr now, like Josh Eilken's signature shaaaoooowwwhhhbbrrrrr. You can check The Gully Factory's Vimeo page for our YarrO'DaWeek exclusive edits.
Do you cruise the internet much? Any favorite websites?
Other than checkin mail, I go to the usual bmx websites to check the new videos and news or whatever. Sometimes I don't use the internet for a week though so it goes both ways. As far as webistes to check, I login to update the Vimeo pages, my blog and the G-Factory. I use Facebook to keep in touch with the out of town homies as well.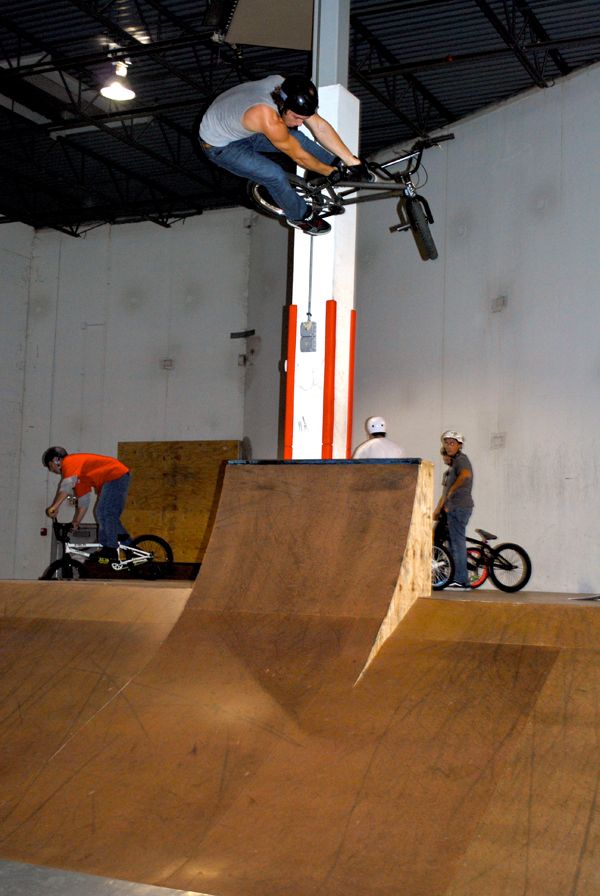 Photo: Sasha Vasquez
Have you ever been arrested or in a fight? Really anything that got out of hand?
Haha… Of course… There were fights every night at my apartment complex last semester… Shit got way too buck there. But when you mix large quantities of cheap alcohol and college students, fights break out at any time for no reason. But yea, I've had to bust heads and literally throw people out of the house. Good times.
Who is the best, and who is the worst influence on your life?
Best – Anyone who takes advantage of their talent and does something good with it. Worst – The Government. They are scandelous.
What are some things you would like to accomplish in the next few years?
I really want to travel more though and see other countries. I want to continue to travel within the states though and see all thats out there. But like I said hopefully finish school in a year and get in with some type of job that enables me to travel and film. If I got the opportunity I would jump on it, quick.
Approximately how many girls does it take to satisfy a Jeff Wescott?
Haha. I would say at least a few but my girl would get pissed.
You are given a million dollars. What is the VERY first thing that came to mind that you want?
Pay off my student loans, pack a bag, and hop on the plane to where ever… I would really probably budget and invest and live forever off a milly though… Like that will ever happen.
What is the best advice you could give somebody?
Live your life how you want and have fun.
Do you have any shout outs or thanks?
You for this interview, my parents, my girlfriend, J.E., Marquizy, Maloof, Crunchy, Mikey D., Aaron Stech, K-Herbs, N.I.C., T-Town crew – Drewmba, J-Cobes, Miles Rogutch, Jared, Swab n all the rest of the g's, Tatwa crew – Seamdo and Betlah, Walter P. for being an all around badass, All the homies back home and out of town, the Council, All the G-Fact fans, Circus Skatepark, Anyone who has helped me out in the past with a place to stay or spare parts or whatever, I appreciate all the support. It keeps me going. THANKS!
Anything else you want to say?
One hunnid… Gwa. Yaaaaooowwwwrrrrhhhhh.
Weekend in Milwaukee – G-Fact from The GULLY FACTORY on Vimeo.
Jeff Wescott – G-fact Edit from The GULLY FACTORY on Vimeo.
Evird Extras from jeff klugiewicz on Vimeo.