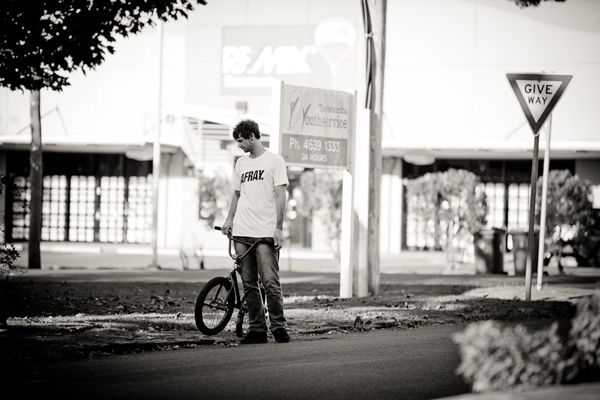 Photo: Pete Jaques
Jerry has been one of those recognizable names coming from Australia the past few years. Recently, I found out his signature line from Tempered was coming through and close to release after a few years of being in the works. I figured it would be a real good time to get ahold of Jerry and find out more about him and his signature line. Take a look at what he had to say, some real good photos and some past edits, then leave him some love in the comments!
Name: Jerard Vandervalk

Location: Brisbane, QLD, Australia.
Sponsors: Tempered bikes, Strictly BMX and Crispy Stream.
Years riding:
10 solid I guess, but I was always on a bike as a kid.
What was it that first got you into BMX? Any early memories come to mind?
Well, it kind of just fell into place really. My brother got me a bike and I took it to the shitty skatepark down the road. I guess it just felt good so I kept doing it. Going way back, I would have been 8 or 9, I can remember going to the bike shop and standing in awe. This was when pretty much every bike was chrome! I always liked the Free Agent Flying Fortress.
The Chris Duncan signature, haha.

Photo: Pete Jaques
How are things going with Tempered? It sounds like you have a few signature goods in the works that will be coming through soon. Care to bring us through the line?
Tempered is going awesome. We just recently finished the final artwork on the line, which will consist of frame, forks and bars called the surefire collection. The frame has had three versions already. It has been in the making for like four years, but that has given us plenty of time to get it right.
You were the first person on the team to get a signature line, which makes sense, since you were one of the first people on the team. What was it like working on the project? Were there a lot of things you didn't know about when it came to creating a new product?
It was an interesting process and definitely insightful. The main problem was communication and trying to describe things to people that don't speak english very well. I'm real happy with the finished product so it was all worth it! I can't wait to see one on the shelf.
Were there any features you were specifically thinking of as soon as the idea of doing a line came up?
Not really. It was more the fact that I had a blank page in front of me that started the train of ideas, and then finding out things we couldn't do meant we had to think of different ways. One thing that was in the cards from the beginning was the length since I'm about 6′-5″, so there's the option of a 21.5 top tube.
Any other sponsor news you are pretty psyched on?
I recently got hooked up by Crispy Stream, so I'm pretty excited to see how that all goes. I just hope the owner, Michael has a big enough budget to account for my needs as a professional athlete…..
I spotted a photo of you doing a tooth hanger with Stewart Munro filming on the side. Please tell me you have a new edit or video part in the works that people will be able to check out soon?
Yeah, I'm filming with Stu at the moment for his dvd "Coppin' It Sweet" that should be out later this year. I also have an edit from footage I've been getting on the side with Chris Lembo for the last year or so, which shouldn't be too far away.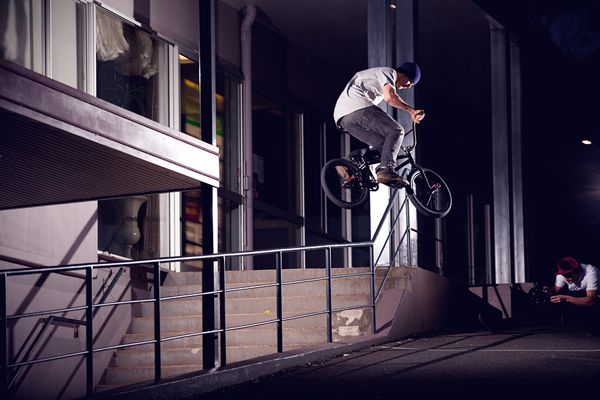 Photo: Pete Jaques
A few months back you guys got some serious flooding that came through your hometown, right? What kind of damage did you get? Is everything coming back together for you?
Yeah, it did. It was pretty bad there actually but thankfully nothing happened to anyone that I know. Brisbane also got some pretty serious floods too, but we managed to stay away from it. Only a few areas got delt with, I know a lot of people are still rebuilding and trying to get back on their feet.
Where can you usually be found riding these days?
Thats a good question. Lately I've just been riding anything I can find in Brisbane, with the occasional local skatepark session thrown in.
Do you have any plans of getting out of town for a bit? Where do you have trips planned for these days? Anywhere you want to get to in particular?
I don't have any solid plans, but I think interbike is on the cards again, so hopefully that becomes a trip where we can ride some west coast spots. I'm pretty keen to go to Philly to hang out with Histand for a while. That sounds better every time I think of it!
Let's say Matty drops some cash for a road trip, and he tells you that you can bring any 5 people and pick where you guys go. Who do you bring and where do you go? Why?
I think I'd have to pick names out of a hat since I just sat here for half an hour thinking of who to take, Haha. I think rather than having a destination I'd just get in the van and drive south, stop wherever we want and make spontaneous direction decisions.. In the words of a great man "Let the liquor do the thinking", haha. There's no real reason for going south, it's just that there's more
towns that way than north.
What do you think you would be getting into if you never got into BMX?
I'd most likely be hard out into "gaming" or something, haha. I would most likely be into cars. It's hard to think about when riding is second nature.
I know you have plenty of tricks on lock, but what's one that you can't do for the life of you?
I'm gonna say smith hard ways, only because some people I know will find it funny! I've done one before though and Matty was filming so I claimed it, haha.
What are you usually up to when you aren't riding bikes?
If I'm not riding, I'm at work or hanging out / working in the garage. Otherwise I'm just chilling, or drinking with mates. I'm pretty spontaneous so theres no telling what I'm doing the rest of the time..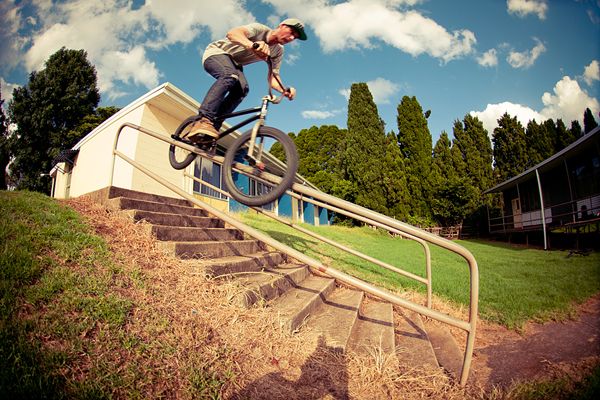 Photo: Pete Jaques
It sounds like you are about to finish up your 4 year Boiler Maker apprenticeship. How did you get into that sort of career path? Is it something you will be getting into as soon as the apprenticeship is over, or are you going to take some time to do the BMX thing?
Yeah, I'm pretty stoked to be this close to finishing. It feels like I've been doing it forever. I only got into it because it's a friends uncles business. I never really planned it, it will just be good to be qualified so I have something to fall back on. I'm over it at the moment so I'd like to be able to do the BMX thing, but I'll see how I go with the funds, Haha.
Do you like to party much? What makes for a good night out?
I'm definitely more of a house party person. I prefer drunken conversation. Once everyone is messy, I'll be with the group that is breaking shit and getting kicked out.
What's the wildest thing that has ever happened to you because of BMX?
Maybe not the wildest, but the first thing that came to mind was this night we had a premiere at a bar in the city. I think it was a Focalpoint dvd and everyone was getting into it before it even came on. By the time it was over, it was loose all round. I can remember a few glasses getting broken. I wouldn't be surprised if one or two were mine! It sparked an all out agenda to break every glass in sight! Needless to say, it wasn't long before we all got kicked out.. I can remember looking back and the whole footpath from the building to the road was broken glass.
How are the ladies treating you down there these days? Have you ever pulled the pro card to break the ice?
I've been keeping my distance these days. It usually just means drama that I don't need! If a girl is keen, I'm not gonna say no.. Pro card!? never. It's a rare thing for me to do any ice breaking..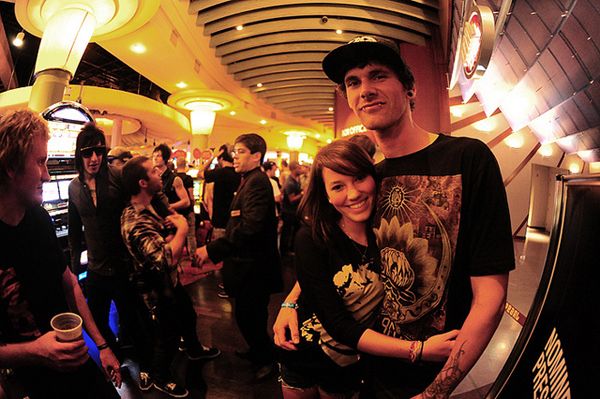 Photo: Cooper Brownlee
What's something about yourself that would surprise most people?
I do all my own stunts..
Haha, epic. Any other talents outside of bikes and boiler making?
I'd hardly call welding a talent.. Haha, I can cook an amazing mushroom sauce if that counts! I don't really have talents. I'm a bit of an analyst, I like fixing things.
What's the last song you heard, movie you watched and website visited?
Truth, deception & Lies Remix of My World by Lee Fields, The Bourne
Ultimatum and www.crispystream.com.
If you had to sum yourself up in 5 words. What words would you choose?
Content, sceptical, attentive, positive, negative….
3 things you want to accomplish in 2011?
Buy a camera, save some cash, travel.
What's something you are absolutely terrible at that you wish you could do?
Guitar! The worst thing about that is I look at one everyday. I just need to pick it up!
Where do you see yourself in 5 years?
This is the hardest question for me, i've always lived my life one day at a time. I hope it involves BMX and winning, haha.
What's the best advice you have ever been given or able to give?
Let everything be your bible.
Do you have any shout outs or thanks?
Shout outs to all DA BOYZ, Dano, Nick, Lembo, Tom, Big Salad, The Yonny,
Vocko, Shwang, Nate, Justy, Cozen, Mikey, Mitch and Ev, my bro, TK crew, T- Bar peeps, big thanks to Matty from Tempered and Marc from Strictly, cheers for everything. Thanks to everyone I know and thanks to Kurt and The Union for the interview!
Anything else you want to say?
Peace.