John is a rider who is very talented, not only in his riding but in his music. The coolest part about interviews is you could ask the same questions to 10 different people and get 10 different stories. Obviously the questions aren't the same as the rest but John lives more than just a BMX life. So this is his interview- enjoy, and leave some comments for him.
Name:
John Ludwick Jr.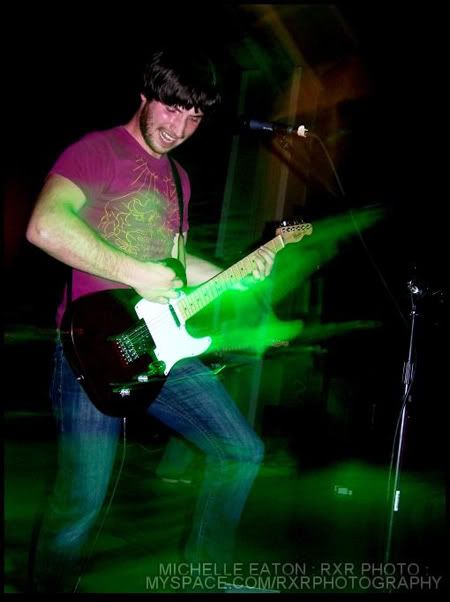 Location:
Meredith, NH
Sponsors:
Madera, Versa, UGP Shoes, Rye Airfield Skatepark, and Team Jeff Dupaul haha
Years Riding:
7 years this month
You are one of the few Versa guys, so how are things going with your prototype? When will it be available? Is there any videos or road trips in the works outside of products getting set up?
Things have been going very well with my prototype and I am very very happy with it. I am not sure when it will be available, we are still talking about whether it will be a collaboration frame, limited edition, etc. There are some changes going on at Versa as of late, but we are working on some more hard goods, getting soft goods out so kids can rep them.
How are things going with the rest of your sponsors? Anything along the lines of trips, filming, signature products going on with them and you?
Things are awesome, I couldnt be happier. I leave for wisconsin next week (july 2nd) for a Madera trip to shoot photos, film, and just be together and have a blast hanging out. As far as signature products go, I am working on a Madera shirt design, and the Versa frame. I am doing my best to help Chad Degroot out with getting UGP Shoes where it needs to be as well.
Last I checked you are brakeless. Have you thought about running brakes again,why or why not?
I have actually never run brakes, and I have never really thought about running them. The brake levers feel weird to me and I was never good at dialing brakes in so I never run them haha
What are your plans for the summer? or year even?
My band How Near, How Far just broke up a few days ago due to musical differences and a bunch of other stuff, and my drummer and I have started a new project which we are trying to get off the ground. So my summer is first and foremost involving working full time to be able to afford the gear needed for this caliber of project. The yearly plan is to get the project going, ride as much as possible, and try to stay healthy, but most important, to stay happy.
What is one trick that you will never get sick of doing?
There are a few, but to name one would probably be barspin to footjams.
What is one trick that makes you sick trying to figure out?
Turndowns and inverts haha I gave up a while ago
You have had the chance to travel a fair amount because of BMX, where are your favorite places you have had the chance to ride?
Definitely Boston, it is only a little over an hour away from me, and it's got everything i love to ride, mainly because all my friends are from there I suppose. I really enjoy riding Los Angeles a lot too, I'm not too picky anymore, I just love riding with my friends, but I'm real psyched I've gotten the chance to see the entire country and a bit more. It really is a blessing.
Where are some places you would really like to go to at sometime?
England, I love everything about it, except all the rain in the winter season. I love the culture as a whole, the architecture, the people, the riding scene and it's amazing street, and last but not least, the girls' accents… as cliche as that may sound haha. I love it so much.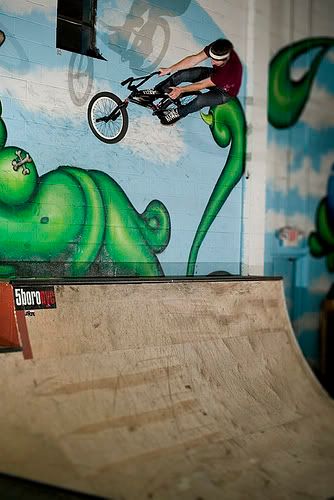 Photo Credit: svenreed photo
Who is your typical riding crew these days and where could you usually be found riding?
I don't have a typical riding crew, i ride by myself everyday. Nobody rides in my town, it's always been like that. Some of the kids from surrounding areas that ride with me every other week would include my friends Jesse, Chris, and Spits, and thats about it. I used to go to boston every weekend to ride, so I had an awesome group of friends I would ride with down there. But between work and my bands I dont go down as often anymore. I can usually be found riding my local park here in Meredith NH. It's free, wood w/sheet metal, and it is real good.
Who or what were/are your biggest influences in your riding growing up and today?
I think my music is my biggest influence in riding today, it's hard to put into words, but music motivates me in ways i can't describe. As far as riders are concerned, Chad Degroot has always been a big influence to me, which makes it such an honor to be involved in a few companies with him today, I feel the same about Matt Coplon and my Madera relationship. Joel Moody and Brian Castillo are others who were real influential as well.
You don't come off as much of a contest rider. How do you feel about contests and do you ever hit any up or plan to?
I used to go to a ton of contests even though I'm not really that style of rider. 2 years ago I did pretty well in about 10 contests and came out top 10 in them. It felt awesome to be up there with the crazy dudes when my style of riding was closer to the ground and my bike and bars only went around once at a time. Today the contests have gotten out of control, it's not appetizing to me at all anymore. I don't plan on riding in any contests as of now, perhaps a local northeast contest or jams just to have fun with friends.
You have hang 5's and hang nothings dialed. What is the trick to those since you can do them down stairs?
haha I think the only trick to anything is to do it a lot. Like I said before, I don't have a riding crew, so a few years ago before i started playing in bands I would spend all my free time outside learning every version of a nose manual I could haha. I'm not sure what the whole stairs thing was all about haha, I had always wanted to do something like that, I started doing straight nose manuals down stairs, but that didn't last long hahaha.
What do you think you would be up to if you never got into BMX?
Doing exactly what I'm doing now, playing music.
Outside of riding what are some things you are into?
My bands, they take up most of my time now, aside from working a lot to earn the money needed to keep the bands afloat. I am a big Volkswagen kid haha I have a lot of money into my 92 mkII jetta gli, my father raced a 78 gti back when I was a kid so that got me into VWs, and he collects muscle cars, so cars were always something I was into. But like everything else, it all takes money.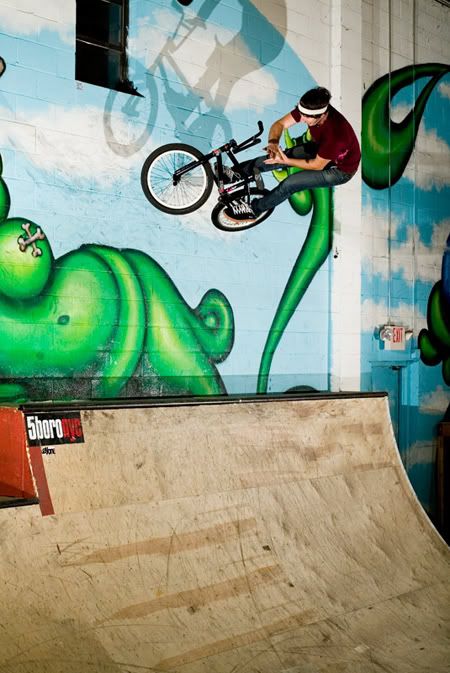 Photo Credit: svenreed photo
You play a lot of music, where can people check out your stuff and how long have you been playing for?
Ive been playing music almost all of my life. It all started in 7th grade. I went from guitar/bass to drums to piano.
Right now you can check out HowNear,HowFar's stuff since we had just finished our 4 song cd called "The Loved & Lost ep" at…
myspace.com/hownearhowfarfromyou
I have always played my own acoustic music aside from other bands I've been in, so you can also check that out at…
myspace.com/johnsingssongs
But what I am most psyched about right now is the new band my drummer from HNHF and I have started called Fires In Skyscrapers. This project is going to be an intricate collaboration of serious programming/mac driven ambience, Explosions In The Sky meets The Appleseed Cast, super powerful, driving indie style of music. It is going to be an entire concept band/album/songs/live show that all ties together. We have a lot of work to do and with any luck, it will be getting to where we need it to be by this time next year. We have started a myspace and you can add us (though there is no music up) at…
myspace.com/firesinskyscrapers
What are some things you would like to accomplish in the next few years?
Definitely get Fires In Skyscrapers off the ground and change people's lives with it. I'm over just playing in bands, this project is going to be unlike anything I have seen (if all goes as planned). We really want to bring people into a scenario when they see us live, everything from the light sequencing to silence to bursts of energy. Also I want to get to England in the next few years haha.
If you could spend the day with anybody, alive, dead, fictional, who would it be and why?
I would have to say my future wife. I have been through a few long term relationships that have been hard or ended bad, so I've been waiting for the right girl to come along. I'm eager to meet them cause it'll complete the happiness in my life.
What is the best movie of all time?
oh i can hardly answer that one, but one of my favorites as of late has been The Prestige. I have quite the old school horror movie collection too haha.
What are some bands you are into and are there any you suggest people to check out?
I am into a lot of my friends bands, my brother bands we usually play with. I strongly suggest you check out my friends Call Her Alaska. I just finished recording guest vocals with them last week, you can hear their stuff (along with the song I sang in called 'Stiletto') at…
myspace.com/callheralaska
Taylor (the singer) is a real good friend of mine and is a super good dude, they are on the verge of something great for sure. Another group of guys that are super close friends of mine are in a band called Me As Time. These guys are also incredible and can't wait to get my project going to continue to play shows and tour with these guys.
myspace.com/meastime
As far as my musical taste goes in bands, I listen to everything, everything from hardcore, metal, indie, acoustic, I just listen to it all.
What is something crazy that has happened to you that nobody believes?
God miraculously healed my mother years ago, but most open minded people believe it, so I'm not sure i have one that absolutely nobody believes haha.
Have you ever been in a fight, why or why not and did you win?
I have had close calls, but I am usually pretty easy going, so I avoid most situations where someone would get out of line and want to fight me (or where I'd actually want to fight back haha)

Photo Credit: svenreed photo
If you were to win the lottery what would you do with the cash?
Pay off all of my family's bills so they all could live without having to worry about any of that. I would donate money to music charities. But I would definitely buy all the thousands of dollars worth of gear that Fires In Skyscrapers is going to need and get that band off the ground haha. I would buy a house too, and save the rest.
What are some of your favorite websites to check out?
musiciansfriend.com haha
vwvortex.com
saundersstudio.com> – my good friend chris' photography
ebay.com
What is the best advice you have ever been given?
My parents have always given me the best advice from life, to faith, to girls, to anything.
What kind of advice do you have for kids just getting into BMX?
Have fun, stay safe, don't ever let anyone tell you you have to ride a certain way. Don't let something as silly as riding bicycles consume your life, you won't be riding your entire life.
Do you have any shout outs or thanks?
As cliche as it may sound, I thank God for everything I have in my life, my family, my health, my friends. My parents for always being there for me and being the strongest, best people I have ever met. Matt Coplon for his ocd, dry humor, but mostly being one of the best dudes out there, for his friendship and all the help with Madera/Profile. Chad Degroot for all the UGP help and also being one of the best/funniest dudes I know. I just want to thank all of my friends for being awesome people, you mean more to me than bikes ever could, that's what I cherish out of riding, all of your friendships, that lasts forever. And thank you Kurt for this interview!!
Anything else you would like to say?
Winter in the northeast sucks!!