This interview has been in the works for sometime now. It was funny how I was thinking about when I would get it back from him, and then a few hours later it showed up in my inbox. Josh is a busy person who really knows what is up. He had a killer part in Voices and has made a name for himself riding for Mutiny. I am really happy how well this interview turned out and the time was worth the wait.
Name:
josh bedford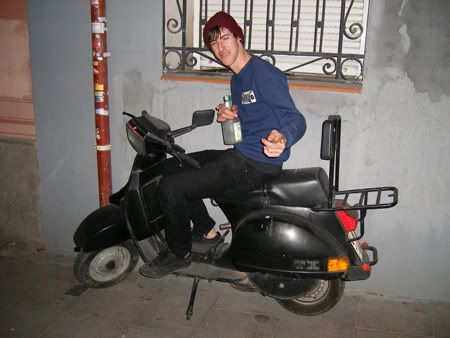 Location:
sheffield uk
Sponsors:
mutiny, animal flow, etnies flow, hate
Years Riding:
since 98 fuck 10 years
Your on the Mutiny Pro team these days, so how is that going for you? What can we expect to see? Any video parts, web videos, signature products, going on road trips? anything at all?
well i go to austin in october for 6 weeks to film for the new mutiny vid, and hopefully have a signature frame out next year.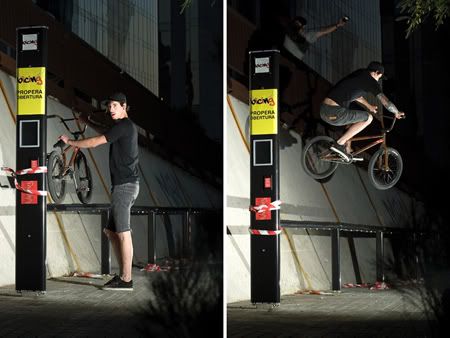 How about your other sponsors, do you have any of those things going on?
erm not really apart from mutiny I don't really have a lot of input in things.
Your part in Voices was really a big deal for you getting coverage, do you feel like that part was your big break at all?
well i suppose thats the first time a lot of people saw me ride, I wouldn't really say it was my big break through because nothing has really changed since then apart from having a bike that can now steer in a straight line.
You are obviously a street rider, do you ever hit up the trails or parks?
I really enjoy riding trails thats what i rode when i first started ,but i only get to ride them maybe 3 times a year. As for park i haven't rode an indoor park in years now. I don't like paying to ride when i can just cruze around the streets and find something individual to ride. I do hit up the concrete park we have here in sheffield a lot but in Ernys words its a shit skatepark but a good street spot..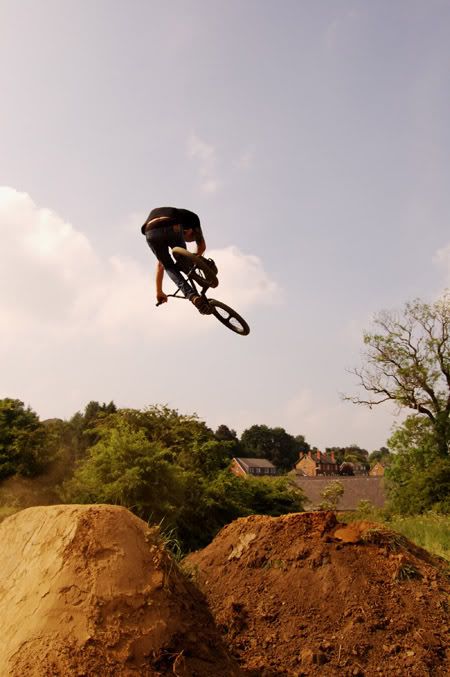 Where are some of your favorite places you have had the chance to ride at?
Austin obviously, Malaga, Paris, Barcalona, Toronto, London.
Where are some places you would really like to ride?
Portland, S.F, China, Berlin.
A lot of people have been really stoked on your riding, how do you feel about having that kind of attention? I noticed your voices part on youtube had over 40,000 views.
Well it's cool that people are in to it, but at the end of the day im happy doing it for myself.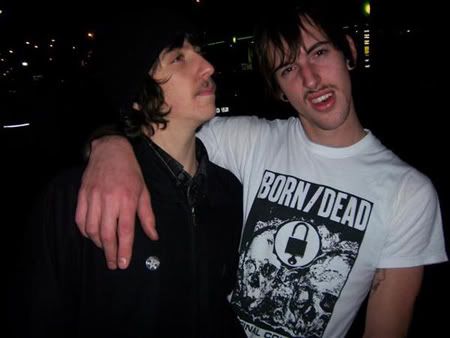 What are some of the best feeling tricks to do in your opinion?
Tricks are fun sometimes but i prefer just being able to adapt your riding for a certain spot. You know when you find something and when you first try ride it, it's real hard but after a while you get the feel for it. In my opinion its better than doing tricks
What are some of the ugliest/worst tricks in your opinion?
dew tour shit and na***n wi*****s old school no handers
(Just to clairfy I didn't star this out, since apparently the kid in the comments was pissed about this. I just copy and pasted)
What are some of the parts you tend to go through the most?
wheels,cranks
If you could go on a road trip anywhere. Who would you bring, where would you go, and why?
I would take the cox brothers, alex riley, erny, tom, and ed cardiff. Pretty much people that are just fun to hang out with. I would love to go back to china, my brother lived out there. One of the things I regret is not taking my bike over the spots are unreal.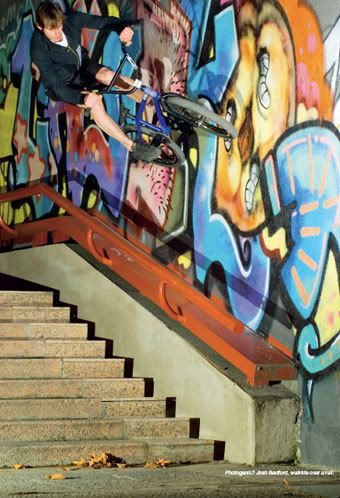 Are you one to just huck things and hope for the best, or do you think out what your going to do before hand?
I would say as the years have gone by I think a lot more now than I did when I was younger.
What is one trick or line you had the most trouble on and how long did it take you to get it done?
Manuals ha ha ha ask Joe Cox.
If you could change anything about BMX, what would you change and why?
Well to be honest the come up, i think some people involved have too much of a voiced opinion on every aspect of bmx even if they are not involved, and can easily influence what a lot of young kids think bmx is and it's just a lot of shit talking. take the shit talking out of it and I actually like what the come up does.
Outside of BMX what are some things you are into?
Art, photography, screen printing, music gigs.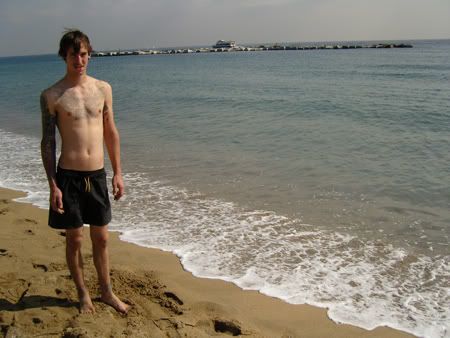 Do you work at all or is riding all you have going on these days?
I work full time running a screen printing studio for an art gallery, so im pretty lucky to have a job i enjoy. For a while I tried just riding but at the end of the day it don't pay the bills or put food in your mouth unless your big time.
Have you ever considered moving over the the U.S are you staying in Europe for life?
I would love to move to Austin, I just dont think I could hack the summer.
What is your dream car?
1969 trans-am firebird would be pretty sweet.
Speaking of cars, how do you feel about gas prices and everything these days?
I don't own a car so it makes no difference to me.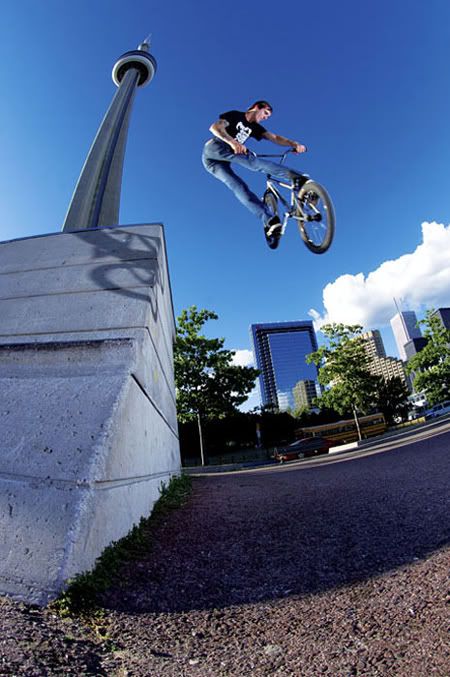 What are some things you think everybody should experience at some point in their life?
Living in the Hate house, shit will change your life and your immune system.
According to the Mutiny site, you are pretty good with a needle, what is the deal with having to sew all of your clothes?
Because I'm so tall I have to get large t shirts that are long enough but there always too baggy so a little sewing goes a long way.
What are some of your favorite websites?
all you need is you tube. There are hours of fun to be had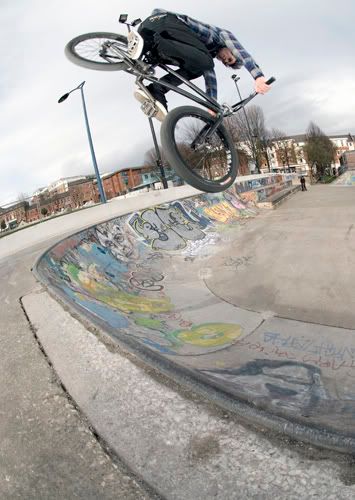 What are some bands you are into, and do you ride listening to an iPod or anything?
I'm pretty open to anything but my ipod is mostly full of d-beat punk and stoner metal. I do ride with my ipod if theres no one about or im at a chill spot.
Have you seen any good movies?
This is England, Dead Mans Shoes, American Gangster, Kids, the list goes on.
What are some things you would like to accomplish in the next few years?
I would like to travel more, own a house, and have a dog. Just carry on being content doing what I do.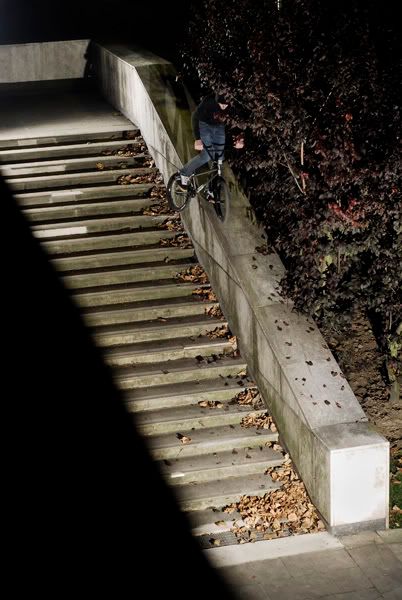 Who or what are the biggest influences on your life?
My dad has had a big influence in my life in his out look on life. He just tells me to go for what ever makes me happy and at the end of the day you only get one chance at life and just to make the most of it. My brother for having the balls just to up, leave, and go travel the world. My oldest friend chris who just does not give a fuck what other people think, which is a nice change from the majority of people who just care too much about others opinions. Benson and Erny for taking me under their wings as a youngster. Pretty much all the Hate house homies for doing what they love.
If you could be sponsored by any company that has no ties to BMX, who would you pick and why?
Lucky Strike's, it would save me a load of money
What do you fear the most?
Narrow minded people who have never experienced life ,and dont understand others out look on life.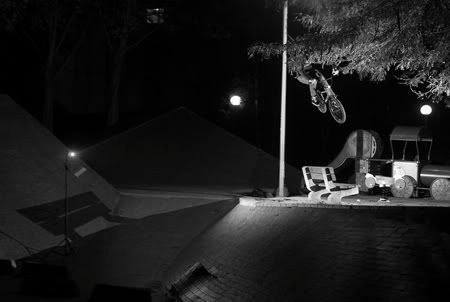 What is the best advice you could give a person?
Don't give Spanish police shit because they will fuck you up!!! I found out the hard way.
Do you have any shout outs or thanks?
Thanks to anyone who has helped me out over the years .hate house homies past and present.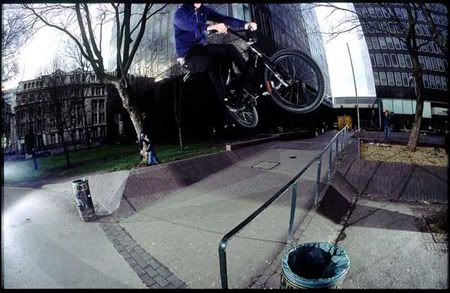 Anything else you would like to say?
Live fast, pedal faster