If there is one thing BMX lacks, it is people with the same first name as me. Well, at least sounding the same. Actually, that really isn't something to worry about. However, Kert is a real talented rider from Estonia who deserves some coverage. So check it out and let him know what you think in the comments.
Name:
Kert Petersel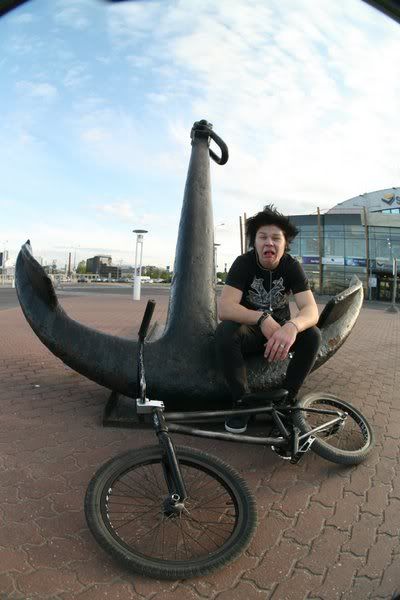 Location:
Tallinn, Estonia
Sponsors:
simple bikes, mystic.ee, vision streetwear
Years riding:
I don't know man, a few.
What was it that got you hooked on BMX?
The fun and crazy shit that's involved with it got me hooked.
You are riding for Simple these days. How are things going with them? Do you have anything going on with them that you can tell us about?
Laid back and cool, things are awesome. Niels-wheels rocks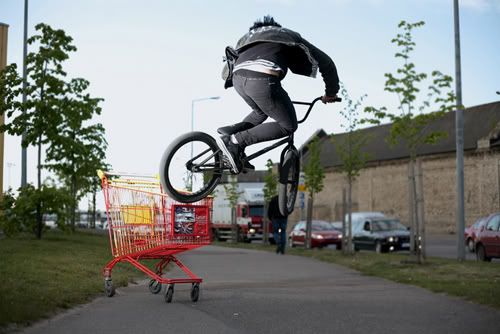 Have you been filming or anything lately? Will there be any video parts or web videos for people to check out anytime soon?
Trying to get some clips most of the time yeah, but I'm having a case of bad luck man. A cracked-whacked wrist, mountain wank. Some clips in the bonedeth video maybe, and plans on making a mystic video as well. We will see what will work out.
How are you looking travel wise these days? Any trips that you have planned?
Oh man, I have been stuck. Barca or some warmer land hopefully some time soon. Don't have much plans though, I hate them when they don't work out in the end
Where are some of your favorite places you have had the chance to check out? Where are some places you would like to go still?
Denmark was fun, always is. I haven't really traveled with the bike, making the best of Estonia man.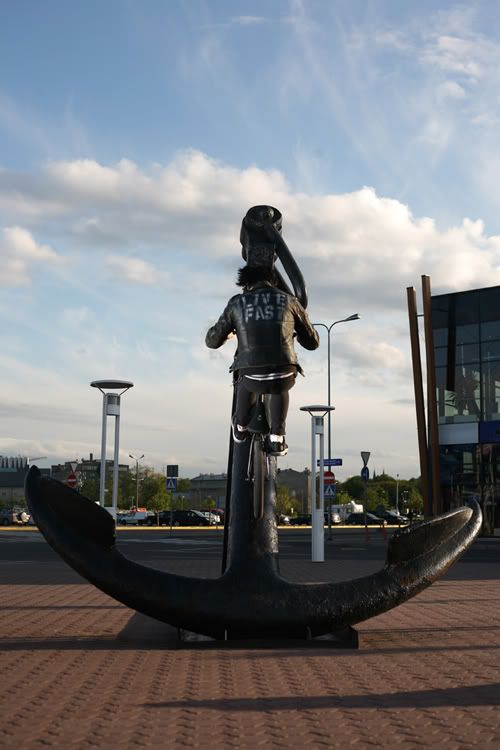 If I remember right your brakeless and pegless. How do you feel about that trend picking up these days? Do you even plan on throwing pegs or brakes on again?
Don't care at all, but pegs just feel weird for me, bananas I don't get it. Pegless works fine now.
Were you ever one of those people who went out of their way to get sponsored or is the "just let it happen" thing more what happened for you?
It just happened yeah!
How are you feeling about contests these days? Any plans of getting to any anytime soon?
a-negative
What is the best feeling you can think of that you get from BMX?
Crashing and being fine, greatest thing ever. It makes for good laughs all caveman style.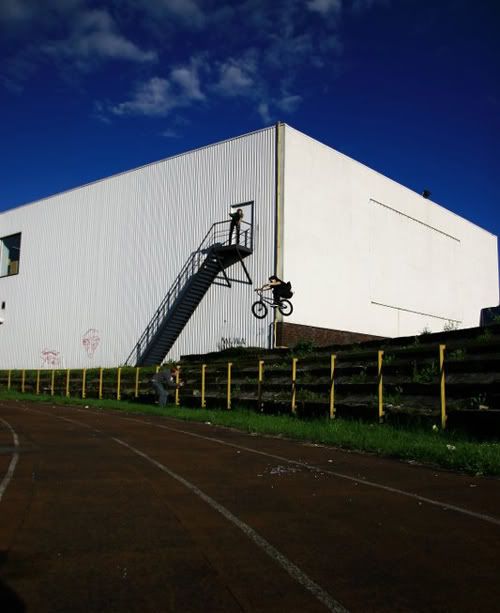 What is something that pisses you off about BMX?
Shit's all serious.
If you could be sponsored by any company BMX related or not, what would you pick and why?
I'm pretty stoked at the moment already!
What do you think you would be doing if you never got into BMX?
Probably would still play hockey, tackle them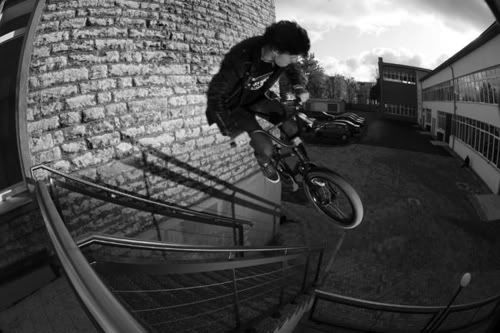 Have you ever gotten action, a number, or anything from a girl because of BMX?
It doesn't do any bad, heh
If you could no longer live where you live now. Where would you want to move to and why?
I Guess I would go place to place, don't see myself stayin in one place too long.
Who or what have been the biggest influences on your life?
Friends man, friends
If you could have any job in the world other than riding BMX, what would it be and why?
It really isn't a job for me anyway, as it keeps me only half alive. I get my beer money workin on random things
Aren't you in school? What are you going for?
Got done with high school and now time off, lookin for a job, don't really know what I want to do in the future I am clearin the head at the moment
Have you ever been in a fight or arrested? If so why? Did you win? or Why not?
Couple of times arrested for breakin shit. Got in a fight with my buddy, security guys tried to kick us out from an event. It was because we were smuggling crates of beer in and got pissed, they weren't diggin it. After we got kicked out we started getting on their nerves and well that ended in a fight, bunches on all sides and ended up at the police station again, fun times. That's one, but there's more hah
What is the best/worst purchase you have ever made and why?
Some seaweed in a can thing, tasted like 5am diarrhea
If you could commit any crime and get away with it, what would you do and why?
Haha, oh man…
What is the best advice you can give people just getting into BMX?
Less talk, more rock'n'roll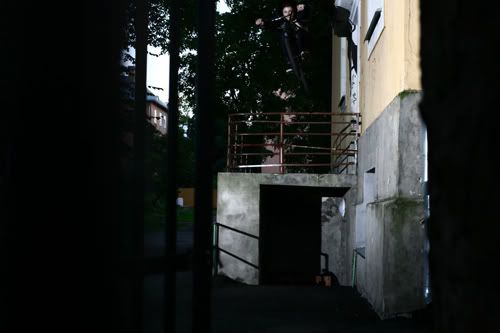 Do you have any shout outs or thanks?
Simple bikes, Niels over there, All the guys behind mystic, friends for being who they are, anyone who has helped in a way, thanks mates!
Anything else you would like to say?
LIVE FAST LAND FLAT