Kevin had a really good web video come out about a week ago and he had done pretty good last year in the Dew Tour so the interview was in need. So we got it done, enjoy!
Name:
Kevin Lajos Kiraly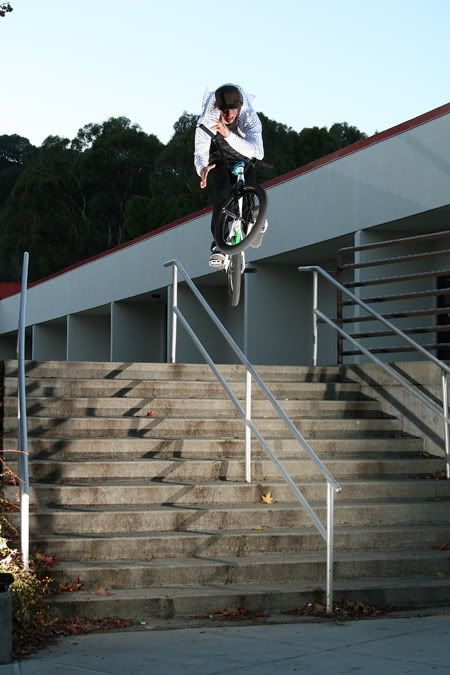 Location:
Livermore California
Sponsors:
Redline Bicycles, Alpinestars, Beloe footwear
Years riding:
like 6 or 7
It seems like lately you have really blown up. Did you ever expect to be riding bikes as a career?
Well not really, i always wanted to but dreams are dreams haha
You recently had a web video for redline come out, do you have any other video parts or web edits in the works?
The Redline web vid turned out pretty cool, i was really siked on it, it was just me messing around at my park and it didnt turn out half bad, so there will probably a lot more in the future. But as of right now im filming for an unnamed video with full parts from some gnarly dudes like Corey Bohan and Kym Grosser.
How are things going with Redline, any news you can share like road trips, videos, signature parts, or anything like that?
Well right now im riding my signature sticker way G5 frame, that wont be available for a couple months, and im Buying a High Definition camera soo hopefully ill be able to makes Some HD Web vids for redline.
Your also on Beloe, what was it like to be asked to be apart of that team and how did it all come about?
I was Soo happy when Brian asked me if i wanted to be apart of Beloe, especially after he told me who was on the team. company's awsome
Is there any signature stuff from Beloe coming from you or> anything big involving you and Beloe?
No, no signature stuff for me but i think Jim C is getting a signature shoe
How about the rest of the sponsors? Anything big going on> with those?
Nothing really besides my redline frame stickerway thing.
Your obviously able to ride ramps, what are some of your favorite things/places to ride?
I definetly ride the park almost everyday, But i love riding street, i definetly get more satisfaction riding good street then good park.
Did you grow up racing at all or have you just been freestylin since day 1?
I raced when i was really young but quit when i was about 11, then started freestyling when i was like 16.
How do you feel about contests? Do you plan on doing the Dew Tour again this year?
contest are fun and stressful at the same time. Yes i will be at the dew tour this year, i stayed in high enough points last year to be prequalified for this year. Theyre fun though.
You get to travel a fair amount, where are some of your favorite places you have been and where are some places you would like to go at some point?
I have only been inside the united states, probably my favorite place is Greenville North Carolina, i know i know, such a generic answer but that place is amazing, soo fun and soo many amazing riders. I definetly want to go to Barcalona, and australia.
If you could go on a road trip with 5 people to ride, who would you bring and why?
this is an easy one, Colin Mackay, Garrett Reynolds, Ty Morrow, Danny Hickerson, and Gator. All those guys are amazing people and amazing riders and if you dont know Gator, hes the MirraCo TM and one of the funniest people ive ever met.
You seem to have quite a bag of tricks, what are some tricks that give you the most trouble?
Vador jams and downside double peg grinds, both those tricks ive tried numerous times and can never get them.
If you could change anything about BMX what would it be and why?
wish they still called stem's goose necks.
Have you had any serious injuries on your bike?
Broken pinky, ive been super lucky soo far "knock on wood"
Outside of riding what are some things you are into?
im really into filming and video editing, my dog, and the GF
Do you work at all other than ride? If not what kinds of jobs have you had in the past?
im lucky enough to not have to work, but i did work at the bike shop for a month then quit.
How do you feel about getting loose? Strippers? and public intoxication?
Its fun, getting loose with your good friends is always amazing.
If you could hook up with any actress/model/person who would it be and why?
Probably Scarlett Johanson (probably spelt her name wrong) just because shes super hott!
What is something crazy that has happened to you that nobody believes?
not sure, nothing worthy to tell
What are some bands or music you are into?
definetly into chill electro indie stuff. Fisherspooner, elkland, peter bjorn and John.
Seen any good movies lately?
I am Legend, i like those kinda future Movies.
How do you feel about school?
its kool if you like it, i sucked at school so i wasnt really into it.
Who or what are some of the biggest influences on your life?
My Older Brothers, Mom, DAD, Colin Mackay, Optimus Prime.
If you could be sponsored by any non-bmx related company, who would it be and why?
Probably Audi So i can have dope cars, or subway because i always eat it.
What are some things you would like to accomplish in the next few years?
Travel More, Win a Big comp so i can have a sweet trophey, move out of my mommy's.
If you could have any super power, what would it be and why?
Teleporting so i can go anywhere i want, best power to have for sure!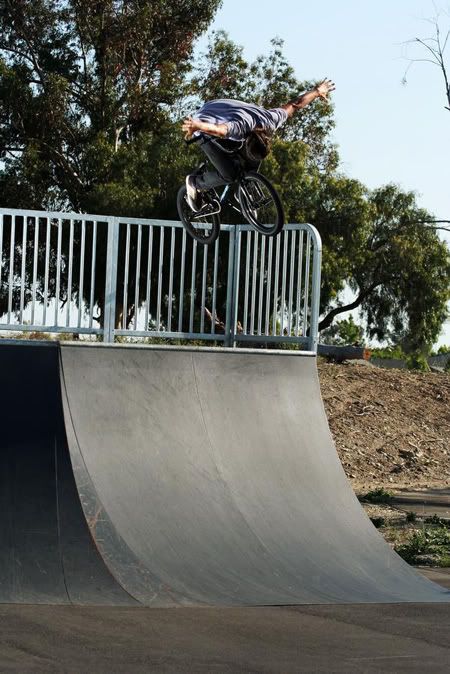 What kind of advice do you have for kids who are just getting into BMX?
Learn the little stuff first, learn to tire tap before you learn to tailwhip.
Do you have any shout outs or thanks?
I want to thanks everyone at redline, Fuzzy, Gork,John and Evan, you guys have been amazing, Brian at Beloe, your the man, send me some white stickers, alpinestars and Bmxunion, Chyea!
Anything else you would like to say?
Na im going to sleep