I've gotten to know Thomas from KHE since QBP started carrying their products about three years ago. Since then I have had the pleasure of getting to know him through venues such as Interbike and the QBP open house dubbed Frostbike. Thomas is a smart guy, and is very funny, once you get through that thick German accent that is. He and his brother Wolfgang have been in BMX for many years. As you will be able to see by the photos that Thomas sent me for the interview. Take some time to read about KHE. oh and keep in mind that his first language is not English, so take it easy on his grammar and word placement.
Enjoy…..
-iTod.


Full Name:
Thomas Göring
Thomas (L) and Wolfgang (R) at the QBP open house, "frostbike"
Where are you from?
Germany . Karlsruhe is the name of the city (K'he is the short name of our city)
KHE's first logo
How long have you been involved with BMX?


since 1980 when I bought my first

bmx bike

.

how many years has KHE been around what was the first part you made?
KHE start 1988 and the first part was the Do-Peg. At this time there were no good pegs out and I think that I can make a better one.
After talk to my brother we bought a small drilling machine for around 350€ and all began. That time I was 17 years old.


KHE was one of the first companies to put thought into a freecoaster, what was your drive to try and perfect such a complicated part?
Yes that's for sure a freecoaster is really the most complicated part on a freestyle bike because all the small parts have to hold so much pressure special on jumps and grinds. KHE build the first complete bike with a Freecoaster maybe 15 years ago. We always try to make the hub better and try to find better and stronger bearings because not everybody riding as smooth as Bruce lol . To make things like a frame, bar, saddle with Velo base, cnc stem… is not really so hard if you know the right makers. Also many companies using a Taiwan hub change the hub body abit and put their names on…we try to make with the HURE, Geisha & Reverse something own but this are the parts who makes real fun to me.
KHE's first office
KHE started out as a flatland specific company correct? How has it been making parts now for the all around rider?
No we not really start as a flatland specific company. My friends and me was riding more flatland but the parts we offered like the Grinddisc, Grindpegs, bars.. was special made for Ramp/Street.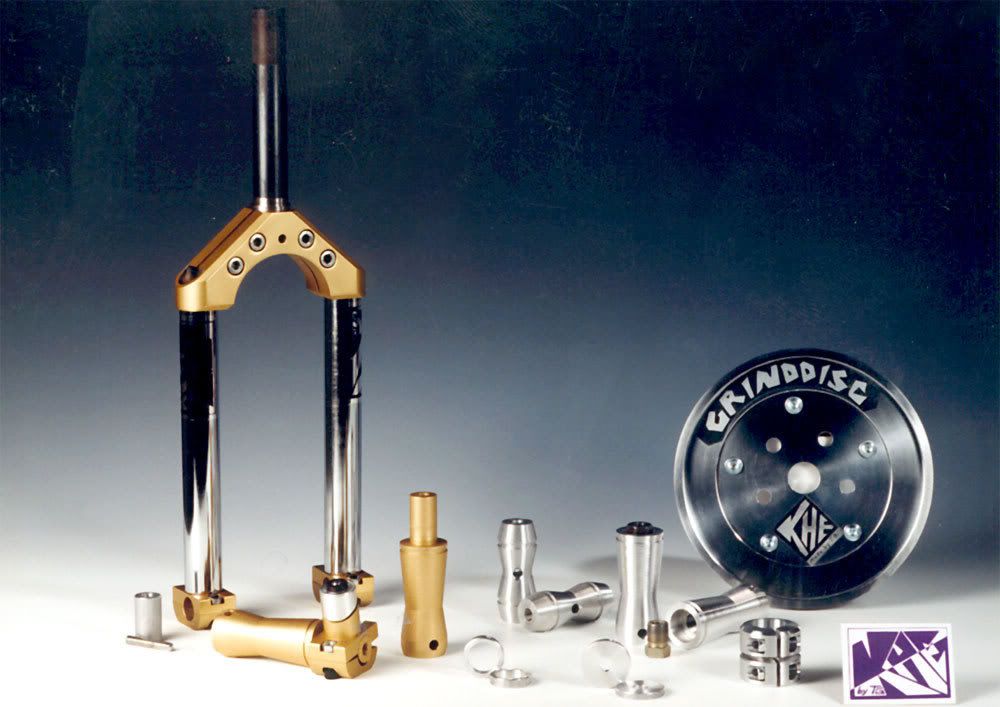 KHE's first product assortment.
With the Jason Davis frame the Beater we did a great all around Street/Ramp frame what also rode Jamie Bestwick in the 2 years he was riding for khe.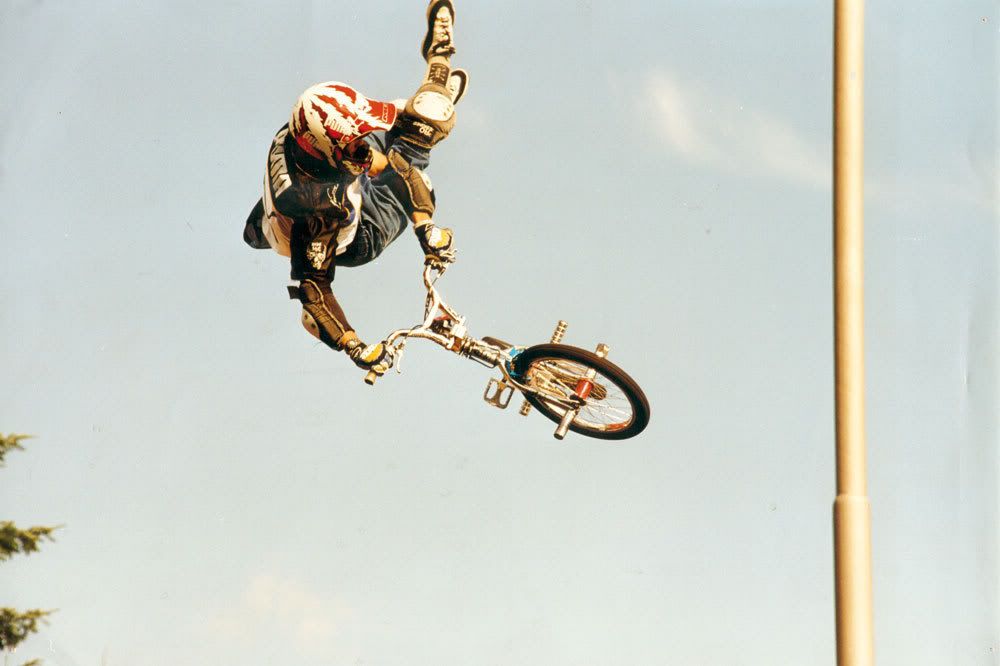 Bestwick when he rode for KHE
It maybe looks that khe is more a flatland company because there not many bmx companies out who are involved so much into flatland as we do. Official Website https://joycasino-e.com offers a great range of slots of all kinds round the clock and a great chance for gambling. I really like to offer parts for all around riders because many ideas works for each riding category like for example the Freecoaster hubs, lightweight bars, pegs comes with the same diameter now, plastic pedals becomes more interesting for Street now, lightweight Street frames who will be soon same weight as a Flatland frame, the MAC1.5 tire works for street and flat…

What percentage of your business is Flat and what percentage is Street/park/dirt?


In Flatland we have already a real good position on the market but Street/park & dirt is growing really a lot for us. The percentage of Street/Park/Dirt is higher as flatland because there are away more riders doing this but yes flatland is also really important and strong for us.
I remember this ad, Thomas also sent me a full beaver and tit shot of this model… Should I post it?

KHE puts a lot of thought and engineering into their parts. who is the Main brain there at KHE, and what input does the team have in the products you make?
I think to make the right parts you need many things…a good team who gives you also feedback from what they like and don't like, to have the right makers who can also make the quality we looking for, good relation ship to makers that the new parts you design with them not finally copied and goes to each other company. Many ideas comes from my side but I work with two designers (Guiom & Bram) who help me to bring the ideas to drawings and they give also a lot of input & design to the parts we like to do. The rider input is real important special for their signature stuff and each other part we doing.
There are a few new parts or revisions coming in 2008 which ones are you most excited about?
The bar stem combo, adjustable hub (more later), our new 08 bike line, light weight Cirrus bar & Cirrus fork who save the weight of a stem, Astral frontwheel, white MAC tires.
three words….
bar stem combo?
the next generation
Americans?
Beer, big tits & fast food

The Minnesota cold?
nothing comes close
You spend a good amount of time traveling to different countries, and events. do you still find time to ride at all?
On the time we start with the company I rode really a lot with my friends and always around on competitions but the business was growing always step by step and the time for riding becomes less. I still ride but more on the weekend.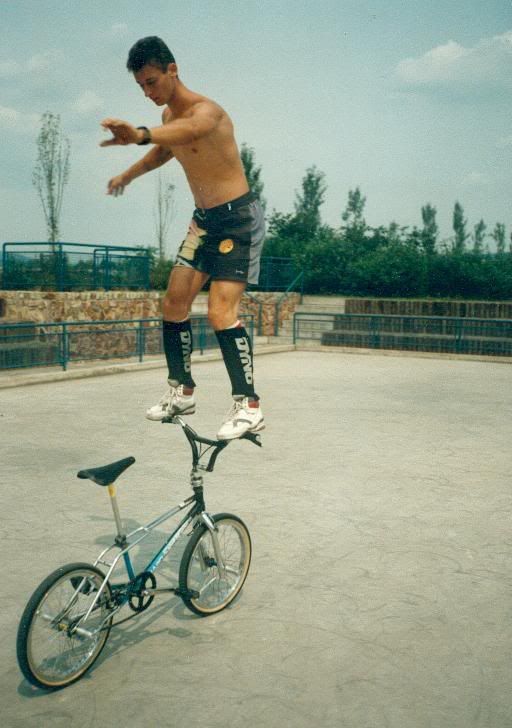 Yeah dude Yeah!
Is there anyone special that you would like to thank?
Yes big thanks to our KHE team (includes all riders, people who works at khe), Guiom & Bram, Mark, all riders, dealers and distributors, you for the interview & my parents to help us special on the beginning with the company!
Old KHE catalog