Lahsaan's name has been popping up quite a bit lately. Whether it was the news about him joining the Skeleton Crew or the multiple web videos he has had part in. Lahsaan has been on it. I wanted to find out some more about him, so I shot him a couple of questions and let him and Tammy mix it up a bit to make it work for him. Then I got some amazing shots from Josh Hayes to go along with it. So check out what Lahsaan is all about, and some of his recent videos, then leave him some love in the comments!
Name/ Aka's: Lahsaan Kobza aka Piffman'

How piffed are you? Piffed for days!! Me and my boy Tammy stay blunted!!
Place of residence: Chula Vista, CA SD
Who you Reppin: SUBROSA Skeleton Crew, Kings Ride Shop, Avant Garde, Blunted Athletics!! Funn!
Years riding: 10
What got you into riding in Nebraska? Tell me a story from the sticks?
I remember seeing a poster of Shaun Butler in my local bike shop and from then on he was my idol! Me and my brother always rode bikes around but when we seen the first black dude on a bike we were hooked!! So I begged my mom to buy me this 16 inch GT Performer from a garage sale and started sending it at the jumps down the alley!!
So you just got added to the Skeleton Crew for Subrosa. How pumped are you about that? How did you get voted on the island?
So fucking pumped!! Subrosa is the shit!! Ready to party and ride with everybody, I think the dick duster sealed the deal! Or cause Kyle wants a piece of my money maker!!! Hah 30 bucks you got her all night!!!
What are you looking forward to the most about the Skeleton Crew?
I'm so pumped to be apart of one of the sickest teams in BMX! Good times, traveling, partying, progressing and piffin.
How do you feel about living so close to your teammates?
It's fucking ridiculous. I get to ride and party with some of my favorite riders on a daily basis!
How do you feel about living in a Whales Vagina? I am going out on a limb saying its better than Nebraska?
I love it! The weather is always perfect, good piff, Mary Jane cards!!!!! And the best spots ever!!
So you are an ex-racer. Why did you stop? Just couldn't hang on the first straight or what?
Racing sucks. I'm to piffed for this one.
I know a couple others from San Diego used to race like Chad Kerely, and Dennis Ennerson. Got any funny stories of people going over berms or race track shenanigans?
Chad was always the most stylish kid I ever seen on the track! Me and Dennis raced each other forever! I remember Dennis falling in front of me in a semi, which means you have to quilify top 4, and going into the first turn Dennis fell and made everybody fall too so then it was a race to find your bike and get back on the pedals. Dennis got up and made it to the main and I didn't, it was sick!!!
San Diego is home to some of the best spots ever. Where can you usually be found riding on the daily
Everywhere up and down the trolley!!! Chula Vista skatepark!! OB
How sick is the new spine at CVS "Chula Vista Skate Park"?
Fuck that shit. It's a 6ft spine into a 3ft mini ramp!! Josh Hayes loves it more than he loves Pokez!!!
Who are some of dudes you usually ride with? Any future Gold medal winners?
Tammy Jane, Hoang Tran,Eric Soto, Albert Mercado, Josh Hayes, Kyle Hart, Tom Perry, Chad Kerley aka Baby Dennis! Conner Lodes and Big Mike Hemmingway!!!
What's one trick you can't do for the life of you, but wish you could? Anything you think you do too much? Downside whips!! Soon hopefully? I do barspins a lot but they're so much fun, so fuck you Come Up kids!!!
It sounds like you will be doing some traveling with the Subrosa team this year. Where are some places you will be getting the chance to go to? Anywhere you would like to go that you haven't had the chance to yet?
As of right now, Florida and Atlanta. I can't wait!! But I really wanna go to Barcelona, Germany, Africa, maybe a third world country?!
Your Subrosa web video the other day was real good. Have you been working on any video parts, or more web videos lately?
Thank you! I've been slowly gettin clips for a Defgrip web vid that Josh Hayes is filming!! It's gonna be sick. But I'm just starting to film for Get Used To It!
What do you think you would be up to if you didn't get into riding bikes?
Hating life!! BMX is probably the best thing to ever happen to me. It has kept me out of so much trouble!!
What are you usually up to when you aren't riding? And how piffed are you.?
Rotting, roasting, shady activity, highlife32!!
I know San Diego is home to some real good food like The Sandwich Emporium, and Pokez. What are some of your favorite hot spots?
Lolitas Lolitas Lolitas! Best mexican food in SD!! Even though I used to know this cute red head who worked at Pokez!!
Are you talking about Josh?… Nevermind…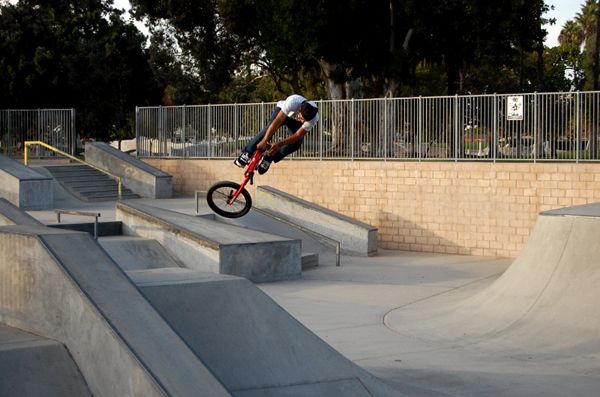 What kind of music are you into?
Everything Wu Tang Clan, Big L, Sage Francis, Sabbath, Jimi Hendrix and Tom Penny!!
So how awesome is Hilltop High?
Fuck that place! They kicked me out when I almost lost my right leg!!!
What are some things you would like to accomplish in the next few years?
Move out, travel overseas, go party with D'Amico in Canada, get into a bar fight, ride everything, grow a full beard, meet all kinds of sick people and hopefully ride my bike every day for the rest of my life!
Lets say the BMX thing doesn't play out. Do you have a back up hustle?
Yeah, she's in the club working as we speak!!! Hah but I really hope I can find a job in the BMX industry cause I'm down for the cause!!
Do you spend much time on the computer? Any favorite websites?
Subrosabrand.com, Kingsrideshop.com, BMXunion, Vital BMX, BNQT.com, Shred or Die!!
What kind of success are you having with the ladies these days? Any whoops' running around?
Oh yeah!! If you want one let me know! 30 bucks like I said earlier!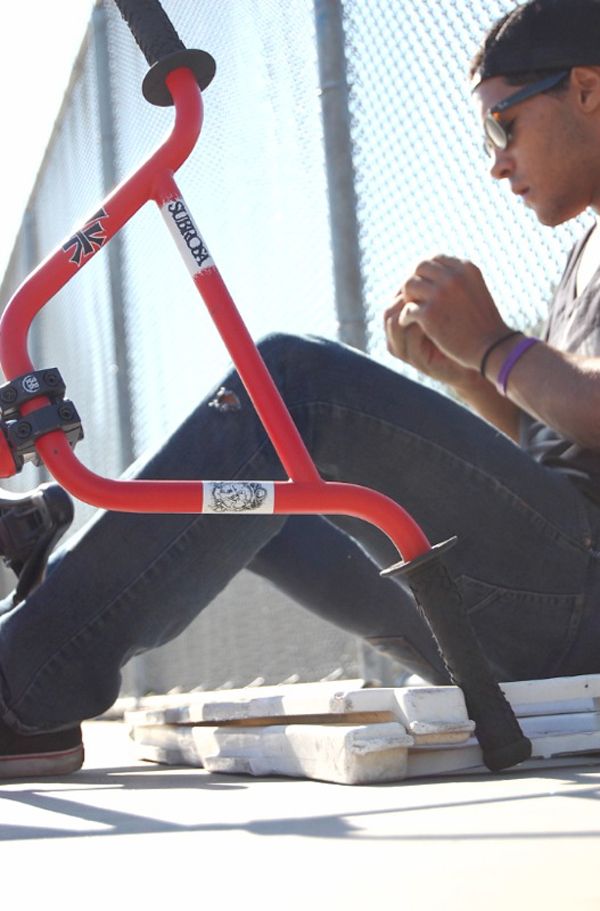 What makes for a good night out for you?
Friends, piff, New Castles, ladies, minute maids!!!
What's the best advice you have been given?
Puff puff pass!! Hah
Do you have any shout outs or thanks?
Ryan sher and everybody at Subrosa, Shadow! James Collea at Kings Ride Shop, Julian and Max at Avant Garde for the good times in San Fran, my boy chi at Blunted Athletics KAYLAND MAXWELL, Tammy Jane, Hoang Tran, Josh Hayes, Albert Mercado, Kyle Hart, Matt Colisch, DA'mico, Eric Soto for being a Chula Vista legend! Steven Mack, San Diego, Tom Perry, Dirt Ron, Nick Corsiglia, CHAD Kerley, Justin Kosman, Baca Beats, the Maxwell family, Lechners, Freese, Karin, Big Mike Hemmingway!
Anything clever you want to say?
Get used to it! And stay piffed brother.