I met Mark once, about two years ago, at a Baco Jam. It was pretty crazy because he is a super friendly guy and really talented on the bike. If your a BMX rider you should be more like Mark. This is his interview, enjoy.
Name:
Mark Potoczny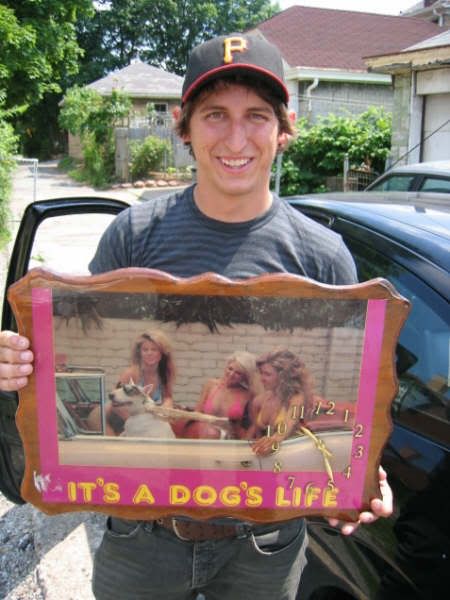 Location:
Independence PA
Sponsors:
Hoffman Bikes, Square One, Sun Rims, OBMX
Years Riding:
12
What was it that first got you into riding, and did you ever expect it to bring you to where you are today?
Ever since I was a little kid, I always rode my bike on my dad's motocross track. He took me to race at South Park twice when I was six but I just kept riding around my house the same way. Then I raced motorcross for a few years until I was about 11 and I met a few kids that had jumps near my house. Then I was hooked, I turned my motocross jumps into bmx jumps and started racing on a regular basis.
You have some really good sponsors that you have been riding for, for a while. What kind of news do you have with them? Any big road trips, video parts, signature parts, or fun stuff like that going on?
I just went on a road trip with the whole Hoffman team through Colorado and New Mexico that was filmed for Props 69. Also, right before that I went on the gypsy tour with Sun Rims, and that dvd should be out soon as well.
It is technically "contest season" around BMX these days, do you have any plans of hitting up any contests?
I'm going to the Battle at the Belmare next month; it was really fun last year. If they have another Baco Jam this year I will go for sure, they are always a good time.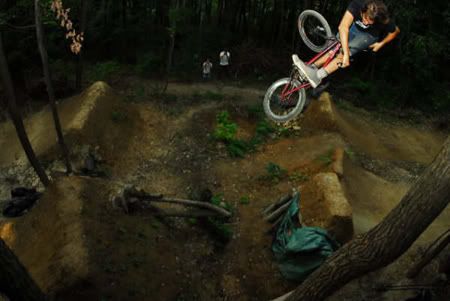 You are one of those all around riders, did you grow up racing at all or was it just trails that got you the style and control?
I grew up racing and riding trails, that's all I did for the first few years of riding. It's kinda funny, there was nothing to ride in Pittsburgh back then except the track and jumps that you built yourself. I never rode a quarter pipe until I was 15 and now parks are everywhere.
If you could only ride one spot for the rest of your life, where would you ride and why?
My yard or Catty Woods.
What is the last trick you have learned? And how do you feel about the level of progression these days?
Curve wall ride to 180 barspin was the last trick I learned. I did at least 100 wall rides to 180s before I finally caught the bars, and when I finally pulled it my tire went flat. BMX is progressing way faster then when I started riding, can't believe the stuff that goes on now.
What is a trick that no matter how many times you have kicked your own ass trying you cannot get on lock?
Opposite spins always give me trouble. Sometimes I can do them on boxes and other days it feels so awkward.
Speaking of kicking your own ass, have you had any bad injuries due to BMX?
Three Broken wrists, dislocated my thumb twice, separated shoulder, broken collar bone, cut my ear in half and needed 22 stitches, dislocated big and pinky toes, and multiple concussions.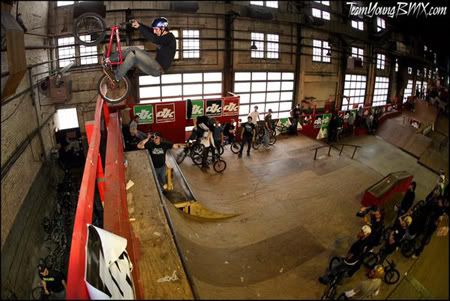 You have had the chance to travel a fair amount, where are some of your favorite places you have had the chance to ride?
Bethlehem is one of my favorite places to go ride trails. Every winter I go down to Orlando Florida to visit friends and escape the PA winters. I just recently went through Colorado on a Hoffman trip, and I really liked it there too.
If you could go on a road trip with anybody, who would you take, what would you roll in, and where would you go?
That's really hard to narrow down, so I'm going to say I'd take a school bus with all my friends I have met through the years and drive around the country for a couple months and hit every state.
How do you feel about bike games to play like foot down, b-i-k-e, or anything like that?
Foot down is always fun. Bike is cool too with the right people.
If you could change anything about BMX what would you change and why?
I wish there were more trails to ride.
What do you think you would be up to if you never got into BMX?
I'd probably be done with college right now and looking for a job to pay off massive school loans. My life wouldn't be half as fun as it is now that's for sure.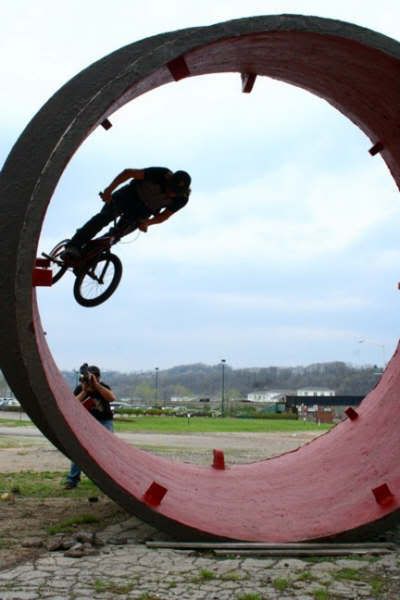 What are some things you are into outside of riding bikes?
Lately we have been hitting up Karaoke frequently; it's always a good time with your friends. I did a bit of rode biking this summer when my thumb was hurting. Back in June a few friends and I did the MS 150 which is a charity bike ride from Pittsburgh to Lake Erie to raise money for Multiple Sclerosis. In the winter, I like to snowboard as much as my budget will let me, and sled riding is fun. I just got a row boat too, I want to take that out more before the summer is over.
Who or what is the most influential thing(s) in your life?
My family and friends.
If you could listen to only one song for a whole day, what song would you have playing?
Right now it would be the The Go Gos – Vacation.
Seen any good movies lately?
I just saw the Doors movie, and it was rad.
What is the craziest thing you have experienced in your life?
When I was 9 years old, I was at soccer practice and witnessed a US Airways 737 crash only a mile away. Needless to say, I was terrified of flying and never flew until I was 17.
How do you feel about the elections coming up? Any plans on voting?
Right now, between the two candidates I'd have to choose Obama. I listened to his book "The Audacity of Hope" on audio book. I like his ideas, but lets wait and see what he does if he has the chance to get in office.
Do you spend much time on the computer? Any favorite websites?
I usually check the weather and my email every morning. Some other good sites are hoffman bikes, here for kicks, pretty shady, Pa woods and axelrad.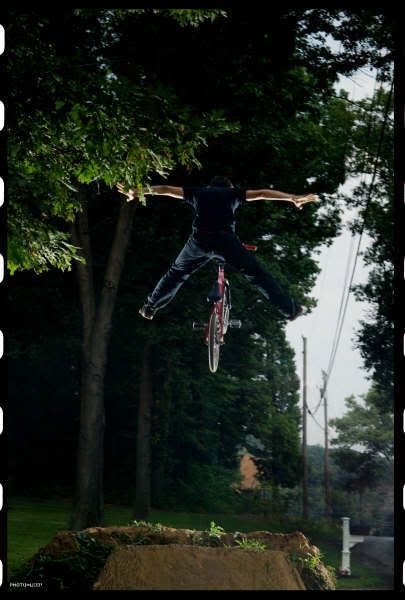 If you could be sponsored by any company that is non bmx related, who would you pick and why?
Sheetz, it's a gas station chain in wester PA that has bad ass food.
What is the key to success with the ladies?
Not trying to hard.
If you could have anything in the world, but had to sacrifice one thing of yours, what would those two things be?
I would trade all my old emo cd's for Rod Stewart's greatest hits.
What is the best advice you can give to BMXers out there?
Do things on your bike that make you smile and forget other people's opinions.
Do you have any shout outs or thanks?
Thanks to my friends and family especially my parents, Hoffman Bikes, Sun Rimes, the whole Cottle family over at OBMX, Kurt for doing this interview and Square One.
Anything else you would like to add?
Look out for a trail jam at my house some time in late August. I will have a flyer made soon.