I can't remember the first place I remember seeing something of Matt Colisch exactly. For some reason it always comes back to his part in the old VULT video. Matt has since been doing a lot of things for BMX in the filming and editing side of things. He has been hustling to make ends meet while staying as close to BMX as possible. Check out what he has be up to lately, along with some photos and videos of him. Don't forget to leave him some love in the comments either!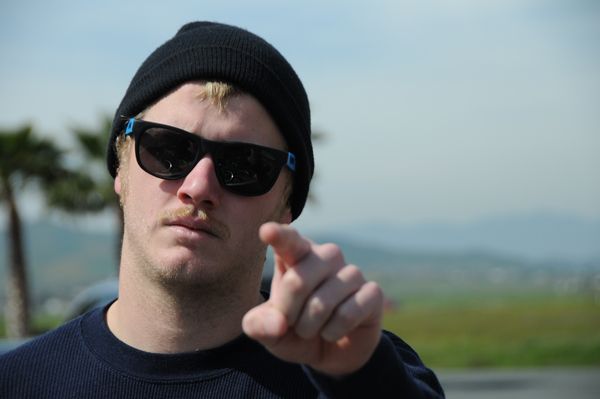 Photos by: Shawn Lee
Name:
Matthew Colisch

Location:
Murrieta, CA
Sponsors:
Hell on Earth, AJ's bike shop
Years riding:
12
What was it that first got you into BMX? Any real early memories come to mind?
I just remembered the other day that the first thing I was exposed to was the cover of Ride with Rooftop peging this brown wooden fence, now I know the guy pretty cool.
It seems like you have been a little more low key these days. Where have you been hiding?
Haha ya low key more like just living life. A little work and some school and the filming is pretty much all I have time for these days.
Have you been able to ride as much as you used to?
HECK YA. I find myself way more motivated to produce shit and ride with friends these days, I guess I still see BMX as my only outlet.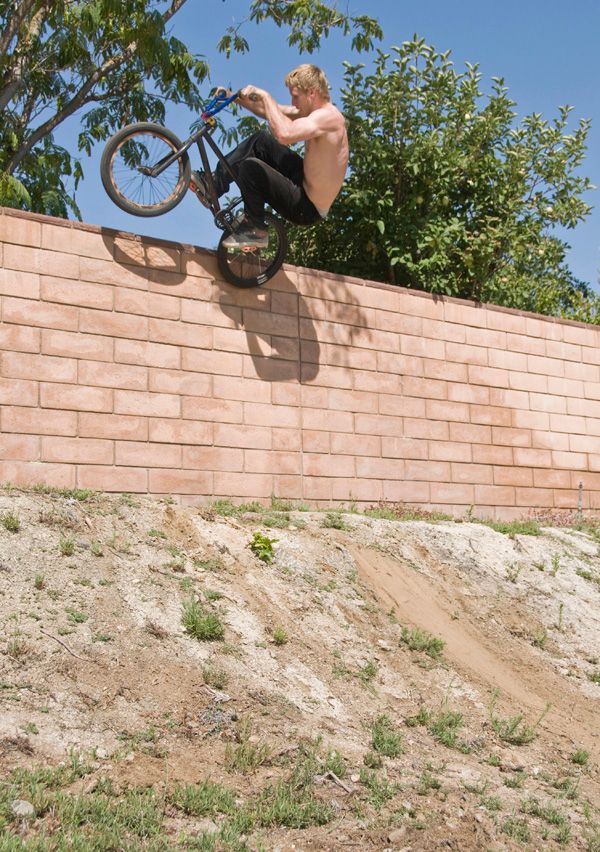 Where can you usually be found riding these days?
Anywhere from the Mexican border to L.A, lots of repo pool missions lately.
Have you been doing much traveling lately? Do you have any trips coming up?
For the most part I stay pretty close to home, I would love to travel more next year though. As far as upcoming trips nothing is set except Interbike but I am conjuring up some numbers for a trip/DVD next spring!
Who's your usual riding crew these days? Any up and comers you think people should be looking out for?
My usual crew is pretty much the guys you see in my vids, I try to get around to different places and keep it fresh. As far as up and comers I would have to say Mikey Babbel and Chad Kurley are definitely making waves and Tammy from SD and his boy Lashaun are non stop bangers.
The first time I remember seeing your stuff was in the old Vult videos from a few years ago. What ever happened to Vult?
I don't know. Im pretty sure that was just Nardi putting a name on all the crazy stuff he was doing back then. That whole part was a total surprise to me. I just happened to be in Oregon when he came up to film and then when GOODS had the premiere I was totally blown away. Good times, and thanks again Aaron.
Have you been doing any filming for a part in a video or web video at all?
Ya I just did a part of myself for a web video but Im still trying to come up with a legit reason to do the 25 things I got saved.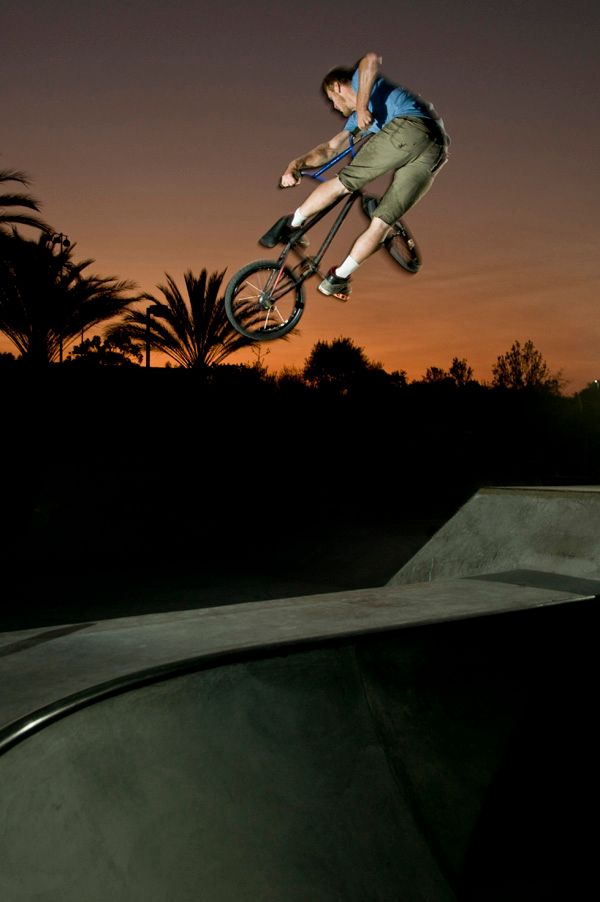 What do you think you would be up to if you never got into BMX?
Probably just photo and video stuff, I got into photo around the same time I started riding and I have come to realize that the two are all I really want to do.
What are you usually up to when you aren't riding?
Editing vids or chillin with my girl Julie. Enjoying a coffee and a "cig" with each.
You have been doing a lot of film work lately. How did you get into all of that stuff? Is that all you are doing for work these days?
Ya video has been good this last year. I actually started by making a scene video called " Another day in Paradise" then I started putting bits on vimeo and "somebody" found them and started posting them on TCU, which was rad as hell. Shortly after interbike last year Rooftop hit me up and asked if I would be down to throw them stuff, and as of recently I talked to Kyle Carlson and I hope to be putting a lot of stuff up there as well. But NO the vids don't pay all the bills so I work at Toys R Us part time to keep the lady happy.
Did you go to school at all?
Yuuup. I got a certificate in Video Production from the local JC so far and I'm slowly chipping away at the AA.
What kinds of cameras, computers, and editing programs are you working with?
Adobe premiere pro 7 ( no cs), a Canon GL2 (no HD), and a Rebel TI for pics. Basically, I work with what I can afford and don't feel the need to kill myself for a hvx-170 or 5dmkII. I am slowly building up the bag but as for now HD is gonna have to wait..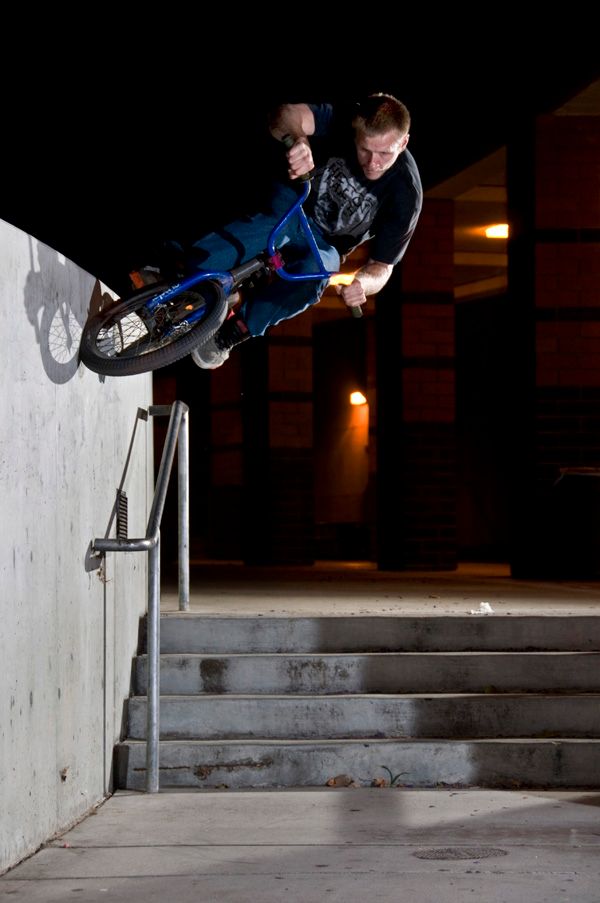 Where has some of your work been featured lately? Are you working on any videos right now?
Shredordie.com and Vitalbmx.com are my homes for the time being. I just finished the part of myself and a rad DGAF Dan and Larry Edgar vid for Vital, so that should be up soon. As for a full length video hopefully next spring with all of those up and comers listed above and more. Oh and I put all the vids I contribute and a ton of other random shit on my website mcbmx.com so check that if you want.
I remember seeing you Twitter about getting a "real job"… What's that all about?
Simple- I want to travel and film more sooooo I need to find a better job so I can start planning some shit, but out here its not as easy as it seems. On the other side I'm on the up and up and I'm still getting a bunch of stuff done so its all good.
Who are some of your favorite filmers, editors, and photographers?
Man there are a bunch of talented guys like Rich Hirsch and Chad Shac and for sure Will Stroud, I have always felt a good vibe from his stuff. But honestly no body can hold a candle to Joe Simon, hands down the most creative and motivated dude in the game.
What kind of music is a guy like you into?
I like a bunch of stuff but I always end up with Devotchka, Modest Mouse, or Fugazi in the ears.
What is the last movie you watched?
Season one of Eastbound and Down. It's pretty much a movie and it's the funniest stuff ever.
Any favorite websites?
Yeah, BMXunion, The Come Up and for sure Vital and Shred Or Die. I'm also on Hulu and CurrentTV a lot.
I noticed you got a good looking girlfriend, what's your key to success when it comes to the ladies?
Don't try to understand them just enjoy the thrill of the chase and don't stress shit.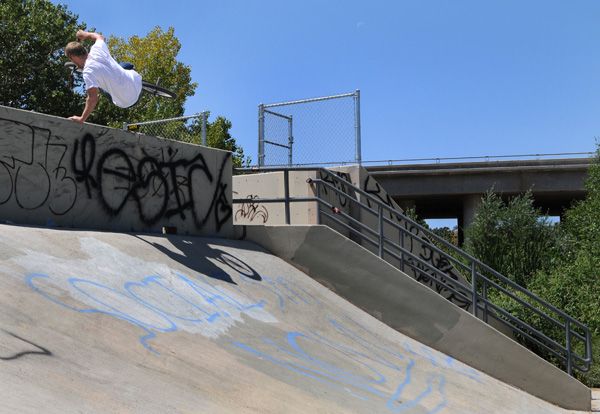 Who or what have been the biggest influences on your life?
Scott Papiro, Ryan Fudger, and Rich Hirsch are all guys I have known for a while and are all very successful in BMX. I have definitely watched and learned from each. But my main influence is my old man Ted Colisch. Having supportive parents is the radest thing ever and I was blessed to have a dad who was down with everything I decided to pursue.
Where do you see yourself in the next few years?
Chill'n hard as F in Cali with good times on the regs, vids on the regs, seshs on the regs, trips on the regs, you know get'n busy liven
Do you have any shout outs or thanks?
Ya I want to thank my parents for their support and all my good friends that I have met through riding this little bike. My girl Julie for putting up with the looong weekends away and feeding me. Thanks to the dudes that kill them selves for my camera. Anybody that watches my vids thanks a bunch, and to Kurt for hook'n me up with my first interview. Lastly I want to do a shout out to Joe Riley for dragging my ass with him for years and getting me on almost every team he's been on just so we could keep shredding, that's what BMX is all about.
Anything else you want to say?
Ya next time you come out to Cali actually hit me up fool, hahaha
Haha, I'll be in Vegas.
Edit Matt made for Mike Saavedra.