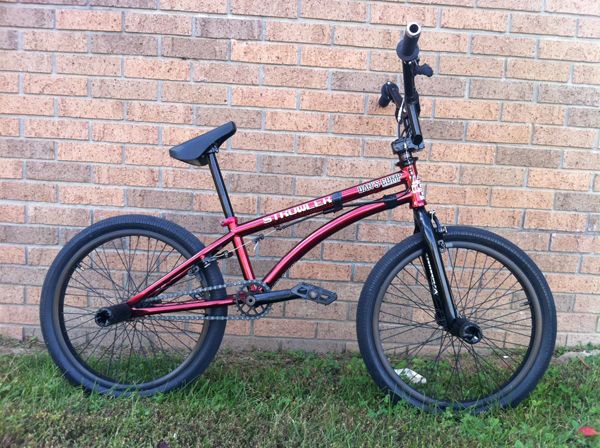 When I think of flatland guys who absolutely kill it, one of the first names that comes to mind is Matt Wilhelm. Matt has been a recognizable name in BMX for years and after his recent time spent on the TV show "Americas Got Talent", I think a few more people recognize who he is outside of this smaller crowd of BMX riders. Matt recently built up one of the new Hoffman Strowler frames, so we figured it would be a good time to check out his new bike, talk about his experience with the TV world and find out what else is new. Let's take a look…
Name: Matt Wilhelm

Location: Chicago
Sponsors: Dan's Comp & Hoffman Bikes
Years riding: 20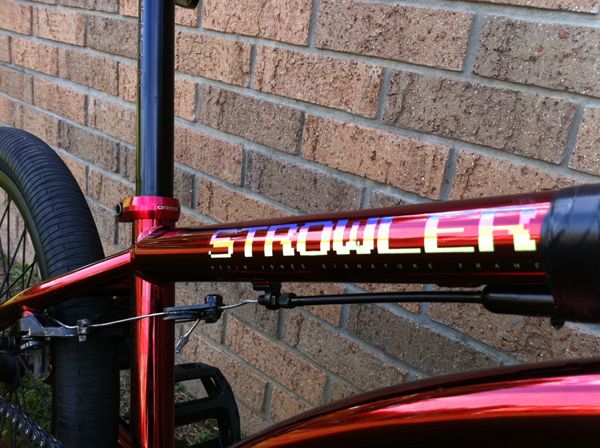 Frame: Hoffman Strowler (18.9 top tube)
Fork: Odyssey Flatland CS2 Fork (minimal offset)
Bars: Quamen Hiro bars
Stem: Suelo
Grips: ODI Longneck
Barends: Cam Acura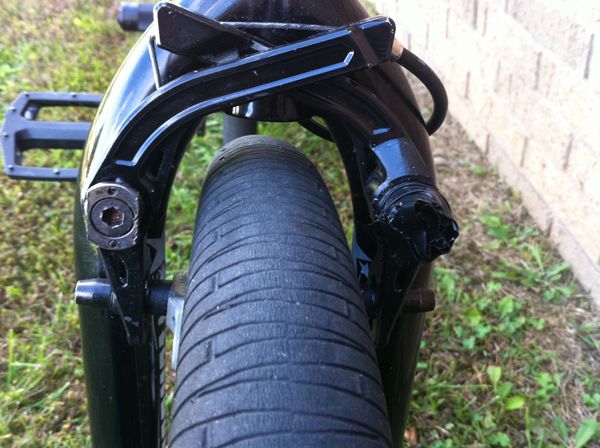 Headset: FSA
Clamp: Animal
Seat post: Thompson
Seat: KHE Watanabe
Cranks: Profile 160mm w/ TI spindle
Sprocket: Tree 23 tooth spline drive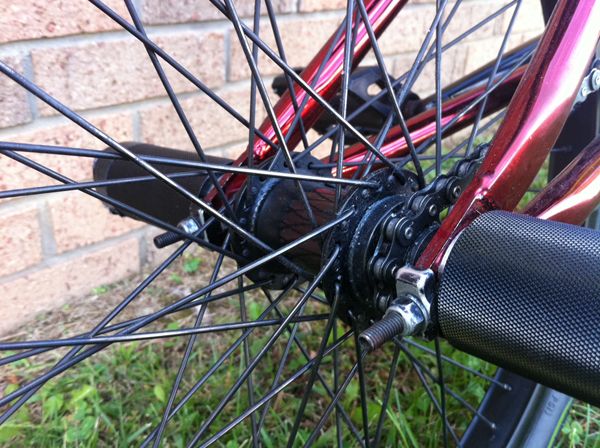 Chain: Cult 510
Brakes: Suelo Front and Fly Rear
Cables: SST Oryg and Odyssey Slic
Brake Lever: Dia Compe Tech 77
Detangler: Snafu Mobeus
Front Tire: Ares A-Class
Front Wheel: Hoffman Generator 48 hole Rim with Fly Hub
Rear Tire: Ares A-Class
Rear Wheel: Hoffman Generator 48 hole Rim with Nanakai Freecoaster
Pedals: Animal Hamilton PC
Chain Tensioner: Quamen Pops
Pegs: Tree Big Balsa
Any mods or special things you do with your bike?
I taped up the rails on my seat so that it doesn't hurt my fingers. Also someone made me some old school Hutch stickers with my name on them so I put them on. My first Freestyle bike was a Hutch Excel. I could never afford the Trick Star, so this is as close as I'll get.
What's your favorite part of the bike?
I'm loving the new color of the Strowler frame, so I'll have to go with the frame. I rode with my friends the other night, and they said it was the best looking bike I've ever had.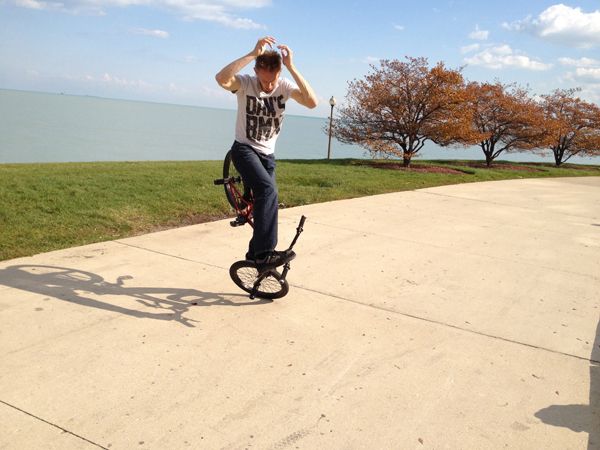 What do you go through the most on your bike?
Tires. The tires I like to ride (Ares A-Class) are extremely hard to get in the United States. I have a stash of 10 tires, which will hopefully last for a year. I'm tryng to ride on smoother surfaces so I don't wear them down so quickly.
What's the oldest part on your bike?
The front hub is from 2003. I've ridden different hubs during that time, but I decided to go back to 48's. Nobody makes a 48 hole front hub so I had to dig around in my garage. I painted it black with a paint marker, and it looks like new.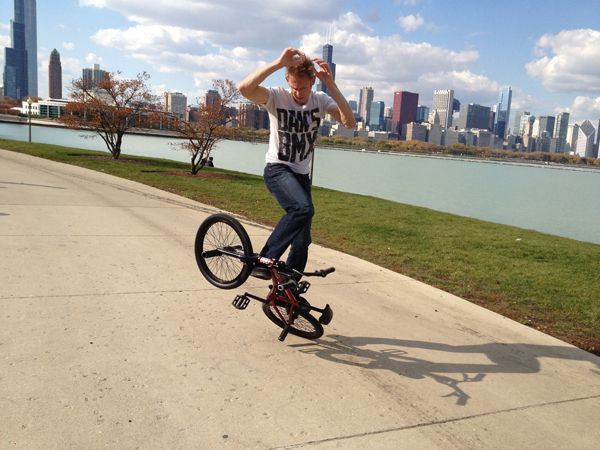 How often do you get the chance to build up a new setup?
I usually get a new frame every year. I don't like change so I'm hoping not to change anything drastic anytime soon.
How are things going with Hoffman these days? Do you have anything in the works with them that your are getting excited about?
I'm excited about this year's Strowler frame. The translucent red is really the best looking bike that I've had, plus the bike rides awesome too.
How about Dan's Comp? Any sort of trips, edits or anything in the works?
Dan's is awesome. They have been my sponsor for over 12 years, which is pretty remarkable if you think about. Terry Adams is also on the team, and we might have a few ideas in the works.
Do you have any other sponsor news you can tell us about?
Realistically I should have some more sponsor news to tell you about. I perform over 400 shows per year in addition to all the edits, contests, and my regular pro duties. I've just been too busy to try and get other sponsors. I would love to get a Title Sponsor for my shows. Hint Hint.
So the big thing for you recently was your appearances on Americas Got Talent. How crazy was that for you? Care to share a little bit about the whole experience? I feel like it had to be pretty stressful with all the pressure.
There were stressful parts about being on the show and fun parts about being on the show. I have to say that the month I was filming for AGT was one of the best months I've ever had.
The main reason of the stress was just the nature of my performance. I didn't get to practice in the UV lighting until the day before we went live. Riding in UV light (especially spinning tricks) is very disorienting. Since I only practiced once in this type of light at home, it's not something I felt comfortable with.
I got 5 run-throughs and then had to do it live in front of 15 million people. I wasn't intimidated by the number of people watching or that it was on live TV, it was more of an anxious excitement than anything.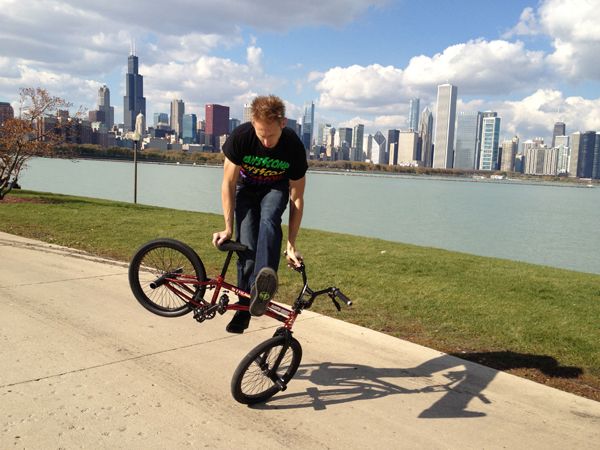 Have you been getting recognized on the street since then?
Yes, and I even got recognized walking into Wal-Mart. That is kind of surprising to me because my performance was mostly in the dark, so the guy had to have been watching the results show or something. The kids have been going absulutely crazy this year at my shows. They really think that I'm cooler than Tony Hawk.
What else have you been up to lately? Have you been hitting many contests or demos?
I was psyched to win the Year-End title for the Am Flatland Circuit this year. It was nice to have a Year-End title in the United States again for the first time since the X Games era. I'm constantly working on new tricks, which is more important than winning any comp or performing at any demo.
What are your plans for the winter? Any trips south to the warmer climates or are you getting a few months to relax?
Relax??? This body isn't going to hold up forever, so I have to get my riding in now when I can. I have my own warehouse that I pay rent to ride in, so I'll be riding all winter. Also one of the benefits of being my own booking agent is that I can book shows where and when I want. I'm spending over a month in Florida during the last part of November and early December. Nothing beats riding outside next to some palm trees… especially if you are from Chicago.
Have you begun planning for 2012 yet? Anything you really want to accomplish in the next year?
For demos I'm usually planning over a year ahead. I'm pretty much booked up until June 2012 already, and I'm working on Fall 2012 now. I have a couple of video projects in my head that I need to get moving on, but I've had so many demos lately I don't get a chance to film much. I'm also trying to do a lot outside of the BMX industry. Yesterday I filmed for a documentary about bullying with Cartoon Network.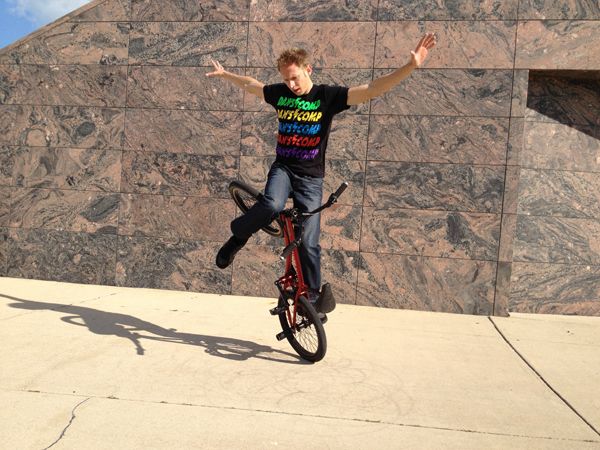 What have you been up to when you aren't riding or appearing on national TV?
I love to write, record, and produce music. Lately I've been busy with the business end of running my shows so recording music has been more of a treat than something I get to do consistently.
What's the last song you heard, movie you watched and website you visited?
Song: Band of Horses- The Funeral
Movie: Easy A (My wife's choice)
Website: ProBikeShows.com (Shameless plug, but it's first thing I check everyday to make sure it's working properly.)
Do you have any shout outs or thanks?
Thanks to my sponsors Dan's Comp, Hoffman Bikes, and everyone who voted for me on America's Got Talent.
Anything else you want to say?
I've been riding "Freestyle" for over 20 years and enjoy it today as much as I did on day one. Thanks to everyone who has made my dream come true.