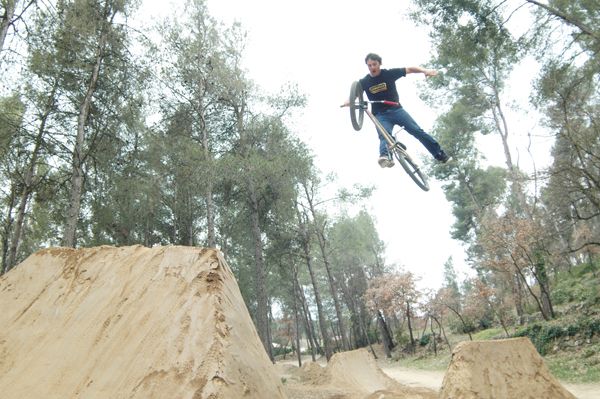 Photo: Gilbert
Well, 2010 is over and 2011 is already underway. Starting the year off right with a fresh new interview for you. A week or so ago I was talking to Mark Noble about what has been going on with Deluxe these days and he mentioned that he was working on a new frame with Max. I'll admit that I don't know a lot about the scene in France, so I figured that it was a perfect excuse to ask Max some questions and find out more about him. It turns out Max had quite a bit to say and I did my best to clean up his english a little bit. Check out what he had to say, along with some real good photos and a few edits. We're off to a good start for 2011…
Name: Maxime Bimar

Location: Aix-en-Provence
Sponsors: Deluxe, Savakas, Vans
Years riding: I've been riding trails for around 16 years. I did some BMX racing and rode mountain bikes from when I was 10 to 13 years old. Now I'm to lazy and having a beer is my main envy.
What was it that first got you into BMX? Any early memories come to mind?
How I got into BMX is a pretty cool story. When I was a child, my dad was big into riding road bikes and XC every weekend. I knew what a bike was at a real young age. As soon as I was able to ride a bike I had a real good feeling about it. I understood how biking worked. It was the beginning of freedom. Me, my bike and my backyard. 20 years ago there was a little race track made by the municipal staff. Then some dudes who were bored with the spirit of racing came down here and started to dig. I started to ride with Patrick Guimez and some other guys. This was really the beginning of the trails scene in France. I remember doing my first trick. No footer lander (Hey, I was 6 years old!!). Then my dad came into our trails and talked about buying me a real BMX to those riders. A GT Mach one.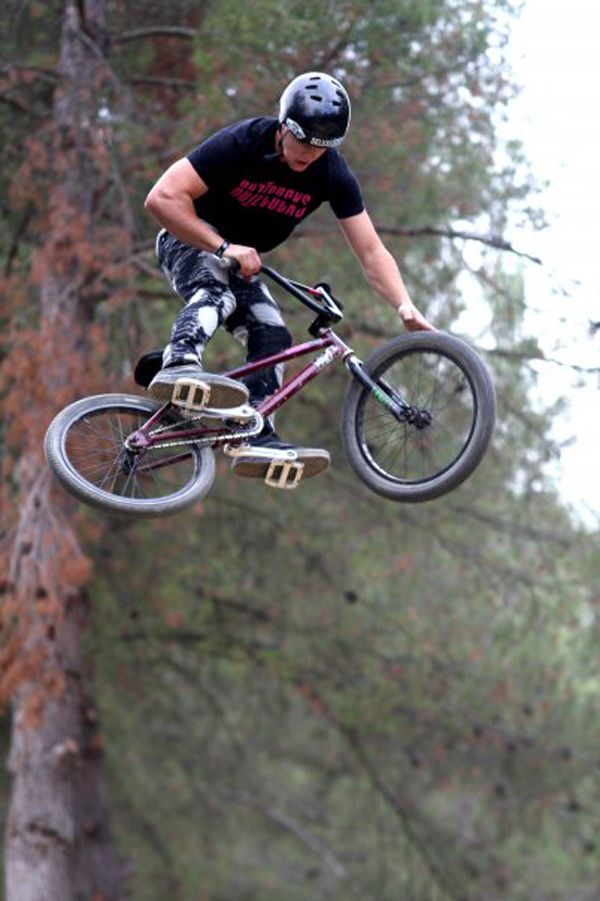 Photo: Joe
How are things going with Deluxe these days? Any trips, or anything you are excited about going on with them?
These days Mark Noble and I are working on The "Red Pant". That's the name of our frame, because I often wear red pants. Punk rock spirit. Other than that, I have not been doing too much. I've been trying to ride my first prototype, but I've got a bad knee right now. There was an 8 year old kid in the middle of a landing and I crashed to avoid him. I should be getting proper use out of my prototype soon.
How are things going with getting your signature frame all dialed in? What do you think of the prototype? Care to give us some details about it?
I'm really excited and proud. I wanted my signature frame to be made by my friends at Peynier. Bibi has a signature frame with Macneil. Alex Dropsy has his "French Kiss" with Twenty. I heard those guys talking about bike geometry. I think they were the first French trails riders who understood having a longer frame design.
Then a few months ago Deluxe asked me if i would like to create my own frame. Obviously, I said yeah. I had some ideas since I enjoyed my old DK CDL frame, so I wanted to have a similar frame. From there I started thinking about the angles and what I liked. I learned that the angle of the seat tube is pretty important. The idea on the prototype was trying everything to make sure I had what felt right. Right after I built it up the prototype with my parts, I was a bit worried the rear end was short because I had to get off a link of my chain. But right after I gave it a go, I realized the seat tube angle balanced it out. Overall, I'm not looking for it to be the lightest; I prefer a strong and rigid frame. I wanted removable brake lugs too because sometimes I ride without brakes.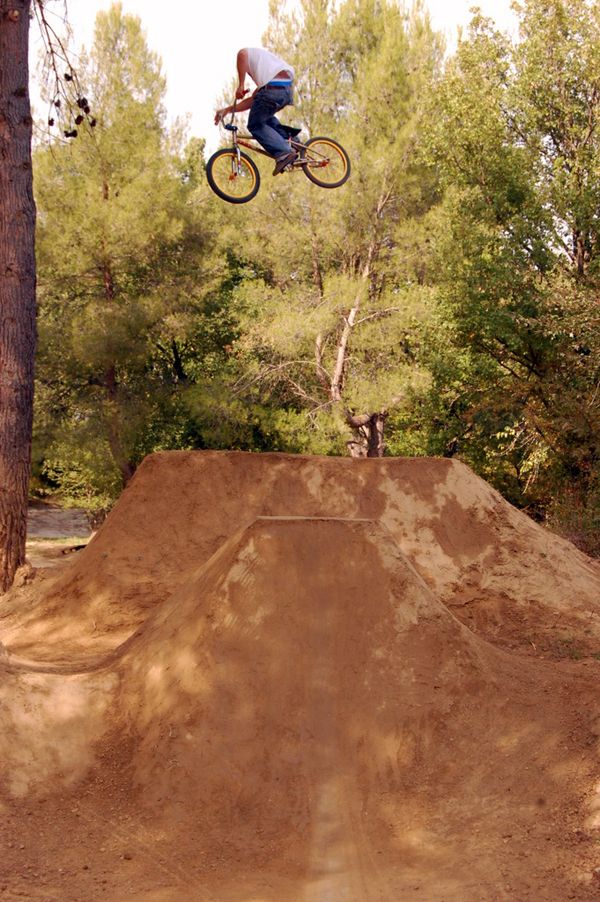 Photo: Joe
When do you expect to have it out?
I want to do quite a bit more development on the frame, so I'd say around 2012.
Any other sponsor news you got for us?
I'm not really too involved with Vans, so I'm not sure what they have planned.
I'm excited to see where things go with Savakas. James mixed the spirit of rock and roll, street arts, street sports and the philosophy "do it yourself" in his brain and started to draw. Savakas for me is a beginning of movement
You are pretty well known for your involvement with Peynier trails. How long have you been digging there for? It seems like this year was a big year for that place. What was your favorite part of 2010 there?
I've been digging there for a long long time. I was sometimes a cheater with my showel but we ended up with some good lines. Alex Dropsy is the mastermind behind the trails. One day maybe I'll do my owns set of trails. It seems like since the Vans Kill the Line #2 went down, the place has died out. We ride less and less on it, so I ride less.
The fact is pretty easy to understand. People want to ride, but people don't want to dig. Digging at trails are apart of taking care of the place everyday. Not just twice a year. Right now my local friends and I are thinking of ways to fix this. We're thinking of making a Peynier version #2.
Back to Kill the Line #2″, it was a great moment in the year. My friends Gilbert, Alex, Bibi, Pook, Momo and many more got involved on it and it made for a real good time. Right after the contest I thought that I could get a bit more involved because seeing all of those smiles coming from everywhere was great.
My favorite part of the year were a few great session with my trail mates, and the session I had with the Potoczny's brothers and Joe Shady. Mark and Michael came for a weekend with Joe from prettyshady.com. We got some great footage on Joe's helmet cam.
There are some videos on youtube of all of us riding the same line at Peynier.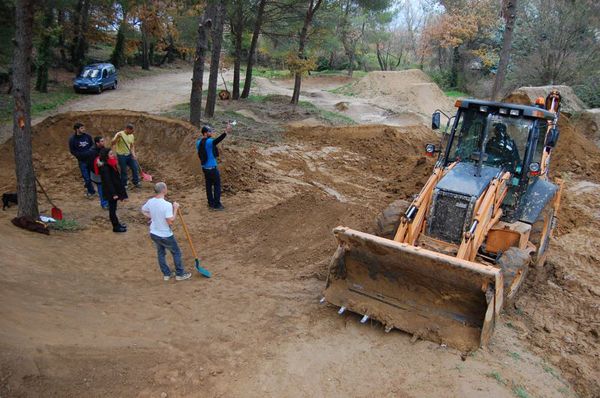 Everyone has some preferences when it comes to trails. What is it about huge doubles that gets you so psyched?
Good question. Big jumps exist in Peynier because all of us love the feeling of it. Maybe it comes from the racing. But the difference is that we put tricks in it. We're just looking for new sensations. One of the feelings is being in the air. The more you fly, the more time you've got time to push your trick and the more you find a new direction and strength.
Speed is giving you the power to be psyched. It's insane to go fast through a set brushing the trees. It's like stealing stuff somewhere. The more expensive it is, the more adrenaline you get. The same with riding a new line with transfers and having to figure it out. Finding new ways to ride is my goal.
What are some of your favorite sets of trails you have had the chance to ride over the years?
I went to England last year for the first time. God save the Queen! We did a road trip with all of the crew. Great times.
If I had to choose one we did during the road trip, it would be…. Chertsey. It was the most unique trails in England I rode. Sorry, but all the others had the same feel. Vijid trails and Frog's trails were also great. So much work there.
I went to California 3 years ago. Mike Saaverda's trails were interesting, but there wasn't a lot of space. Pinter's trails were completly crazy for me. I mean sometimes I hit the trails, but there the trails hit me. After few session it was alright but at the beginning… Jesus! So hard.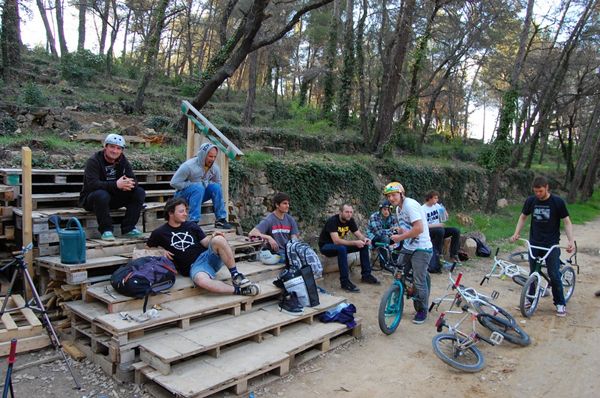 If you could get a dream line up for a session, who would you want to have there and which set of trails would you want it to go down on?
I would want my trails mates. But really anyone. I like to share the feeling of riding and talk about girls with new people.
Just simply people who give respect to trails. I like to see people happy together. Seeing people from different countries and continents all together is really cool.
I would take a set of trails with maximum visibility, because I prefer to be able to see everyone riding. Big jumps and transfers, so I guess I would take Peynier.
I'd imagine this time of year gets pretty wet and shitty in France. What have you been up to since you can't make it to the trails?
Ahah?! Oh hum.. I'm 24 years old and trying to find my way. I like to test myself to know where to go next.
I quit my job and moved from my parents place. It has been really hard. I have been living in Aix en Provence for the last 3 months with my brother. I remember last winter I went to the indoor skatepark at Marseille to keep riding. It's a real nice place with nice locals. This winter I've just been playing guitar most of the time.
I hear you are going to be spending some time in Austin this winter. When will you be making the trip over and how long are you staying for? Any big plans while you are there?
Yes sir ! I want to go over there. Alex and Gilbert told me months ago to do something like this. I learned that Matt Priest, Bob Manchester and Liam Eltham want to go to Austin for few months. At the moment I don't have a set plan. As soon as my knee get better I'll try to go. My plan over there is to stay as long as I can. At least 3 months. I want to go see my friends in L.A that don't ride. Just great people who want to give me the chance to have a good time in L.A, which is not too easy for an European dude on his own. I just want to ride trails while I'm over there. Make a new chill life in the U.S. Sleep, dig, and ride. Have some fun, play music, meet people and Learn….
What do you have planned after that trip? Have you figured out any trips for the rest of 2011 yet?
Right now I'm in a fog and planning things scares me. I feel like I won't ever be ready for anything. Just taking care of myself would be great.
Do you have any new edits or filming projects you are working on that we will be able to check out soon?
Sorry but no. Not much riding has been going on lately. That's one thing I really want to change. Most of the footage you see on the web is because of Joe. This year was pretty hard to ride, so when I could have a session I didn't really care about filming. If i can get 4 days a months of trail riding while working, I would be happy.
Let's say you are given the chance to load a van up with 5 people, a filmer and a photographer and a good size budget. Who do you bring to ride? Who do you bring to film and shoot photos? Where do you go?
I would take some young guys like Justin Fouque. I've never seen riding like his before and he can also kill a set of trails.
I would bring Thomas Calcagno, another great rider. My friend Gilbert since he can ride anything, and he's really organised. Florent Soulas, because he can ride anything and he has got a strange style. The last one I'd bring is Jem's Müller. There's so much power in his riding but fluid. As Filmer I'll choose…. why not! Stew Johnson. Just look at Anthem 2. His angles, movement, and I liked how he enhances the difficulty of the spots. As for a hotographer… I won't take Hadrien Picard because he doesn't drink alcohol. So I'll take Manu Sanz, to be original, ahah. he don't drink alcohol I guess, either. He's just so cool. He talks when it is needed otherwise he's invisible.. ahah. Then we'll cruise all across France for 2 weeks during the spring. Riding trails and bowls. It's will give me a chance to rest on a bench along the coping when we aren't at the trails.
Who are some of the influences on your riding that you have had over the years?
I never understood this question, or maybe I never could answer this question? Since the beginning I have just been psyched on jumping. Improving my level is what I wanted. I can't do a manual or a a roll back…. Just jumping. I remember beeing pretty young going to jump a big jump. Just being scared by a jump is what I need to go in. I know that I will alway try to go higher.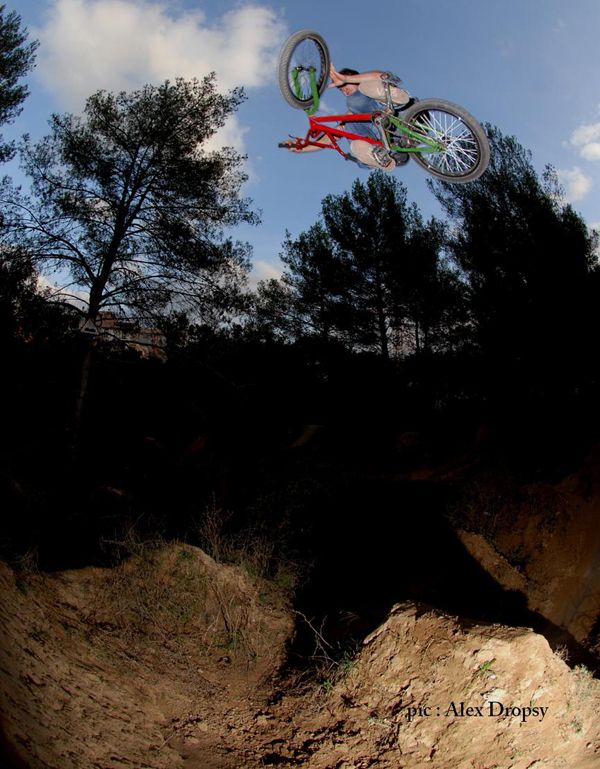 Photo: Gilbert
What do you think you would be up to if you didn't get into BMX?
No idea. I want to get married to a German girl and find a job there. If I'm smart I'll maybe find a business in bikes. I got, as you can imagine, some facility in bikes.
You have had a pretty manly job operating heavy machinery. What did you do? What's the craziest thing you have operated?
I guess you're are talking about the Caterpillar loader digger that I used to drive for for a year. I got cool feelings operating that. Just to see how much dirt I could move in a minute is insane. The craziest thing i did, was to not kill anybody with it. I could break a big house down in a day. There was a time when my boss parked his truck behind me. I'm sure you know what happened…
Other than BMX, if you could have any job in the world, what would you want to do?
It's hard for me to choose a job. Everyday I change my mind. I've got to learn more about me to answer this question. Today I would work as a roadie in a band or in movies. A job where you are in a team, and you've got a special mission is what I want.
What's the last song you heard, movie you watched and website you visited?
The last good movie I saw was a French movie called "Le Noms Des Gens". It's a political-humor movie.
The last good song was a CSS song by a Brazilian band. When music is good I listen it, I remember it, and I buy it.
The last good website I've been into was Boston.com/bigpicture/ and Shuval.co.uk by Davros is cool too. Davros is a smart guy.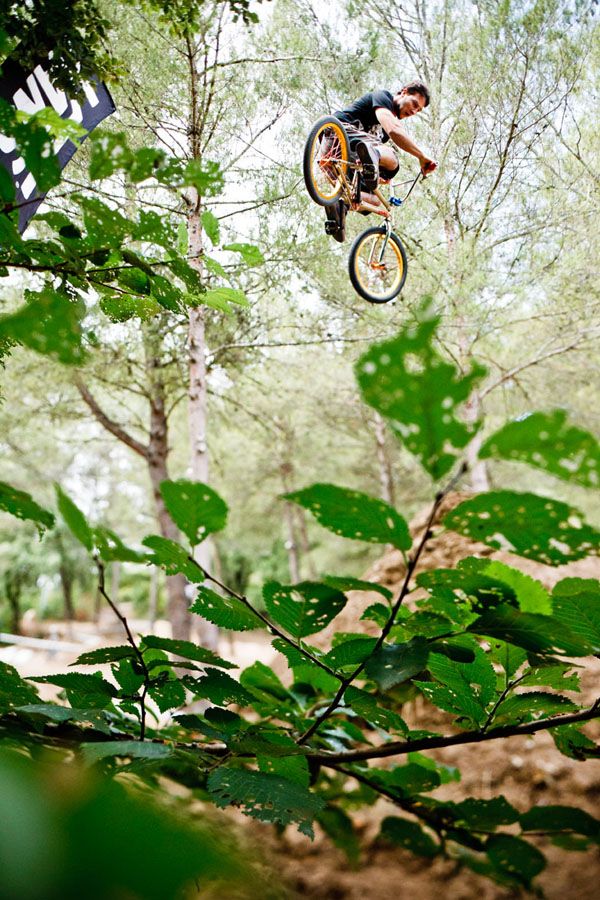 Photo: Stephane Candé
What's the craziest thing you have ever had happen to you?
I could have died 2 times. Like I could see death pretty close. One time I was drunk in a ski resort. I took a luge one night down a pretty big downhill. I crashed real close to a rock and would have died if I hit it.
Is there anything about yourself you think people would be surprised to find out?
My father is 65 years old.
I never liked school.
I would love to see more girls on a bike.
I know why there are more guys in music than girls.
I'm sure I'm not gay.
Where do you see yourself in the next 5 years or so?
No idea because things change so fast. I hope that I'll do more and put in more effort in for everything. I'm on the way for it.
Do you have any shout outs or thanks?
Parents, brother and sister because despite everything they're present. My friends who ride bikes. Dropsy and Gilbert for encouraging me to move. Gilbert again for the car's conversations. I've got a friend call Rémi, he's 40 years old, looks like 30, who steals all my girls, but I've had great times with him. I'll thank my friends who are girls and not my ex girlfriends. I heard to much this: "you know I love you too much to have some sex with you"… you know what I mean…
I would like to thank James Weston for adding me to Savakas. Savakas to me is the new old school. Back to the truth. I'd like to thank Vans, but more Kang, Julien Scheulbel who give me so much stuff. I would like to thank, Mark Noble. Crazy ah? Mark believes in me. Hope you're not changing your mind. I'm really proud to be on that team. One day if I feel that I'm really useless for Deluxe I'll do what is needed. To finish, I would like to thank myself because I believe in myself.
Anything else you want to say?
Yeah, something about a country where rules are respected, where people don't try to cheat. A place anywhere clean, straight and right. People over there feel less stress cause they are there. To finish a place where girls listen you…
I call it Germany.
Check out more photos and what not from Max in his profile on the Deluxe site.