When Paul Aya hit me up telling me I needed to interview Mike, without much thought I said yes. I think it's because Paul is the man, and knows what's up. I honestly knew nothing of Mike, but now I do. The kid can ride a bike and seems to be pretty cool. This is what he had to say. Check it out, leave some comments, and enjoy.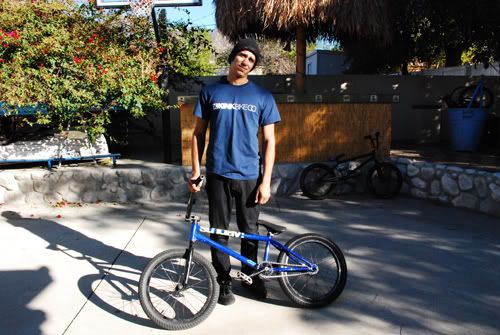 Photo: Jimmy
Name:
Mike Arnold

Location:
Sunland, CA
Sponsors:
n/a
Years Riding:
6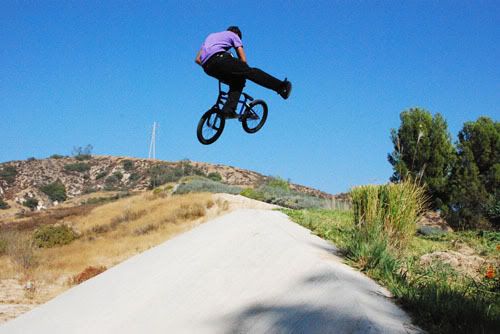 Photo: Jimmy
What was it that first got you into BMX?
My dad got me a bike at the age of 4. We had jumps across the street from my house and it just went on from there. Until about 6 years ago I got really into it.
I won't lie, I have never heard of you before Paul Aya suggested this to me. It sounds like you are finally starting to get noticed though. Aren't you doing some stuff with BMX plus this issue?
Yes, I am doing a bike test on the new Stolen Cheater F/S Complete and an On The Move 5. The 5 is five tricks on one rail.
Have you been filming or taking photos much lately?
Everyday, I just got a Nikon D80 and my friend Jimmy who used to be a photographer loves taking photos of me. Filming wise, we don't have a filming camera but when we can get our hands on one we fill up the tapes.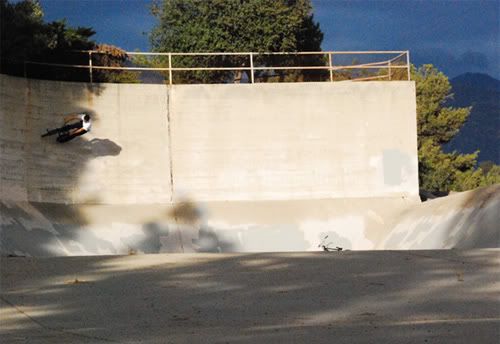 Photo: Jimmy
Where are you usually found riding? I heard you are pretty much able to ride anything?
You can find me anywhere in Los Angeles County, I know the spots. I ride mostly street, but skateparks are fine with me. I grew up riding trails so that's just a given.
Who is your usual riding crew? Any other unheard of guys who are killing it?
Paul Aya for sure. I don't go anywhere without that guy. Christian Moreno, I've been riding with him since day one. Jimmy Gentry, he's the photo guy. Tim, he's the local park homie.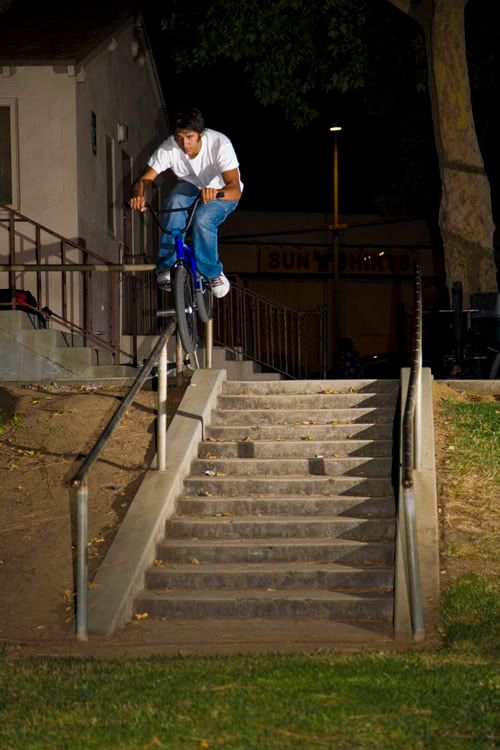 Photo: Chris Luton
Have you had the chance to travel much? Any big trips planned for 09′ yet?
I've been up to Oregon a few times. Portland street isn't anything like LA street, but it's still amazing. I go to Vegas for Interbike, riding the strip is always an adventure. It's something different every time. As for trips planned, I'm trying to get to NY because every street rider wants to ride there.
If you could go on a trip with 2 of your friends, 3 pros, and 1 filmer/photographer. Who would you pick, where would you go, and why?
My two friends would be Paul and Jimmy because they always have a positive vibe and smiles on their faces. The pros would be Dave Thomson, I love his style. Seth Kimbrough, I've ridden with him once a while back and it was amazing, he is such a cool guy (n/h). And Jim Cielencki, he's real creative and an all around cool guy.
When it comes to riding, who or what are the biggest influences on your riding?
My friends and fresh spots.

Photo: Chris Luton
If you could only ride one spot for the rest of your days. What would your dream set up or place be?
The Santa Ana banks, it's got everything from rails to wallrides. I can ride that spot forever and never get bored.
Do you ever ride contests much? How do you feel about the bigger Dew Tour and X Games contests?
I've ridden 2 contests and I don't know what I placed, but I did make it to the finals. The big contests are cool because you get to see all the heavy hitters come out and make me not want to ride anymore. Haha.
What was your first real trick you learned, and what is the last trick you have learned?
First real trick was a one-footed x-up. The last trick was a back flip.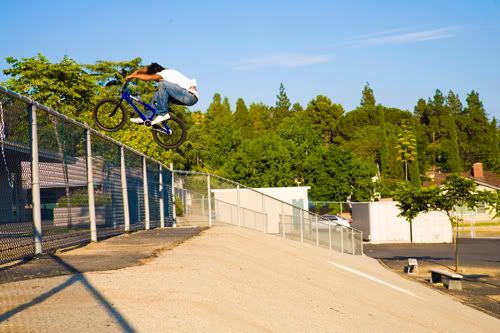 Photo: Chris Luton
What is it about BMX that keeps you so into it?
BMX brings the best out of me. Nothing can beat that.
If you could change anything about BMX, what would you change if anything?
ALL THOSE HATERS. People who dick ride people. All the people who follow trends. People who can't ride a bike and talk crap need to get out of the game.
What are some things you would like to accomplish riding wise in the next year or two?
Get my name out there and make it. Have a video part in shook or something like that.
If you could be sponsored by one BMX company, and one NON-BMX company. What would your picks be and why?
Sunday! Bikes because they have a great team and parts, I'd be sponsored by chipotle…gotta love them burritos man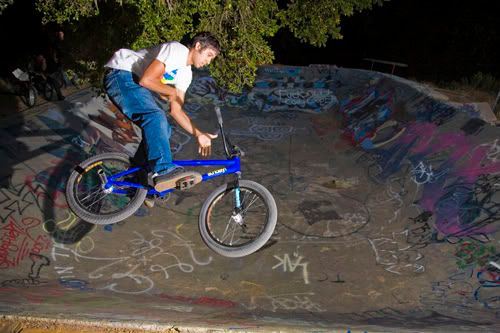 Photo: Chris Luton
Outside of BMX, what are you usually up to?
Hangin out with my lady. Chillen with my friends and shooting photos..
Do you work or go to school at all?
Yea I work at a grocery store freezer. I try to go to school, but riding gets in the way. Haha.
Do you party much? What usually makes for a good night for you?
Occasional parties here and there. Not a big fan, but they are fun. Usually at the parties I wind up at something always goes down bad or good.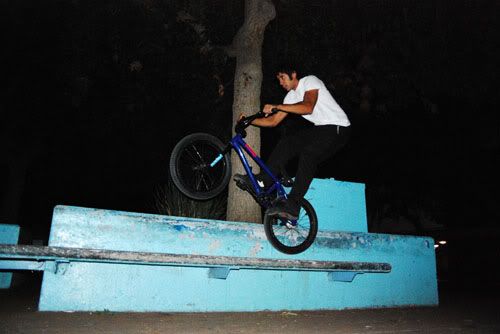 Photo: Jimmy
About how many girls have you slayed?
Oh you know haha ive had my fair share. Too many diseases around now. I don't want my dick falling off anytime soon
You are offered a job to do porn for a career. Do you take it? Why or why not?
Dude heck ya I would. Getting paid to beat all day. That's where its at. They would call me the RAMROD
If you could see any band right now live, who would you pick and why?
Good question, I'm always finding new bands. As of now I would probably go see Sea of Treachery, they're really brutal.

Photo: Jimmy
You are surrounded by some thugs trying to take you down. What do you do?
Hold my own and jack em' up. I'd give em' a fight.
What is your craziest experience of your life and why?
We have these huge street jams in San Fernando and it just so happens the last one we had started off with a bang. We were going to the first spot and the cops showed up tellin us not to move.. These kids decided to take off and the whole group saw them take off so naturally we all ran too. Cops started mobilizin' and cut off one group of kids, since no one had brakes they slammed right into the cop car and flipped over the car. It was funny and messed up at the same time. I was gone!
If you could relive any day in your life, what would you choose and why?
The time I broke my hip, I wouldn't have tried to nose manual this weird spine/box thing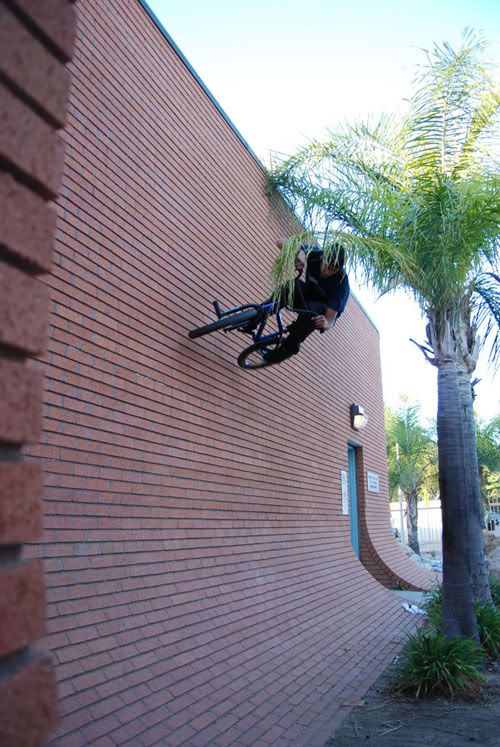 Photo: Jimmy
What are some things you would like to accomplish in your life?
Finish school. Lol.
If the whole BMX thing doesn't play out, what is a dream job you would have?
Satellite Networking for jet propulsion labs.
Have you ever been arrested or spent time in jail? Why or why not?
Yes. Wrong place at the wrong time.

Photo: Chris Luton
Any favorite websites?
BMX Union, Thecomeupbmx, Google, BMXonline.
You inherit one million dollars, What do you do with it?
Buy some land; build my house and a street style park.
If you could live like anyone in the entire world for one day. Who would you pick and why?
I'd be Bill Gates and spend all his paper.
How do you feel about Obama being president?
I don't follow politics, it's too confusing. What's the difference between a republican and a democrat?
If you could change anything about the world, what would you change and why?
I would make daytime television more enjoyable.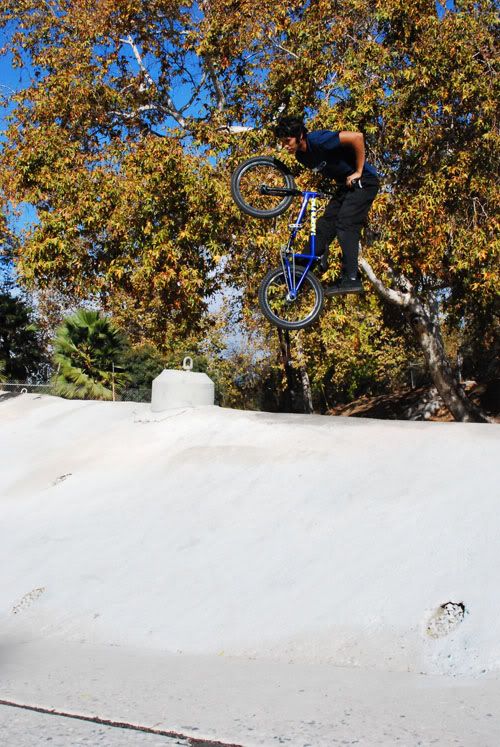 Photo: Jimmy
What is the best advice you have ever received?
"Just get it done."
Do you have any shout outs or thanks?
To the homie Paul for always bein there to ride. My girlfriend Francesca for supporting me. My parents and my lil bro Nick. Chris Brown for pushing me all the time, The homie Georgio at Top Shelf Clothing, and anyone I've ever ridden with
Anything else you would like to say?
That's 2 Paul! Hahahahaha.