It's very apparent Miles has been on his game of ass kicking lately. He has had countless web videos of himself, sponsor changes, and even his own video series on BNQT. I saw it being the perfect time for an interview. It seems like there was so much that could be talked about it was hard to send the interview knowing I had to of left something out. This is what Miles had to say. Check it out, and let him know what's up in the comments.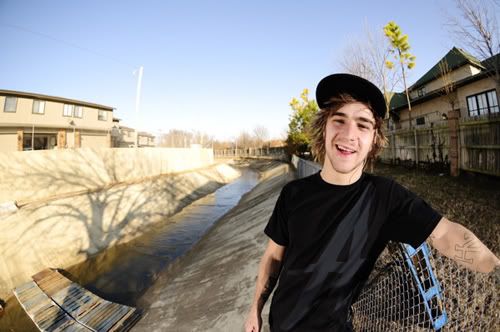 Name:
Miles Rogoish

Location:
Tulsa, OK
Sponsors:
Mongoose, and Sun Ringle
Years riding:
10
What was it that first got you into BMX in the first place? Any real early memories?
Yea yea I remember seeing a neighborhood kid always poppin wheelies around my block on a diamond back with a sweet number plate. Then in 4th grade i actually won my first bicycle raising money for the American Heart Association in school. I remember it was a Schwinn with blue bent rainbow tubing and flames, anyways it was sweet. I got to go home early with this bike and I actually had my mom swing by the local shop and they traded for a schwinn superstock 1! I was stoked! A few years later i was riding around the neighborhood and found a house, number 4130, a little more then a block away with a 12ft long rolled landing box jump and trails in the backyard. I'd say from there it was pretty much on….haha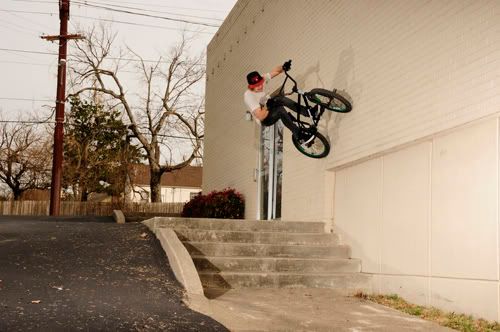 Photo: Jake Giesel
So you recently got picked up by Mongoose? How did that all come about? It seems like they made the big team changes then got quiet again?
Uhhm My TM for Sun Ringle, Jon Wells called me one day and asked what I'd think about riding for Mongoose and I said it wouldn't hurt to give them my number.
So do you have any big trips, filming projects, signature parts or anything in the works with Mongoose that you can tell us about?
There's definitly some trips JJ and I have been planning ourselves, It's really dope though because we have quite a bit of freedom. I think there might have been something jumping around about Australia but I guess you'll have to wait and see. As for signature parts I only ride a Mongoose frame so maybe something will happen with that next year.
Do you have any other sponsor related things going on at all?
No but much thanks to my local shop LEE's for always helping me out with the ride.
You have been traveling a lot lately it seems like. Where all have you been in the last year or so?
Last year was definitly a little loose. Lots of working and lots of traveling haha some of my favorite stops last year were Moline, LA, Cinncinati, Florida, Interbike, and I always have a good time in Chicago. This year is going to be nuts…. plenty of jet lag in my near future.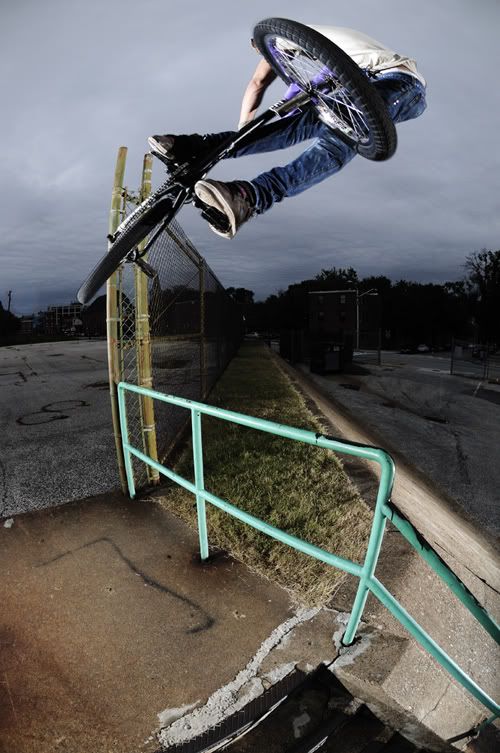 Photo: Jeff Allen
Do you have any trips to film or ride planned at all right now? Where are some places you would like to go?
Right now Tony Malouf and I are going to working on two major projects this year, one is a DVD that will pop out late this year, and one idea that kind of just popped off like a day ago is the PLUSH TaTour and were gonna load up our two vehicles with 8 dudes go get tatoos and hit the road for a little longer then a week and put it out on DVD. I'm probably going to do quite a bit of traveling by myself this year as well so Canada, Europe, and gettin shitty in Mississippi!
If you could go on a road trip and you could only bring 5 people, who would you bring and why?
Drew York, Tony Malouf, Jake Geisel, Lil Jon, and Jeff K because were all pretty young except for grandpa klug…haha. There would be nothing but laughter and good times. Sweet loose dudes pretty much down for whatever. Much love
You have been doing a lot of edits for BNQT lately with your "Tuesdays with Miles" edits. How did you land that job and what can we expect to see of that as time goes on?
Full thanks to Kosman for getting me set up with this… Cody at BNQT is a really sweet dude and hit me with an email asking what I thought about a vid a week and I was down. Next one to pop will be a small trip to Muskogee, OK with my roommates Justin Coble and Tony Malouf. And by the next one i should have made it somewhere else out of town for some new goods…RIDAZ
How long have you been filming and editing anyways? What kind of cameras and editing programs are you using?
Been filming with school friends since middle school but didn't start filming BMX until about 10th grade year when I bought a Sony VX2100, Century Optics Mark II "death lens" and I downloaded Final cut studio for free, which everyone can do on limewire.

Photo: Jake Geisel
What's the scene like down in Tulsa these days? Any up and coming guys you think people should be looking out for?
Tulsa is where it's at these days man haha. The scene has frequent travelers from surrounding areas and mad street spots with plenty of opportunity. As for a look out, peep Justin Coble's street "Tuesday Edit" droppin in about a month.
You are killing it on street these days, but I heard you grew up riding trails. Do you ever hit up trails ever or are you pretty much all street these days?
I ride street everyday pretty much, but if I'm ever around some trails I'm usually not hesitant to drop in. I was recently in Austin riding 9th st and I think I progressively got sketchier each day..haha..but dirt is awesome.
It seems like BMX is getting more mainstream these days, how do you feel about it possibly being in the 2012 olympics? Would you be into going if you were picked for it?
I think it's pretty gnarly… olympians are intense athletes. If I was invited i would definitely go (wouldn't happen)
What is BMX to you? Would you change anything about it if you could?
FUN. The level of seriousness people take it to.
What do you think you would be up to if you never got into BMX?
No good… ha

Photo: Jake Giesel
What are you usually up to if you aren't riding, filming, or editing?
Mexican food is badass, I cook a lot with a bartender named Saint.
If you could be sponsored by any company that has nothing to do with BMX, who would you want and why?
Apple for I-phones and American Apperal
You were the guy behind the camera when Drew York pounded that dude for stealing the keg from the party… So, what other crazy stories do you have from messed up stuff like that happening?
Mad stories haha and that was only messed up on that kids part, DREWYORK is the truth. I'll briefly mention some but if you catch me somewhere I'll give you the real low down on some goodies haha.
–
In Hollywood we were staying at a pretty nice apartment and we were having fun,it was getting a little late and the security guard showed up the twins that own the apartment were worried and I invited him in and he kicked it with us all night and did a bunch of filming with us for the Plush Pictures DVD – his name was corey and he was dope.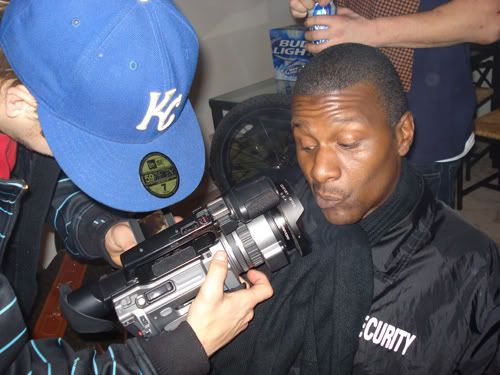 What makes for a good night of partying?
Good friends.
About how many girls have you taken care of business with? Has BMX ever got you laid?
Haahaha. Yea well in Hollywood Tony filmed his Daily Habit with FuelTV and Jeff K and I used that line on a few broads and… well the rest is history haha ended up getting mad free Red Bull.
What kind of money would it take to get you in the ring with a UFC fighter?
Bare Knuckle Box haha yeah right! No way!
Actually, if you got in a fight who is the first person you would want to back you up?
Prob Drew… fighting is stupid tho.
Would you ever consider a job in porn or stripping? What would it take?
I was offered some film work from meeting a David Lee Roth's daughter in Cali haha and didnt even realize what she offered me at the time.
When it comes to editing a new video every week, do you ever get stuck trying to figure out a song to use or what? What do you do when you can't come up with something?
I have about 35GB of music on my hard drive from my friends computers so I put it on shuffle hear a newbee and work with it.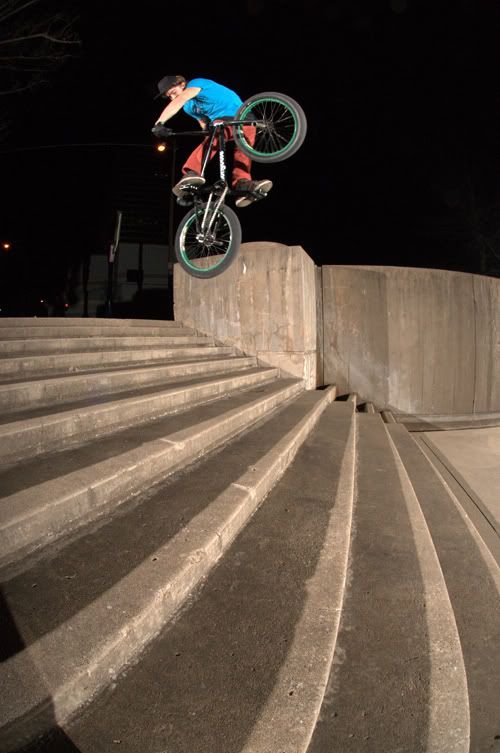 Photo: Jake Giesel
If you could change anything about the world, what would you change and why?
Free Health Care
What's the best advice you have ever been given, or able to give?
Be a man of your word, or be smarter then the thing your dealing with.
Do you have any shout outs or thanks?
Everyone's couch I've stayed on, my parents, Jon Wells at Sun, Chuck and Brian at Mongoose, Saint, Mason, Vazquezian, Big A, Malouf, Coble, Thomas, Kosman, Cody at BNQT, Christoph at Mk, Catfish, Bk, Stew J at Props, Jeff K, LIl A, SWAB, McFellme, and there's a ton more…
Anything else you want to say?
RIDAZ.

Go to BNQT for more videos.