This interview was well overdue. Muffin Man has become a well recognizable name on The Come Up for a while now and his riding has progressed faster than his reputation. I shot him over some questions and this is what came from it. Let us know what you think in the comments.
Name:
Joshua Aaron Fuentes aka Muffin Man.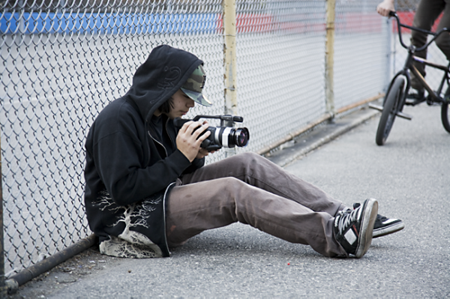 Location:
New york City, Washington Heights.
Sponsors:
The Garden Bike Shop, am:pm, Thecomeupbmx. net.
Years Riding:
3 1/2?
What was it that originally got you into BMX and what keeps you on the bike today?
I started riding because of my cuz Austin, Mmmm and what keeps me on it today (n/h) is all my good friends i ride with everyday no joke its the best, non stop loling and riding.
Your on the unofficial Come Up crew. You had the Muffin man shirt, what else is to come out of that?
I have no ideal but if Adam22 does make somthing else im sure its goin to be nuts haha.
Where did you get the nick name Muffin Man anyways?
Long story kinda haha,and myspace thats been my name from when i 1st make that thing.
It seems like your riding progresses real fast, do you feel like the scene you have been riding effects that at all?
Thanks, Ya deff because everyone is always down to ride, try somthing new, and everyone is always doin their own thing.
Who is your typical riding crew and where could you typically be found riding?
Scallion n.y.c's top black aka the king of the streets aka the hood pass, am:pm Joey, Jake Seeley, lil Taco, Corey Godfrey, Chris Johnsson, DayDay, Baby Food, Spam, ralph, and other blacks.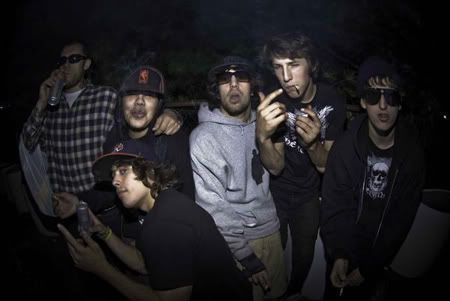 What is the craziest thing you have witnessed on the streets of NYC involving BMX/cops/security/homeless people/chicks/or really anything else?
HAHA This one is one time i seen this homeless blind dude milkin his cow while waiting for the train like no one was around no joke so funny haha, no one even said anything to him. mad fights on the train late night idk why but its always somthing always,o yea and like last week we seen this black dude runnin from the cops on 66th street the dude got to the coner and got on the ground to give up and still when the cops got to him they beat the shit out him haha kicked him, hit him in the face and all that, shit was wack, idk i seen a lot of mega funny and wicked grimy shit.
Since your pretty well involved in the scene, who is coming up and will be hot real soon?
Everyone is so good but one person that sticks out is my boy Chris Johnsson no tail whips, barspins and stuff like that just a fast savage riding style and i love it.
If you could ride any spot in the world, with anybody at all, where would you want to ride, who all would you want to be there and why?
I would like to ride cail or spain with all my frinds the spots looks mega fun,and it would be with everyone i already ride with and the pro's that get me siked to ride.
Who are your top 5 favorite riders?
Aaron Ross
Eddie Clevand
Garret Reynolds
tony cardona
Camron wood
Tony Neyer
What is AM:PM all about anyways? Is there a full length video in the works or is it just web videos?
AM:PM is all about chillin haha, I guess its just abunch of n.y.c milkers that have way to much funn riding bikes and chillin, and yea there is a full length dvd coming out that's why Joey has not been making a lot of web edits, dvd is goin to have a good feel to it hopfully everyone can dig on it n/h
When can we expect to see a full length part or web video of you?
The plan is for me to have a part in the dvd with my lil baby papa loco but he broke his leg not to long ago so we will see how that goes.
What is on the trick list these days that you want to get done?
I got some stuff i want to do for the am:pm dvd.
What is the road trip situation looking like these days? Any planned?
Mega Tour and hopfully a bunch of lil baby trips to Philly,Mass and stuff nothing to far from the Bakery.
If you could change anything about BMX what would you change and why?
I wouldn't change a thing its good that it has its up's and down's
Outside of BMX what are you up to?
Nothing my life is my bike haha.
Do you work, go to school, or anything like that at all?
Na, haha but im goin to start workin at my brother's bike shop next week.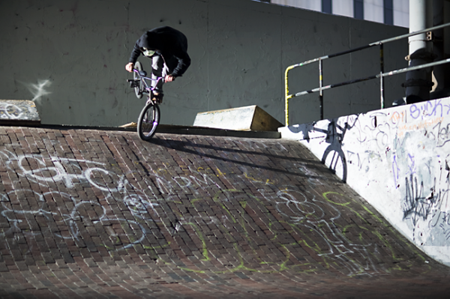 If you could no longer live in New York, where would you want to move and why?
Chile, its so nice and chill only thing is i would have no one to ride bikes with haha.
If you could committ any crime at all and get away with it, what would you do and why?
I would rape Adam22's mom,so i can make funn of him about it all the time haha pure oil.
What kinds of music are you into? Any you suggest people to check out?
The carter 3(lil wayne)shit will have you holding your head sayin OMG, mix tapes, coconut records, dear tick, savage am:pm web edit style music and some metal, a good mix of everything i guess.
Seen any good movies lately?
I saw hancock not to long ago shit was good scall deff kept on sayin "NIGGA" out loud in the movie theater full of lil baby and old white people out in Mass haha had me and everyone we went with loling so hard haha
Who or what have been the biggest influences on your life?
My dad for sure,he would do anything for me and has been and seen a lot of things in his life.
What are some things you would like to accomplish in the next five years?
Ride my bike way to much, own a bike shop, move the fuck out the bakery(my house).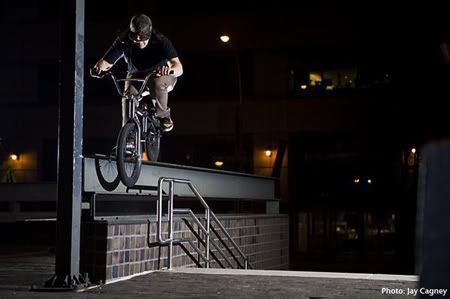 You seem to be on the come up board quite a bit, what are some of your favorite websites?
www.thecomeupbmx.net
www.defgrip.com
www.redtube.com
www.myspace.com
www.youtube.com
If you could have any job in the world what would you want to do and why?
Fire fighter? idk must feel so crazy to run into a fire to save people n/g
You find $1000 on the ground, what do you spend it on?
Not to sound like a fag or anything but i would give 1/2 to my mom and dad for bills,and the other $500 would be for train fare,food,and a fitted cap
If you could change anything about the world, what would it be and why?
wet.
What is the best advice you have ever given?
If you milk it,it will cum.
What kind of advice do you have for some of the dudes who just got into BMX?
Don't go on the internet, do it for funn n/h
Do you have any shout outs or thanks?
Corey Godfrey, Jake Seeley for always lookin out for me and pissin me off, Adam22, lil Taco, Scall, Jesus, Justin, M.G.M Crew, Milk Gang Records, Day Day, Baby Food, Spam, mike aka frank, nard, dom, The Garden Bike Shop, Alex Platt, tyrone(the what dem kalem beef king)stay on the boat, bryant, Kurt for the interwet thanks again, and everyone that i know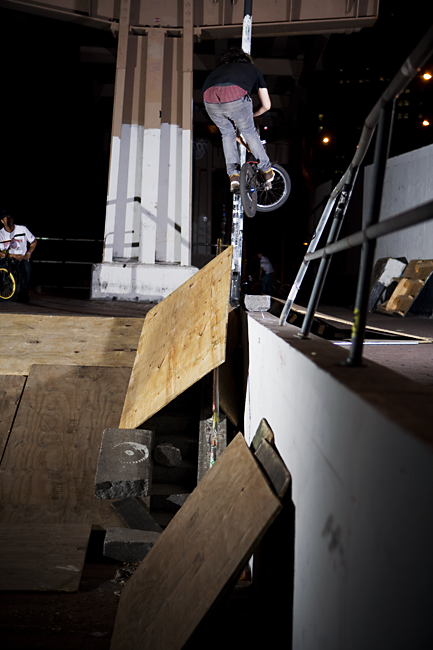 Anything else you would like to say?
SPRINKLE DINKLE


am:pm bmx – garden bike shop collabo! from joey on Vimeo