I can't remember the first time I had seen Mykel ride, or when we met even. I do know we hung out for a bit at Baco in Milwaukee, and then he partied with us in Toronto most of the time since there was a good crew from Milwaukee there. That was the first chance I really got to get a better idea of what Mykel was all about. Mykel is definitely a good example of talent, a good attitude, and somebody who loves life. I figured this would be as good of time as ever to shoot him a few questions to see what he has got going on these day, and then leave him some love in the comments!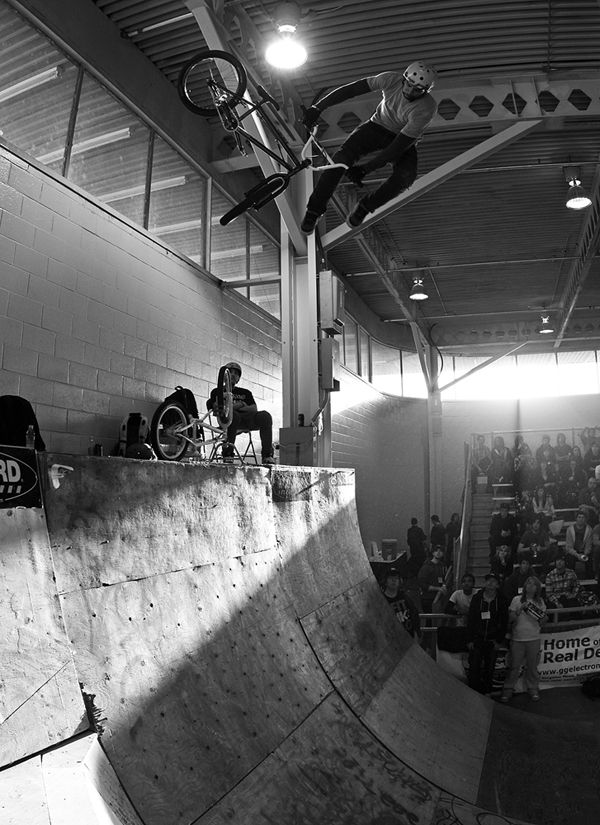 On a side note, these photos for the interview are photos I shot in Toronto. We took about 5 minutes and he blasted this quarter a bunch of times. These photos ended up being some of my favorites from that whole trip….
Name: Mykel Larrin

Location: Racine, WI
Sponsors: Gatorade, 4 Seasons Skatepark, Ride Extreme Sports shop, Sun Ringle, One Shot, Heigl Chiropractic, Division bmx stunt team, Kuko Padilla, Rich Holmes, and friends
Years riding: 15
What was it that first got you into riding? Any early memories just come to mind?
Yeah most definitely! I remember my mom teaching my brother and I how to ride a skateboard down the driveway and then after we had that down we moved onto the bikes! I certainly loved the feel of going fast and hearing the freewheel underneath me.
You have been keeping busy doing shows with Micah Kranz lately. How's that going for you? How long have you guys been on the road now, and how much longer till you take some time off?
Doing Shows with Micah has always been a ton of fun and and experience in itself each time no doubt! We have been on the road for two months and were looking at getting some time off here soon but its always fun regardless! Time is definitely well spent when you get to travel and experience new things!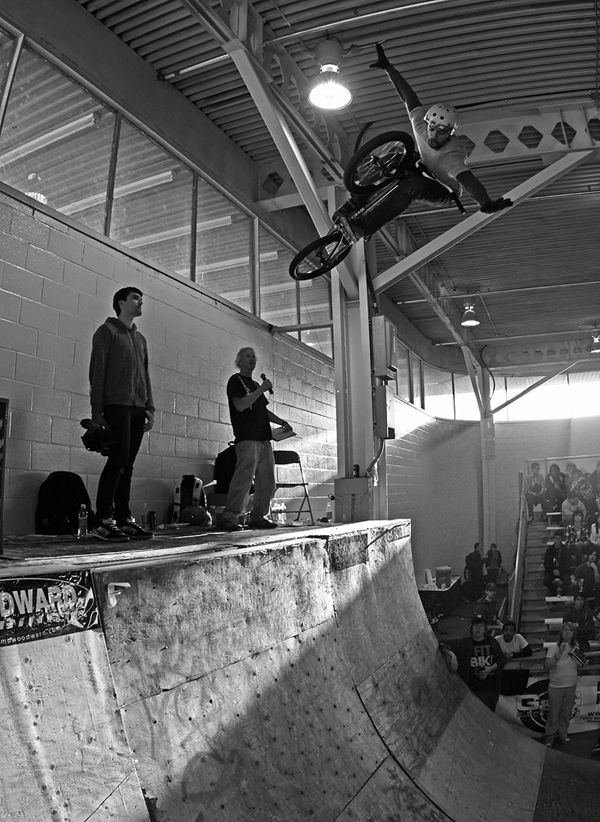 We both saw Lil Jon go down at the Toronto BMX Jam and he was on tour with you guys. Has things changed up much since he had to take his leave?
Yeah, it was really difficult to watch him go down like he did that day especially cause I knew that the severity of the injury would take him off tour! I think the crew we have is awesome cause everyone is their own person and brings something different to the table! We'll just have to adjust to his injury and keep him in high spirits. He always has a good attitude with stuff like this!
It's pretty obvious that you're dialed. Do you feel like that happened because of having to do some of the same tricks everyday for shows, or is it just you?
Well I appreciate that and I feel like with anything we do in life, the more fun you have doing it the more you will want to get better at it! I feel that motivation gives you the privilege to start something and habit keeps it going! Shows have definitely played a role in the repetition of tricks and dialing everything in but I think at the heart of it all it is from just jumping on my bike everyday and having fun with it!
Has riding always came pretty natural for you, or is it just the years of experience?
Riding has always been so much fun to me and I feel like it definitely has come pretty natural but it's taken years for me to learn what I can do today. It's just the persistence and practice that makes things flow together so smoothly.
Being on the road all the time, I'd imagine you have been to some pretty sweet places lately. Where are some of your favorite places you have had the chance to visit?
I really love traveling all over the states and getting the chance to see different sites that I've wanted to see for a long time! So sweet, but I have to say my all time favorite is Israel. Such a unique culture and so rich in color and flavor from the landscapes to the people to the food. I love every second of my time spent there!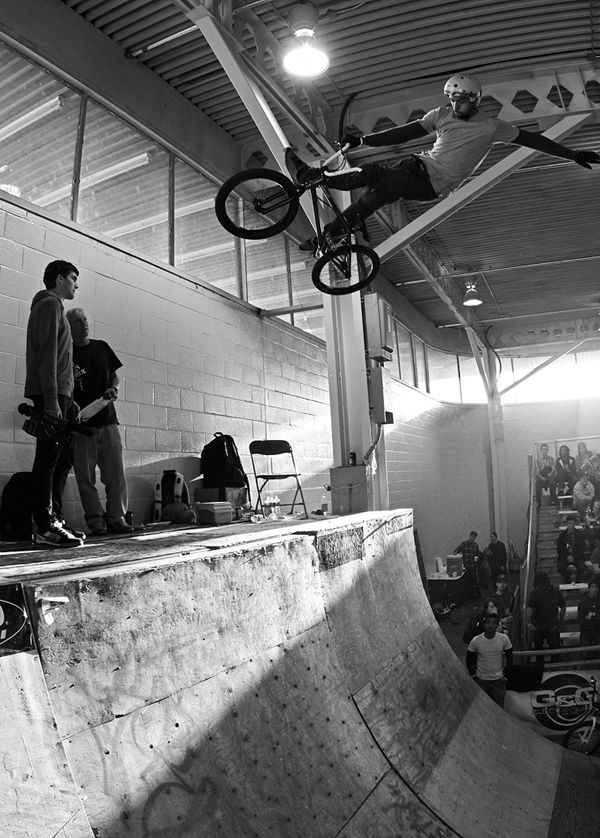 Where are some places you would like to go, or have planned to go here sometime soon?
I would really love to visit Brazil, Italy, and Argentina. I love the type of culture any how its different from what is the norm from here at home.
When you aren't traveling, where are you usually found riding? I'd imagine you spend quite a bit of time at 4 Seasons?
I really love riding 4 seasons in Milwaukee and Pershing Skatepark in Racine. Thats what I call home.
If you could go back to any trip, session, or moment in BMX for you, when would you go back to and why?
I'd go back to the first moment i stepped into Pershing Skatepark. I'd love to just see myself and how my jaw dropped looking at all the fun I was about to have! I was like a kid in a candy store! My brother and I used to try and build our own ramps but they were nothing like a skatepark of course so we were set to have a field day!
Lets say you are given a big budget, a camera, and a van. You can only take 5 people with you. Who do you bring and where do you go and what do you guys accomplish?
Well I love the thought of that! I'd love to bring Rich Holmes, JaRyan Larrin, Kuko Padilla, John Rodgers, and Micah Kranz. Solid group right there! Id have to say it would be would awesome take a trip all over Brazil stopping at some skateparks and finding some new street spots along the way! I'd love to also film personal bios and bike checks of each of the guys and all of their experiences while we travel! It'll be cool to see what each guy thinks of the culture, people, food, etc. and what not!
I can't remember writing this, but I know you did pretty well at Baco and you ended up in 4th at the Toronto BMX Jam. Do you have some plans of hitting up the Dew Tour this summer at all?
Yeah, I am really looking forward to competing in Dew Tour this year! I'm striving to compete in park, dirt, and vert as well so I'm anxious to get at it all and have some fun!
I feel like this will have a weird response.. What's one trick that you can't do for the life of you?
I have such a hard time doing bar-ice-270 on quarters
I think it was you I heard yelling "HOT SAUCE!" and weird stuff before dropping in. What's that all about?
Yeah man, that was definitely me. I love making sounds effects and noises while I ride. Its just my way of having fun and keeping things interesting!
How do you feel about backflips to flat?
AWESOME AWESOME AWESOME!
I've seen you tear up parks, but are you much of street or trails rider?
I love riding trails and street! Its really fun dipping into other elements and having fun with them!
You have had a history of having some un-dialed bikes until recently. What's it about a sketchy bike that you love so much?
Well growing up I never really knew where to get some legit bmx parts and what not and I was slowly learning how to work on bikes the right way so I naturally just rode what I had at the time. I tried keeping it kept up as best possible but to me I felt like I would be able to ride and do my thing regardless of the condition of my bike. I never wanted a busted hooptie bike to be an excuse to why I couldn't do something.
What do you think you would be up to if you didn't get into BMX or doing shows?
I'd most like be playing college sports and working on my architecture degree.
What are you usually up to when you aren't riding or on the road?
I love working on the skatepark building and what not and when I'm not doing that I love playing music.
After creeping your Facebook, I realized two things. You have a good looking girlfriend, and that you dress pretty fancy. How would you feel about a sponsorship from American Eagle?
Well I appreciate that a ton. That's too funny but yeah I wouldnt be mad if they threw some denim jeans my way or something.
Actually, to be honest. What's the Mykel key to success with the ladies?
I'm not sure really!? I just like being myself but if the lines of attraction spark and something is there then awesome and I'm thankful for that! Otherwise I'm pumped just to be living life!
What's the best part about being around Micah all the time?
Constant Freestyling
What's the worst part about being around Micah all the time?
He doesnt like hugs all the time
How about being on the road with John Rodgers?
Definitely best! Love hanging with that guy!
What's the last song you listened to, movie you watched and website you visited?
"On my way"….Blue planet…and yahoo.com
Did you ever go to college or anything like that? What do you think you will do further down the road when you aren't riding?
Yeah I went to the University of Milwaukee for architecture. I believe that later on I'd like to get a teaching degree so that I can stay busy having fun sharing life with others.
Where do you see yourself in 5 years?
5 years….I see myself having a blast enjoying each day for what it brings and just being thankful to just "BE"
What are 3 things you can't live without?
Family, being able to share life with others, and a fresh pair of boxers
Are you much of a partier? What makes for a good night out for you?
I'm not a partier. A good night for me would consist of going to the skatepark and getting some good food afterwards with some friends!
For $1,000 would you rock a pair of roller blades seriously in front of a ton of smoking hot girls and your friends who all ride BMX?
Yes sir!
Who or what are some of the biggest influences on your life?
I have to say my family has been a huge influence with all of their encouragement and love! Kuko Padilla, Rich Holmes, Mark Sommer, Leonard Velasquez have been huge assets to the building of my character and diligence to do what I do each day! They have all helped me in ways not even measurable, along with family, to stay steadfast with all of my goals and aspirations! These people and my family are why I am so thankful and privileged to do what I do. Im forever thankful for all their commitment and love!
Do you have any shout outs or thanks?
I'd like to thank all of my sponsors for supporting me and helping me succeed and keep doing my thing each day! I also want to thank everyone I ride with for keeping things fun and interesting all the time! And I want to say thanks to my family and friends and mentors that have helped me get to where I am today! Thankful to be!