I'm hanging out with a bunch of people at the Dew Tour in Chicago, and randomly a guy says to me "Hey man, I'm Nick Steben". The name rang a bell, but with all my concussions over the years, it just wasn't processing right. After a little bit I remembered exactly who he was and it was all good. I'm stoked I had the chance to meet Nick. He is the kind of guy who is doing BMX right. Travels with whatever money he has, rips on his bike, and is in general just a real nice guy. I shot him some questions for you guys to check out with the help of Jeff DuPaul. Have a look at what he has to say, then leave him some love in the comments!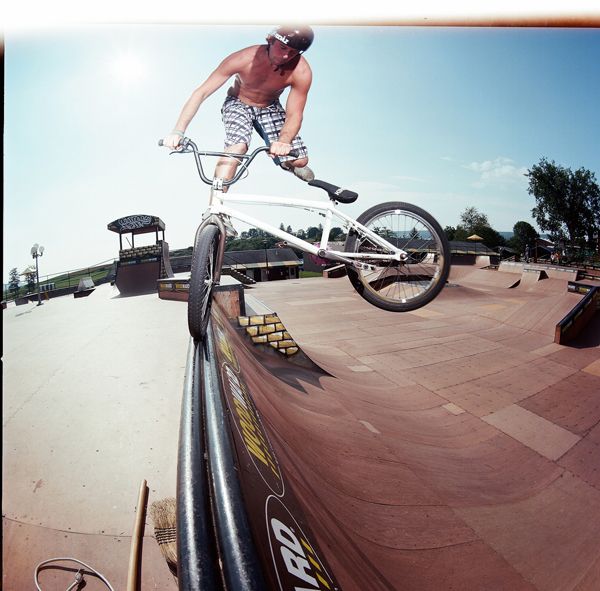 Photo: Tommy Verrochi
Name:
Nick Steben, but some people call me C-Beef.

Location:
West Hartford, CT
Sponsors:
TJD, Stampede
Years riding:
Going on about 9 years now.
What was it that first got you into riding? Any early memories come to mind?
When I was in elementary school there were some woods behind my school and the older kids would go back there and make dirt jumps and rhythm sections. We would ride our mountain bikes back there and then after awhile we got BMX bikes and those older kids grew out of it and left. We started making dirt jumps and had a blast. They would get plowed and the next day we would go and make some more. We didn't give a fuck and we had fun making them. Nothing compared to today's stuff, but back when we were young they were the sweetest thing.
When we met in Chicago and I completely blanked on who you were, how pissed were you?
Haha not at all, we never met before so there would be no reason to be pissed.
That was just part of a really long trip you took recently. Where all did you go? Was there really any reason behind the whole trip or was it just for fun?
The trip was just for fun with some good friends from England. They flew over for 5 weeks and we hung out around my area for a week and then took off for Cali. It was the best time ever. Met a ton of really cool people and saw a ton of crazy places. I never really drove past the Midwest and I got to see a few more states I never been to. In the end we had gone to Pittsburgh, Chicago, Milwaukee, Boulder, Breckenridge, Las Vegas, LA, San Diego, Carlsbad, Phoenix, Tempe, Albuquerque, and Memphis. We were going to go to Texas but it was way to hot to be down there so we headed home for the beach.
What's your favorite place you have ever traveled to?
I have only gone over seas once and it was to England for a month last September. It was the best time ever. Met a ton of cool people and saw a ton of new interesting things. I have been to a ton of places in the US and they have all been really sweet. I'd have to say San Diego was one of my favorites. There is a lot of everything I like there. Good weather, the beach, tons of things to ride and good Mexican food. Pittsburgh is on the top in my book. Never had a bad time in the burgh.

Photo: Mike Netley – Pittsburgh
I personally feel like traveling has changed who I am a bit, but you have been way more places than me. Have you ever learned anything from traveling so much?
I feel that everywhere you go you learn something new. Just by hanging out with different people or seeing new places gives you a different perspective on life. I feel like I am always learning new things when I meet new people or just being around different settings. I like traveling because you are on your own in a different place far from home, it makes me feel real independent.
What's your craziest story from the road?
There has been so many good crazy stories from the road, I can't even begin to start. Last weekend we had a party in big jobs van after the Belmar contest. We were on the way to some bar. We were rowdy as fuck in there screaming and blasting music. Got to the bar and it was so bad, no one was there. We stayed a bit and on the way back we were just drinking and chilling with a serious crew. Raging the fuck out of this van. The back doors didn't close so someone had to hold them shut the whole way. Some dude was passed out, everyone was messing with him. Big job fell asleep in the passenger seat while giving directions and we ran out of gas going in the wrong direction from the house at 4 in the morning. We were in the middle of some corn fields. We left the kid in the van for awhile when we walked back to the house. No one cared that we ran out of gas, shit was funny as hell. The whole night was just a kick ass time.
Do you have any more trips planned for this summer/fall?
Summer is almost over now but I worked at Woodward for a week, that was fun hanging out with some good friends. Some of them came back with me and we were hanging out at my house for a bit. Don't really have anything planned out. I want to go to Interbike because it looks like a fun time. In January I'm planning on going to Australia for a month so I'm pretty stoked for that. Other than those just a bunch of little trips. Going to go to Greenville or Cali for a week. Nothing is really set in stone yet.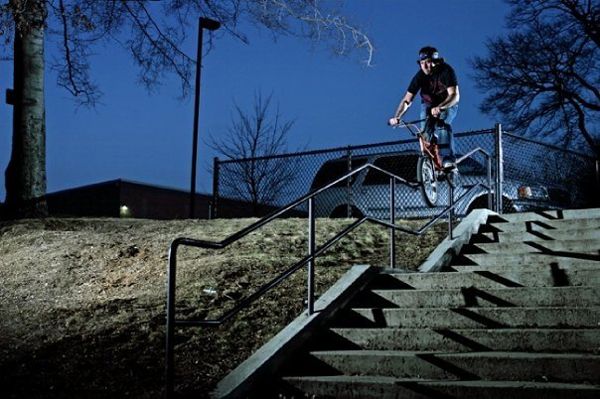 Photo: Keith Romanowski -Long Island
You had that web video that Jeff DuPaul put together for you not too long ago. Have you been working on anything else video wise lately?
Not really, its fun to make edits but its not my top priority. There's some things I want to film in my area that I think would be sweet but I don't stress about it at all.
Who is your usual riding crew these days? Any one you think people should keep their eye out for?
When I'm home I usually ride with Jeff D. He lives nearby and is down to ride whenever. Fakie, Sven, Matt Barcus, Garret Serven, Andre Postell, Villani, all the 860 guys I see all the time and all the Haven Skate park guys down that way. We always ride there so I always see them. There's always other friends from Mass, Ny and New Jersey coming up this way so its always fun riding with everyone. Matt Barcus kills it on a BMX bike and is from CT. He can ride anything and is always doing something crazy.
I know for a fact you have seen some crazy stuff go down lately. What's the craziest thing you have seen involving BMX in some way?
Anything Dew Tour now a days is pretty crazy. Some things you just never think would be possible. Watching X-Games, Anthony doing that double front flip was outrageous. I couldn't imagine learning things like that. Few years ago people never were doing front flips, except Beringer, and now someone is doing double fronts. So nuts to me.
I know you are a pretty dialed rider, but what's one trick you cannot do for the life of you?
Turndowns. For sure. It just doesn't work out for me. I kind of did one years ago and I was stoked but it was def half ass and no where near clicked. Flairs are pretty hard too, I've tried those a few times but they just don't like me. One day.
Why do you always check your elbows after you fall?
I guess my first instinct when I fall is to put my hands and arms in front of me to save me from landing on my face. So instead of smashing my face, I smash into my elbows. A ton of times I'll land on them and I think they are fine but I'm cut or broke off somehow. So pretty much when I fall on them no matter how bad I always look to see if there blood or something of that nature.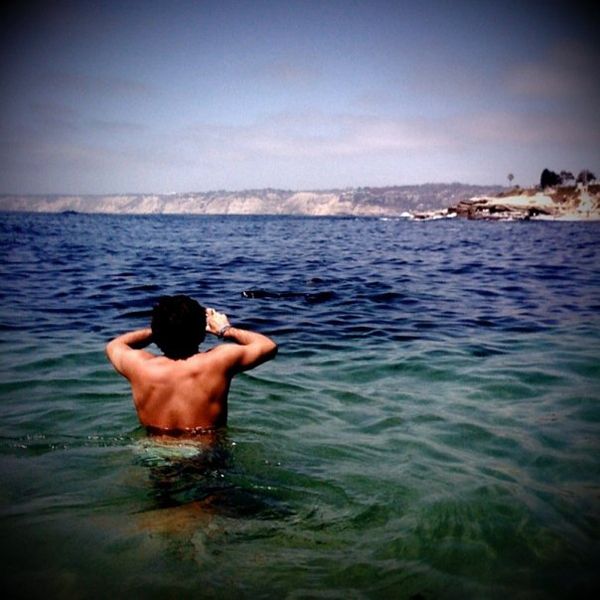 Photo: Dan Jones – Encinitas, California
If you could go back and relive any session you have had, when would you go back to and why?
I would go back to 8th grade when we started making those dirt jumps in the woods behind the school. That was the first thing that got me into BMX and I had the greatest time back in those days. Any one of those days back there when all my friends were there I would want to relive.
What do you think you would be up to if you didn't get into BMX?
If I didn't get into BMX I would probably be done with college as of last spring and trying to find a job out in the real world. I'm glad I got into BMX because it definitely changed my outlook on life and where I am today. Most likely wouldn't travel as much or know as many people that's for sure.
What are you usually up to when you aren't riding bikes, or driving all over hell?
When I'm home I go to the beach a ton especially during the summer. Surfing when there are waves and just hanging out with some of my good friends. Cliff jumping, Party and go out a bunch. I don't like sitting around doing nothing. I feel like I got to be out or I'm missing on one something good.
How did you get the nick name "C-Beef"
On the first trip I ever went on we were eating breakfast one morning at some dinner in Ohio. I was looking at a menu and I asked what a Rueben sandwich was. I had never had it so I didn't know. It said there was corn beef in it so I asked someone what it was and buddy called me C-beef and pretty much it just stuck and they all started calling me that.
I know you got a sweet job similar to me that allows you to take time off from work to travel from time to time. What exactly do you do again?
My family owns a auto body shop in town that my grandfather started in the 50's. My dad and his brothers run it now and I just work there part time. I'm in school and take some classes at the community college so I just work before of after class. My dads pretty cool with the riding so I just work for a bit and take off for awhile like during the summer or winter break.
In a perfect world, other than being pro, what would your dream job be?
I'm a beach bum when I don't ride and I grew up at the beach my whole life so I definitely would say being a surfer. They get to paid travel to crazy places all over the world and hang out at sweet beaches with girls in bikinis, what more can you ask for?
Approximately how many dollars have you spent on strippers in your life?
Id have to say about $20. I have been to a few and they are a fun time for sure if your with the right crew.
What kind of a music are you into? What is the first song to come to mind?
I pretty much will listen to anything except country. I'm not a big fan of that stuff. Lately I been listening to a lot of classic rock. That stuff always sounds good. Raps good too. First song that comes to mind right now is Sleepy head by Passion Pit. Just heard it on the itunes.
What are three things you are stoked on/for?
BMX, surfing, and living life. All of these bring me the greatest feelings right now in my life and I can incorporate them all together and I love it.
Do you have any favorite websites?
Myspace/Facebook, The Come Up, Vital, Banquet, BMXunion, Defgrip, Surfline, Magicseaweed. Those sites I go to the most whenever I'm on a computer
What makes for a good night out for you?
A good night out for me is with some good friends in a place that I didn't think I'd be at when I woke up earlier that morning. Throw in some beverages and some tunes and that is all you need.
Have you ever been caught in the act with a girl? Care to explain?
Probably some little stupid stuff but I have had some close calls. My dad almost walked in on me with 2 girls once a few years back in my room. Came home from work in the afternoon and I didn't know. He never came into my room though. Probably be stoked on me. Another time I slept at this girls house and she said he rents were going be gone for a trip in the morning real early. Next thing I know I'm waking up to the mom at the door asking why it was locked. Turns out the dad had kidney stones so they never went and I was hiding in the girls closet for a bit. As soon she went away I ran out of the house as fast as I could and never looked back.
What is the dumbest thing you have ever done to hook up with a chick?
Prob drive a little ways to go meet up with some one. Nothing too crazy.
What does the future hold for C-Beef ?
I have no idea and I'm so stoked on that. Its crazy cause one day I can be sitting at home doing nothing and then I'll be on a trip with some close friends in some crazy situation that I never thought I would be in. Random stuff like that happens to me and I love it. Somehow I always end up in the right spot at the right time.
What are some things you would like to accomplish in the next few years?
I want to travel more and meet more people. I feel like I been to a lot of places around the country and I want to see new places over seas. Anywhere in Europe, South Africa, Australia, Japan and China. They just look really interesting to me. Also to finish college. I took a semester off and transferred schools so I'm a little behind. I'm not in any rush really.
Who or what are the biggest influences on your life?
Mom and dad for sure. Old videos influence me a ton because that was BMX when I first started to ride and that's why I got into it. All of my friends that keep me motivated and all the people I looked up to growing up.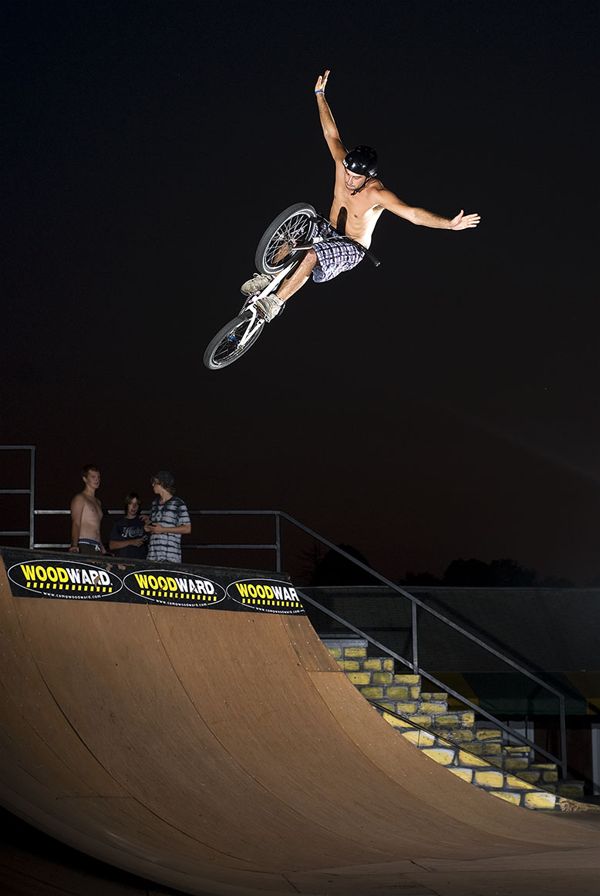 Photo: Tommy Verochi
What is the best advice you could give somebody?
Just hang on and enjoy the ride. You never know where it will take you.
Do you have any shout outs or thanks?
Thanks to my family for being supportive with riding, Jon at Sun Ringle, Ben at Stampede, Jeff DuPaul and the whole TJD crew, all of the ct riders 860/203. Andre, Fakie, Garret, Barcus, Buckler. Craig, Ross, Willy, Potoczny's. All my friends I have met and ridden with in the past you know who you are. Keith Romanowski and Sven for shooting photos over the years. Anyone who has ever helped me out especially Drew and the dk guys when my bike got stolen last winter, big thanks. Anyone who ever let me stay at their house and I had a good time with. I won't ever forget it. And of course Kurt for the interview!
Anything else you want to say?
Stay Strong Stephen Murray!
Filmed and edited by Jeff DuPaul