A few weeks back, Nike 6.0 had asked if I could help out by doing an interview with Nate Wessel talking about the course design for the BCN BMX Pro going down July 3rd and 4th in Barcelona. I was more than psyched and today the press release with the interview dropped. Check out the interview and the course photos. It looks like it's going to be a sick contest. I wish I was going.

PARK PLANS RELEASED FOR NIKE 6.O BCN BMX PRO
There's one name that comes to mind when there are BMX ramps to be built, so it's no wonder that Nike 6.0 got hold of Nate Wessel when they came up with the concept for the BCN BMX PRO contest in Barcelona this summer. Nate has an innovative mind that has created some of the best skateparks in the world. From Woodward to X-Games; he's built it all. There's something amazing coming to Barcelona this summer, and it's going to be big…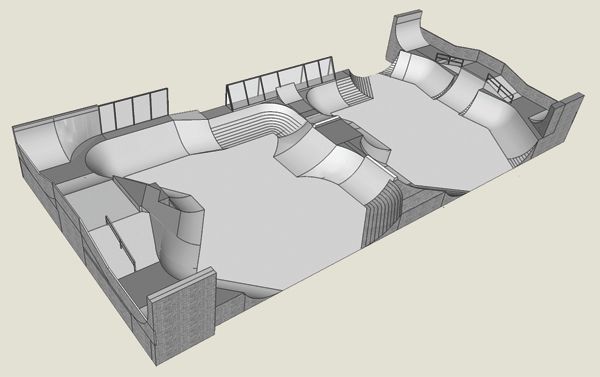 Alright, lets start from the beginning. When was the idea of doing the course design for the Nike 6.0 Barcelona BMX Pro originally presented to you?
Nike 6.0 dropped me an email probably 3 months ago to see if I was into designing the course. They told me they really wanted to go in a different direction compared with past years and really try and make the contest into something very unique for the future There are so many people out there that design courses and build ramps so it was amazing that they chose to call me. Everything I do is word of mouth, I don't have a website, I am just very grateful that I get contacted to work on some many cool projects.
Was the location and everything already planned out, or were you given pretty free reign in where the course would be build?
The venue was pretty confined to the space, it is the same space that they used last year for the course (as part of Barcelona Extreme). It is kind of narrow for what I designed especially to have
sideways types of lines and transfers. The space is really better for a back and forth set up so that was the only difficult thing to overcome.
What were some of the biggest factors and issues you ran into while trying to make everything work?
When I am designing a course for someone I keep working on it till everyone is happy with the final product, most of my first drawings that I do for someone are just ideas and concepts to get a feel for what someone wants. Street, flow, tons of transfers, or jumping stuff, or a combo of street and flow. The hardest stuff that I have to do is when it is a skateboard and BMX contest on the same features, because someone or something always gets left out. On this design the toughest thing was how narrow the space is for the type of course. About 15 more feet side to side would really make this course amazing. But with a few changes I made it work with all of the features that we wanted to keep and I tightened it up. It's gonna be really sick.
You have a pretty solid crew of guys you have been traveling all over lately with building ramps. Who did you have involved with this crew?
Most of the guys I don't know, but a few of the main guys are Axel Jurgens, Ryan Corrigan and Achim Kujawski. Achim has some of his German builders working on the event and Axel has some his guys. Ryan Corrigan is like my right hand man on most of my jobs. He kills it and gets things done. I travel around with a lot of other dudes and all of them are amazing. Most of the jobs we roll onto have some pretty strict time frames to get things done by and you can't be teaching beginner carpenters at the same time. You need some heavy hitters in there that are just going to get at it and get things done, hopefully with minimal bitching and complaining. Bottom line is I could not do the jobs that I do with out hard working dudes. All the guys that work with me kill it and deserve more than what I can give them. They influence me everyday and I learn a lot of new stuff at the same time. I just hope I am always giving and teaching the same in return.
Were there many big changes from the original design to the final design of the park? Do youexpect to be making a few changes as the park is being built or are you usually pretty precise on the design to actual build?
The first design is completely different from the final design, and there were a lot of changes along the way. I have way too many ideas in my head that are just waiting for the right space, venue or private facility. Hopefully someday. I am usually pretty spot on with my design to how we build a park, but there are always changes that we do during the build and it is always an evolving thing to make the course better. This build is gonna rule because I have worked with a few of the dudes that are going be building it and they are solid guys and are going to make it happen. Ryan Corrigan and Axel Jurgens rule, they are going be the ones making the best decision if something is not working right.
You recently built the new Woodward Beijing, and the X-Games ramps in the past and comingup this summer. What's the difference working with Nike for a project like this over a company like Woodward?
Well first of all, both are amazing to work for. Woodward has given me so many opportunities it's unbelievable, I am grateful every day of my life for the projects that I have gotten to work on, been a part of, and the fact that it was one of the biggest jump starts in my career in BMX and building. Nike 6.0 has also given me many opportunities, but they are different in the best way possible. The fact of having total creative freedom on a project rules. Not that I don't with Woodward, it's just that there are no constraints with having to design things a little more toned down. At camp you have to, you design and build for every level rider and skater, it's what makes the place run. With events like the Nike 6.0 jams you can go a little outside the box or way outside the box. It's a bit more of a dream job. I wish I could draw stuff up like this year round and be a part of the builds. Most event stuff is like this but seriously, Nike 6.0 stuff is way more fun because you can change the course all the way up to the build and make it better and better and better. For X Games the course needs to be done and drawn up 3 months ahead of time for all of the camera angles and logistics stuff. Yes all of that needs to be done but basically the course can't change after that. To me that is no fun if there are things that you want to make better. I just hope Nike 6.0 keeps doing bad ass contests and hopefully call me to help be a part of cool shit.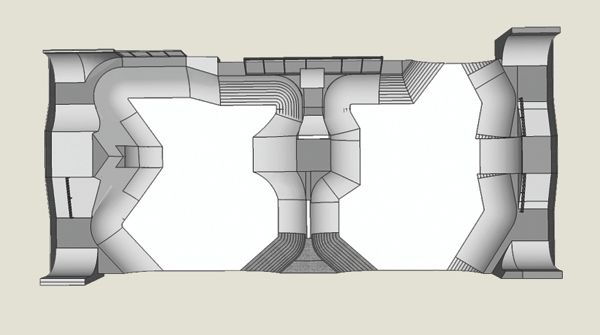 Barcelona has been a real popular destination for BMX riders over the years for its notorious street spots and just generally amazing atmosphere. How do you feel the people will react to an event like this coming to their city?
I hope it goes off, and it opens peoples' eyes up to the fact that BMX is more than just watching a Dew Tour on TV. Not that those aren't rad but they are different and that is what is on TV. There is a whole way bigger underground scene that exists in BMX and is what keeps our whole industry going. Hopefully the people of Barcelona will get a taste of a different style of contest that is a bit more unique, even though you will still see all the box jump tricks. They will get to see some really diverse riding and different styles, and if it goes well maybe it will blow this thing up for next year so I can get that extra 15ft, haha.
Any predictions of who will have the most fun on the Park?
Ryan Corrigan ha-ha (he has to build all of the bowl corners), it's rumoured that this course is
staying up afterwards which would be amazing. One more thing that makes Nike 6.0 amazing, is
that they give back to BMX constantly, I love it!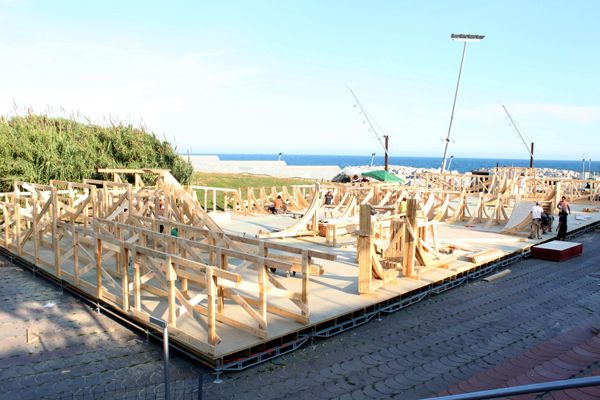 What's next for you after this contest?
I am going to Iraq till the 24th and then straight to X Games to start the one month build, then I have an art installation that I am doing in LA that revolves around action sports, surf, skate and BMX. Then I go to New York right after X Games for Red Bull Manny Mania contest, then straight to Milwaukee to build ramps and do shows at the Harley Davidson museum. That is only the next
2 months I think….
For further details and regular updates – nike6.com