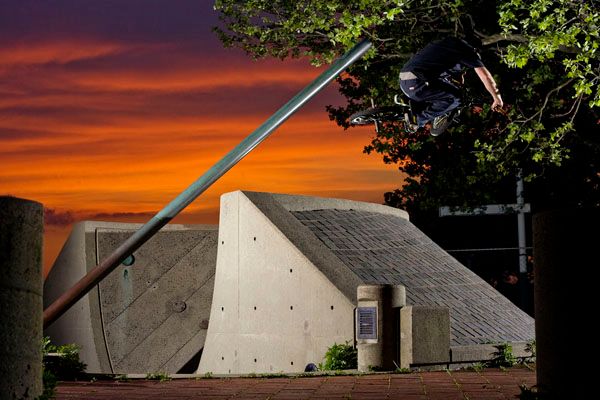 Photo: Rob Dolecki
A little over a year ago now, I did an On the Horizon with Animal. In that time, it seems like Animal has had some big changes from products, to the expansion of Skavenger, the dvd, moving to a new building in the works, and more. I figured after Interbike this year that it might be a good time to hit Ralph Sinsi with some questions about what's going on over there these days and this is what he had to say…

This past year for Animal seemed to have a lot of focus on the Cuts video release and the clothing side of things. Was this the intension or am I just imagining things? What is the direction or main focus for 2011 that you see for Animal?
Things have been rolling quicker and quicker with the clothing over the past few years. The stuff is just getting nicer and nicer and we keep hitting everyone with new stuff that atleast no one in bmx is doing anything close. The dvd has been being filmed for a while. It was just pretty much put out when Bob decided to finish it. No planning, just riding and taking things one step at a time.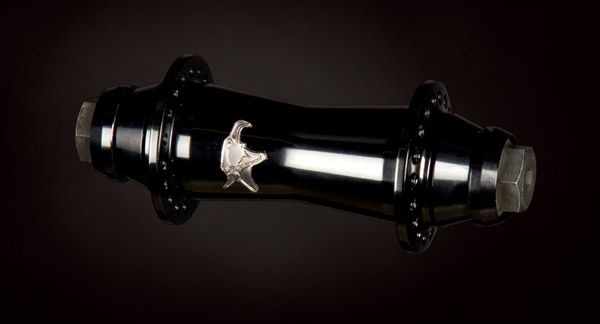 With the expansion of Skavenger in the building, do you guys have any plans of adding additional space to the current location or another building to house the brands?
Oh yeah. We are moving into our own building. After renting for 10 years, we ran out of space again and decided it was time to get our own spot. We are pretty much tripling our space. We will be moving mad product out of the new spot.
It seems like the big thing for this past year was brands starting their own distribution companies. What do you think about this direction? Do you feel it helps BMX or is it something that limits brands being seen by shops who only buy from companies like QBP and SBS? Do you have any plans of starting a distribution brand for Animal and Skavenger?
Animal has always sold itself, so has been it s own distributor in a way. We will just sell Skavenger through Animal. We aren't going to make up another name though. If you want Animal and Skavenger in your shop, just call animal 877 827 3459.
What's the current line up looking like for people helping you run Animal on the day to day from product design to the guy who cleans the toilet?
We got a wild crew. We got 4 killers on the phones Omar, Scotty, Brennan, and Benson. Then we have Whiteboy doing the parts design with some input from Dominic Biro and Tom G. doing all the clothing. Osso is the VP and in charge of the books and accounting stuff along with our accountant Kotulak. Teague is the shipping manager and has Sean, Mark, and Paul hookin the pickin, packin and warehousing.
Franky Lam is our newest employee and is our new business manager and parts production coordinator. Then we got Vargas on the IT and business systems.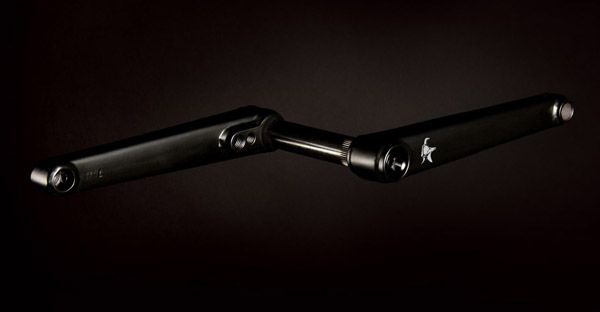 Obviously, you are forced to wear a lot of hats when it comes to your daily business. What's a typical day like for you?
Phone, email, phone, text, phone, email, pedal, grind, bank to something, tire slide, back to the phone, emails and texts. Eating and sleeping thrown in also. Swing through Grove Street bikes which is my shop that my partners Wilson and Rodney run.
I've always wondered what kind of time a guy like you has to ride? Do you still get the occasional session in after a full day?
All the time. Me and Osso go out a couple of days a week after work no matter what. I try to take a day or 2 off and go with Bob and some of the guys on the team to hot spots, also. If I don't ride I go nuts and break stuff and knock down shelves at the warehouse and stuff.
What kind of goals do you have set for Animal in the next few years? Where would you like to see the brand go?
Nah. If you set goals you can be let down. I just do it freestyle. We are going to push the company in every aspect as much as we can and see where it goes. As long as the riding and products are the most important stuff and there is no bull shitting kids by some corny marketing to sell some crap, that is all that matters. Just good products with full input from our riders who are out abusing the stuff all the time.
Interbike proved to show that you guys have a couple new products in the works like the hubs and Nigel seat. What's the current product line looking like in the hard goods department? What are you most psyched on?
You name it, we will have it out soon. Wheels, cranks, new seats, bars, stems, etc. I can't wait till we have wheels and cranks since they are such big important bike parts that we have never had. And the Kotulak multitool is a whole new thing like no one has ever seen. It is the only tool you need to build your bike from the ground up or fix anything.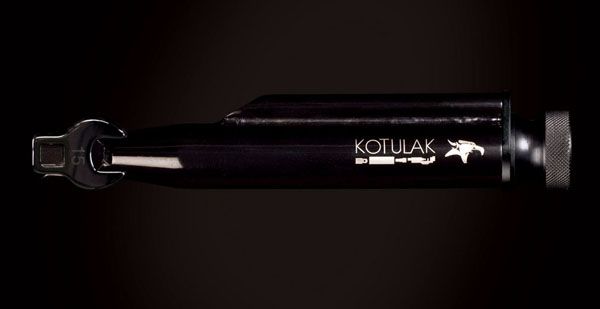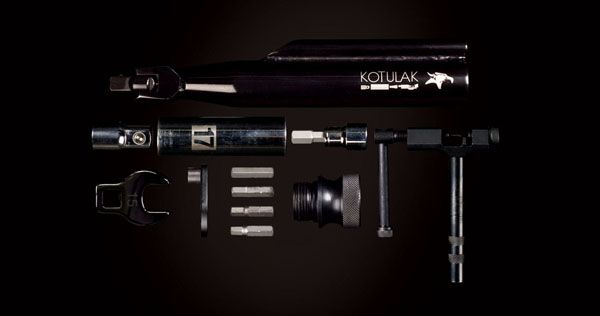 As mentioned at the start, you guys have been doing quite a bit with the clothing side of things. What can we expect for the winter line this year? Any hints at some things you are working on for 2011?
Oh yeah. Hot new threads all over the place. New jacket, button ups, pull over hoods, zip ups, hats, beanies, that new dope backpack we just got out. Clothing is a big part of riding and we are going to keep pushing that just as much as anything else.
Cuts dropped this year finally after a lot of anticipation. Have you guys considered working on another video project at all or are you guys just going to focus on web videos and what not for the time being?
Bob is always our with the team chillin riding and filmin. To tell you the truth, after Cuts dropped, the team got even more souped by having the vid to watch that they have been killin it more then ever.
Does Animal have any plans on team trips or anything like that anytime soon?
Yeah. Everyone is all over all the time. Mostly local trips around the tri-state, but everyone is always riding and trying to ride new shit all the time and explore every area that we swing through.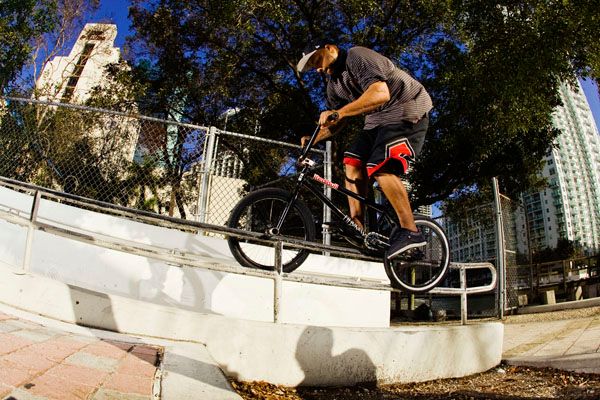 Photo: Rob Dolecki
What's the current team looking like? Any up and coming guys you think have some potential to be bumped up to the pro team?
Oh man. too many guys killing it all the time. I can't even tell you all the crazy shit I see. We have a huge team as it is, but we support tons of other guys who kill it but aren't on the actual team. The team is the team though and I think it is up to 18 guys. They are all the best and will be riding forever and therefore stay on the team forever.
It seems almost impossible to sponsor somebody these days since every day there's a new kid out there giving the pros a run for their money. What are some important things you feel make a rider sponsorable in 2010?
Yeah. I guess we have many different styles together in all the riders that form one entity that reps street riding to the fullest. There are a lot of kids that are the flavor of the day with stuff, but the real heads do there own thing without caring who is doing what. Riding has gotta be fun (unless you fall and get hurt). Some people get too serious for no reason.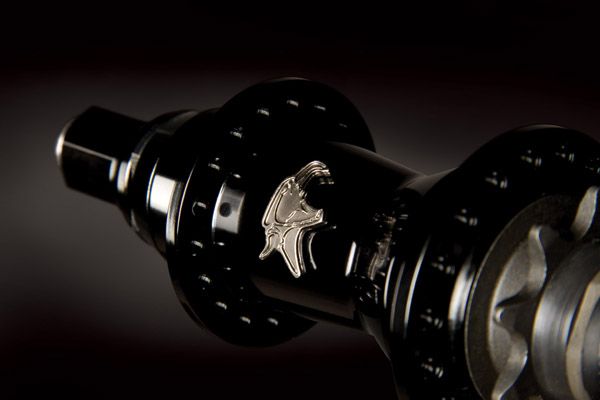 Let's say somebody has an issue with one of the hubs when it becomes available. What kind of a warranty process are you guys offering these days? How can somebody get an issue cleared up?
If it is something that was a manufacturing problem, we will warranty it right away. That has barely ever happened, but we always take care of the customer no matter what. Some crazy falls or throwing of bikes are going to break any product no matter how strong it is. We tell people to send the products back and make sure if it is something that shouldn't have broke, we replace it no questions asked.
Who should shops or distributors contact to get Animal or even Skavenger into their shops and warehouses?
Just hit us with a ring at 877 827-3459 or just shoot an email over to and we will have a sales associate contact you.
Anything else you want to say?
Just thanks to everyone for supporting animal over the years. We are about to kill it like never before, so be on the lookout for all the new parts, gear and riding that the future will produce.
Head over to AnimalBikes.com to check out their full product line along with all the latest on their blog.