A few weeks ago, the Bad Timing promo video hit the internet and it caused quite a bit of a stir with the video getting embedded pretty much everywhere. The crew consisting of guys like Jay Roe, Darryl Tocco, Tony Hamlin, Geoff Slattery, Aaron Smith and Lloyd Wright to name a few are members of this rider owned and run clothing brand that has come back for its revival in 2011. I figured it would be a good time to get ahold of Jay and Darryl to find out more about this brand and what's to come. I'm not sure, but maybe this is Bad Timing for this one…

All right, so I guess we should probably start it out from the beginning. This is more of the "revival" of Bad Timing, right? Who were the original people involved with the brand and how did it get its start?
Jay-­‐ This is definitely a revival. The original cast was a heavy crew from South Jersey that is still very much apart of the crew now. Darryl, Ryan Vancho, John Rye, Geoff Slats, Randy Brown, Aaron Smith, Chris Larson, Chase Dehart and a few others rounded out the original crew that rode together, traveled and filmed the first 2 BT videos together. Darryl made a few T shirts back then and did the 2
videos.
What happened? Why did it take a hiatus for a few years?
Jay-­‐ I think the main reason it kind of went quiet was because everyone got older. Some of the dudes stopped riding, some of the dudes became pro riders. Everyone kind of started doing their own thing. I know Darryl got super busy with Kink and that took a lot away from Bad Timing. "Just Kidding" (the second BT vid) was released just as Darryl was getting on Kink.
When did you guys decide it was time to bring it back? Was it kind of something you were all waiting for the right time for everyone to get it going?
Jay-­‐ It was definitely right time sort of thing. For starters, Darryl and I had enough money on our credit cards to front some t shirts, road trips and stuff like that. But, most importantly, we feel like we can really contribute and add something cool and refreshing to BMX. A t-shirt company ran by a bunch of riders that don't really know what they're doing is nothing new. I strongly feel that the more we take this kind of stuff into our own hands the better off it will be for everyone. With companies like The Trip, Deadline, Act Like You Know, The Bank (I'm sure I am leaving some out), making clothes, videos and whatever, it brings the potential for kids to start buying back into BMX. We have so many kids buying skate apparel or shit from the malls because nobody offers stuff that a kid
can stand behind or be stoked enough on to pay 20-­‐25 bucks for. We know kids are going to buy bmx bikes, parts, frames, ect. from a bmx company. They have no choice. But what we need is kids to start buying the rest of the stuff from bmx as well. Whether it is a t-­‐shirt, pair of shoes, accessories, videos and everything else. No longer can a kid say he bought a Deathwish shirt or an Altamont shirt because BMX doesn't offer it. If you can't find anything worth your money (apparel wise) from your favorite bike company than maybe you can start looking into the rider ran, funded and operated apparel lines that are starting to pop up. and if your still not satisfied, don't be lazy and hit up Zumiez for a new wardrobe. Try and create something better and add it to our industry, the BMX industry that you care about. Not someone elses industry. The more support companies from major brands down to the people like Bad Timing and The Trip, OSS, etc can get, the cooler stuff they can do and the further our industry and scene will be advanced. We can stop chasing skateboardings business model and create our own. If your not into The Trip stuff because they party too hard than buy a BT shirt and if you're not into BT because half the crew is Kink riders and Jersey is a shit hole then buy Act Like You Know stuff, if you hate Ohio and well done DVD's then fuck them, look to LA and amazing web content and get stuff from The Bank. There is no shortage of people try to put back into BMX what it has already given us. We just need to focus more on supporting the brands within BMX that make this all possible. Brands from the major shoe companies, the parts and frame manufacturers, down to the rider owned and ran t-shirt operations.
Darryl -­‐ The Act Like You Know dudes put out and amazing video this past winter. If you can't get stoked and support a crew of dudes that can put so much effort into their riding, filming and branding all for the sake of doing something cool and refreshing for BMX, then you are in the wrong game. Those dude aren't making their money back. The Trip doesn't have a gas budget, BT doesn't have a company van and ALYK doesn't get DVD's printed for free. This stuff is done out of the love for what we do and the hope that other people will be into it as well.
Where is Bad Timing based out of? Are you guys storing your stuff in the Blackout warehouse?
Jay- We don't techinically have an office or anything like that. Darryl and I live together in Long Beach right now so that can be considered our home base. So Blackout stocks a few quantities of all our stuff, but the main bul of it is with Darryl and I. It is actually currently sitting in the back of the Kink van.
Who's all involved this time around? Do you have set "roles" for everyone, like, you as TM, Darryl as filmer and Tony as Twitter master, etc.?
Jay-­‐ This time around BT has most of the OG dudes involved somehow. Ryan Vancho is part creator from back in the day and he is the man responsible for all of the branding. He made our website, designed all the shirts and stickers and did it all with a full-time job and a family. We don't really have set roles for anyone. Darryl has the command over everything video wise and the rest of us kind of just hold things in place. We have our dudes that ride for BT, support it and what they can. Lately, I have been handling all of the orders, packing them up and heading to the post office everyday wherever I am.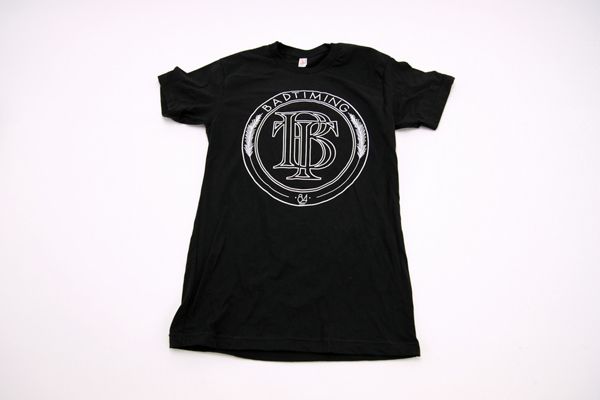 Do you guys plan on expanding the team in the future, or is it more just a group of friends thing that you guys are doing for fun?
Jay-­‐ I don't think we really have plans on expanding the team. The team is more a crew of dudes that are all tight and want to just travel and ride together. I tell people its no so much a team as it is just a crew. It's a bunch of dudes trying to find one more reason to pack into a van and go riding. We all know each other and like to hang out so it just makes sense.
You guys kind of snuck it up on people and let the internet's viral power take over once the edit dropped. Were you surprised by the reaction and attention you guys got?
Jay-­‐ Yea, I mean it had been in the works for a while. The main trip that the promo was filmed was in Toronto last July or August. Just now the shirts are coming out a and stuff so it definitely took a bit. We didn't want to blow it up or overdo it, but we were pretty proud of what we got out of the promo. It was hard to wait so long for people to see it but in the end it worked out good. We are glad it got such a good response. It is the stuff like that, that makes it worth doing over again and keeping everyone else on their toes and doing good stuff as well. We can all feed off each other and the content will be getting better and better and hopefully in turn kids will start to get more into what we are all doing and support it.
So is Bad Timing a clothing brand specifically, or is it just the first of the products you guys are going to offer? What else can we expect to see in the future?
Darryl-­‐ We don't really know what we're doing. I just wanted to make a video and it's fun to have the crew repping shirts. If other people are feeling it they can wear them too. Touching on what Jay mentioned earlier, without "crews" BMX wouldn't be the same. We're just a crew that makes some T's and have a website for now, and everyone involved is more than okay with tat.
The first runs of Bad TIming shirts are looking real good. Who was behind the designs? Do any of the shirts have some sort of meaning or anything?
Darryl-­‐ Thanks man, our god friend Ryan Vancho has been behind almost all of any type of graphics or image we have ever presented. When John Rye and I started doing stuff, I made a website and some shitty graphics, but I wasn't able to convey what I wanted BT to look like until we started hanging out with Ryan. He has a really interesting taste that fits exactly the type of image I always wanted BT to have. I've always been into crest-work shit and he made it happen. They don't mean anything too specific, I'm sure they hold at least a bit of meaning to Ryan. I trust him 100 percent and he will print or do anything he wants.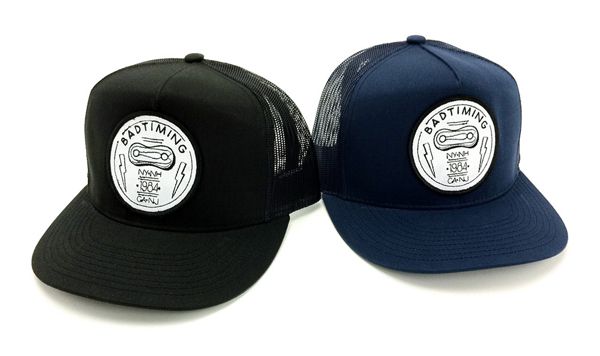 You guys have been traveling a bit around the east to places like Boston to film for BT. Does this mean we can expect another real good edit? Any plans for a DVD or anything?
Darryl-­‐ Right now our focus is to a DVD. I want to put some good time in on doing it right with the whole squad. We are still in the developing stages and we just did that one trip to Boston. I'm not rushing, we just want to do some trips and talk some shit. With the last Toronto trip, we just wanted to film for something we could put out quick and still be psyched on. That trip worked out really well.
What's the plan for the summer? Do you guys have any trips planned out? I know you guys just went to France for a Kink trip. Did you get any BT time in?
Darryl-­‐ I'll be traveling to and from the east coast this year to hang out with the crew and film shit. We don't have anymore big trips planned for now, but we are definitely going to stay on it. Jay and I are in France as I type this doing Kink shit, which is specific to Kink. Kink trips are Kink trips and BT trips are BT trips.
You guys have a steady flow of posts up on the blog. What can we expect to see on there and what's the address?
Darryl-­‐ Everyone kind of just throws whatever up on the blog. It's pretty loose. I want to do little promo type videos with the dudes, but like I said, we are focusing on DVD stuff right now. I'm not trying to throw footage up everyday. Some pictures with the squad, a video we're feeling, music, whatever. The address is IsThisBadTiming.com.
Do you guys have a Facebook and Twitter set up for it yet?
Darryl-­‐ We do have a twitter – @ IsThisBadTiming that we mess with. Jay and I have been tripping around Europe for a couple weeks now so we've been slacking with the wifi, but we try to stay up with it. We haven't done the Facebook thing, I guess we should. It's pretty loose, haha.
Where can people pick up Bad Timing gear? How can shops and distributors pick up product for their shops and warehouses?
Jay-­‐ All the stuff is distributed through Blackout Distribution to local shops and mail orders if they are interested. We also sell everything on our online store direct from Darryl and I. Hit up your local shop first. If they don't have it, tell them to hit up Blackout! If all else fails, hit our site. Support your local bike shop!
Anything I missed you want to say?
Darryl and Jay-­‐ Just want to thank Kurt for doing the interview and posting about Bad TIming since before the promo was released. All of the riders that showed love on the promo, we were super psyched that people were into it. Should out to The Trip, OSS, The Bank, ALYKN, IB, Deadline, AOTC and all the other crews that are doing what they do.
Don't forget to hit ISTHISBADTIMING.COM now.