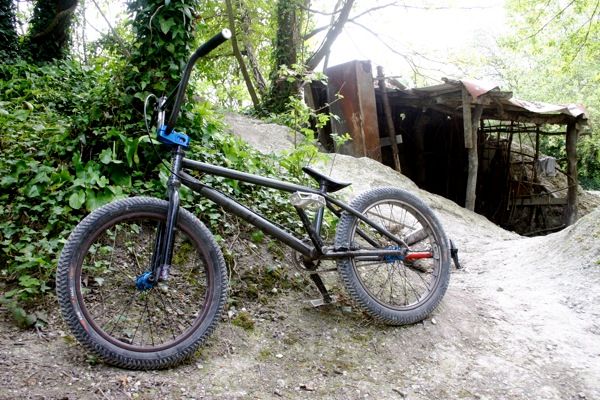 "We test our stuff for a long time before we bring them out, and Davros's bike has a few prototype parts on it – all the blue stuff you see here is prototype and on test now…"
It's crazy how if you stay in BMX long enough, you get to watch brands start out and grow. Deluxe is one of those newer brands that has seen some growth since its start just a few short years ago. I figured it was due time to catch up with Mark Noble to see what he has going on with the brand these days, and where he sees things going. Give it a read and let us know what you think in the comments…

Alright, to start this off. Deluxe has been in existence for just a few short years so far. When was it that you first announced that Deluxe was going to be coming into the game?
Well, I started just messing around on Deluxe as a project years and years ago, drawing this and that, designing frames, scribbling logo ideas – but my main focus and responsibility was always the magazines, of course. But it doesn't matter who you are, everyone thinks about doing a bike brand, right? So at the end of 2007 I thought I'd actually get something made up — just get a few frames made, I figured it couldn't do any harm. I just wanted to ride a bike to my design, who doesn't? Simple as that. It wasn't like I was gonna spread Deluxe all over the mag and feature my products, a six-page team roadtrip articles, front covers and bike checks with the team riders in the mag, I'm not that stupid! Unlike… Well, it was going to be very separate from the mag, of course. Anyway, it turned out that it wasn't welcome with the publishing executives, so to cut a very long and legally challenging story short I was given the boot for having a simple blog on the side, so their story goes. Whatever. So, anyway, overnight Deluxe had to develop from a pipe-dream side-project weekend scribble into a legit bike company. That was in the middle of June 2008, so in all honesty it's not that old at all really – but we've come a long way in a very short amount of time and the feedback we've received so far from the riders in the know has been great.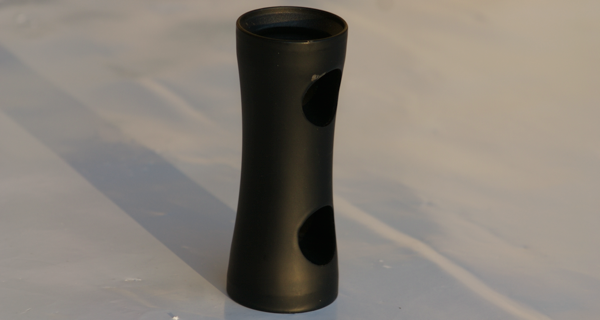 "2011 headtube:
We've changed a couple of things for our 2011 frames – including this new super-smooth, CNC machined, heat-treated headtube. Soooo smooth."
Where are you guys based out of these days? Do you have any plans on expanding?
I work from my home here on the south coast of England, and the distributors around the world house the products. Expansion wise, we're taking it one step at a time, growing organically rather than going nuts at it – and it seems to be going okay so far… originally the idea was to make frames and just a couple of extra parts, but now as we've grown we have ideas to add parts here and there, when we fancy it or want to make something good. It's as simple as that really – it works well, and it's all heading in the right direction.
Other than yourself, who helps you keep things rolling from the day to day? Are you hiring at all?
Deluxe is really small, it's me and the team basically: that also includes Sylvain who helps design our parts, Patrick who does our video and web projects, Barbara does my accounts and the niggling finance stuff, Dennis takes care of manufacturing, and of course Chris who does all our graphic design, which is awesome. And obviously we get a lot of support from our distributors and dealers worldwide. Nobody's really hired so to speak, we're just doing it from the ground up. I'm working on getting Deluxe to a reasonable size, so we'll see…

"Deluxe front hub red:
Working on female-axle hubs right now, and they've turned out awesome. Quality is great, really pleased with these – so they should be out Oct / Nov this year."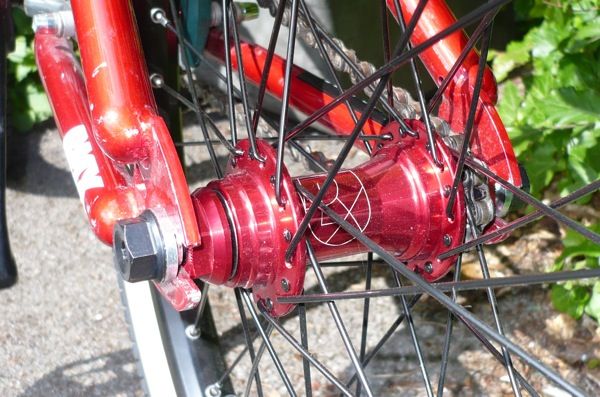 "Deluxe rear hub red:
The rear hub also has a 10mm female axle construction, Japanese sealed bearings, low-flange hub shell, DLX logo, ceramic bush bearing in the one-piece driver, so nice – stoked with these hubs. They should be out Oct / Nov this year. Also note our original dome-ended stays on my 2008 frame, which I've noticed are now popping up on other brands' 2011 frames… "
What's a typical day like for you these days? Do you really get much of a "typical" day these days?
My days differ all the time, balancing work and home life with my family, since I work from my home and kids are running in and out all the time – no two days are the same! I write for ESPN, which is awesome work – we have a great team there and the editorial quality is really high and totally independent, more videos are coming through, the layout just updated, and I focus on in-depth interviews for the site. I also help out my wife's store – she runs a shop and I help run the online side of things, which we had to get back on track after an incompetent clown put together her last site, never worked properly, and buggered off with the money. Cheers Robin… but, after that mess, and starting again with a clean sheet, we're getting there now. Also, I do stuff with our local public skatepark, which I helped campaign for over twelve years to get – the park has been open for a year now and it's great, the scene has really grown here around town in Dorchester. But mainly I try and develop Deluxe BMX slowly but surely every day, taking it one step at a time. It's definitely not nine-to-five, and I'm not stuck in a city office somewhere, that's for sure. It's incredibly free, but working from home it can be hard to switch off… so having said that, I have to be pretty disciplined to keep things moving forward – which they are, so it's all good.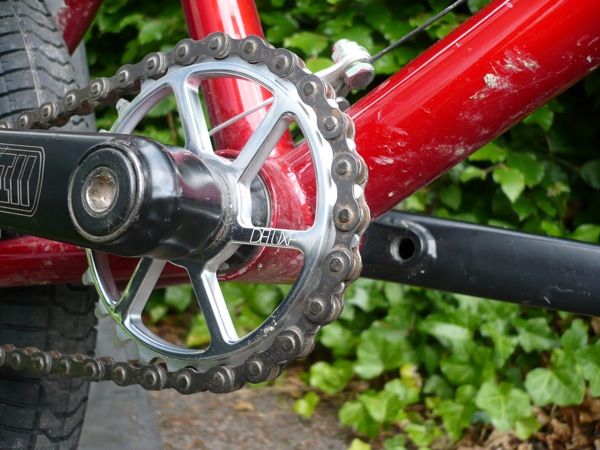 "Deluxe Pompom sprocket:
One of our French riders, Pompom, is a CNC machinist and he designed this sprocket – and it's dialled. This is the 25T version in polished – other sizes available too – and they should be out in July. This one's on my bike…"
Obviously, your target market is trails. Do you have any plans on making things built more for street or parks? What are some of the goals you have for Deluxe? In a perfect world, where would you like to see things go?
From way, way back I simply wanted to make Deluxe focussed, so it's different and it's not another me-too brand – I just didn't see the point really. I just wanted something a little more challenging for me, a little more creative, different, and more focussed. I started racing BMX at the start of the 80s and I wanted to kind of go back to my old roots again, bicycle motocross, know what I mean? Life seemed much simpler back then, haha. Oh, and if anyone thinks that I'm just a "flatlander" is either out of touch, dumb, or has a grudge – or, probably all three. Whatever. I have ridden everything and anything in BMX, but I stopped riding competitive flatland back in 1990 when I decided to focus everything on the magazine instead, and that was bloody years ago – so just rode everything instead. Anyway, with Deluxe we don't have plans to make street or park products – though obviously, you can ride our bikes and products anywhere and everywhere you like. Most of our team ride skateparks too of course, but first and foremost they are trails guys and our products really reflect that – they're designed to ride well on dirt, they are built light to go fast, and built well to last.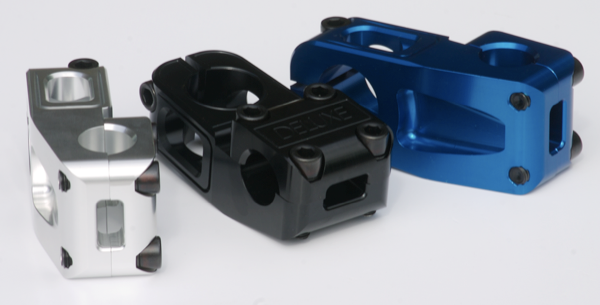 "This is the second prototype of our stem designed by Sylvain Taro – not superlight, but super durable. Machined out in the right places, good reach, good rise, and the quality is awesome."
What are some of the goals you have for Deluxe? In a perfect world, where would you like to see things go?
Goal wise, from a business standpoint ideally I'd love to get Deluxe in to a position where we can just do things better all the time as a bike co. Anyone who knows me well will know that I'm not motivated by money or whatever, but really I'm working hard to make Deluxe a commercially successful BMX company and turn a profit soon — just to be able do more things with the team guys, feed my family, and to honour the commitment we made to the Stephen Murray Fund from the outset of Deluxe — ten percent of our profits will go to the Stephen Murray Fund. And in my mind, to do all this, we just need to keep making great bike stuff for people to ride. That's our fundamental plan – just make great, honest products to ride bicycle motocross on.
What's your product line looking like these days? Do you have anything new that you can let us in on?
It's all looking pretty damn good thanks. Our current 2010 frames are sweet, and the new Tech2 2011 frames coming later this Summer are awesome – the new tubeset we are using is really, really dialled and again the attention to detail is great, our frame manufacturer is amazing. Our CNC machinist is making sure our Deluxe parts are all super high quality too, and I'm psyched to put our name on them; tolerances, materials and machine quality is so, so good. Coming up, we also have new size bars, new seats, Pompom's sprocket, more grips, just keeping things coming on stream. Also, we're working on a new stem right now which is brilliant, and we are testing some new F-Lite hubs now – so far, so good! I believe we are ready to roll our hubs out now, no pun intended, everyone's pleased with them. Plus, we have some Bar End Bar Ends, designed by Davros and Sylvain, and a brake yoke which will change the world we live in. Not really, but it is very trick. And we spend a lot of time testing stuff out too, which is one reason it takes us a while to get product out there. Just getting creative with new products is a good process to be working on – going from an original idea to the point where you see someone at the spot riding your parts, that's a really, really good feeling.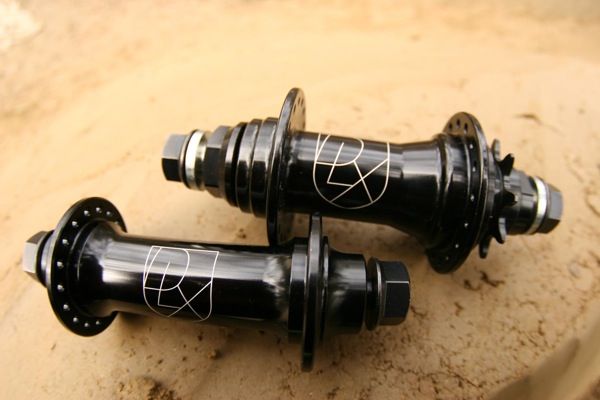 "Our Deluxe F-Lite hubs, in black, photo by Pompom."
What about soft goods and smaller bits that you guys offer? Anything new there?
Soft-goods can be tricky and we're not a clothing company, but we do have some tees available and new designs coming out… I'd like to do more soft-goods for sure and we have a good number of graphics ready to go on to tees and sweatshirts, jackets, and more. So watch this space.
There has been quite a bit of talk of these custom chain tensioners designed for your frames. Can you tell us a little about that? Do you plan on running these stock anytime soon?
Well, one of our customers from overseas custom-made some tensioners for himself and showed us the photos – since we put them on the site he's had quite a few orders. He basically makes them to order, custom built. It's a neat bit of kit – it slots into the triangular hole in our dropout and looks really slick. So if anyone wants any to fit their Deluxe, I just put them in touch with Claudio in Switzerland and he gets on with it.
Any plans of getting into the cruisers, fixies, or anything like that like other brands?
Haha, no. Deluxe BMX is called Deluxe BMX and not "Deluxe Bicycles" or "Deluxe Brand" or anything else like that, because we just make BMX bikes. 20 inch bicycle motocross bikes, end of story! Don't get me wrong, I love most types of bicycles and I always have, but with Deluxe it's a tight ship.
You guys have had your first DVD out for a few weeks now. What can people expect from that?
The DVD is out now! Patrick had to sandwich video production in between his commitments at university so it's taken a while, and he has done a stellar job. I'm really stoked on it, the team's psyched it's done. We had our world premiere at Stoney's Trails Jam in New Zealand, we had our UK premiere a while back, and we had other premieres in France, Germany, and USA. But yeah, it's out! It's mostly from our Deluxe UK Trails Roadtrip last Autumn, but we've also included features from Bar End Trails and Max [Bimar] has the ender part from his trails in Peynier, France. It's definitely an ender all right… it's an awesome section. So yeah, it'll give people more idea about what we're about.
Do you have any big team trips planned at all again any time soon?
For sure, I hope we have at least one good trip a year – this year, I'm thinking France. Great spots, great guys on the team, a really good scene… so, all being well, we'll hit France later this summer.

"Psyched with Jeremy Ball on the team in the States – this dude is awesome. Lookback at Kalamazoo Trails. Photo by Sean Newton."
Speaking of the team. Who's all on the Deluxe pro and flow teams these days?
We have a small team, so we don't make the distinction between flow or am or pro – Deluxe is small right now – so everyone's just on the same team together, and it works a treat. I do all I can to help the guys out for sure. We have Davros from Barend, Frog from Villij, Aidan from Cothill, Pompom and Max from France, Louis who also runs Aversion Clothing, and in the States I'm psyched on our new guy from the Midwest, Jeremy Ball, and of course we also now have Mark Potoczny on board, so it's a pretty complete team as far as we're concerned. It's a really good bunch of riders to be honest.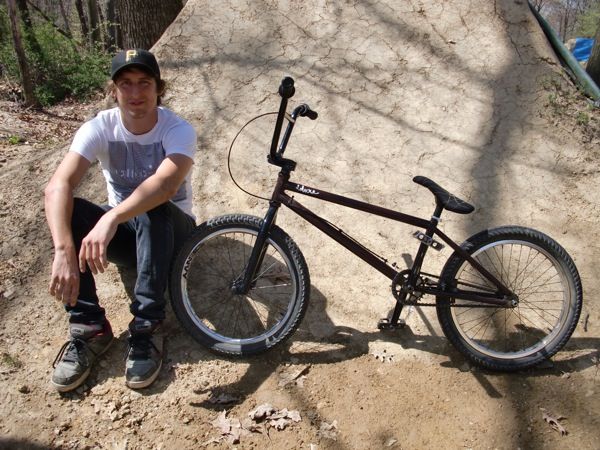 "With Mark Potoczny on the team, look out for further developments here at Deluxe. "
How do you go about picking new guys for the team? Any advice for kids out there looking to get on Deluxe?
Well, it's a tight team, so… first and foremost we're all on the same page. My advice to anyone is just keep digging, build your scene, build your spot, ride your bikes, that's the most important thing right there.
Lets say somebody has an issue with one of your frames. Who should they contact to get it warrantied? What kind of a warranty do Deluxe products come with? What kind of turn around time can people expect?
I'll take care of it personally, so just email me about it. Problems very rarely happen to be honest, as we focus on making our products dialed from the outset and are built to last — we test them for a long time before releasing them, and I make sure our manufacturers focus on that — I'm really stringent on quality control and we have a good warranty to back it up. But yeah, if anyone has an issue, just get in touch and I'll see what I can do to help out.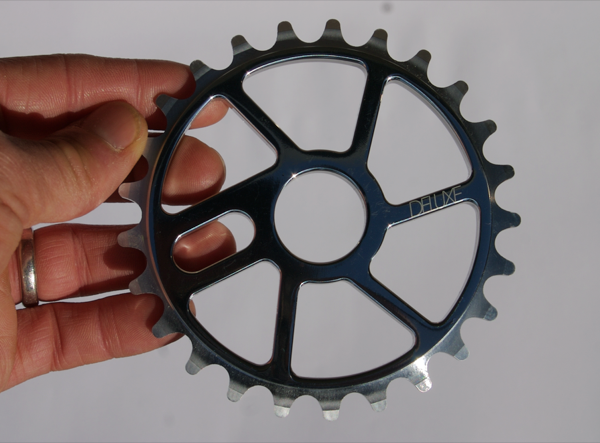 "One of our French riders, Pompom, is a CNC machinist and designed this sprocket – and it's dialled. This is the 25T version in polished – other sizes available too – and they should be out in July."
Who's doing the distribution for you guys? How can shops or distributors get Deluxe in their shops or warehouses?
We've got a pretty decent network of distributors worldwide – we have PRE in the UK, G&S in Germany, Ezco in France, Kickass in Australia, Hellride out of Russia, Klae in Spain, Cyklo Ferda in the Czech Republic, Zen in Japan, and Hood BMX in Italy. And — finally — we have quality distributors in the USA in the shape of Forty Distribution in Chicago. I'm stoked on getting quality distribution in the States after all this time. 2009 was a major pain in the ass since we were let down so heavily by Underground, and it's taken us a long time to claw back out of that mess. It's taken a while, but we're finally there — Forty's got a good team with Eric Block and Scott Towne, and it'll grow steadily for sure. For a start, they both ride Deluxe bikes themselves, which is great – they really understand where we're coming from.
Who should people contact if they have general questions about Deluxe?
Just ask, pop me an email, I'll do my best to help them out as soon as possible.
Is there anything I missed you would like to add?
I just want to say thanks to the guys who stand by us and help muck-in with what we're doing, thanks to all the supporters who ride Deluxe bikes, thanks to the team and everyone involved with Deluxe BMX – good times. Onwards and upwards…
For more about Deluxe, hit their website at http://www.DeluxeBMX.com.
Mark used this as his Welcome to the Team edit.