Flash back six or so years ago. Etnies was doing a team tour in their bus that made a stop at Jellystone skatepark in Warrens, Wisconsin. I'm about 15 and running a Macneil Ruben frame, wearing Etnies Ruben shoes, and sitting right next to Ruben Alcantara who is running his signature frame and wearing his signature shoes. I was so amazed that I could barely talk. That, and watching the whole team at that time really impacted me. I wore Etnies for a solid 6 years straight up until the recent chances to mix things up from some support from other brands the last two years. Needless to say, because of Etnies I got the chance to see some of my all time favorite pros ride in person, and that I've also been a big fan of the brand for years.
I was thinking that I haven't bugged John Povah in a while and that made for a perfect excuse for me to find out more about Etnies and his role at the brand as well. So check out what John has to say, some photos of their new line, and then leave some love in the comments.


Etnies has been supportive brand in BMX for as long as I can remember. How long has Etnies been a brand and is it still under the same owner(s) as it was when it originally started?
Etnies has been around since 1986. Etnies is coming up on its 25th anniversary. Etnies is owned by one person & one person only, Pierre Andre Senizergues.
About Sole Technology:
Sole Technology, Inc. is the creator of etnies, Emerica, éS, ThirtyTwo, Altamont and the Sole Technology Institute (STI). Sole Technology is the global supplier of its brands, which are responsible for many of the incredible innovations that have become staples of action sports. As a true industry leader, the company created the STI, the world's first and only biomechanics research organization, to test and develop new technologies to make the highest performing footwear.
Can you give us a brief run down of what makes up Sole Technologies as a whole? Also, why do they choose to have so many different brands under that name?
Sole Technology as a whole, & as cliché as it sounds, is a family with the sole purpose of putting out the best quality product they can for the price and with the end user in mind. The reason for so many brands is to cater to all the different tastes & styles in skate, BMX, etc. Emerica is very skate punk focused. eS is a little more techy. Altamont is quality apparel only, based around Andrew Reynolds specific tastes & style. 32 is solely snowboard focused. etnies, as a whole & as its grown has obviously become a little more mainstream, hence the variances in shoe styles, while still sticking to its roots of skateboarding with the recognition line that is sold in skate only stores, while the foundation line is aimed at BMX etc. & then you have the line that you see in the malls etc.
Where is Etnies located these days? Has the location changed at all over the years? Are there any plans of relocation or expansion anytime soon?
Etnies is headquartered in Lake Forest, Calif. with offices worldwide in New York, China, United Kingdom, Spain, the Netherlands, Denmark, Germany and European operations based in Amsterdam, Holland. The goal is to have soletechnology offices on every continent eventually. This way we can control our own destiny, markets etc. Have better reaction time & also be on the pulse of each specific market's needs.
Obviously since Etnies and Sole Technologies are large entities, there are probably a lot of people who keep things running. Who are some of the people you work with more specifically with the Etnies brand and what are their roles?
There are lots of spokes in the wheel to keep this place rolling smoothly, directly or indirectly I work with them all as one has to answer to the other: Pierre Andre Senizergues Owner/CEO; Paul Migaki, COO; Don Brown, Senior VP of Marketing; Mike Regan, Brand Director; Jeff Taylor, Brand Marketing Manager. Then you have heads of each department that I have to deal with: Web, Art, Sales, Product, PR, HR, etc. It can be overwhelming sometimes all the channels things have to go through to get even the smallest thing done, but it's all necessary for the brand as a whole.
Obviously you stay pretty busy managing the team, but I know there is no way that's all you are up to all day. What are some of your other roles and duties that you tend to also do? Do you have a "typical" day ever?
The most "typical" thing I do every day is sitting in traffic getting to work! You'd be surprised how much of my day "is" taken up by being at my desk in the office. Making sure each specific person & department is included in all facets of the running of the team or doing a portion of a job that needs to get done consumes a lot of time.
Over the years Etnies has had a couple BMX specific shoes with Ruben, Taj, and now Aaron Ross' shoe that seemed to be very popular shoes amongst the BMX community. What's the current line looking like for Etnies as whole? Do they have any plans of adding more BMX shoes in the future?
Aaron's Mid top Etnies X Sunday Bikes Collab comes out in early June & so long as sales are decent, it'll be around for a while. Seems like dudes are into it, but what really counts is quantities sold to determine whether a shoe stays in the line……so go buy a ton of them. Ha ha ha. We have a couple of different "colorway" shoes coming, one for Nathan Williams called "The Brake" that is designed specifically for brakeless riding with denser heal toe rubber for durability, & another colorway for Brian Kachinsky, something a little more stylish with premium materials for him. I can't say whether we are going to add more BMX specific shoes to the line or not, maybe a signature or designed-by shoe is feasible down the line if the market determines it, but the one thing the design team "are" doing is to make sure that more of the shoes as a whole work for BMX also & not only skate, seeing as BMX & skate are the only two sports that we support that actually use our shoes for the sport they participate in, Moto, snow & surf do not.
There was quite a bit of talk when word got out that Aaron's shoe would be carried in some of the larger shoe retailers like Journey's since they don't tend to carry the BMX shoes. How has the reaction been to his shoe being in so many outlets so far?
I don't get to see "all" the sales numbers all the time, but from what I understand it's doing pretty well. I think its doing slightly better internationally. The Etnies X Odyssey collaboration did pretty well in Europe from what I understand. It did pretty well in the larger outlets also.

Sunday X Etnies Collaboration
That's right, You guys have also done some cool collaboration shoes with Odyssey and I think Empire if I remember right. Do you guys have any new collaboration you are working on that you can tell us about?
The Etnies X Sunday Bike NUMBER Mid will be out in early June, following that we have the Etnies X Empire collab. It turned out pretty sweet; it's on the low-top Aaron Ross NUMBER. There are a couple more brands that we're currently in negotiations with, when I hear more I'll pass along the word.
Lets say your boss comes to you and says they would like to do another more BMX specific shoe. How much involvement and say will you and the team have with a project like that? Who has the ultimate final say in the way a shoe will be produced?
If a rider is to get a "designed by" or "signature" shoe he has 100% involvement, from outsole design, upper design, shoe features, materials, art, footbeds, hang tags etc etc. The footwear design team "may" steer dudes in a certain direction because they understand the market more & what will or won't sell, but so long as the rider is understanding of that. He has complete control. I act as a mediator for the whole process & am in on all the design meetings.
What are your soft goods and other bits and pieces that Etnies produces looking like these days?
Shits looking good! With cuts, materials & more fashion driven pieces being of importance & necessary to skaters, BMXer's etc, its been critical for the brand to listen to the team riders. We have a design team that works hand in hand with the team riders to ensure the end user is satisfied with the piece they are wearing & its good value for what it is. etnies is a larger brand, so we have to somehow try to cater to many tastes, which is obviously a challenge. But I feel with the design team we have & the fact that they are very open to listening to the end user (skaters, BMXer's, surfers etc) & also very mindful of the marketplace, our product is just getting better & better.
It has been a few years since the Grounded video had dropped. Has there been any talk of doing another video at all?
Nope, the internet has taken over BMX videos. Given the opportunity though, I'd definitely do another DVD.
How about plans for team trips or events this summer? Anything going on, or just trying to keep up with all the guys at the contests like Dew Tour and X-Games?
We have a team tour heading out May 14th till May 23rd hitting retailers, skateparks, hopefully a little street here & there. We'll do an edit from the trip that you can check out on etniesbmx.com at some point. There's going to be a Mutiny X Etnies trip in early June from San Francisco to LA. For the most part, guys are left up to their own devices to go to trips & comps etc, so long as they keep me in the loop, its all good. We are planning on putting on our own etnies branded contest here in Lake Forest, CA at the etnies skatepark of Lake Forest called "The Gathering". It's going to be VERY different from anything else ever done before. That's probably going to happen sometime in early November seeing as we have decent weather here up until Christmas.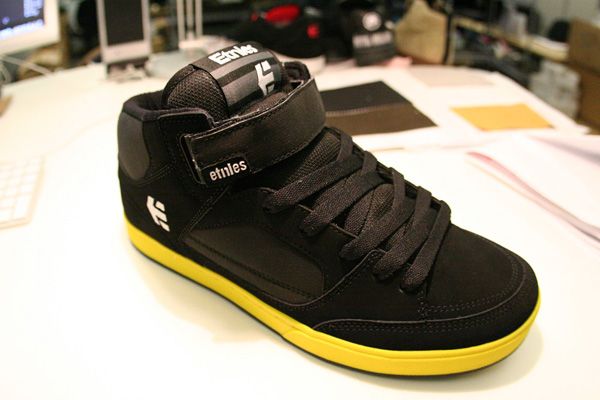 Speaking of that, who's all on the team these days from pro to flow? I saw you guys were hinting about adding somebody new the on the Etnies twitter the other day. When the hell is T-Nez getting bumped up to pro or did that already happen and I didn't realize it?
Pro Team right now is, in no particular order:
Bestwick.
Alcantara.
Layos.
Williams.
Ross.
Kachinsky.
Wade
…….I Twittered a snap of some scooter kid wearing etnies X Odyssey collab shoes…It's a joke dude, don't you get it? I was just messing around & was trying to piss some people off. Ha ha ha. There's only "so" much money to go around at any given time so as much as I want to pay a lot more guys than I do, I have to pick & choose my battles wisely. But keep your eyes peeled.
I know you're the kind of the guy who can smell bull shit from a mile away and will call it out, so I imagine you use that mentality when you are picking riders for the team. What kind of process do you have for picking a new team member, and what kind of advice do you have for kids out there looking to get hooked up by Etnies?
Not to say I haven't made mistakes in the past, but…
If a guy's worth picking up or helping out in any way, the chances are I've already noticed them or one of the team guys or close industry friends brought them to my attention. There's no specific process, it just happens. It's "very" rare that I would pick a rider up from a sponsor me tape/link, etc. As far as advice goes. Do what feels right, have fun, be cool, don't chase "the dream" too hard & good things will come your way.
You guys recently built up a new park for the team to ride that I keep hearing it's real fun to ride. How long was the park in the works for and what's the craziest thing you have seen go down in there?
The "TF" (Training Facility)….Kind of a joke, is pretty damn fun. We've had it for about a year & it's been in the works for "years" before that, but finding the money & space were the hurdles. Its very skate/street orientated with very little tranny. Every guy that comes here has brought something new to the place, always something different. I honestly can't pinpoint one particular thing that I would say is the sickest thing to go down on it because we've had dudes with very different styles ride it….Maybe Gary Young/Little Jon's pocket wallride to wallride thingy, or Tom Dugan's "to the moon" wallride's out of the mini? but. A lot of shit that Brett Walker does on a regular basis really impresses me. The dude is sooooo good & smooth. But like I say, so many good guys bring a variety of good shit to that place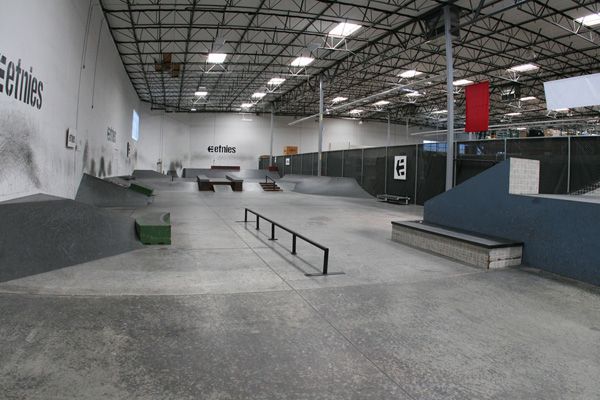 >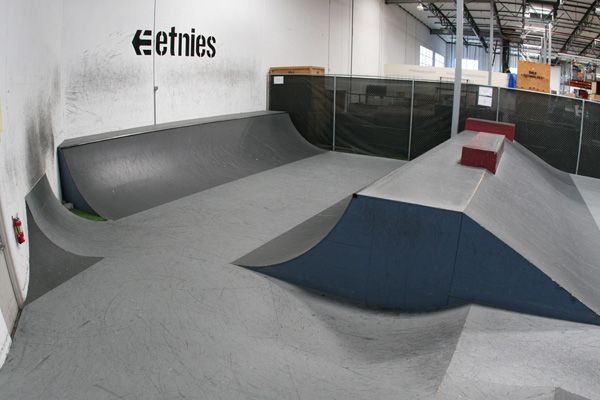 Brett Walker showing you how things get done.
I know the economy going nuts had hit pretty hard on you as far as a budget goes. Has things improved at all now that things have been looking up?
Not sure how much things are looking up as far as the economy goes, but it seems like the smoke is clearing for us. Hope it helps budgets.
Lets say a shop or distributor would like to start carrying Etnies in their shops or warehouses. Who should they contact to get you guys in there? What about if somebody has a general question?
Shop & sales questions:
Aaron Vujicic: Aaron.Vujicic@SoleTechnology.com
Mindy Cook: Mindy.Cook@SoleTechnology.com
General contact info & questions hit up the site: