There have been a lot of really notable things going on with Kink the last few years. Whether is has been their ever popular team, revamped product line, or the real quality video coming out of them from Darryl Tocco. Things have been looking real good for the brand lately and it seemed to be time to catch up with them to see what's going on these days. I hit up TM Jay Roe to fill in the blanks…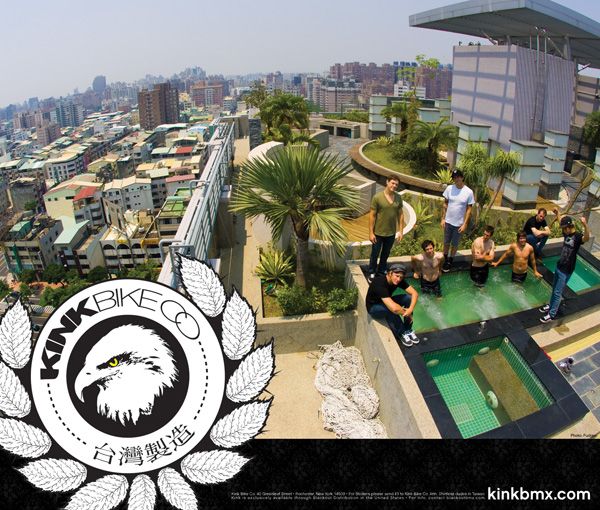 To start this off. Kink is one of those long lasting names in BMX. When did Kink originally start up? If I remember right there has been some changes for who the owners are over the years, right?
Kink was started in the early 90's by Zack Phillips. He has been the owner and remains the owner of both Kink and Blackout Distribution. The changes have mostly been internal, with who is running Kink and doing day to day activities like product design, TM and whatnot.
Where are you guys based out of these days? Has the location changed at all over the years?
Kink is based out of Rochester, NY. A few years back we moved into a new building which was quite an upgrade from the shanty style warehouse space that Kink had been operating in for awhile. We now have a big nice warehouse, with real offices and stuff like that. It's a really nice set up.
I figure with Kink and Blackout distribution being in the same building there are quite a few people keeping things rolling. Who are some of the people keeping things going from the day to day?
Surprisingly there a very few people that work here. Myself, Matt Antes and Aaron Burto run Kink on a daily basis with Zack. Chris Reez and Roman Trejo run Blackout along with Zack. Eric Mavor holds down the warehouse responsibilities. I think it is a common misconception that we are a fully staffed corporation style company. That is not the case at all.
Being TM, you stay plenty busy with trips and keeping up with the guys. What's a typical day like for you? Is there really such thing as a "typical" day for you?
I mostly split my time between being in the office and being on the road. When in the office my day is rather typical. Get to work around 9, answer emails all day, talk to the guys and random people throughout the industry. Work on international sales stuff and plan trips. Mainly computer work that wouldn't really interest the normal BMX rider. On the other hand, I spend a lot of time traveling on the road with the team. That is very far from typical and that's what I love most about my job. I try to spend as much time on the road as I can (and Zack will allow me) because that's where I feel most comfortable and productive with Kink.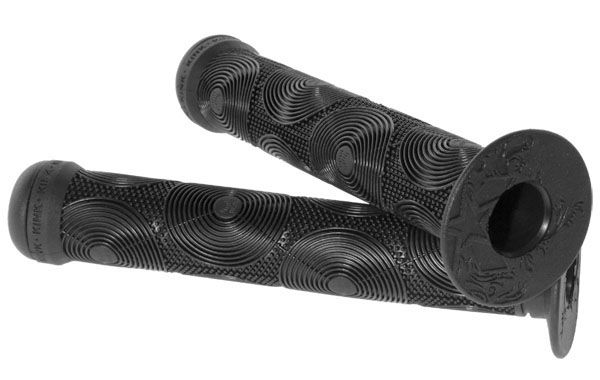 There have been quite a few changes with Kink over the last few years. What do you feel are the biggest goals and plans for Kink in the future? In a perfect world, where do you see things going?
Things have definitely changed since the days of License Plate tees and Redwing Bars. I think everyone involved is really happy and excited about where Kink is at and where it still has the potential to go. We will be happiest here just seeing Kink continue to be a high quality, respected, core bmx brand. BMX will continue to grow and evolve and Kink will do the same whether it is in our aftermarket parts line, our complete bikes or anything else we have going on.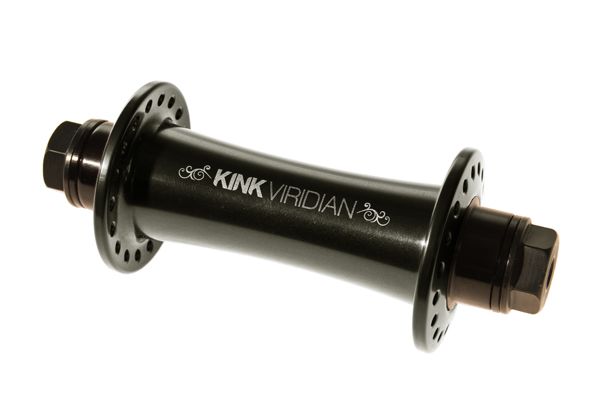 What's the products line looking like these days? Frames, bars, stems, etc…
The product line has been expanding as of lately and will continue to do so the next few months and so on. We have plans to do a lot of things that we do not yet currently offer. Some are in the prototype stages, some are being designed. We for sure have hubs, rims and cranks being ridden and a few other things in the design stage. We currently have a good amount of stuff available that we are really stoked. Sean Sexton's first signature frame "The Issue" is currently available, The Omega grips are back, Lynx Bars and a slew of new products showing up in a few weeks including, new sprockets, grips, bars and colorways. Darryl Toccos first signature frame "The Tocco" is coming out this spring along with an updated version of KC Badgers frame "The Lost Dutchman".
What about the soft goods and other random bits and pieces you guys make? Do you have any fresh tee's coming out soon?
We have been concentrating on our softgoods line a bit more as of lately and plan to offer a lot more variety in apparel in the future. We have a new line of t-shirts that just dropped and are available right now.
A lot of brands out there have been doing a lot with cruisers, fixies and what not. It doesn't seem like you guys get too into that. Do you guys have any plans of branching out at all?
Honestly…we are just not into it. First and foremost here at Kink is that we are BMX riders. BMX is what we live and wake up to do every day. I personally don't know a thing about fixies and cruisers and don't really care to. Maybe I am not being open minded enough, but I simply just care to worry about BMX. I think we have a lot to offer bmx as a scene and industry and not very much to offer the fixie scene or mountain bike scene. We have never really been into doing things because they are a trend or seem like an easy way to cash in on something. Especially if it is an industry and scene we know nothing about. Again, we are just BMX riders. Other brands might have people that are interested in other forms of cycling outside of BMX but we don't.
It seems like a lot of brands have been adding ramps to their warehouse these days. If I remember right Blackout has some stuff set up. What are you guys riding when you aren't answering phones?
We have a ramp set up in the warehouse. It is a hodgepodge of contest and demo ramps. It is pretty beat but it is something to ride in the winter.
You guys held that Red Bull contest two years ago, right? Are there any plans for another Kink contest/event anytime soon?
Yea, the Red Bull contest was awesome. Good turnout and a lot of fun. There a few Kink event ideas being passed around the office. We'll see.
It seems like Kink has the biggest travel budget in BMX these days. What do you guys have planned trip wise these days?
I am not sure we have the biggest, or even a large one for that matter. I just try to make the most out of the money available to me for traveling. The team is always down for a trip to just about anywhere to film, shoot photos, go to shops or just chill. March 6-25 we will be splitting time between New Zealand and Australia shooting for Ride UK and hitting up shops and skateparks for our distributors in each country. After that we are heading to Europe. From May 25-June 19 we will be trekking from Poland to Hungary in a van. Visiting shops, distros, parks and anything else we can find. Pretty crazy but should be really fun.
Speaking of that, who's on the team these days?
The Pro team consists of Tony Hamlin, Darryl Tocco, Sean Sexton, Chris Doyle, Aaron Smith and KC Badger. The AM team consists of Lil Jon, Tom Dillon, James Steele, Ben Hittle and Albert Mercado.
How do you go about picking new guys for the team? Do you have any advice for kids out there looking to get the hook up from Kink?
Picking a new rider isn't easy these days. Everyone shreds on a bike. It takes a lot more than that. I try to make sure every single dude on the team personally knows and is down with whoever I am putting on. My advice to kids is to just ride, travel, meet people and don't make a bad first impression.
Safety First came out a while ago now. Do you have any plans for another DVD? It seems like Darryl has been keeping busy with filming as is.
We have talked about it a lot lately. Darryl will be filming and editing a road trip style dvd for mid summer which will consist of the trips I mentioned already. A full length is something we all really want to do again. unfortunately kids don't buy videos anymore so we just need to figure out a way to make it happen without losing a ton of money on the project. We'll see!
Lets say somebody has an issue with a set of Badger bars. Who should they contact to get them warrantied? What's Kink's warranty looking like these days? What kind of turn around time can somebody expect?
Roman Trejo handles all warranty issues for Kink via Blackout Distribution. You can call him at 585 654 5250 or email warranty@kinkbmx.com. We work hard to make sure the warranty process is as smooth and painless as possible. We don't want anyone to not be able to shred because of a faulty product. Hit us up anytime with a question, commenst or to tell Romans dog to stop pooping in the office.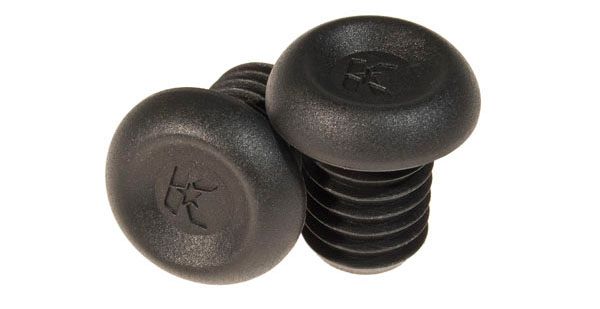 Who should shops or distributors contact to get Kink products in their shops and warehouses? What about general questions?
All international distributor inquiries go through myself at jayr@kinkbmx.com. Shops can contact Blackout Distribution (www.blackoutbmx.com) with any questions or comments. General kink questions can be sent to info@kinkbmx.com.
-Thanks to everyone who supports Kink. We appreciate it more than anything. If you see us on the road, a shop, riding street or at the skatepark, come say hey!