Every year for the last three years, I've made my way up to Bloomington, Minnesota for the annual Frostbike, which is like a miniture Interbike for brands that Quality Bicycle Products carries. When I was there I started thinking about how much goes into an operation like this distributor that handles shops all across the U.S on the daily, I realized there were a lot of questions that could be asked. I figured it would be pretty cool to find out more about the company by talking with two guys I've known for a while now through riding, Jay Schlie and Glenn Dussl. Jay and Glenn have been a big part of the BMX scene in Minnesota for years, and it just so happens that they both handle a good portion of the BMX department at QBP. Check out what they had to say for my questions, and some photos of the building that I shot while I was up there this past year for Frostbike…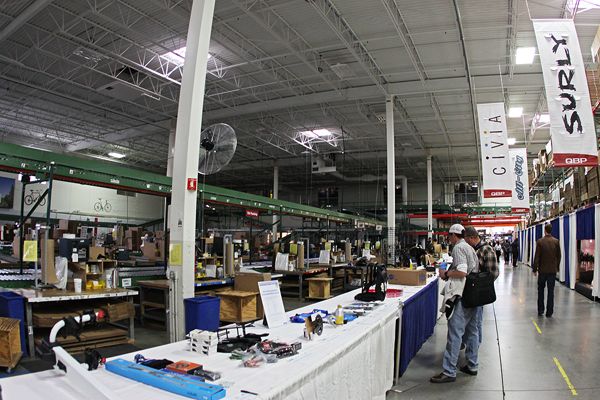 Here you can see where all the parts come together for shipment. QBP rearranged some things for Frostbike, but this is where the packaging gets done to ship out to shops on a normal work day.
Alright, so let's start this out. What's your names and what are your roles at Quality?
Jay Schlie BMX purchasing and marketing are my main roles, but I do a little bit of everything in BMX here or at least help out when needed.
Glenn Dussl. I am the BMX sales manager for QBP/QBMX. I sell product to bike shops like parts, clothing and bikes. I also travel around the country visiting shops and spreading the good word of BMX. I also try to get bike shops started up with BMX if they don't sell anything or very little.
Quality Bike Products is one of the largest distributors in the U.S, right? How long has the company been in existence and has it always been based in Bloomington?
Jay – QBP started in St.Paul 1981 and has been in its current location in Bloomington since 1996.
Glenn – We are one of the largest parts distributors in the U.S. with over 30,000 SKU's for our dealers to choose from.
You guys also have some outside warehouses around the U.S to help with delivery to shops. Where are those located? When will the newest one be up and running?
Jay – We have a warehouse in Ogden UT for the west coast dealers. We will be opening a location in PA 2012 for east coast dealers.
Alright, so you guys are obviously distributing more road, mountain, and comfort bikes, but the BMX department has been growing. What BMX brands are you guys currently carrying?
Jay – In no order, Stolen, Flybikes , BSD, Odyssey , The Shadow Conspiracy, Answer BMX, Crupi, Demolition, Dia-Compe, Eastern, EVS Sports, FBM, Fly Racing, Profile Racing,Deco, ODI, KMC,KHE, SixSixOne, Supercross, Duffs, DiaTech, G Sport, Props, Primo, Sun Ringle, Wellgo, Pro-tec, Volume, Dicta, Anthem, Intense, Lizard Skins, Maxxis, Tektro, Tioga and SST.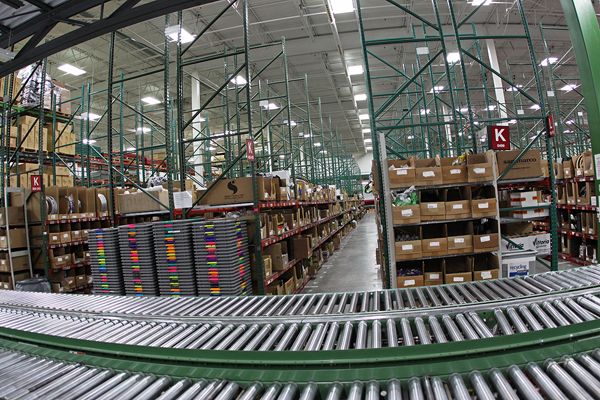 There's an endless amount of isles in this place. 30,000 sku's means 30,000 different bike parts with at least two of each item in stock. Yeah, think about that…
After taking a tour of QBP, I've come to realize the place is huge and has a lot of different sectors that keep it running. How many people does QBP currently employ?
Jay – 448 in Bloomington and 60 in Ogden
How would somebody go about getting a job at QBP?
Glenn – Keep an eye on our "careers" link on QBP.com. That's a great first start! It's also great to see people with a passion for cycling or the outdoors.
One of the craziest things I learned about was how you guys go about pulling product for shops. Everything is so spread out and runs on a conveyor belt system. When did you guys start using that system to move product to shipping?
Jay – Since this location opened (Bloomington '96) we have had conveyors system that is pretty tech and it gets updated often. A lot of expanding as well this building expanded 4 times since '96.
About how many shops do you guys currently ship to? You guys have a pretty huge guarantee when it comes to shipping things accurately and on time, right?
Jay – We have over 6000 shops that we ship to. We take great pride in trying to be as accurate as we can with orders.
Glenn – It may sound simple, but with so many orders leaving the building every day we strive to make sure that all of our orders are correct, packaged well, leave on time and arrive on time.

Break time slide? Nope… Just part of the very wild conveyor system to move products from the shelves to the shipping department.
You guys recently dropped the QBPBMX.com website. What is that site all about?
Jay – This is a site that will help both riders and shops in many ways. The big thing is that it lets riders see what we stock, and then they can use the dealer locator to find a shop near them, print out what they want and bring it to the shop or email it to them. The shop may already have the part, but if not it will have our part number (QBP) so the rider and the shop know they are getting the right part. This will be great for shops that are not full on BMX shops to get what the riders are looking for. All the colors and companies, it's hard for shops to stock everything. It is really a way to open up commutation for shops and BMX riders and QBMX to hopefully build long lasting partnership.
It's also fun for us to show off new product, photos, videos, stories, and a lot more.
You can also like us on Facebook QBMX, and that will give you updates on what is going up on the site.
Glenn – The site initially came about because we needed to offer our dealers something that pulled all of the BMX product aside from everything else. We decided to make the site public because of dealer feedback. Consumers want to browse product at home sometimes and until now the only way to look at our product offerings was to either be a dealer or go into a dealer and see if they would let you look through their catalog.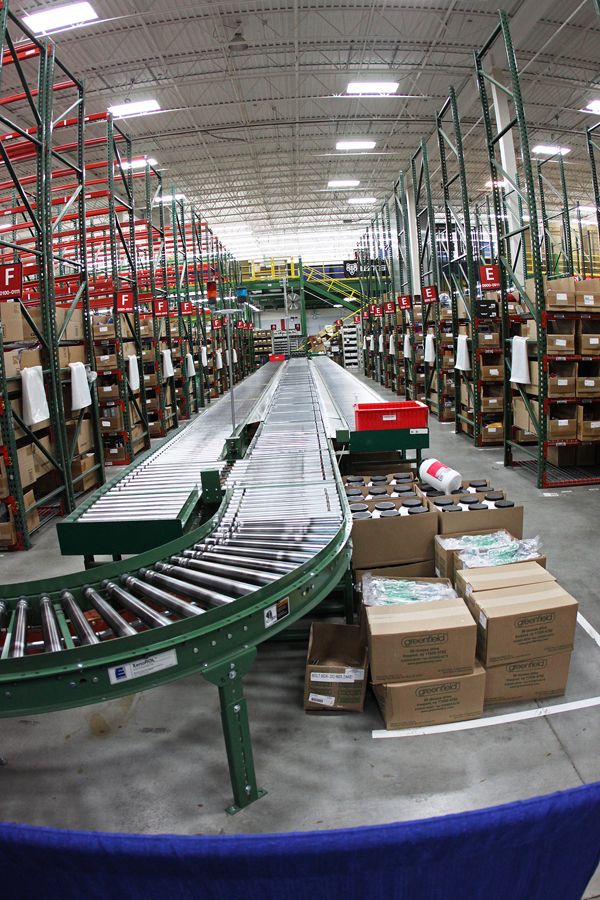 Isles and isles and isles. So many bike parts in this building…
What kinds of features can riders and shops find when they come to the site? What are those Wishlist and Compare tabs about?
The site has a lot of features, and because it's new we will be adding more. Right now you look at any BMX product we have, rate it, write a review, and add comments. You can check out tweets from riders like Aaron Ross, Biz, Gary Young, and many others. The blog has a lot of updates on what is going on with QBMX.
The Wish List was created to help you create and share your favorite new bike builds with your friends, keep track of the BMX stuff you've been looking at, and to make sure that your shop really knows what you want. It gives you a chance to build that dream bike, with the crazy color combos and you can create and change your Wish List as often as you want, email it to whoever you want, and even print it out.

There's offices spread out through out the building. Here's some what of a commons area which leads you to one section of downstairs and upstair offices.
The compare lets you check a few different products. Once you have created a login, just pull one part click on it for all the details, then go find another part do the same thing when you're done click on compare and the list of products shows up. The Wish list works the same way.
Do you guys have any plans of adding other features in the future? Do you guys plan on doing this type of site for your road and mountain bike products?
Jay – We have plans to add, some other stuff going forward, but you will have to wait and see on that.
This site was thought up and made for BMX by the QBMX staff. This is a BMX thing no road or mountain on this site, and no plans to do a separate site for that.
It sounds like you will be doing some giveaways and what not. When can we expect to see those starting to pop up? Any hints at what people will be able to win?
Jay – We have a lot of fun stuff planned to do with the QBMX site. We are working with companies right now on the details for things that will be going down in the summer. Some smaller stuff will be popping up soon. I know you are hoping for more, but that is all I can give you for now. Keep checking back, you will not want to miss out.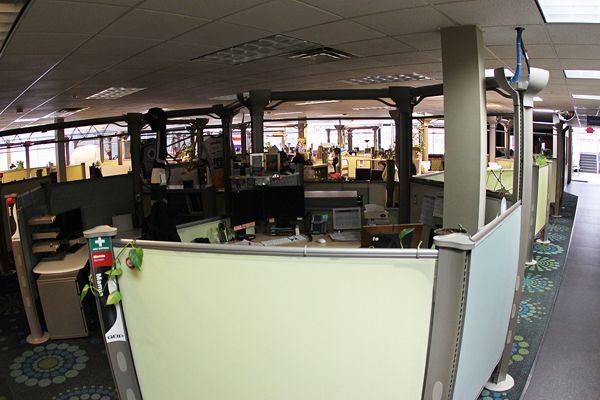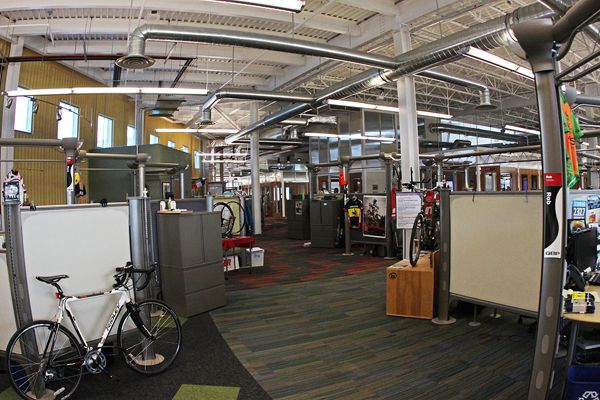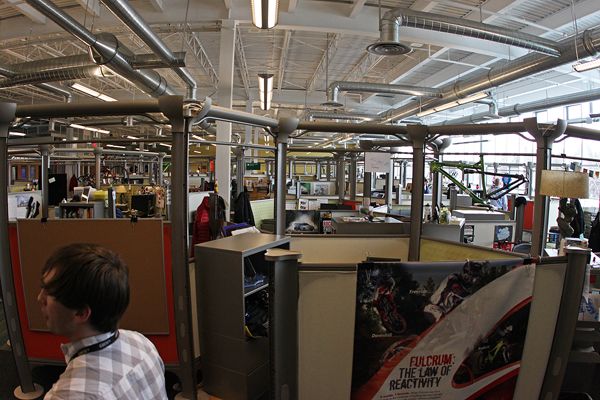 The employees at QBP don't work in the dark, don't worry. They just had some power saving on since everything was going on down stairs where Frostbike was being held.
Let's say a rider or shop has a question about a product featured on the site. Do you guys have a line somebody can call to find out more?
Jay – We have had a BMX hotline for years 1-877-244-2269; you can also email us from the site as well.
When can we expect to see more tech videos and reviews?
Jay – Really the reviews are up to the riders and the shops to let everyone know how it works for them. We will be putting up more of our own videos going forward, and if shops and riders want tech videos lets know.
How can a shop go about setting up an account on the site?
Jay – Just go on the site and click on the log in tab and register right there for the site that is the same for riders.
If a shop is looking to buy from us and doesn't yet have a QBP account then call us at 1-877-244-2269 and we will get them started on setting up an account.
This is probably 1/4th of the isles of product in the building. Think about that one…
You guys have a pretty solid list of shops that carry BMX in the U.S on the site. What if a shop doesn't see their name on the list?
Jay- They can email us or give us a call.
Glenn -They'll usually end up talking to me (Glenn) about getting their store listed on the dealer locator.
Who are the people behind the QBPBMX website? I'd imagine they all have a BMX background, right?
We have a good team here at QBMX and not just for the web
Tim G/ Product Manager/ Raced A Pro BMX for many years, rides trails very fast
Glenn D/ BMX Sales Manager/ rides ramps, trails, and street. He does shows and goes real high.
Dan M/ Purchasing/Races A Pro, rides trails super smooth
Jay S/Purchasing, BMX marketing/rides ramps, trails, and street often rides in costumes most recently seen as Cookie Monster
Bernie D/Customer service/ cruises, plays drums, and can tell you about every riders video part
In your opinion, being that you guys are pretty good at analyzing the industry. Do you see BMX continuing to grow? What are some of the trends you see coming through?
Jay – BMX has been growing pretty good the last few years, and should keep going with no problems for at least the next few. Brakes are back!
Glenn – We'll always have our ups and downs, but I think that overall we're going to keep growing as an industry. Think about it… what was your first bike? Mine was a BMX bike!
Glenn, you are in charge of keeping up with shops to make sure they are able to support BMX. What's a typical day like for you? Do you have any other roles you help out with from time to time?
Glenn- A lot of what I do is connect with shops, sell bikes, product and the concept of BMX. I travel almost every month to visit shops around the U.S. and try to get some riding in while I'm out at local parks, trails, etc. I also make to some of our vendors and have had the opportunity to connect with some amazing people. Every day is always a little different which makes the day go by fast. It's great!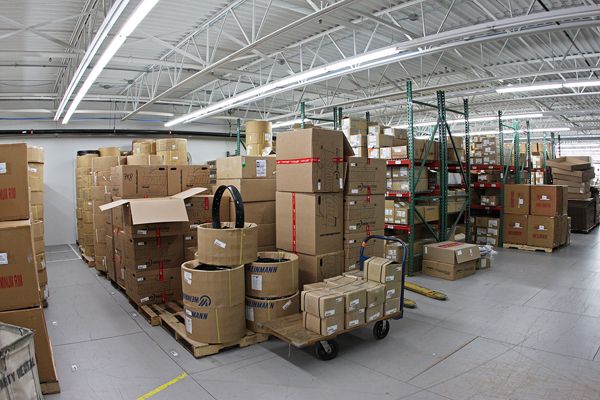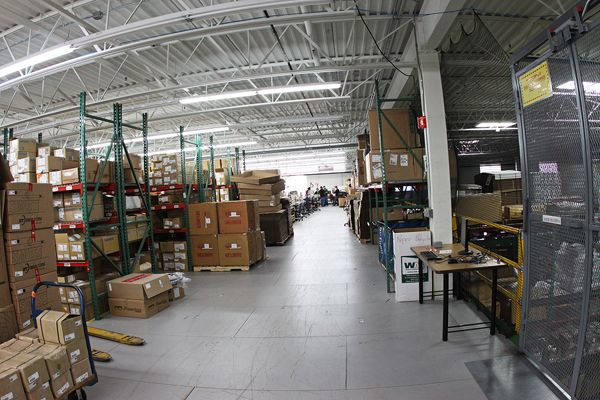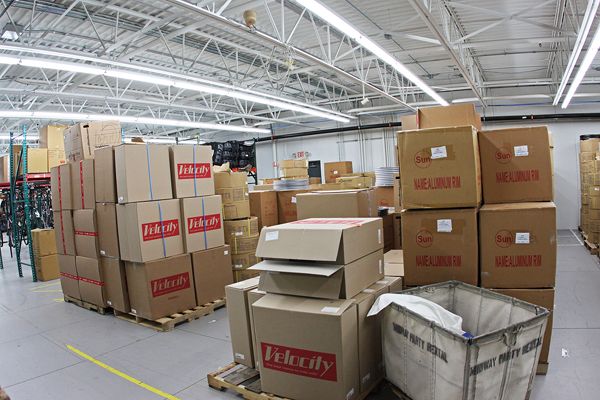 Ever order some wheels that came from QBP? Well, those boxes are loaded with rims and then further down you can find the wheel building department. Wheels being built all day long.
Let's say a shop would like to begin carrying BMX in their store, and would like to get involved with QBP. How do they go about doing that? Are there any sort of requirements QBP has for new shops?
Contact us at 1-877-244-2269 or QBMX@qbp.com. We are happy to answer questions about how to open an account.
Let's say a brand wants to be distributed by you guys. How do they go about presenting their products to you? Who should they be in contact to get things rolling?
Tim G. is the product manager, and talking with him is the best way to get things rolling.
How about general questions about Quality Bike Products? How should somebody go about getting a question answered?
www.QBP.com would be the place to look. If you can't find it there, you will be able to find a contact to get it answered.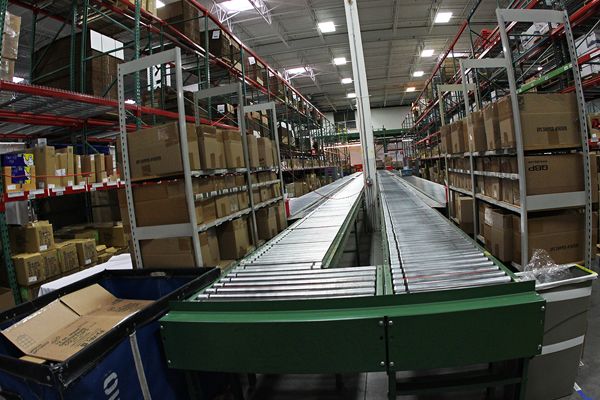 So that wraps up the interview. Don't forget to check out QBPBMX.com!