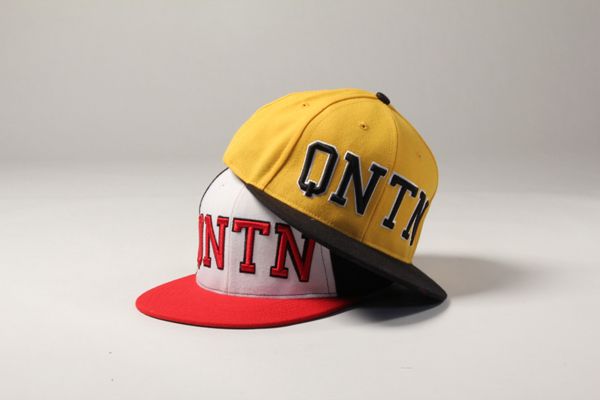 Over the course of the last year, Quintin has been becoming a very recognizable name in the BMX industry with the announcement of the team, plenty of new products, collaborations with different brands, web videos and even their own skatepark. I've been becoming more and more interested and finally ended up talking with Brett Wiley a little bit. We decided it would be a good idea to do one of our On the Horizon's to give you guys a little more insight into the brand. So check out what Brett had to say, some photos and videos, and then leave some love in the comments. I feel like this might just be the start for a few other projects further down the road.

When did Quintin originally get its start?
Quintin began in April of 2009.
Who were the masterminds behind the brand?
Its tough to refer to yourself as one of the masterminds behind a brand. Before beginning QNTN, I was running
another fitted hat company. After deciding to part ways with that company, I was approached by my friend Sam who owned a screen printing and hat factory in Los Angeles. Sam wanted to start a brand at that point QNTN was born to a
certain extent. Like anything worthwhile it has taken a lot of hard work and good individuals to get it to the point its at now.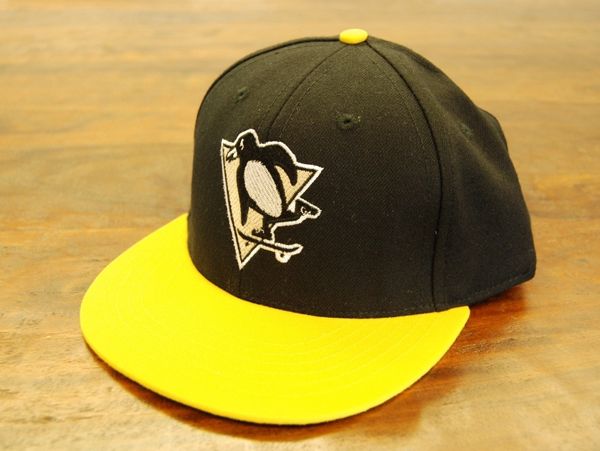 Where are you guys based out of?
We are located in Lincoln Heights, California. The oldest suburb in Los Angeles about 5 mins north east of downtown LA.
I'd imagine you guys have been seeing some growth in the past year. How many people does Quintin employ these days?
There are 8 people behind the QNTN brand.
Who are the people who keep the brand rolling from day to day and their roles at the brand?
Not sure if I should be name dropping.
I am the brand manger.
Sam is the boss.
Rob handles international distribution and marketing.
John he is our graphics guy.
Janet handles a majority of the production work.
Vince is our go to guy and also handles the music marketing.
Henry is our intern. Oh ya and cant forget Mike Ardelean, he is our TM.
Quintin isn't a BMX specific brand, but it seems like the majority of the guy's ride or skate, right? Were those interests what brought everyone together to make the brand, or is it just something you guys all happened to be into?
We all enjoy riding and skating. The brand began more in the streetwear industry. Almost everyone on the original crew knew each other from working at different companies through out the years. Some how we all linked up and formed a great group of hard working individuals with the brands success as everyone's main interest.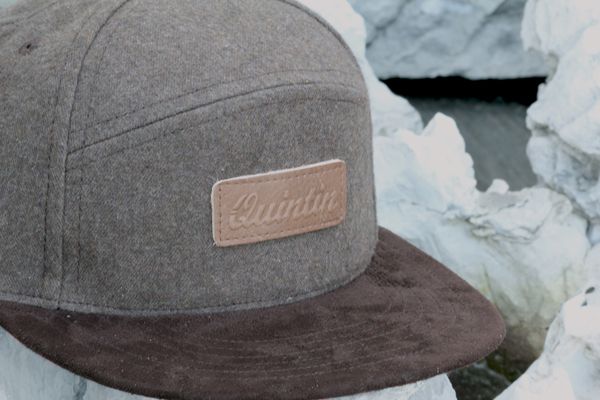 Running a new business requires a lot of time and energy to make sure things are running smooth. It also means you are doing all sorts of things from design to accounting. What's a typical day like for you? Do you really get much of a typical day or is it always changing?
Everyday is different. I deal with a whole slew of different things, but yes there is a little of everything involved. That's
what you get when you're managing the brand. There are not really typical days at QNTN, which is the best part about the brand. Everyone knows his or her roles, what has to get done and makes it happen. The crew is what makes the brand.
Quintin might be a fashion brand directed towards skateboarding and BMX, but it's really a brand
that people outside of those sports can still relate to. What direction are you going with the brand? Do you guys have any specific goals you want to accomplish in 2011?
QNTN is directed towards life; it is more of a lifestyle brand involving everything we are involved in, into the final product. We just want to keep on building on what we know, help out the team however we can and keep expanding. I guess our big goal for 2011 is to gain more distribution.
In a perfect world, where do you see the brand in 5 years?
That's a tough question to answer. Haha making money?
You guys have a solid line up for hats, beanies, and t-shirts, along with a number of collaboration projects. What are some of the projects you are currently working on that you are excited about?
We collaborate with a variety of brands, artist and musicians its hard to say what my favorites are. In BMX I cant wait for the Mutiny hat (Sneak Peek!) we are doing, In streetwear the homies over at 5th column have some pretty cool gear coming out. As far as musicians go we just release a pretty cool hat with Bun B at the end of last year. We also have a piece dropping this summer with the artist Big Foot that is quite impressive.
Do you plan on expanding at all into other clothing items as time goes on?
As time goes on we will continue to expand. Can't really tell you the direction we are heading; however it's only going to get better.
You have been running everything through the U.S, right? Making everything in L.A.
The best part of QNTN is we own the factory. So making the goods domestically at least when referring to hats only makes sense. Domestic manufacturing is so much easier because you have full control of the situation.
What makes you want to do things here versus going over seas where you can get mass
production at a low cost?
I think the previous answer answered this as well.
What are a few sources you tap into for influence on your design?
Every line we release has an underlying theme in it. If you over look the hats and follow the product closely there is a story being told behind the lines. What that story is… well you have to decide. Can't give out all our secrets.
Are there any brands out there you guys are real into at all?
Every year it switches, however since we follow the fashion industry with our releases, we are currently working on spring/summer 2012. The companies we are looking at for influence are technical outerwear companies.
The addition of The Heights has been popping up quite a bit lately. What made you guys want to take some of your space and build a park for people to ride? Is it open to everyone, or is it just something you let friends get a session on?
We had a warehouse within our complex that was not being used at the time, so we went for it and with the boss's permission started building. It is a private park, open only to QNTN riders and their friends. If you don't know any QNTN riders, or us chances are your not coming in. It is more of a facility for riders. We are constantly switching up the
setup in there. However we also throw jams, art shows, events and parties that are open to the public kinda. We have begun to release edits coming out of the heights bi-weekly and we will continue building on this. Our media spectrum is large as we are involved with a variety of markets. We also are beginning to feature some of Los Angeles's top street artists. We have had the Hit & Run art crew come thru and begin to do up the inside; it now features the artwork of Cryptik, ABCYNT, Phantom (Rage against the machine "Battle of Los Angeles" album cover), Root System and Atlas.
Make sure you visit HeightsLA.com
Twitter – @TheHeightsLA
Facebook – Facebook.com/TheHeightsLA
The holiday party looked like it went off real well. Do you guys have any plans for other jams or events anytime soon? You guys are helping me out with the jam I'm throwing up here in Minnesota.
We are currently planning more events for theheights. We are down to support jams whenever we are approached to do so. We want to give back as much as possible to the youth as well as up and coming riders.
What do you have planned for the team in 2011? Do you have any trips planned out for the BMX or skate teams?
We are currently working on a series of web commercials to be released thru out the year. As well as more edits
and quickies. No trips planned as of yet but it's the beginning of January a lot can change.
Have you considered making a DVD or are you going to stick to the web video game for a while?
No DVD's, might have a cool project releasing later in the year but for now it's all talk.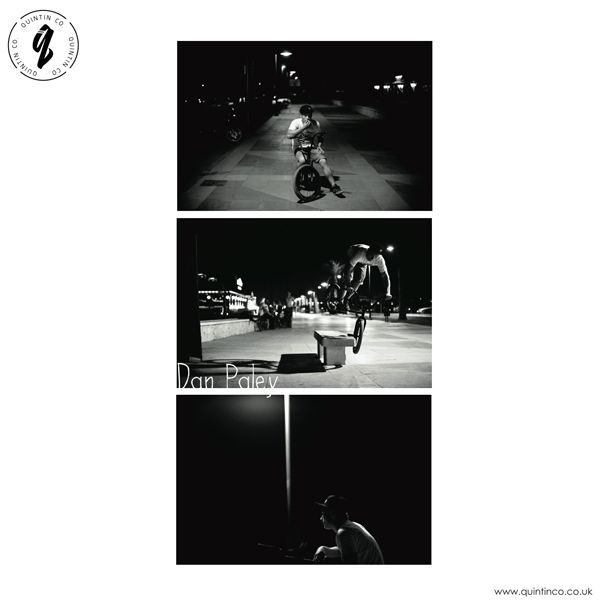 Speaking of the team. Who's all on the team for 2011?
Shoot the team is pretty deep. For North America we have: Aaron Ross, Jesse Whaley, Gabe Brooks, Wolfman,
Jackson Ratima, Pat Wang, Jim Bauer, Jaumell Campbell. For UK we have: Dan Paley, Dan Lacey, Robbo, Ben Green, Ben Lewis, Matt Roe, and Matt Priest
For skate we got Andrew Mc Graw, Cameo Wilson, Manny Santiago, Zack Wyel, OJ Farrar.
Do you have any additions or changes from 2010 to 2011?
We are adding to our skate team but holding steady on BMX for now.
How does somebody go about getting sponsored by Quintin? Do you have any open spots or grassroots programs you are working with?
We don't have any open spots at the current time. However send us your edits, we are always open to look at what else is out there. We don't really have an am team at the moment. However we do have a small flow program.
I know there's always been a bit of tension between skateboarding and BMX in the past. How has the response from the skaters been towards Quintin? Do you ever catch any heat for hooking up BMX?
Our BMX guys all skate, I have seen Jesse Whaley kill it in The Heights. Our skaters are down for us to support them. Manny came thru the holiday party. We treat our team and crew as family, if you are a part of QNTN it doesn't matter if you skate or ride, if you are part of the family that's all that matters.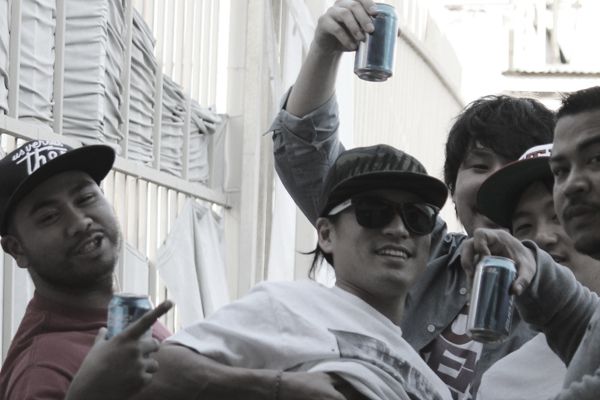 Have you guys been getting any interest from bigger stores like Lids at all? Who should shops and distributors contact to get Quintin in their stores and warehouses?
You can buy direct from you guys too, right? For any info regarding the brand and distribution or getting it into shops hit up info@quintinco.com, and you can buy from our webstore as well. We have limited drops on our webstore that we don't release anywhere else. http://store.quintinco.com/
Who should somebody contact for general questions about the brand? I know you guys are on Facebook and Twitter too.
info@quintinco.com
Facebook.com/QuintinCo and be sure to follow us as we are constantly having give aways. @QuintinCo
Also, our Tumblr for all the kids – QuintinCo.Tumblr.com