The other day it was announced the Jeff DuPaul would be taking over the role of Team Manager for The Take. For those of you firmiliar with either of those names, you would realize they make a pretty good team. I've known Jeff for quite a while and I feel like the brand will be making some real big changes with his presence. We decided it would be a good time for an On the Horizon to talk about some of these big changes. So, let's see what's going on with The Take…

The Take has been a brand for quite a few years now. When was the company originally started? Who was it that started it? Isn't it heavily involved with FBM?
The company was founded in 2005. It was started by Jarrett Ward and Jeff Harrington. Yes, FBM makes the frames, and being distributed by Last Call Distribution.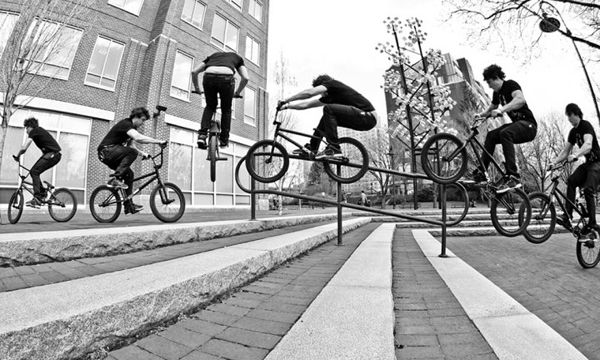 Chris Zeppieri
Where is The Take based out of these days? Have there been any plans of moving production to the Jeff DuPaul mansion?
Haha, nope, definitely not at my "mansion". FBM will still be making the frames over in the warehouse and will still be sold Through Last Call over in Johnson City, NY.
Obviously, you just took the role of TM over, so I can't imagine you got the chance to meet everybody at FBM and Last Call, yet. Who are the people you work with directly in the brand? Who keeps The Take afloat on the day to day?
Well, I'm the connection between Mike Erb over at FBM and the team. Mike keeps the the take afloat over on the buisness aspect, I keep the team going, and the team is out shredding and repping, so everyone has a role.
Being a Team Manager can be a pretty relaxed job, but there's a lot of different things to handle. What's a typical day like when you're working on The Take stuff?
Haha, my first day was the most stressful day, but it has definitly calmed down a bit. I've been working on keeping the team happy and organizing what they need, and their input into the company. We are working on making some changes to the company, to grow more and evolve. So, I'm doing that all the time because I've been psyched on the company forever, and now to be apart of it is a dream. I want it to grow to the potential I've always recognized. Right now I just check a lot of messages, and am talking to the team everyday, but I already did that cause they are all my friends.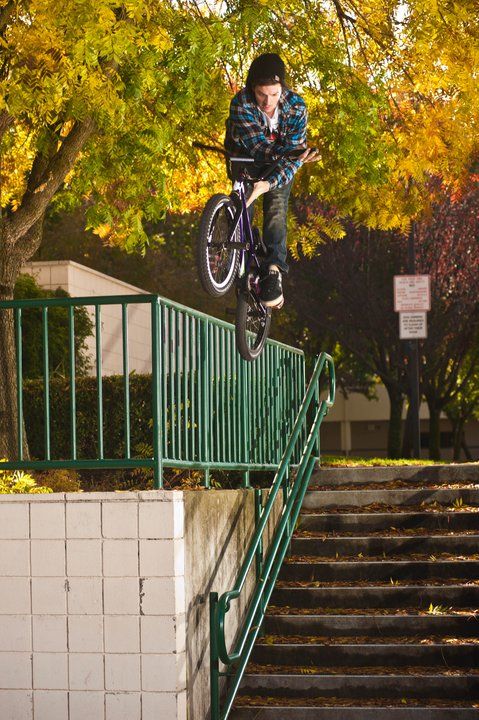 Dylan Stark
I feel like there will be some bigger changes to the brand now that you have taken over. Where would you like to take things here in the next year or two? What do you feel the overall goal for the brand is?
Yeah, I'm very excited to see how the next few years unfold. I would like to make some changes. First, I've been working closely with the team, we all have ambitions of putting out more products, but not just random products, but stuff the team has input on. Why put out something they wouldn't even ride themselves; it defeats the purpose. Also, we are redesigning the image a bit, with the help of the homie CB Coombs, he redid the symbol and it came out awesome. This is his take on it "I was originally thinking of the torch as a combination of strength, elegance and balance. Referring back to art deco and eairly 40-50 design. The torch also represents champion and sportsmanship (olympics and roman culture)…It's more than a torch."
So, With the image change, we are working on redoing the web site and softgoods. We all feel the clothing aspect has been slackin a bit, so we want to update that. As for the team, I would like to expand. With so many companies out of Cali, I feel a lot of the North East riders get over looked. More than the north east, but in general. I've been blessed to travel a lot and hope I can help out some the guys out there killing it for the fun of it and nothing more. Those are the type of guys I want to be apart of the company. People with heart.
What's the 2011 product line looking like? Do you guys have a few new things in the works you can hint at?
Well, we are working on the new generations of both the Ivy and Babylon frames. Some small changes, nothing too drastic, that will change the feel of the frames really, since they already are unique and a great ride. We are also working on signature colors for Dylan Stark, Jourdan Barba, Chris Zeppieri, and Denny Pascasio. New designs for the apparel. In general the team and myself are going to put in more opinions. We have had talks about other products, but nothing finalized yet, but definitly something things to look out for.
So you plan on changing up the t-shirts? How about stickers and small things like that?
Yeah, Just to hit on it again, CB made an awesome new decal, it really represents a change to a new era. So with that, we plan on doing new clothing and decals for the frames and so on. A lot of the team has expressed feelings to do more than just T-shirts too so we hope to do more soft goods.

Denny Pascasio
Is it true that you have plans of putting Denny Pascasio out on the corners prostituting himself out to help fund the next team trip?
Well, I mean the kid has to earn his keep. He has to pay me back for all the tapes he wastes on never landing tricks first try.
When are you getting the team together for a trip? Where do you want to go?
Man, everywhere! Seriously, I would like to work on getting out there a lot more. Both riding with all the riders and kids out there and clocking some footy.
Being pretty notorious for bringing some of the most recognizable web videos to the world through the Team Jeff DuPaul brad, do you have any plans for a new team DVD or some web videos any time soon?
Yeah, definitely. We want to do web videos for sure, just to let you all see what we are up to. On the site, I want to do more video like interviews and stuff just to catch up with the team as we go. We are in talks of doing a mixtape esq video to kick start the whole thing. And of course when we go on trips their will always be videos of the riding and antics that go with it. The web video is a great tool really for comapnies to use, and I plan on doing that. But, I also grew up in the Video/DVD age so who knows, maybe a video will be made.
There's been a few team changes already since you took over. Who's all on the team as of right now? Do you have plans of expanding any time soon?
Yeah, some big changes. The biggest is that The Take's pro team consists of Dylan Stark, Denny Pascasio, Jourdan Barba, and Chris Zep. The other guys were bumped down to flow. But when this occured Spam decided to move on and Tanner stepped down to open up a spot for new guys coming up in the game. He has had some hip trouble and felt he wasn't gonna be able to kill it as hard as usual. (I heard he really did it to focus on his porn career) Caleb after many years of dedication was let go. Noah Cox will be shredding for The Take still, and I want to add some people to the Flow team. I've got a few people in mind, and also with the input of the guys from the team, I hope to have some new guys to announce soon. The idea is to make a smaller team so we can focus more time and effort back into the comapny to help it grow and expand, then expand the pro team as well.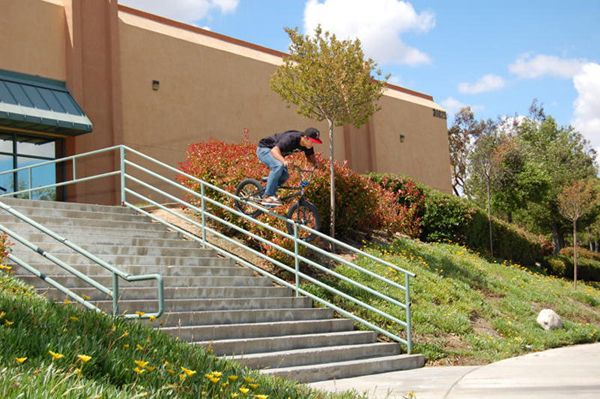 Jourdan Barba
How do you plan on going about sponsoring new riders? Any advice for the kids looking to get on your good side?
I mean talent is obviously a key ingredient, but just as important, personality. They have to mesh well with all the dudes and just be rad. I wanna focus on riders with heart, who deserve the hook up in my eyes, which is people who ride for all the right reasons. People who kill it everyday for no other reason than that they truely love riding. I want to be a company for the riders. It has always been rider owned and operated and I want to keep it that way. The only other way you can even join the team is if you out party Denny.
Let's say somebody has an issue with one of the frames. What kind of a warranty does The Take offer? How do they go about getting a problem resolved?
You would hit up the guys over at Last Call and they would help you out with those problems, but I don't really see that being a problem since only 3 Ivy 3 ST's have had issues. We are focused on putting out quality products. Plus, the frames are made by FBM. That should say enough.
What about general questions? Who should a shop or distributor talk to about getting The Take in their shops and warehouses?
Every shop and warehouse can call Last Call at 607-729-2803. And I am also always available to help with questions about the company Jeff@thetakeonlife.com
Anything I missed you want to say?
Nothing more than we are in the process of changing, and awesome things will come from it.