A few weeks back, there was a bit of a stir about Tree's decision to move production over to Taiwan after a post on Prollyisnotprobably.com. Like most rumors in BMX, there are the people who have no idea what's going on that skew things from their assumptions to an extent that leads more people to make assumptions that are even further from the actual situation. I decided that it would probably be best to talk to the source to figure out what's going on. Sam Schulte gives you the story about their reluctant decision to make the move fully overseas. Let's take a look and clear some things up…

Obviously, when a brand makes the decision to switch its manufacturing, things change a little bit. Can you give us a bit of a timeline of the changes you have had to make here in the U.S with production prior to the decision to move production fully to Taiwan?
We have been doing Tree for 9 years, and the whole time we have been making sprockets in the U.S we have been jobbing them out to machine shops.. In that time, we have always had problems with manufacturers not producing product when they said they would have it done. So, that caused a lot of delays for us and caused financial problems that we have struggled with the whole time we have been doing business. Recently, we had a manufacturer go out of business and left us hanging with stuff that they owed us from last summer so that's getting on to be a year old on product we are waiting on. That's when we decided to move to Taiwan for manufacturing to get more consistent estimated time of deliveries.
The timeline… We have been going around to different manufacturers the last 9 years. We would go to a machinist that could produce the product at the price we needed, they would do it right in the beginning, then it wouldn't be on time and eventually they would go out of business. Then we would switch to the next place and do it over again. We did this probably six times already so far, and it has dragged us down on getting product made.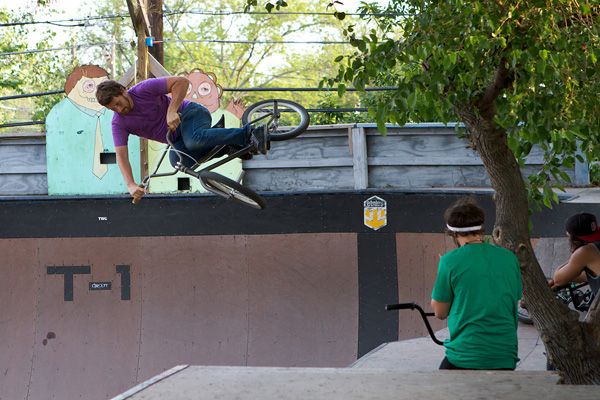 Photo: Prollyisnotprobably.com
Sam proving that Tree is rider owned.
Do you feel like a lot of brands run into these same problems just because the industry is so small, or is it just due to how technical a product can be?
I think it's because the industry is small, and there are small margins. In the mountain and road bike industry, they have bigger margins because it's more focused on adults who can afford those products. In BMX, we're trying to make things cost less, but still having to produce the highest technically designed bike parts. In comparison to other industries, the amount of product design we put in for the price, it's pretty amazing. It's hard to find a machinist to do what you need for the prices and make it work. A lot of times you need to get machinists to give you a special price and they are really not making any money, and that causes product not getting done on time, and that's why a lot of brands have been moving over to Taiwan. Taiwan factories can afford to give us the price we need and get it done in time to help the customer in the end. So that's why we have decided to move over there.
Now a huge misconception is that you are moving all your products overseas when really, you guys have had products being made in Taiwan prior to this, right? What was already being made overseas?
The things that were already being made overseas were everything but the sprockets and the new stems. So, it's the handlebars, the pegs, the hubs, the spokes, frame and the headset bolts that are made there. It's not just one factory, but a bunch of factories we work with. So we have an agent that we work with as a liaison to find the right manufacturer to make the product. The agent we use is a higher end agent that costs a lot more than most, but they stick to the higher quality that we're looking for. We pay a little more, but we get that higher quality we are looking for, so it's good.
Do any other brands run out of that factory that you are aware of?
Our frames are made at Ciclogic factory that a several other highend brands have their frames ran out of.
What are the advantages and disadvantages to going overseas to Taiwan?
The disadvantages are talking to somebody on the other side of the world. If you want to talk to them, you have to talk to them in the middle of the night. I'd also really rather make the product in the U.S just on the basis of economics. But, right now, we're kind of stuck in between a rock and a hard place. If we want to stay in business and do well, in our predicament, we have to go to Taiwan to keep going and be successful. I do have a dream to bring machining back to do our own stuff in-house. That would be real cool, and that's what I'm shooting for.
The advantages to making things in Taiwan. They're very bussiness and get things done on the date they say it will be done, or even a few days before they say it will be done. That's real helpful to keep customers happy. They also have a lot of technology that's affordable there. Some of the things they can do in Taiwan are real nice and can stick with tolerances we need. They have stepped up their game to produce high quality product and it's on par. In many ways, it's better than some of the offerings here in the U.S. That's not to say we can't do it here, but that's just some of the differences.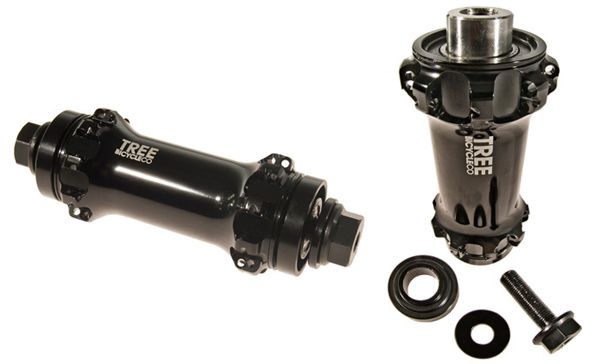 Won't that cost more to have the factory tool everything to make it up to your specs? Will you be seeing any cost increases or decreases for moving overseas?
There's a little bit of a tooling cost, but it's all CNCmachining so there's not mold cost for things like our sprockets, currently. As far as prices go, we were getting quotes from Taiwan for sprockets for quite a while, since we were getting delays here in America, and the quotes were more than what we were paying over here. Eventually everything got so difficult here with product not coming in, that we decided to go over there and get it done because of the history with them making our frames and handlebars. It's also a good hub to have our product come out of because our distributors in Australia and Germany and so forth can order our stuff straight from Taiwan and have it shipped directly to them. It's a little bit cheaper for them that way as well because they can ship a bunch of brands out of the same location at the same time.
Will that have any effect on the cost for riders when it hits shops? How much of an increase or decrease can we expect to see?
We're just going to keep the prices the same. We're taking a bit of a cut, but there's room to do that and still have it make sense. We don't want to raise our prices on our sprockets. It might go up in the future. I mean the U.S dollar is seeing inflation, so you will notice in the BMX industry that the prices will go up. Our hubs are going up because of that already. They requoted our price to a price where we had to readjust our retail price. But we will try and hold our prices out for as long as we can until it's something we have to do.
What are some things you will be able to do now that you necessarily couldn't do over here in the U.S production wise?
Forging things. Forging is a stronger manufacturing process that isn't as pretty, but then we can CNC it and clean it up with a nice cut finish. Also, things like full heat-treating frames like we do on our Lil' Buddy frames that would cost more here. There's also things like moldings and castings that we are able to do now as well.
Obviously, you will be doing more quality control just to ensure that Tree's quality isn't off from what it has been highly respected for over the years. What are some steps you are taking to ensure things are being made as you expect it to be?
I'm actually going to fly out to Taiwan. This is actually the first time that I'm going there. I'm going to have meetings with all the factories so that I can see what they are doing in person, and pinpoint very little details that I would like to communicate that I can't do over email or phone. They also have a lot of testing equipment where we can test our product. Before, I was taking our things to a lab in St. Louis and I was testing things on my own. Now, I can take our products to their testing places with better fixtures and such. That's going to be good to have that done so that I can ask them for higher tolerances that I necessarily couldn't get done here.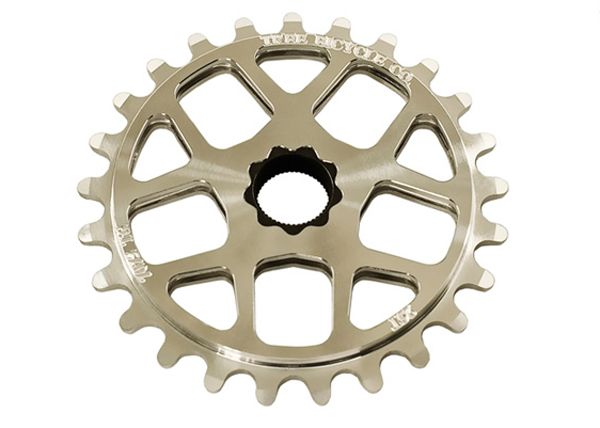 It sounds like you have more time now that you have a dedicated factory. What are some of the new projects you have been taking on with that time? Do you have any hints at some new products you have in the works?
I don't have any more time, yet. I will have more time soon though. I just hired Joe Montgomery to do sales for me. Also Nathan has been working for Tree doing everything from videos to tweets. That will help lighten my load a little bit. Then I can get back to drawings and putting more managing towards the product design. Some of the things down the line are two new frames, two different stems in addition to the Collet stem, some new forks, grips later on and potentially a pivotal seat with our own design.
You mentioned that you would be getting into the fixie market a little more. I know Tree is already very popular among the fixie community. What are your plans for that?
Well, our Collet stem can run with them, and I want to do a fixed hub that is based off our Straight Pull hub. I don't know, after we focus on BMX parts and some of our new stuff, maybe we will do some pieces here and there. I don't have any plans besides those two things. Maybe make some handlebars further down the road. As far as fixed gear riding and BMX goes, I'm down with the guys riding fixed gear. I don't care if they are riding a big bike, as long as they are having fun it's cool with me. That's what BMX is all about to me, ya know, just going street riding with your friends in the middle of the night and having all the experiences that come with that like running into cops, bums, girls on the streets or whatever. It's just life experiences and your own personal experiences. I think it's cool. If they want to do it like that, then more power to them. We can do our thing. That's why we are making some things that work for their bikes. I think it's cool they are having fun on their bikes.
All right, there was quite a bit of speculation that you guys were "selling out" and all this. In reality, you really aren't out making a lot of money like people would assume. Care to talk a little bit about your living situation? Aren't you basically living in a tent?
In BMX, ya know, I guess I did it too. I thought the guys who owned companies were rich moguls that make all this money and that we are rich businessmen or something. BMX seems it's bigger than it really is with the way media projects it. We create ourselves to make things seem as cool as they really are. A lot of companies aren't as big as they seem. Tree is out of a 30 foot diameter round thing that's essentially a glorified tent on property my parents own. We're just trying to do what we think we can do to make BMX better. That's always been my goal, and continues to be my goal. Just to try and make cool bike parts that I'm into. Designing the parts is kind of my art, and I want to make the best things that I can. With the whole Taiwan thing, a lot of the products we do there are better than we were making here. That's why I prefer to make the frames and handlebars there as part of the goal to make the best product possible.
Will Tree's warranty process to be changing at all? Can you take us through your warranty that is offered on something like a frame?
All of our products are warrantied. So, let's say somebody comes to us to say they cracked a frame. I ask if they can send me a picture so I can see it. If the picture doesn't show it well, I'll have them to send it to us. I'll also need a serial code so I can figure out which batch it came from. That way I can go back to the manufacturer to see if they are doing anything wrong that we can correct. The manufacturer is accountable for problems with the frames as well, so when something like that happens we can get it fixed. The Tree frame has a lifetime warranty so if it bends or breaks, we will get you setup on a new bike.
Will there be more of each product made now that it's overseas? Will you guys be more available to shops, mail orders and distributors because of this change?
Yeah, we will because of their timeliness and manufacturing. So we know everything will get made on time, so we will have a steady flow of product. We won't have to wait six months for sprockets in certain sizes. That way it will be better for everybody and us.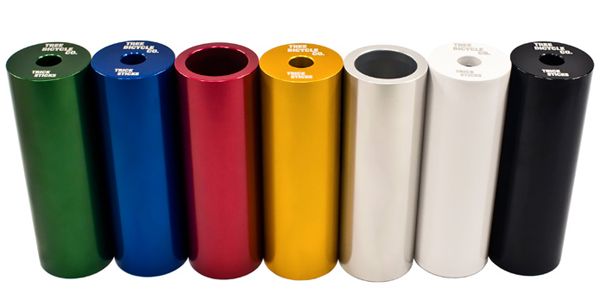 When can we expect the first shipment of product from the new factory?
It will be coming in this summer for sprockets that will be made for the first time there. The frames and items we already were having made there will also be ready for a new shipment. We're looking at late July of this summer to have the product available.
What are your goals as far as the brand of the company? What direction are you leaning towards?
I just hope we can do things better. I'd like to see my initial idea for what Tree's full potential could be. We have been kind of meek and quiet, and we always just let the products sell itself. I just designed products to my best ability and let it sell by word of mouth. Now, we're looking to advertise a little bit and say, ya know, hey, we're doing something good that we want to offer to the BMX community.
In the future, I'd like to do our own contest series. In the long run I'd really like to bring manufacturing back here and do it in-house. The bigger the company gets, the more we can do for people. That's what I want the purpose of Tree to be, with the purpose to serve people and not have people serve it.
What image do you feel you have as far as the brand goes?
I think it's more my values that I set for Tree. We always just wanted to have integrity, honesty, positivity and certainty. I guess the main thing that we have going is the team is a good mix of dudes that represent us. We're just looking for people who respect others. I mean, we could have jock or a punk rock dude, as long as they respect others and do their own things, then live and let live. That's pretty much the basis of being on our team, and the image we are trying to portray. Just to have people doing their own thing and be themselves, and not be stuck living in a box where you are called names for being what everyone expects you to be. We're the opposite of that by supporting people for being free of who you want to be and respecting others. If that's what you are doing, then that's cool to us.
Is there anything I missed you would like to add?
Thanks to everyone who has supported us along the way. I'd like to thank Sun Ringle for co-sponsoring the team and making the best rims in the world. Also, Raw Revolution that Co-Sponsors us as well that is a food bar company that makes a lot of bars we are into. There are a lot of junk food sponsors in BMX right now, so I wanted to connect to something that's healthy for you and they are great. I'd like to thank Blackout distribution and the rest of our distributors around the world, Nathan, Eben, Bobbie, Justin and now Joe for working at Tree and everything they have done and continue to do. Hope you all take care.
For more about Tree, hit their website at WWW.TREEBICYCLECO.COM