It's kind of funny how from time to time I will find this need to do things I was never even asked to do. In this case, I happened to be able to get myself a pair of the new Orchid's a few days before anyone else. Thanks to Derek Adams for doing that, so this is how I will return the favor. First of all, I don't know why I wanted these shoes so bad in the first place. I have been wearing Etnies for close to 9 years now. I guess I've always wanted to try out some mid tops and these just caught my attention. So, check this out for those of you looking for some new shoes…


Alright so let's take a closer look…
Visually the shoes are a real clean mid-top with plenty of padding around the ankles. I've been riding in these for a little over two weeks now and I've noticed that I have cut down on the dreaded Profile bite. I'm not sure if it is because of the shoes or not, but I think it does help. My shins are stoked on that at least.
I'm a fan of the all black and white, without a bunch of goofy logos and different patterns. Maybe that's just me but yeah.
The inside is pretty comfy and really didn't take very long to break in. I like my shoes to be a little more stiff, personal choice of course. I also noticed the sole wasn't thin like a lot of the shoes are going these days. I don't really get how feeling every pebble and the exact contour of your pedal is very appealing, but hey if it works for you then maybe these shoes aren't for you.
Overall riding in these shoes is pretty good, I don't think I have slipped a pedal in them. That's actually kind of weird since my Odyssey PC's have about 4 pins per side of pedal since I started doing pedal grinds all the time. Then again I really don't slip pedals too often in the first place.
One problem I noticed was on the tip of my right shoe. Where the sole rubber meets the leather it is some what coming apart. This is from the excessive number of footjams I tend to do, along with the tire buzzing my foot when I do x-ups. Yes, x-ups are where it is at.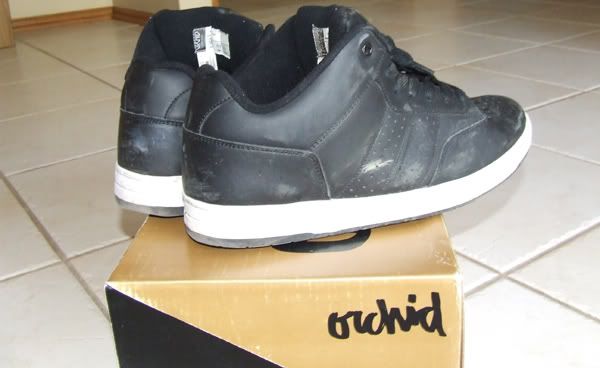 So overall if you are in the market for some new shoes, you dig mid tops, and a shoe that is all around comfy, then maybe this is for you. One thing I noticed is they catch peoples attention. I've had at least 10 skateboarders ask me what kind of shoe they are. I've thrown "BMX brand" in there a few times explaining it to them and they are just confused. It's pretty entertaining to see them trying to figure out that skateboarding doesn't own this shoe.
Another plus would be that it's Randy Brown's signature shoe.. That guy kills it!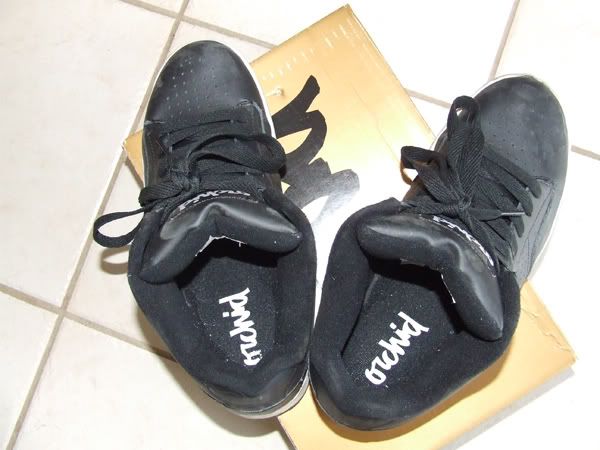 You should be able to pick up the shoe anywhere Orchid is sold now.
Dan's $54.99
Albes $54.95
Empire -Not available yet.
For the video below, I had a weird idea when I was putting together this review. I figured I wanted to do something different, so I tried to film everything from the hip down, to focus a little more on the shoe. That's what happens when I get real bored sometimes.. haha