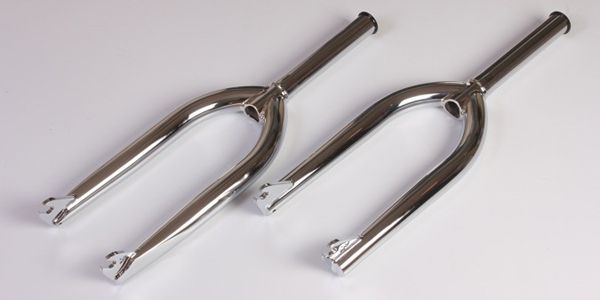 It's not every day that I have the opportunity to introduce a new brand to the world. It's not that there's a lack of new brands these days, but there is a lack of brands that get me excited when I heard about them. And Forks is a new brand (so new that their website isn't even up yet) coming from the master mind of Mark Noble, the owner of the trails directed brand Deluxe, that focuses specifically on one main product… forks. Don't get the wrong idea, street guys. This isn't a trails specific brand, in fact, I think you might be shocked at who is actually on the team for this new project.
And Forks wasn't going to debut until Interbike, but after a little convincing, Mark decided to answer some questions about the brand to let you know what's On The Horizon for this new project. So let's take a look at what the And Forks is all about…

Well, I guess we should start from the beginning. When did you decide to start this new project? Where did the name And Forks come from? How long did it take for you to go from idea to drawings and samples? I feel like this one has been cooking in your mind for a while.
Now that Deluxe is largely established and running well, and all our product is doing good, the team is dialed and everything seems to be rolling nicely, I was looking for something else to work on. I didn't just want to make Deluxe forks, and plenty of people have asked us about that, as I didn't want to expand Deluxe's product line any further and just become one of those bike brands that wants to make everything. I just didn't see any point. There are too many of those brands already anyway. I had a few new projects in mind, and this one makes total sense right now – a brand focused on forks. That's all we'll make. It means we can really focus on it, without worrying about tons of other products or whatever, and we can simply aim to make the best forks out there. Forks are way too important to balls-up. So, I started the project at the beginning of the year, running through designs, bouncing ideas around with Josh Betley, sourcing the right manufacture, assembling a team, graphics ideas, all the necessary ingredients. The name came to me one day, just a total light-bulb moment: And Forks.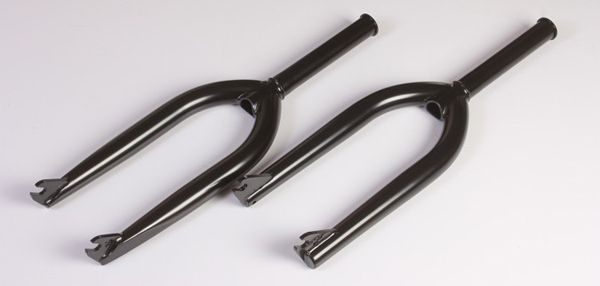 Where are you guys based? Are you going to be running And Forks out of the same place as Deluxe?
I'm based in the UK, and I'll run And alongside Deluxe here on a day-to-day basis, but our team is largely based in the States.
Including yourself, who are all involved with And Forks? Are you getting any help with product design, graphics, team management, etc.?
From the outset I asked my old mate Josh Betley about this project, just to get some ideas going. He was really into the concept, so from that point onwards we really got motoring and he was the first rider on the team. I worked with our manufacturer on designs for the forks themselves, getting the other team riders on board, working with Chris on the graphics and the web site ideas, and so on. Like all good projects like this, it always takes a good time to get everything sorted out. But it's coming on strong, I'm really stoked with the progress we've made so far, and the forks have come out awesome.
Since this is another full-time project you are taking on next to your other brand, what's a typical day like for you these days? Is your hair starting to fall out from the stress yet?
Haha, my hair's still all in place! It is fairly stressful, but it's going to be worth it in the long term. It'll also help refine Deluxe to get it to where I want it to be even more so, and with And we can do different things again with the products we'll make, the team we have, and the things we can do. It's given me a new incentive to work harder again, and make things better. It would have been too simple to just add forks to the Deluxe line, but like I said I just didn't want to do that. This is more of a challenge, but I'm up for it.
This seems to be an interesting direction to take a brand compared to the rest of the BMX industry. What made you want to focus on just forks in particular? Isn't this something that's a little more common in other sections of the bicycle industry?
It just seems to me that random BMX brands are launching almost every two weeks, on top of all the parts brands that we already have. They come out of nowhere, with a full line of products, and it just makes me ask, "well, how good can this stuff actually be?" Where's it all coming from? Other parts of the cycling industry, such as MTB or road or whatever, they must look at the BMX business and just think it's pretty chaotic. BMX bike shops have a hard time keeping up with it, and they definitely can't stock all these brands and all their expanding product lines. It's a wild time. I just think, with us having something more focused like this means we can get the actual product dialed, without diversifying into tyres and cranks and lord knows what else.
I'd imagine doing just forks has given you the chance to really focus on making a real solid product. What is the line going to look like? Can you take us through some of the options, colors, sizes, etc.?
Oh yeah, definitely. We have two types of fork, and that's it. A fork with a regular 33mm offset, and a fork with a sharper more responsive 23mm offset. Both have full 4130 construction, with butted and beautifully tapered fork legs, CNC machined one-piece steerer, 5mm thick dropouts with 10mm slots, integrated bearing race, and a CNC machined aluminium compression bolt. The 23mm fork has a more sculpted leg taper closer to the dropout, just to create a little more room there – without making the fork look too hoopty or too weak. The weld quality is amazing, the tube fit, the refined lines… the finish quality is just how we wanted it. All in all, I'm so stoked on how they have come out.

33mm Offset

23mm Offset
I can't imagine you will be adding stems, bars or anything like this to the product line, but what about t-shirts, stickers and stuff? Is there anything like that coming along?
Nope – all we are making are forks. Of course, we'll have some T-shirts and a limited line of softgoods to exercise our graphic muscles, but the forks will be all we're making.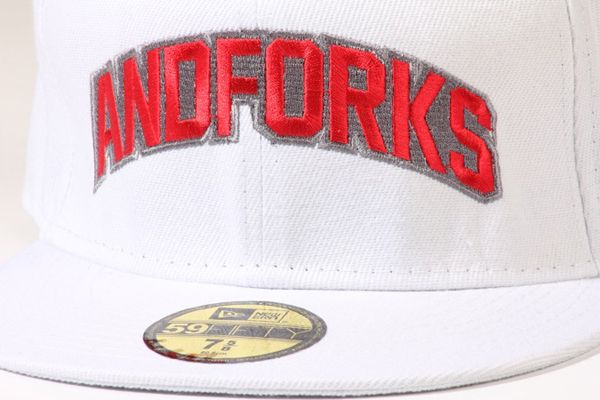 It sounds like you guys are doing some cool stuff with the graphics, right? Can you tell us a little about them?
Well, our logos are based on ampersands, and again I'm working with Chris on making the graphics package for our site, clothing, decals, and any print ads we'll do. So far so good, the ideas and designs he's coming up with are great and the beta site looks dialed, so hopefully that will go live any day now. Rob Palmer and co are making some fine motion graphics for the videos, and we're working with video producers on the films with the riders. Each team rider has a photography project to be working on as well, so that should look bloody great as well.
Now, when you told me the team line up you had, my jaw hit the floor. Who's on the team so far? Any reason in particular for why you picked each guy?
For sure, from the outset I wanted five key riders on board, from different backgrounds and scenes. Josh Betley was first on the team, as we went back and forth with ideas and I have a lot of time for Josh. That guy's awesome, and uniquely creative on a bike. He doesn't do the cookie-cutter tricks, by any means. Next up, Mark Potoczny – I wanted a badass trails rider who goes huge on our forks, and Mark was down – he's so, so good, and obviously I work with him already on Deluxe. Next up, Dan Foley can do any damn thing he likes on a bike, and I'm so into his riding style, and I was stoked when he joined us on And. His part on Props Owned should be so good, I'm really looking forward to seeing that, we've only seen the tip of the iceberg with Dan Foley. Next up, Devon Smillie. Devon's pure raw talent on a bike and is never afraid to go large and really push it. Devon works with Josh on a few projects, so it made sense to ask Devon on the team as well, that guy's amazing. I also wanted a UK rider too, and after a few ideas and so on, Niki Croft's name came up. I asked him, and he was psyched. Again, I've got a lot of respect for Niki. Badass rider, good attitude, he's savage. Check his part on Orchid's latest video. So, so good. Overall, I believe we've got a killer team representing our forks, they're all stoked on the forks and what we've got going on here at And, so what could be better?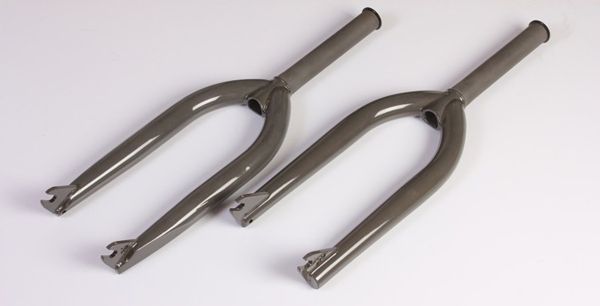 Do you have any plans on expanding the team once things get rolling? Do you have any advice for anyone looking to ride for And Forks?
Well, we'll work with overseas distributors on ideas for riders in their respective countries for sure, but as for the core global team we have now, I couldn't be happier. This team is down.
I'd imagine it won't take long for these guys to start producing some edits and such. When can we expect to see something from the team? Do you have any trips or anything in the works with them?
We've got a couple videos coming out right away – one with Dan Foley that was filmed in Belgium, and one with Mark Potoczny that was filmed in Southern France… they're both awaiting final graphics touches and then we can get those edits out there. I hope to be filming with Josh when I go to Vegas in a bit, likewise Devon, and we'll see what we can get going with Dan as well – edits are definitely on the cards. As for trips, we'll see what we can do there as well.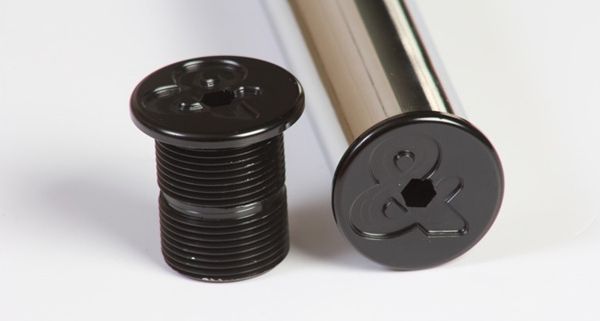 When can we expect to start seeing And Forks product hitting distributors and shops? Do you have any mail orders that will be carrying the product?
We'll have our forks at Interbike, so come check us out there – and product should be hitting distributors by the end of this year all being well. If not, then the beginning of 2012. It'll all take time though, of course. These are forks, they're way too important to get wrong. We can't just cut corners and rush them out – and once they are out, they'll be perfect. So yeah, end of 2011, beginning of 2012.
Who should shops and distributors contact to start getting And Forks in their stores and warehouses?
No problem. Check out the website for all the contact info for distributors and so forth, when that goes online at AndForks.com.
What kind of warranty will you be offering with the forks? Who should somebody contact if they are having issues?
If anyone has a problem with them, which I really don't anticipate to be honest as we haven't had any problems to date, then just get in touch with me and I'll sort it all out. No problem. – Mark@Deluxebmx.com
Who should people contact if they have general questions?
No worries – people should contact the distributor in their country for any more info, otherwise I'd be glad to help them out, via my usual email address.
Is there anything I missed you want to say?
I think that covers it. So far, so good. This is an exciting project to work on for sure, and the people who are involved with it are psyched to be on board, we're doing something new, that is creative, with a great team, and the end result is all that we all have dependable, trustworthy, strong, good looking, lightweight but not too light, dialed BMX forks to ride. There's only one F in fork.
Once the website launches here soon, you can find out more information by hitting AndForks.com.
The team riders welcome edits will be dropping soon, but until then… here's a few reasons why each guy was picked for the team.