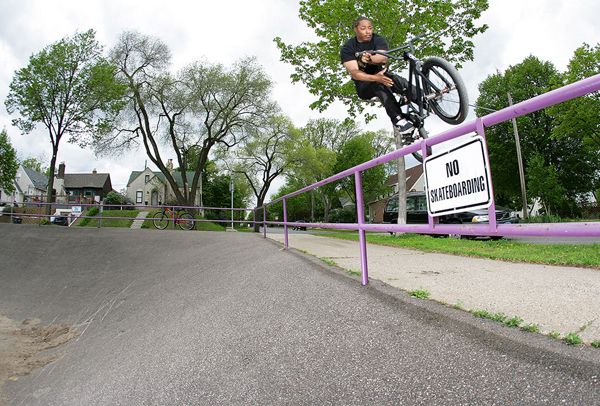 Phlandus is one of those riders who you hear all these ridiculous stories about, and you kind of question it. Then you see the guy ride and every single story riding or not riding related make complete sense. He's one of those guys who absolutely kills it and for some reason I don't understand, hasn't had the chance to blow up. I really wanted to get this interview done for a while and I was psyched when it popped into my inbox. Take a look at what Phlandus has to say, some real good photos from Ben Austin, some past edits and then leave him some love in the comments.
Name: Phlandus Lamar Alexander

Location: Minneapolis Minnesota
Sponsors: Standard byke co., Underline bmx
Years riding: 10
What was it that first got you into BMX? Any early memories just come to mind?
Well, I guess it started when Quinten had a Trek Subhead and he always bucked me on the bars. Two weeks into doing that we got sick of buckin ya buddy, you know.. So I came across a chance to get my own ride all I had to do was catch this bird that kept getting into my basement. My scary ass couldn't do it but Mr. Two Tone Q wasn't scared at all. He smacked it with his bare hands and all I remember was him sayin WTF man stop being scared it's only got a beek. He cought that shit and the next day I got a Haro Revo hahahaha..
You were picked up by Standard a few months back. How did that all come about? How have things been so far?Do you guys have any trips or anything in the works?
Well, I don't know about that but if I got asked to go anywhere I'd be down. Just another good time on your bike and new people to meet.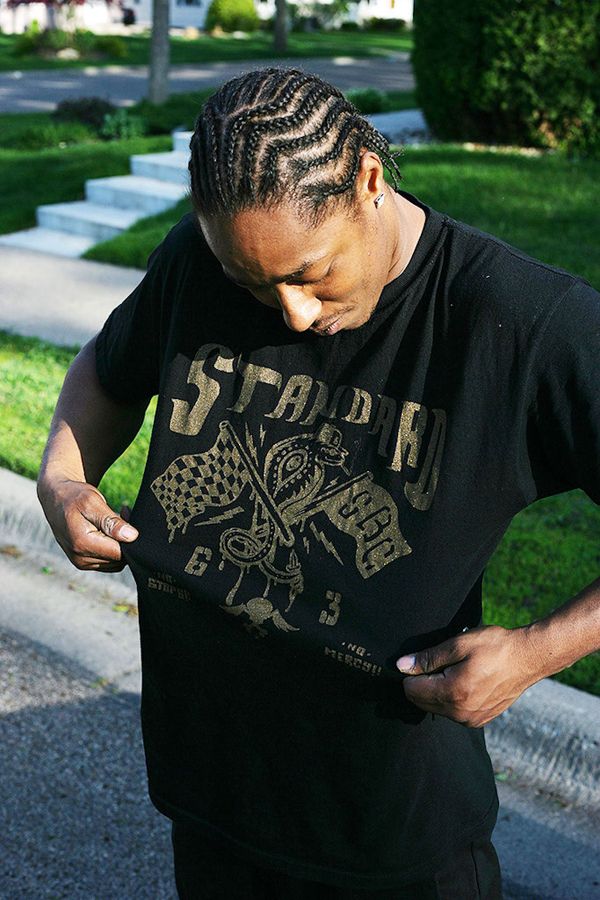 So you're a pretty low key dude who is capable of throwing some pretty mind blowing bangers. What are you camera shy or something? How come you don't have more web edits?
I don't have a camera. And all my buddys that did have one just filmed themselves so it didn't matter to me. I was having fun. I do bangers without a camera these days. It sucks because I'm trying to get photos and videos so when I'm old as shit I want to be able to look at what I did in my lifetime.
Actually, I heard you have been filming with Eric Holley quite a bit for a video? What can you tell us about that? How has filming for that been going for you?
How did you know that? hahaha well Eric been sitting on footage of me for a while so I don't know. I film people just don't use the clips or get lost.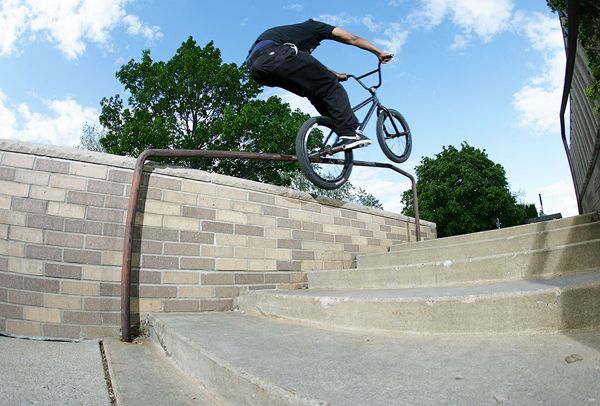 Do you have any scrap clips that will turn into a web edit any time soon? I feel like people need to see what you're really capable of?
Yeah man, I need solid people to film and edit. it's easy as that. If I was on Animal or something they be all over filming and editing. I like how they make videos.
If there's one thing that the Twin Cities isn't lacking, it's a bunch of motivated riders to push each other. Who do you usually ride with these days? Anybody you think people need to keep an eye out for?
You need to keep an eye out for that man Quinten Carston, Mini Mark, Justin Dewitt, Cal and Lil' Reed Stark. There is a lot of good bikers here.
Speaking of Quinten, how long have you guys been friends for? I feel like I never hear anything about either of you unless you are both in the story. Did you guys meet because of BMX or what?
Naw, I moved to Bloomington when I was 13 and we met by playing football. We got into BMX when we saw two other dudes already doing manuals and that looked tight to me so it was on since that day.
Do you have any big plans for trips at all? Anywhere you really want to go someday?
Dude, anywhere.. All over the world if I could.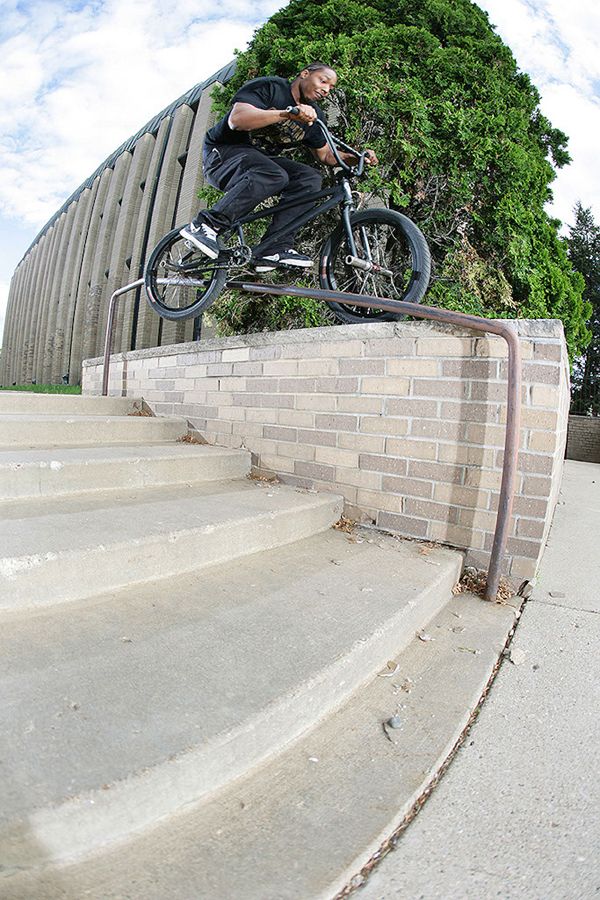 If you could load a van up with any 5 people and go on a trip anywhere with a huge budget, who would you bring and where would you go?
I'd bring Tom Boyd, Quinten, Mac Tay, Eric Holley and Nick Anderson. We would go somewhere G that I'v never been.
Where are you usually found riding these days? Any fresh new hot spots you have been psyched on?
Yeah, a lot of spots man. Minneapolis is flooded with spots.
What's the Badlands all about? I've seen a couple edits come from there lately.
It's just a grimey set up that was fun to ride untill it got busted down.
I know you are pretty capable of some wild tricks, but what's one trick you can't do for the life of you?
A fucking turndown.
Who are some of your biggest influences for when it comes to BMX?
Van Homan, Edwin Delarosa, Rick Moliterno and Luc-E.
What do you think you would be up to if you never got into bikes?
I'd probably be like everybody else going to school and probably having a family or somthin I'm happy I went down this road. I love bmx..
What are you usually up to when you aren't riding?
Chillin' with my homies or working.
You seem like a pretty laid back and chill dude. Do you go out much? What makes for a good night out for you?
Well I don't really go out to clubs and all that. I like to chill at my place and watch UFC.
Where do you see yourself in a few years?
Livin' somewhere warm.
What's the last song you heard, movie you watched, and website you visited?
Last song: Big L – last freestyle… Movie: Trading Places… Website: standardbyke.com
If you found a big bag of money with $100,000 in it. What would be the first thing you would buy?
Small house, save a lot of money, ride bikes and chill.
Do you have any shout outs or thanks?
Rick Moliterno for hookin me up and all my homies.