BMX is awesome for the simple fact that it has done so much for my life. The last few years have given me a chance to experience so many things that I never thought I'd get to do growing up. The people I've met, the places I've been, the events I've experienced, and the lifestyle I've got to be apart of has definitely formed the person I am today. 2010 is only a few days away from being over, and another year that will be able to top this year will be starting. In the past 12 months, I've been snapping photos to remind me of all the fun and good times I've had along the way. I've selected something like 85 photos from a few thousand, and then linked to the rest of the photos from each trip between here, DIG, and my facebook albums with party photos. The photos go with about 5000 words to explain a little bit about each photo. Check it out and let me know what you think in the comments…

The start of 2010 kicked off with the annual jam at 3rd Lair in Minneapolis. I've been doing contests at a few different parks over the last 8 or so years that have closed so I decided to help out with a contest that was getting organized there.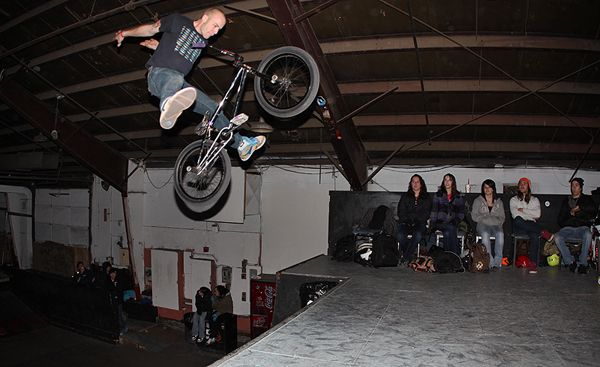 Jared Hudalla is one of Minnesota's rippers that seems to be kept secret, or something. I don't know why he doesn't get noticed. The contest consisted mostly of him absolutely shredding. It was really the first time I've taken notice of Jared, and since then I've had the chance to ride with him and he's always on it. One of those guys…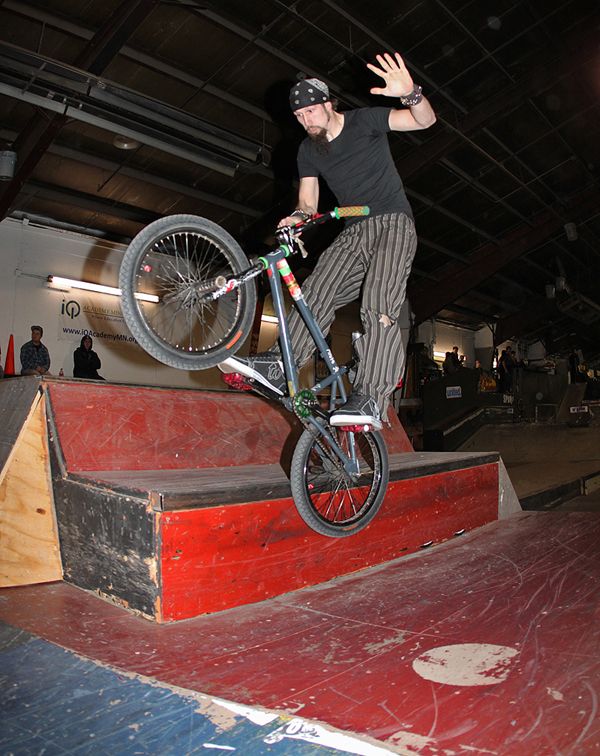 Pirate is one name that everyone around here has heard of. He dresses like a pirate, and rides like nothing I've ever seen before. This guy has so many crazy tricks like Lazy Boy Feebles, and can do everything under arm. Somebody needs to get with this guy for a full edit to melt some minds. I think he would be on the creative level of Erik Elstran.
3rd Lair Jam Scraps
DIG – Repo: 3rd Lair Jam
A few weeks after the jam was the annual Frostbike at Quality distribution in February. Basically, a miniature version of Interbike that features all the brands that QBP distributes. There isn't a ton of brands there, but there's always a few real good dudes there that are always good to see.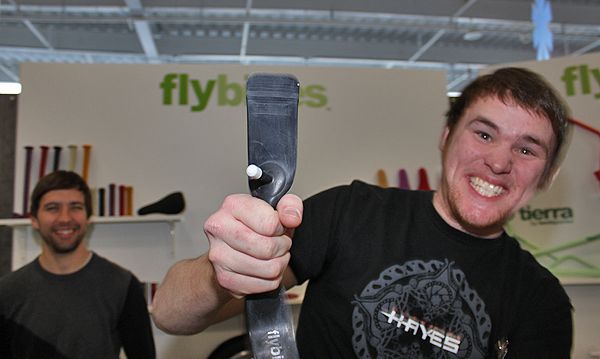 Jon Wells is one of my best friends in BMX. We have gone on countless trips together (you will notice as this goes on how many times we went somewhere this year.). If you have ever had the chance to meet the only man to ever brawl at the Brawlin' at the Belmar contest, you will know he's rad as fuck and always having a good time. Jon was on hand for Sun Ringle at Frostbike but spent most of his time at the Fly Bikes booth with us goofing off.
Brian Osborne. This guy is one of those guys I would almost be better off avoiding. That's not a bad thing, I just end up doing or being in ridiculous situations when he's involved (I danced on a stage in Vegas with a woman that looked like Jimmy Levan in '09 because of Brian). When he wasn't busy in biz meetings for DuFFS, he was with us making fun of Kevin Porter and Dave Leep. Things get ridiculous with a crew like that and it did on that particular day. All I'm going to say is Mongolian Chicken Wing Grease.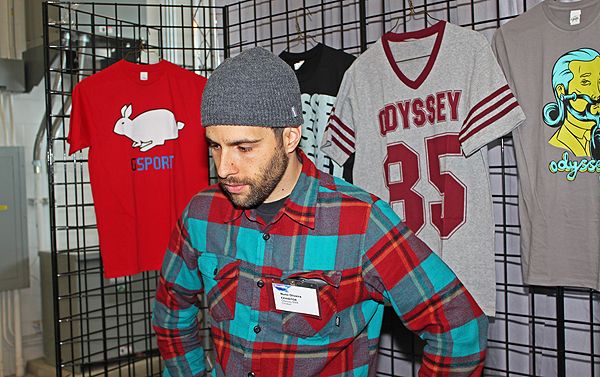 Nuno Oliveira, one of my favorite photographers, and all around good dude. Anytime I get the chance to cross paths with Nuno has been a good time. Given he was swamped with the Odyssey booth, he still had plenty of good stuff to talk about. I'd imagine he will be up here in the frozen tundra for this years again.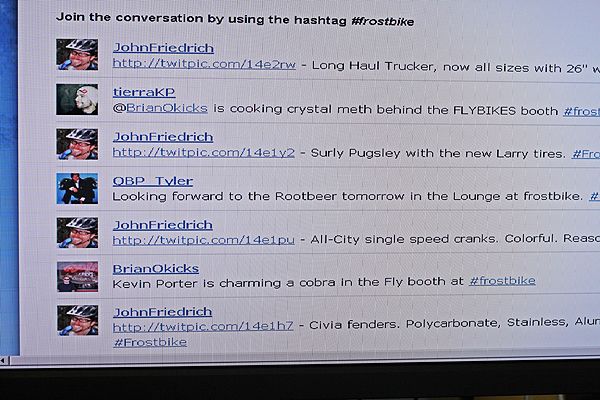 Twitter can be amazing, and sometimes it gets extra amazing. QBP had a T.V with a feed of Tweets from the event if you used their hash tag. If you look closely you might see something that would explain why we got mean mugged by the lady hanging out explaining the T.V to people passing through. When will people realize a group of BMX riders are NEVER going to fail at doing something ridiculous? We fuel a one-up fire that will always go too far.
A few weeks later as February was coming to an end, I made my way to Milwaukee to meet up with Jon Wells and Jeff Dowhen for a road trip to Toronto for the annual jam.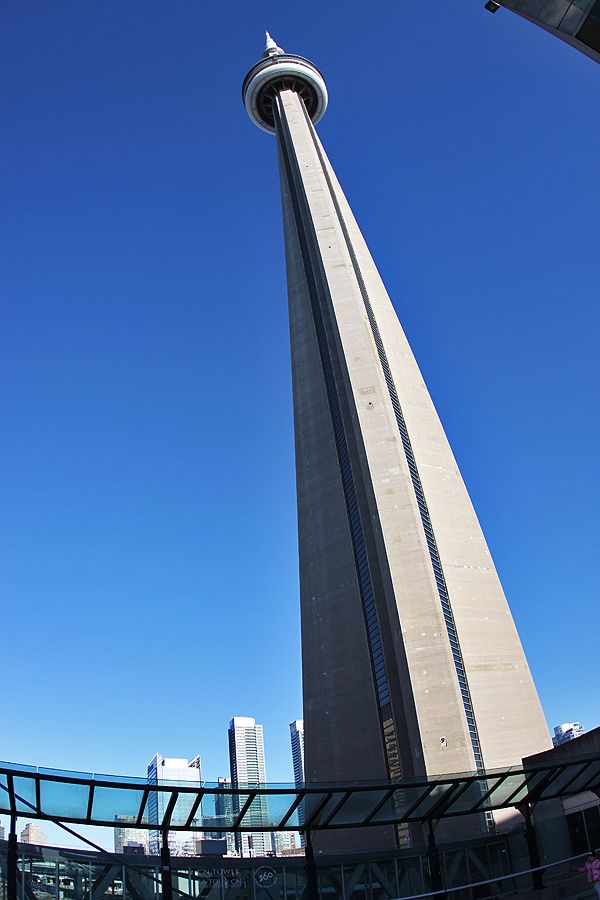 Then March came and the trip to Toronto went down. Toronto is an amazing city. The amazingly hot women out number ugly women 100 to 1, and it is in general just a very rad city to visit. The first night we got to Toronto, Jon, Jeff and I stayed in a Hostel. I was a little sketched out by the idea, but Wells promised it would be a good time and an interesting experience. Needless to say, it was a real good time… Except for the fact that we got there too late and all the girls already found d-bags to bang that weren't us. Wait, what? Yeah, you gotta go to a hostel to understand that one. Reguardless, the night ended with Jeff Dowhen having a fact off with a hammered Australian girl about America. I'm going to make a bold move and say that the term "AMERICA!" was coined on this trip which shortly after caught on and even made it into the movie "The Other Guys". Swear to god. I also exposed Jon and Jeff to the video "Get your tits out" which then turned into "Dump 'Em Out!" which I'm also calling out as the origin of that term. I don't care if anyone else started it first, we had all the BMXers in Toronto screaming it by the end of the week. It was out of control.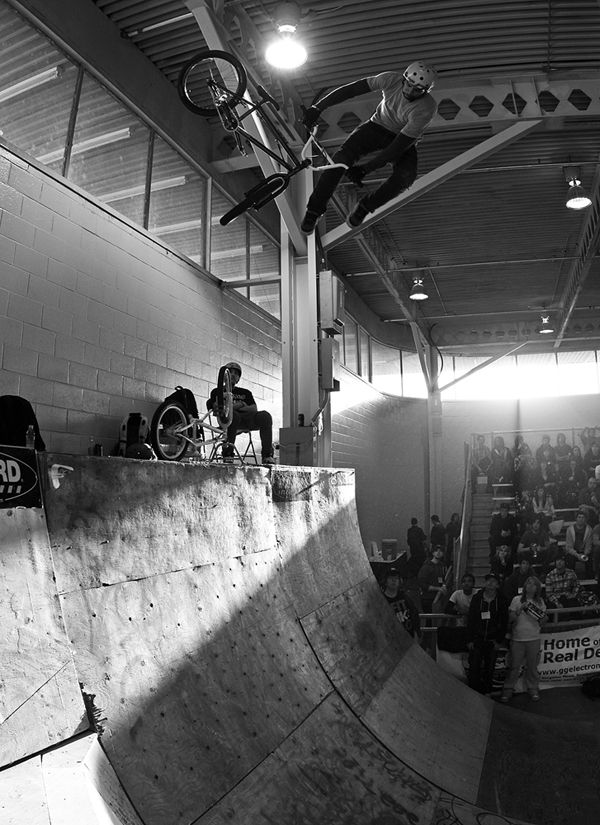 Mykel Larrin is one hell of a dude on and off the bike. He's by far one of the most grateful people I've met. He's also ridiculously good at riding bikes. This photo was one of my favorites from the entire Toronto trip.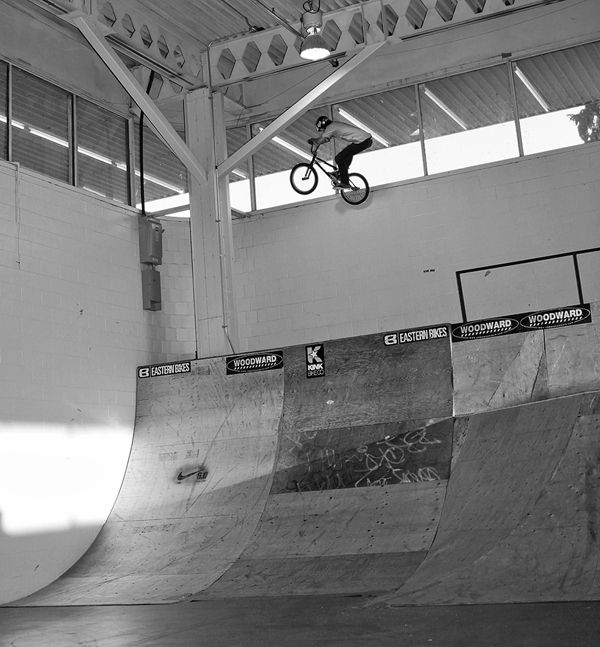 I think this trip was one of the first times I really got to know Drew Bezanson. Drew is just as you would imagine from all the videos and interviews you have probably read about him. Very friendly, and undoubtedly one of the most talented people on a BMX these days. He was busy blowing minds the whole weekend, and I'm psyched I had the chance to capture a few photos and just in general hang out with the dude. Drewthousand and ten is going to roll over to 11. There's no way it couldn't.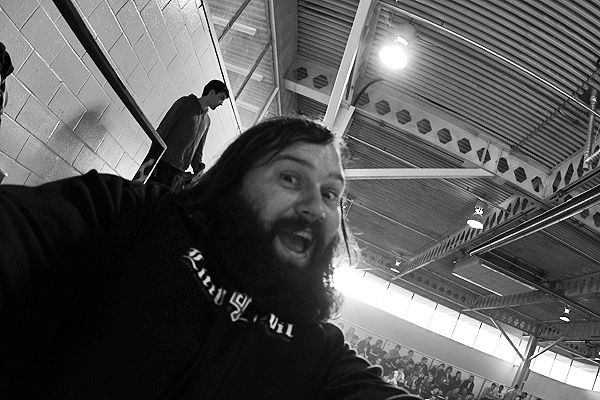 Micah Kranz was in my life quite a bit this past year. The numerous trips to Milwaukee played a role in that, but he was on-hand in Toronto to help Catfish run the mic. If you know Micah you would know he's rad as hell and knows how to have a good time. This was just the start to a lot of good times in 2010 with this guy.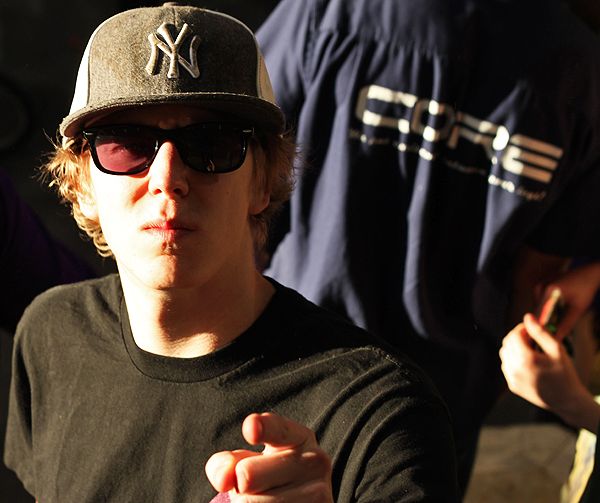 Cory Beal is my Canadian connect. I can't remember when I started talking to Cory, but he has always been super rad. We met for the first time in 2009 at Interbike, and ended up partying in Toronto again. This photo stands out just because it was one of those that turned out real clean on accident. It sounds like he will be having a pretty solid year of traveling, so I wouldn't doubt 2011 involving this dude at some point.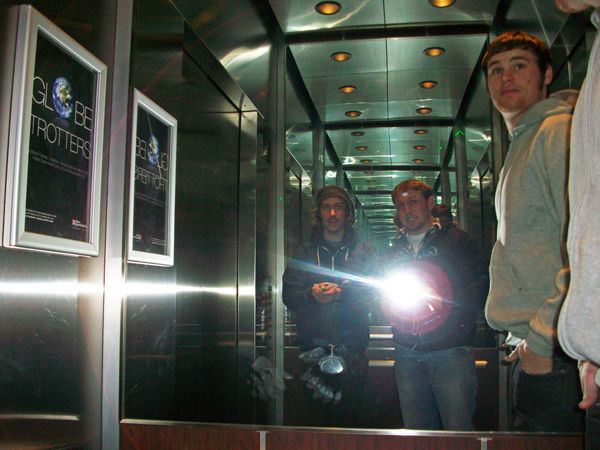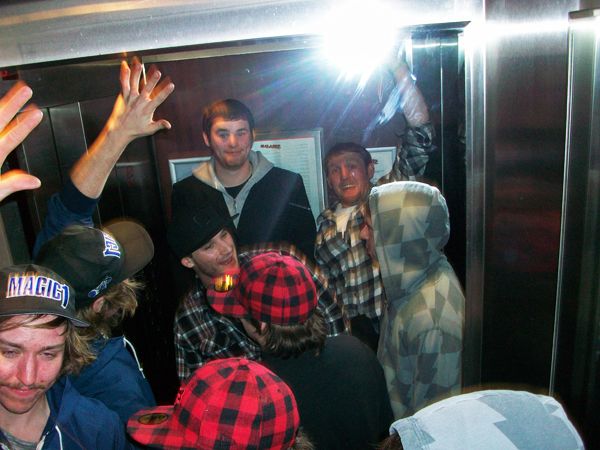 These two photos make me laugh because it was the start to the after party night. We made our way to Flip, Dosch's, Team Jeff DuPaul's hotel and then loaded up the van shortly after with like 15 people getting rowdy on the way to the Dance Cave. After parties are ALWAYS a good time when there's a ton of BMX dudes ready to party.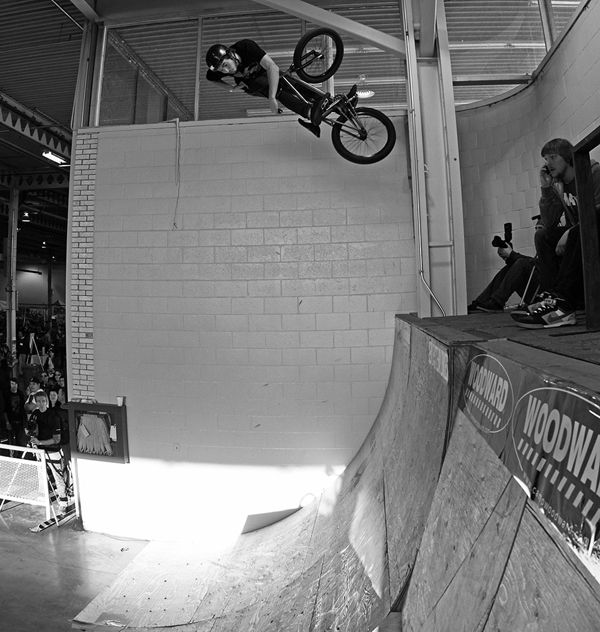 Lil Jon is a real interesting person. Not only does nobody know his real name (Seriously, not many people do.), he's a shredder and drives women nuts. It's crazy how much game he has. Sadly, after this photo he ended up shattering his ankle and being sent to the E.R where he was told that the waiting list was 2 weeks for surgery. Yeah, Canada. LJ tagged along on the van ride back to Milwaukee with Wells, Dowhen and I where I got to know him a bit better. He is a real nice dude and real smart. I will admit that I glanced at his passport and did see his real name when he was passed out from the pain meds. I honestly was so scared to look that I forgot his name. Seriously. It was one of those things like Roswell where you hear stories, but you don't know the truth and knowing just kind of ruins it. Lil Jon is the only name I know for him.
Toronto BMX Jam Scraps
DIG – Repo: 2010 Toronto BMX Jam
Facebook: Party Cam photos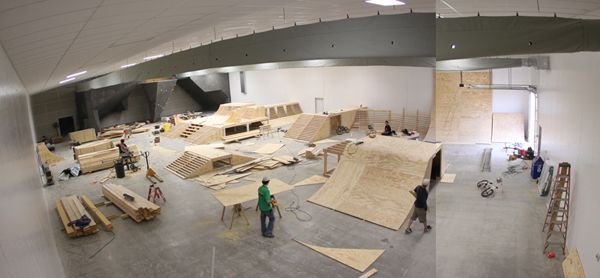 Shortly after the trip to Toronto, I got involved with a campground about 20 miles outside of Rochester, MN (where I'm from) called Bluff Valley. Basically, this campground built a brand new building and wanted to make half a restaurant, showers, and stuff like that for the campers, and then the other half a rock climbing gym and skatepark. Luckily, I got the chance to put together a crew to design and build the skatepark. I had always helped build ramps, and been to a lot of skateparks, but I've never been able to be in control of a design and build. It was a pretty amazing experience and it ended up turning out to be a fun park to ride. It has been my home for any of the riding I've been getting done since the snow fell. That project filled up most of my April and May.
You can check out more photos on their Facebook Page
or here's an album I have up on my facebook with photos from the parks build right here.
Then June came and I was off to Milwaukee again. This time it was for the Battle at the Bubbler for Verge Music Festival. Verge is a new festival that took off last year for the first time with bands like Weezer, She and Him, and shit like that. 4Seasons put on demos and a contest during the event for spectators to check out. Jeff K had me come out to shoot photos and party.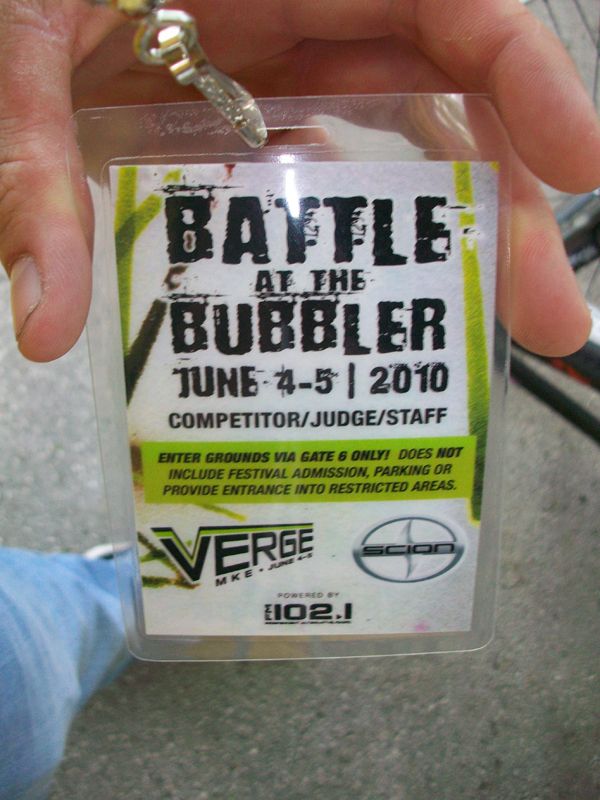 The pass to get through without having to pay for tickets, and what not. Oh, and to shoot photos. I used this pass to tell security that I was "With the band" time and time again. I always thought it was funny too. It also allowed us to get rides on the golf carts, free beer, and just in general ability to make our way through crowds a little quicker. Wells and I ended up in the Harley V.I.P area talking to some dudes who made a lot of money at one point. I've got a collection of these credential passes from the years and this one always makes me laugh when I see it.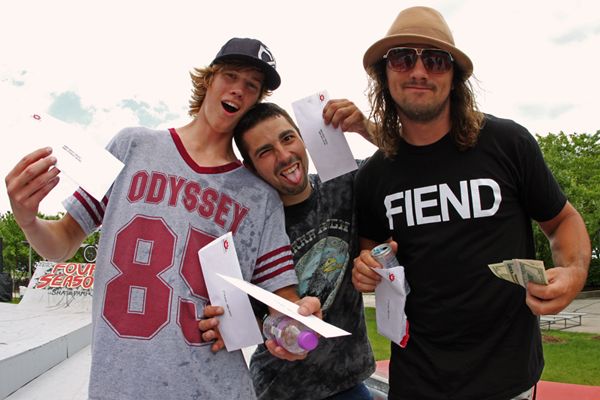 Reed Stark, Wade Lajlar, and Tony Neyer won everything. Well, they won the "contest" for Verge and got paid. These 3 all kill it on bikes and all real good dudes. Reed is a party animal on trips. He can hang way more than a lot of people. If anyone asks though, he's 23.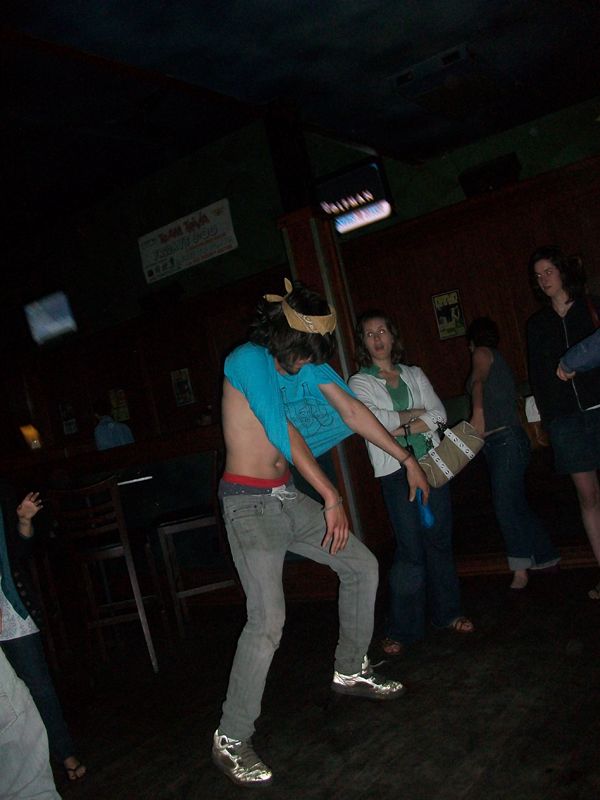 Matt Markese is a wildcat. This was the first night I had met the dude and he blew my mind. Not only did he wake me up from a nap on Micah's couch screaming about a missing beer on his entry, but he also out danced everyone the whole night. This particular photo is apart of a series of photos from a dance off that lasted for damn near a half hour with some other dude. Can't make that shit up.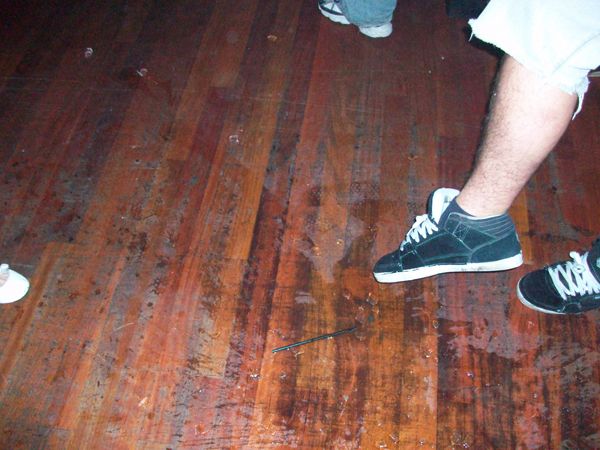 I'm putting this in as a reminder to Tony Neyer that he owes me 2 drinks from this year. Both unintentional bumps that lead to drops. Damnit, Tony. I'm thirsty. This is probably why I tend to be seen with 2 drinks at one time when I'm in with a group of BMX riders now.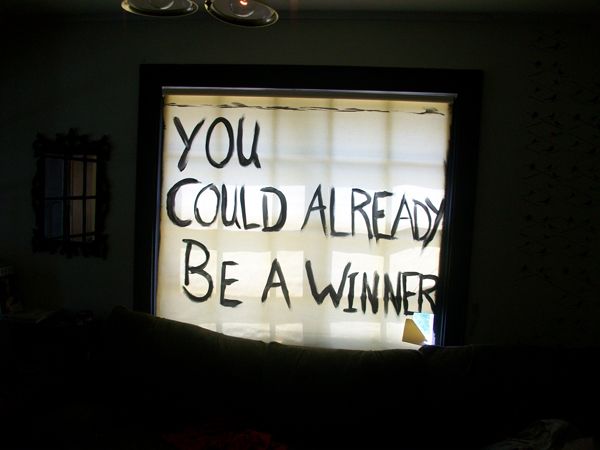 I've woke up to this a few times in the past year. Wells' roomates shade is a good reminder that you might already be awesome so don't give up. At least that's how I interpreted it.
Verge Music Festival Scraps
DIG – Repo: Verge Music Festival
Party Cam: Verge!
Two weeks after Verge I was back on I-90 on my way to Chicago for Red Bull Stomping Ground. I stopped in Milwaukee because a trip without Wells is not the same. We made our way down to Chicago to check out a damn near rained out event that turned out amazing. This particular event was something I had looked forward to all summer because I wanted to go to an event Red Bull and Fuzzy Hall put together. The ones that went down in Canada at Whistler and what not blew my mind. I needed to be at this one.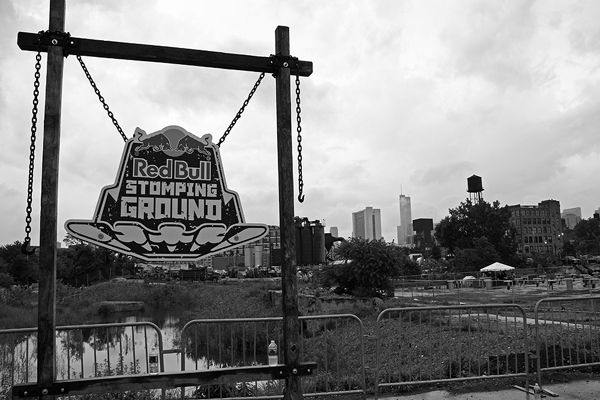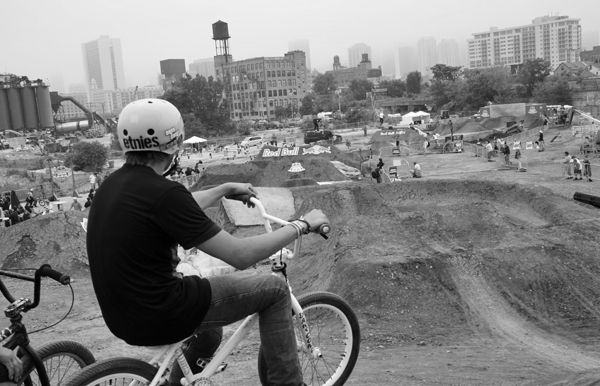 The course was unbelievable. This was a look from the top down with Maddog chilling. So many jumps, so much dirt…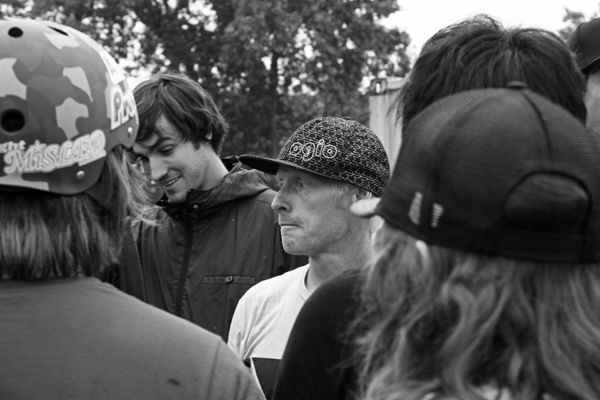 This trip was the first time I got to meet Fuzzy Hall. It was crazy when he managed to stop to talk when he had a million things to do. I almost couldn't believe it. This is one dude I look up to huge for all the awesome he brings to BMX. Plus, the photo I got with him made my older brother insanely jealous since he was a big fan of Fuzzy when he rode also.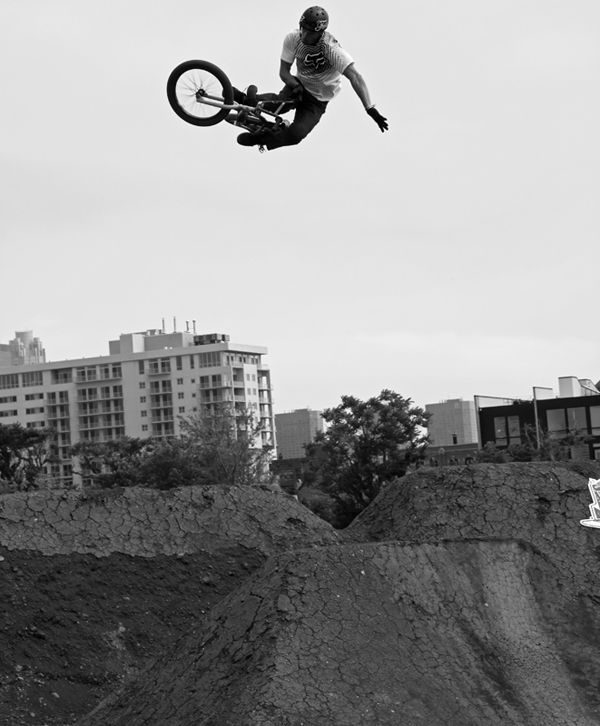 This trip was the first time I had the chance to meet Brian Foster as well. Legends all over on this one. I wish I could avoid this, but at one point this weekend we were all walking and Brian asked if I wanted some of those cheap sunglasses. Fuck yeah, I collect those things. Then he proceeded to trip over a chunk of dirt and fall to the ground. I didn't know what to think. It was hilarious and amazing. Brian shredded the shit out of the place all weekend.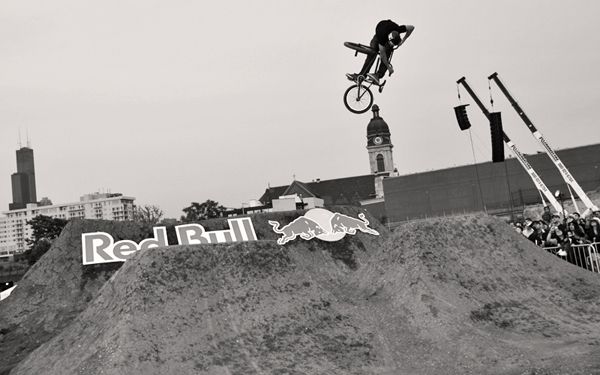 There was a photo on my list that I wanted to shoot at some point. A photo of Chris Doyle doing a 360 turndown. I'm sure it's clear why it would be a photo somebody would want to take. I've said it time and time again, and I'll say it again. Chris has been one of my favorites since the days of the DK 6 Pack that weighed 40 pounds. I jokingly told Chris I had it on my list and he said "That doesn't put any pressure on me or anything. Be ready for it on this one." and sure as shit we got it done. Thanks, Chris for doing that.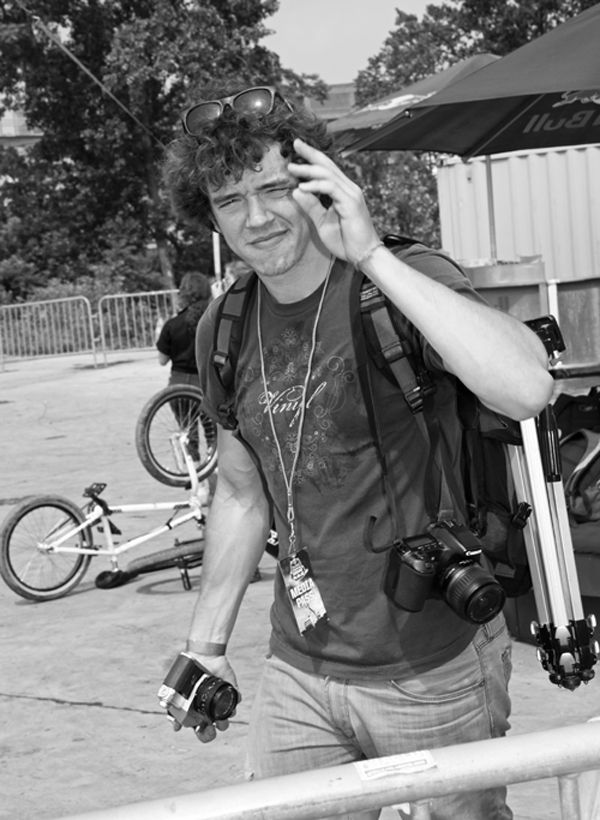 Andrew Brady is one of the dudes I'm psyched to have been able to help out get his name out. He's all over BMX now days and even designed this site. Real good dude and always awesome to hang out with.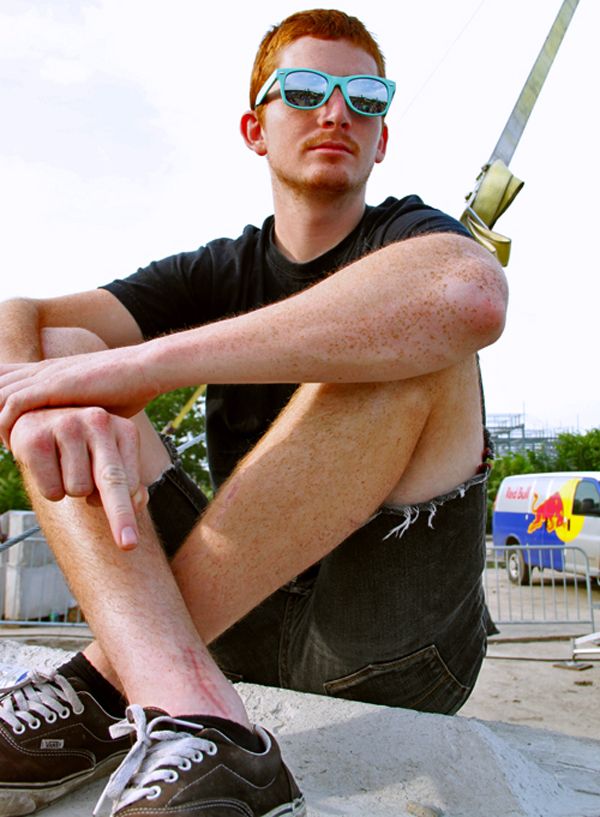 This was the first time I got to see Lil Jon after the trip to Toronto. I was psyched he was pretty much all healed up. You can see the scar action on his leg there.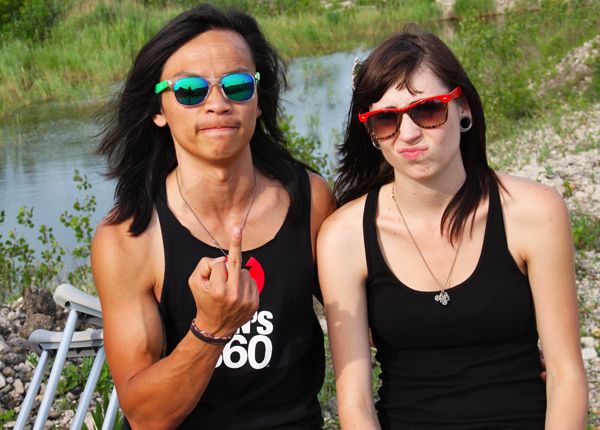 Hoang Tran was on hand with his girl since Dan's Comp wanted him to come hang out and sign autographs. Hoang is one of my favorite dudes. I did an interview with him back in 2007 before he was as well known as he is today. It's crazy how far a lot of dudes have come up since I got the chance to interview them. Hopefully I'll be making it out to San Diego at some point this winter to spend time with all the guys down there again for the 3rd year in a row. Minnesota winters suck, San Diego winters are heaven.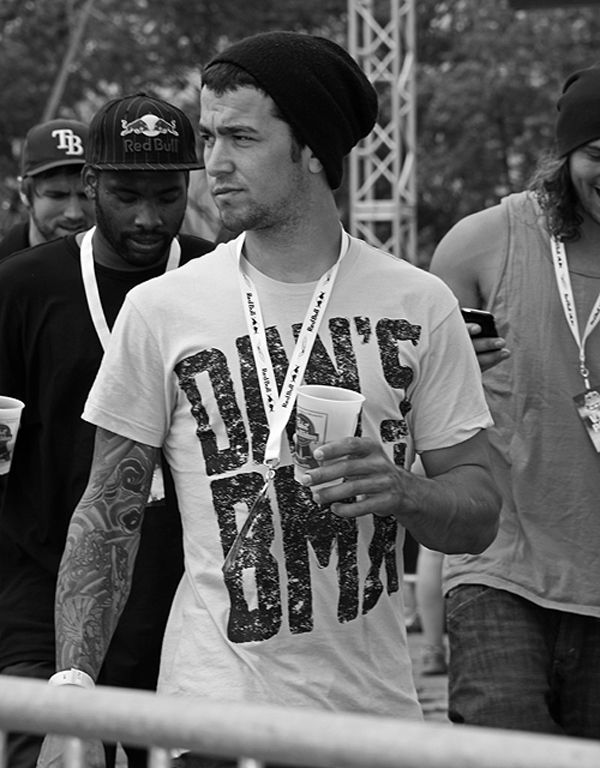 Ben Hucke is one of the guys who have had a huge year. I got to do the interview that went with his DIG Issue 76 cover that Jared Souney shot. I got to put it all together which was huge for me. I was psyched to be involved with something that A LOT of people got psyched on. This photo is funny because it was totally random. I didn't even process it at first, then realized his entourage of Edwin, Jeff K and Neyer. This has been a Facebook defaulter a few times this year for him too, haha.
Wells and I in Milwaukee before hitting Chicago. We are tight with the Fonz. This particular night I was a shitty wingman for two girls Wells had lined up. I was shitty because he gave me the shitty girl. It's not my fault.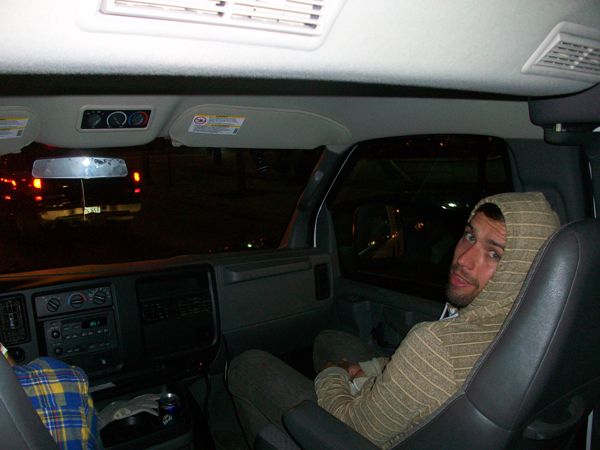 I crashed at Kevin Porter and Dave Leep's place twice this summer. It was real good since it saved me a ton of money on the hotels, but it also was rad because we went to a ton of real good spots for food and to ride in the process. Thanks for that, Kevin. I can't wait to make it out to Chicago this year again.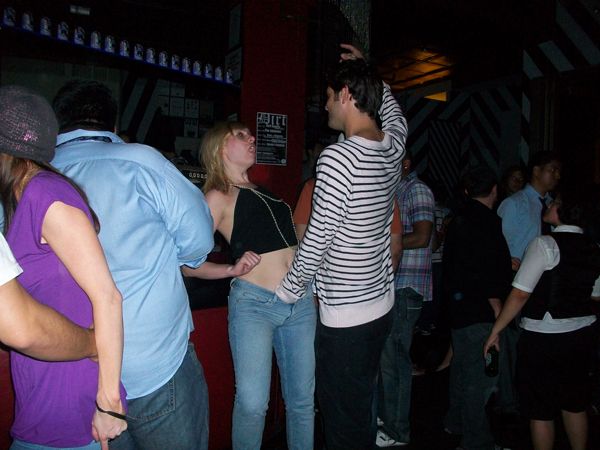 The Party Cam is my point and shoot that I usually always have on me during trips. The above photo was a work in progress that a few of us got to watch from the start when the girl and guy locked eyes, all the way to the finger bang in the middle of the Red Bull after party. The things you happen to see in life is incredible.
Red Bull Stomping Ground Scraps
DIG – Repo: Red Bull Stomping Ground
Party Cam: Red Bull Stomping Ground
Then July came. This was the start to a busy month. It started off with a trip up to Ben Polaschek's house for a 4th of July jam at his pretty much finished and amazing backyard. Upon entry, my brain melted when I realized this yard in the middle of a suburb of Minneapolis had 7 foot tall dirt jumps and a giant roll in. Holy shit. That's really all I can say about that. The day was filled with good people, good riding, and good food. I didn't even touch my bike since I'm such a pussy, but it was still a real good time. Here's two photos of the same trick over two different jumps. You can check out more photos in the link below.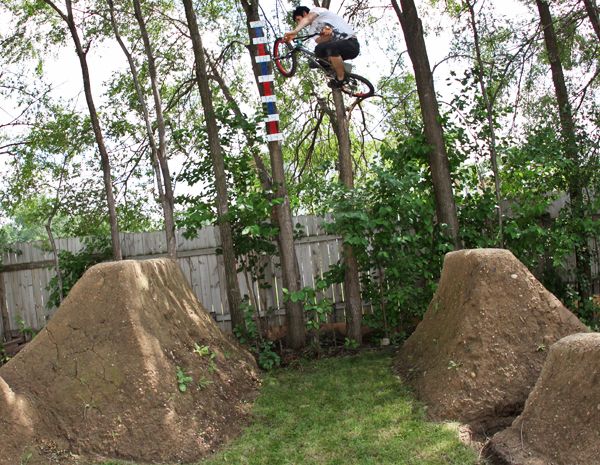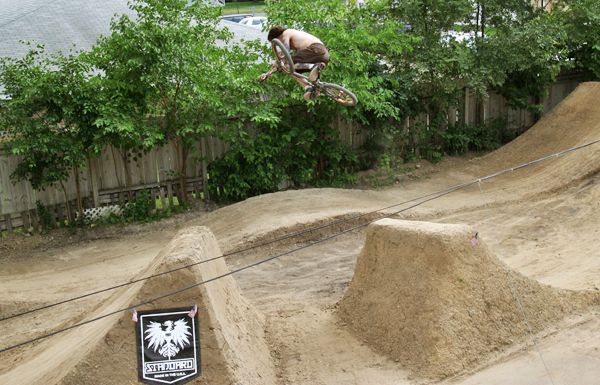 Spot Check: Ben Polaschek's Yard
The next stop was a trip to Chicago for the Dew Tour. This would be the second Dew Tour I've attended. It's kind of a weird thing. I love going to contests to see everyone, but I kind of get real burned out because it's always a bunch of the same tricks over and over again, or circus tricks that just don't make sense. Only a small view of what BMX is, but really the only thing people outside of BMX are exposed to for the most part. Needless to say it's a great place to learn how to shoot photos because you have opportunity after opportunity to shoot a good one.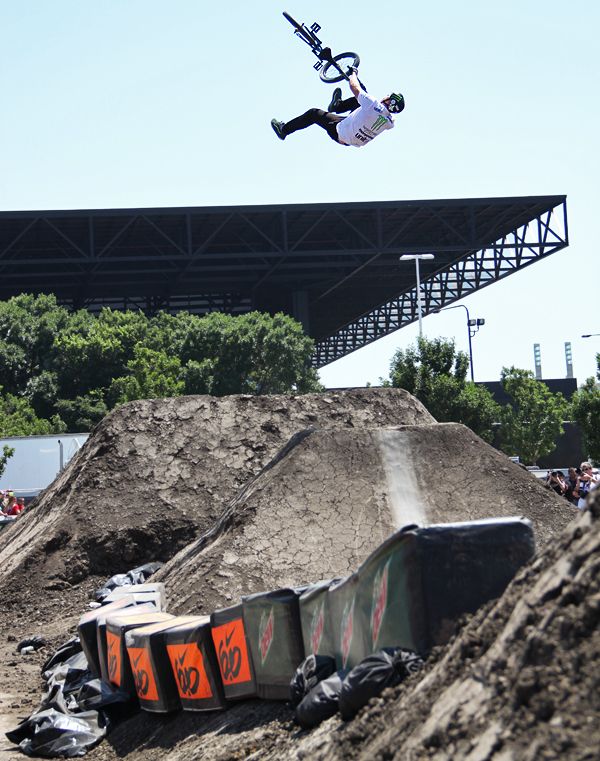 Cam White is one of those guys I've crossed paths with a few times, and I've never actually introduced myself. Not because he's a bad dude. I just don't really know how to introduce myself. However, this photo did turn out real good and I was real psyched on it.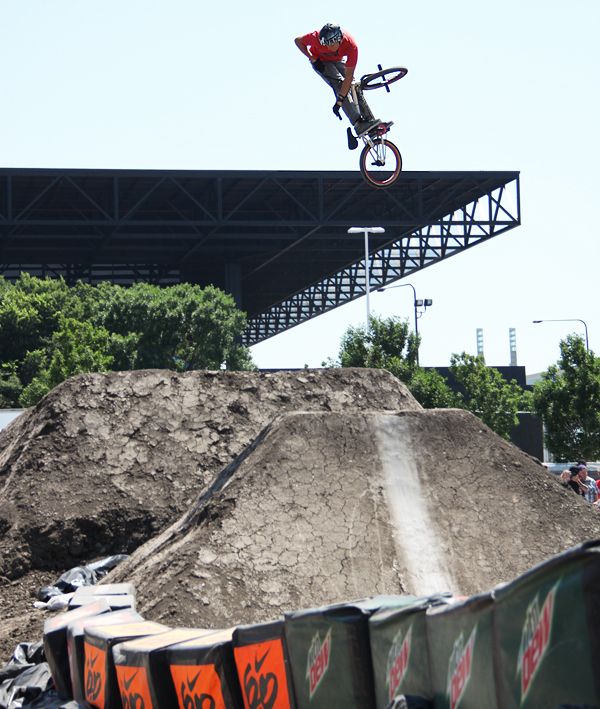 Gary Young is one hell of a dude. I've been a huge fan of his for years, and it's always good when I cross paths with him to chat a bit. Very friendly, and an absolute shredder.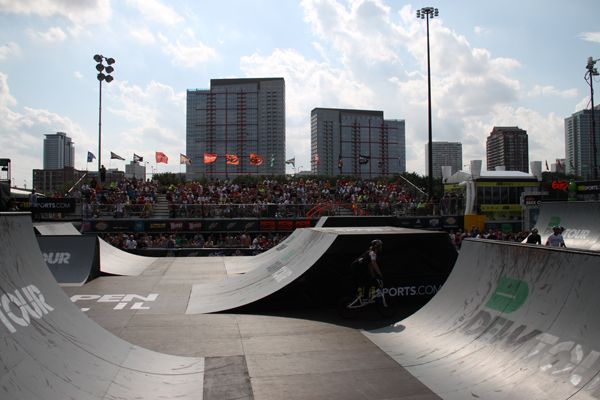 Going through photos, this one stood out to me for some reason. I think it's just because it's kind of crazy to be able to sit on the opposite side of the crowd with the people I looked up to growing up, who I can call my friends now. Or because the view isn't absolute shit. I refuse to hang out in "the pit" on the other side and shoot photos from there. It's the worst spot to be for the whole course and I wish Dew Tour would realize that.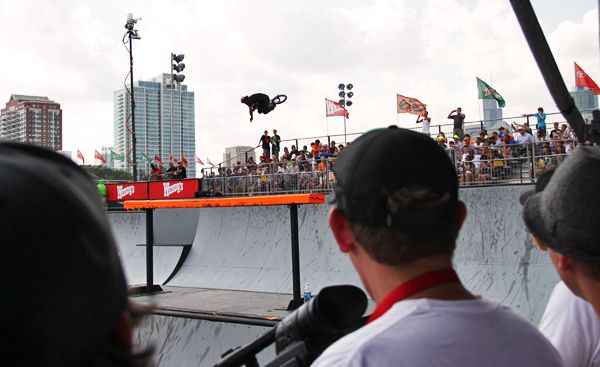 I really got to know Morgan Wade on the Levi's trip I went on in 2009. He beats the shit out of himself, and still manages to get up and blast off again. This photo was a bit of an accident, but really gives you an idea of how high he does go. Hell yeah, Morgan.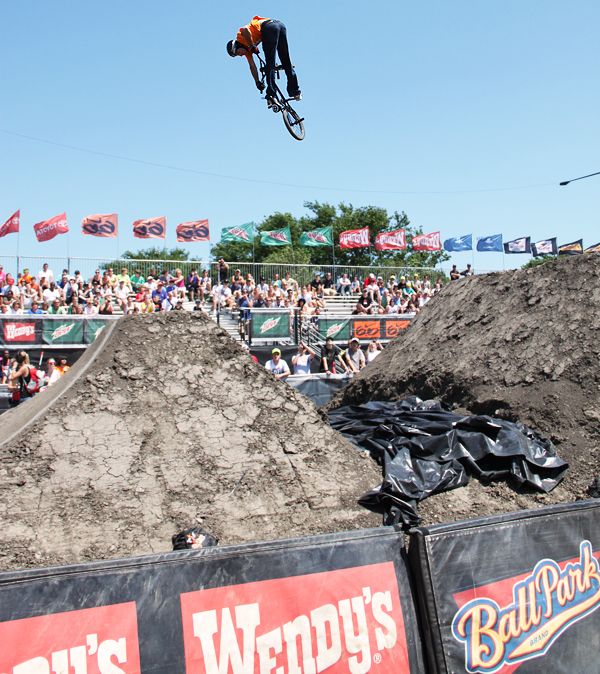 Managed to get another 3 turndown photo from Doyle!
Catfish was the very first interview on BMXunion in 2007. He was also a huge inspiration to me back in 2005 when he told me to chase my dreams. Years later, he is somebody I consider to be a good friend. I've never had a bad time when that dude has been around and I look forward to the next time we get to hang out. The last two years we have had this thing where we get a photo with him and a mic at every event. I wish it was a joke, but it seriously has turned into at least 12 photos from places from California, all the way to Toronto. It's amazing where BMX takes you if you try to make it work.
Brian Tunney, Micah Kranz and a bit of Deuce posing when we were just hanging out between stuff. Brian is hilarious and his humor can be a bit confusing at times. I've questioned a lot of things over the years that have come out his mouth. Definitely always good to see him. Micah, there's no question about that.
August brought the best trip of the summer. The Sun Ringle AMERICA trip. The idea of the trip came up on the drive back from Chicago and I didn't know if I was invited or not, but I told Wells I'd go. There's no way in fuck I would miss a road trip across the country with the Sun crew. I learned on this trip that I never will miss a Sun trip either. Invited or not, I'm going. It was the best trip I've been on. 10 days of very unplanned fun with a few destinations to keep us moving from point to point. There's quite a few photos from this trip because of that too…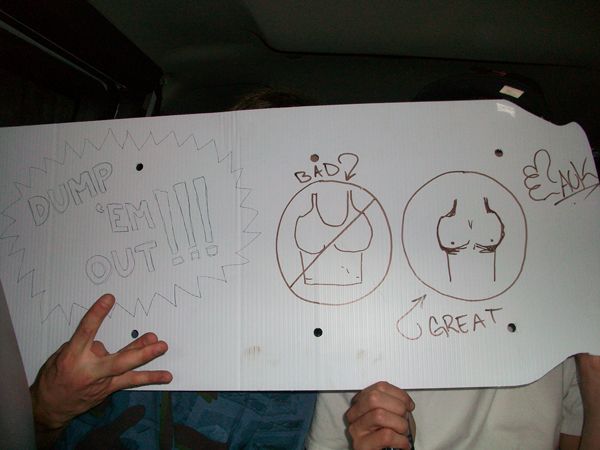 The trip started out like most of my trips this year in Milwaukee. Reed Stark and I met up with Wells, Jeff K and Jeff Dowhen to party for a night in Milwaukee. Then we made our way down to Chicago to pick up Josh Eilken and Tony Malouf. We found ourselves with a shit ton of NOS, and a sign. Let the Dumping begin…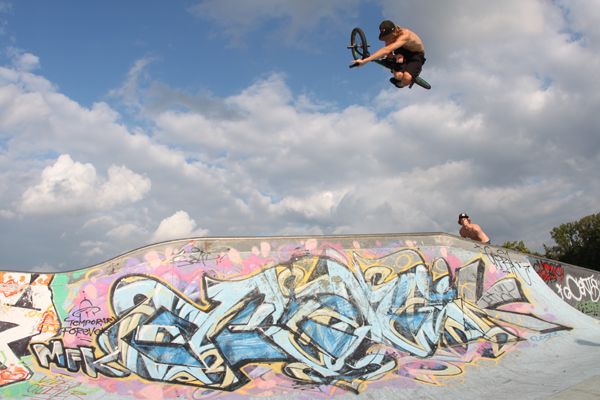 This was the first time I got to spend more than a day with Reed Stark. I knew he was good, but holy shit is this kid GOOD. I've got to see Reed quite a bit the last few years since he is about an hour away, and he is always getting better. This trip was the trip that finally turned him pro, and there's no doubt of why that is in my mind.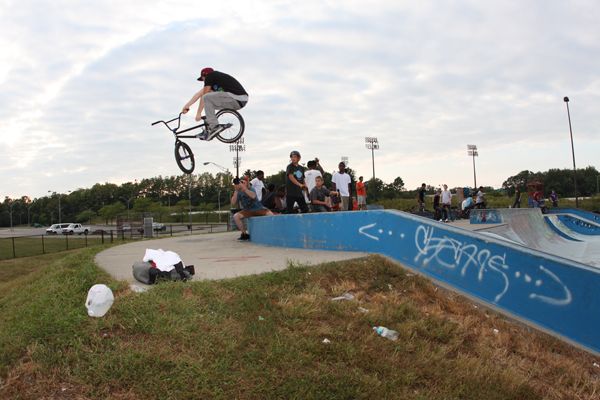 I was always a huge fan of Jeff K from the MidwestBMX site, and this was the first trip I got to hang out with him for an extended period. Jeff is very consistent and very good. Always psyched when he's around.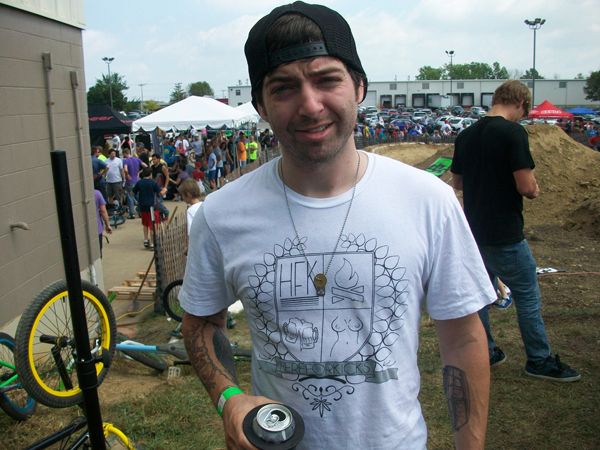 The second day of the trip we made it to the DK Dirt Circuit which a ton of people came out for. Ryan Sher was hanging around doing Subrosa stuff and in general partying.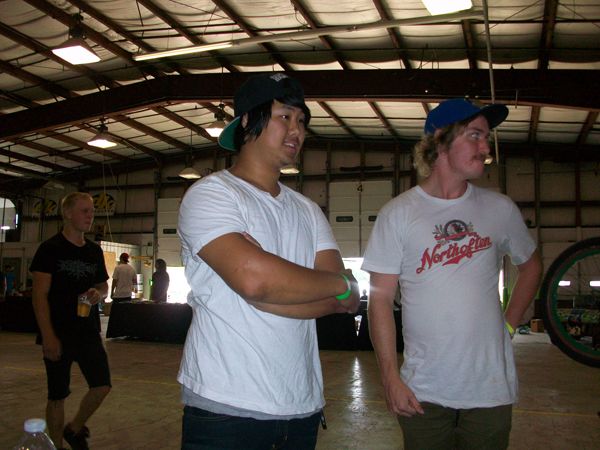 Jeff DuPaul was in the house managing his team and making sure partying was happening. That's why Jeff is the man.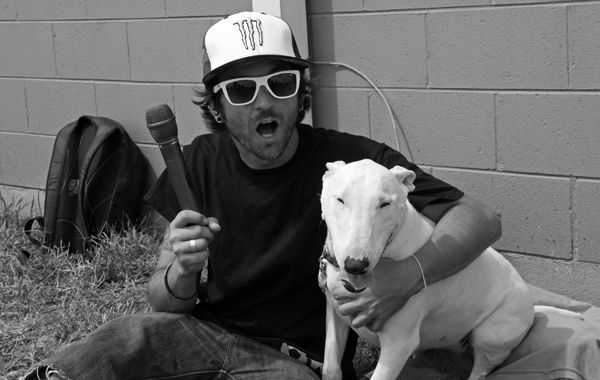 Oh look, another mic photo with Catfish. I wasn't lying…
David Grant at a dirt contest? You bet he was pissed. Haha I always think of the first time I met David in Chicago when we saw a dude get beat up by a bunch of bouncers in 2009. Good times.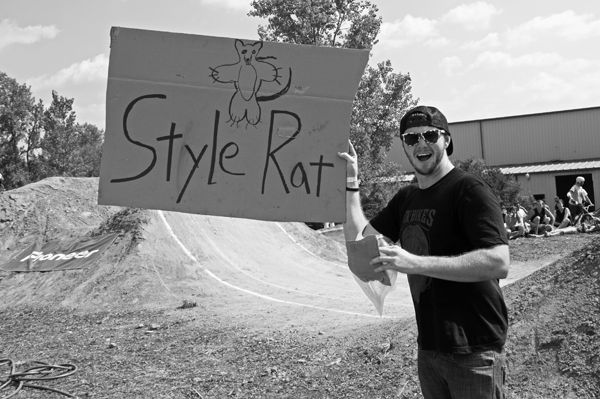 Brian Hunt was on hand to make sure everyone was aware of Chris Childs' antics.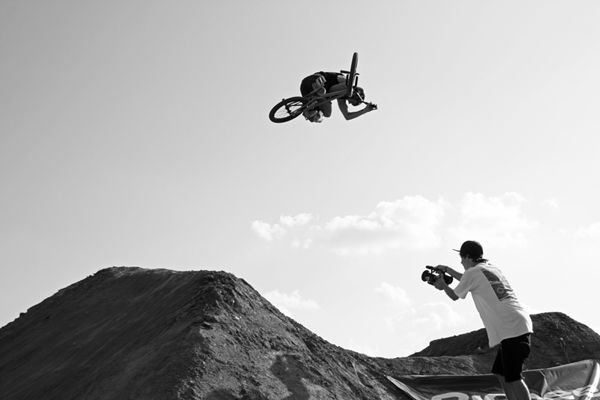 The Style Rat.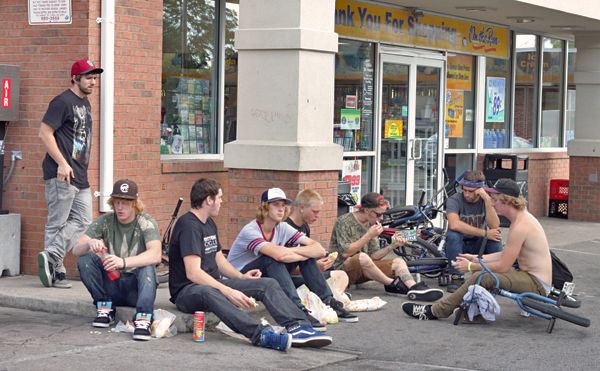 After the DK Dirt Circuit, we made our way to Columbus, Ohio for two days. We didn't even make it past the campus and spots around it when we were there too. Didn't even touch downtown. That city has SO much for BMX. Make sure you get there some day. I hope to go back again.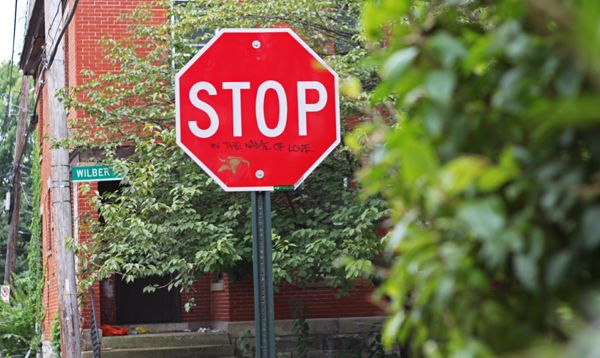 Stop sign outside the house we stayed at in Columbus. Thanks to all the guys who let us crash at their place.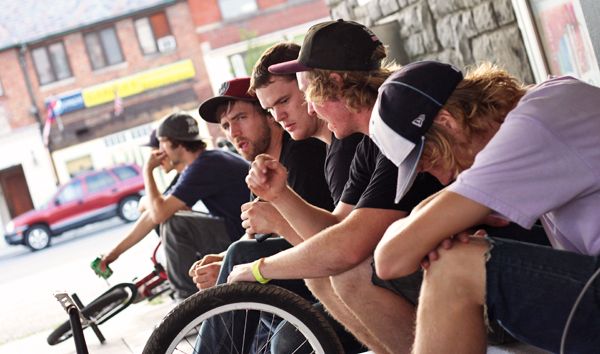 We did this a lot for some reason…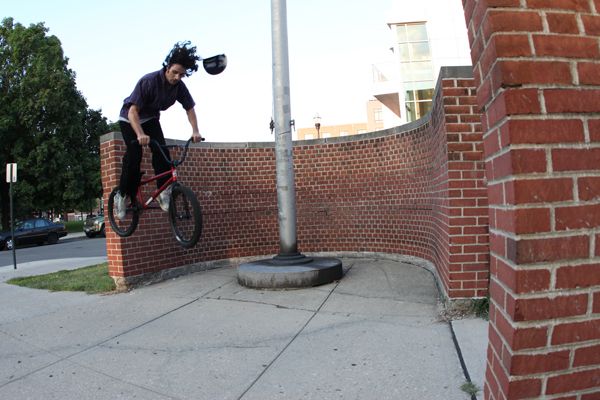 Had the chance to get the full Steven Hamilton experience while in Columbus. This is the last person I expected to see/meet when we were there believe it or not. He made for some serious memories and conversation the rest of the trip. Gap To Manual.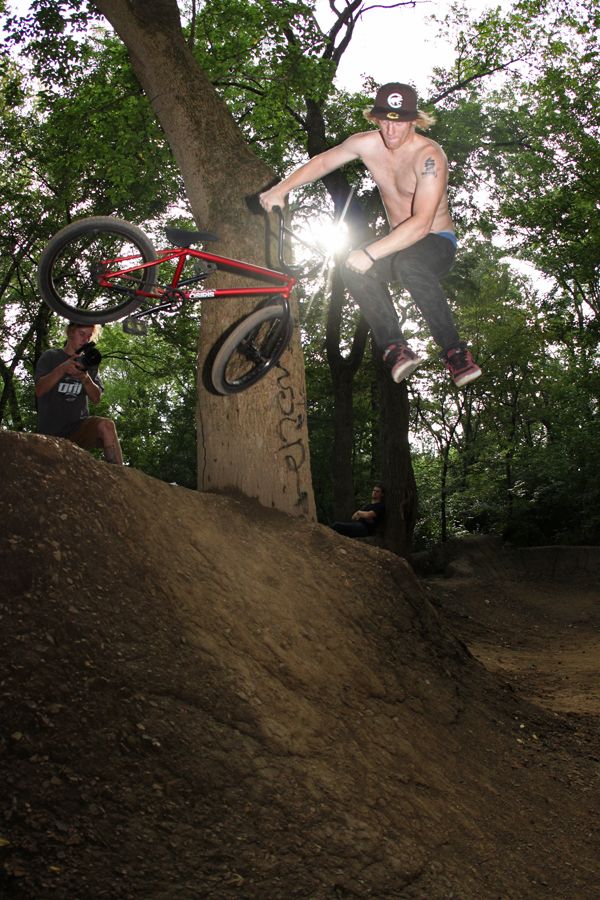 Josh Eilken is way under rated. Expect big things from this dude in 2011.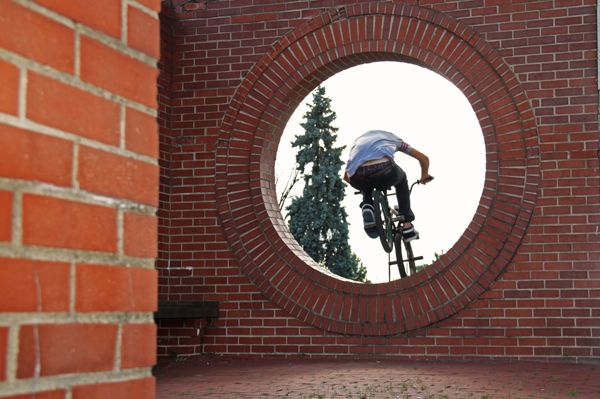 Another Reed Stark gem….
After Columbus we went and made a stop in Wheeling, West Virginia. Why? I don't know? It's a small town that was filled with people who were super confused by what we were doing there.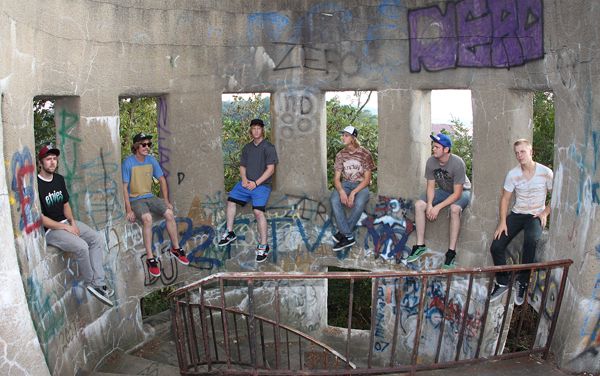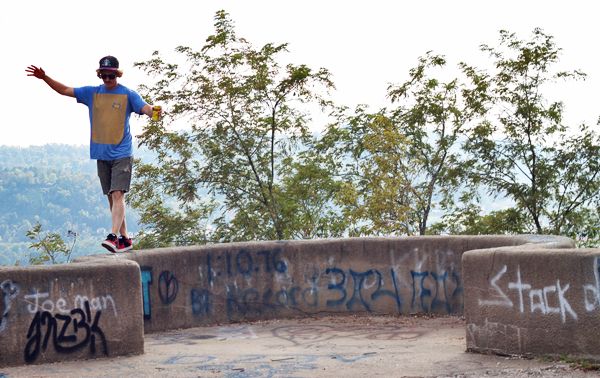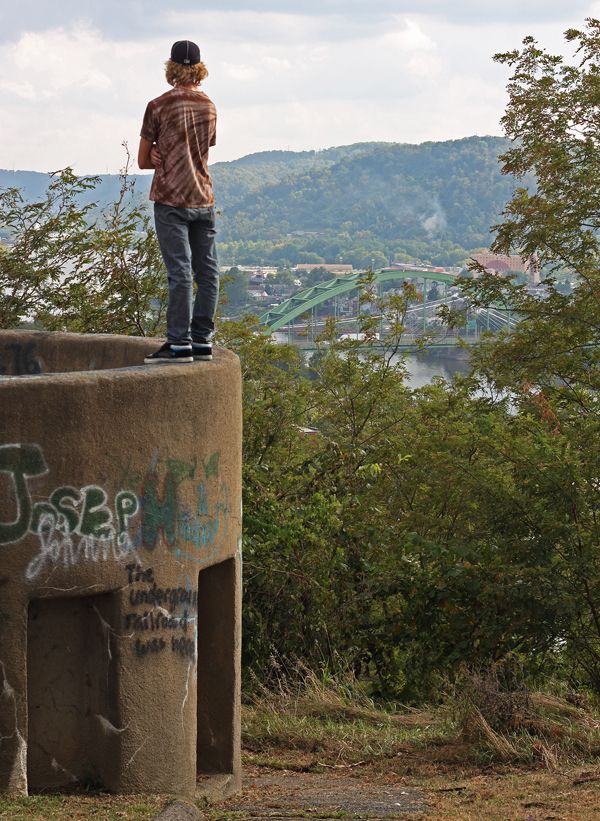 I'm not sure what the hell this thing was for, but it made for some good photos. Random ghetto graffitied cement structures are very interesting.
This particular photo has not been seen. We thought about using it for something more, but nothing ever came up for an ad or anything. This bridge made for a serious session until we got shut down by the cops. That was after they passed us 5 times before they decided we needed to leave.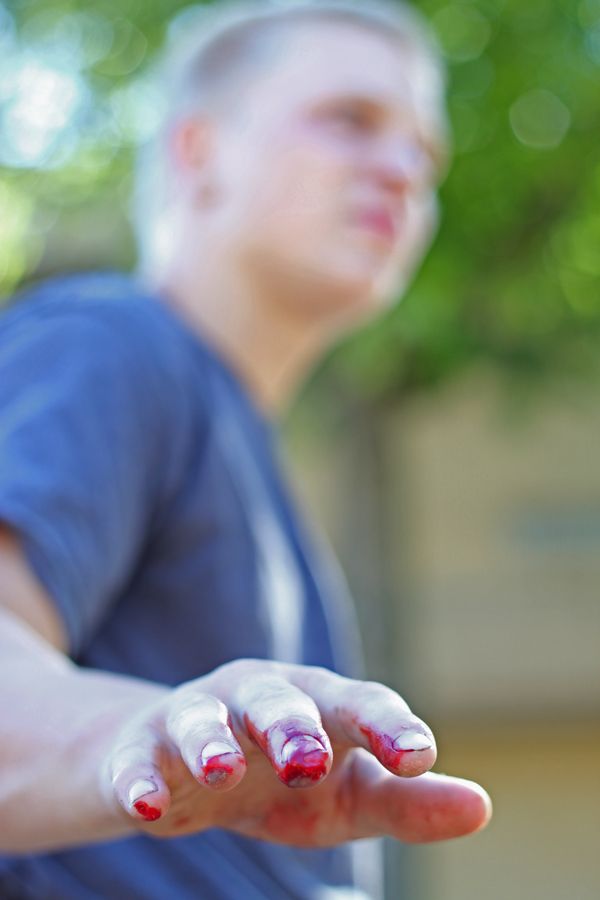 Ryan Wert is an animal. He goes huge, gets beat to shit, and keeps going. By far the bloodiest on the trip and by far surprised me at how rad he was in an all around sense. I hope he continues to blow up because he's got some serious talent.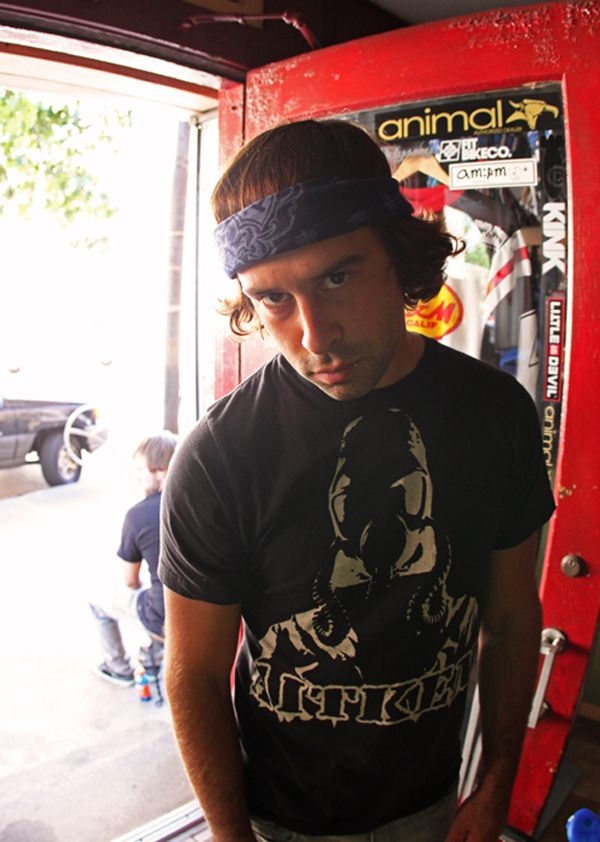 Nick "C-Beef" Steben tagged along after the DK stop for the trip. I met Nick in Milwaukee during BACO '09 if I remember right. Since then we have hung out a few times even though he lives on the east coast. Dude travels more than some pros! We had some damn good times on this trip.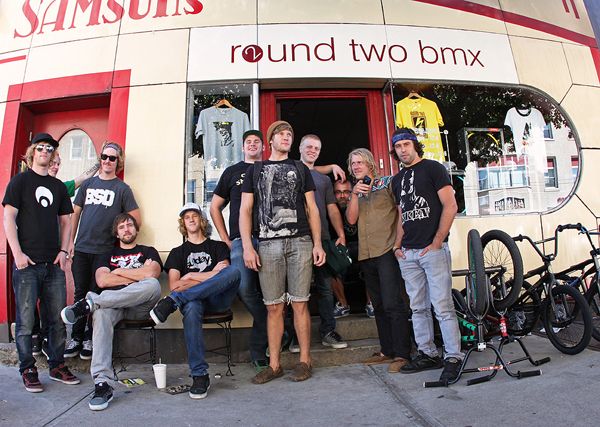 We ended the trip in Pittsburgh which was probably one of my favorite places I had gone all summer. The city had so much to offer, and there were soooo many people around to make for good times. I really look forward to the next time I get to make it to P.A…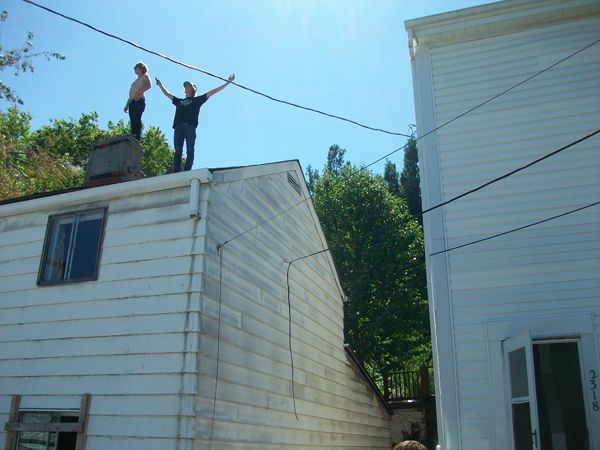 We stayed at the Wert, Valentine, Mulville residence during the stay in Pittsburgh. 4Loko got heavily induced in that time, and Tony Malouf did the gap from the house on the right to the left. Dowhen and Reed took the hard way over to that particular abandoned house. 4Loko became way popular weeks later which was weird since I feel like once again we were ahead of the curve on a trend.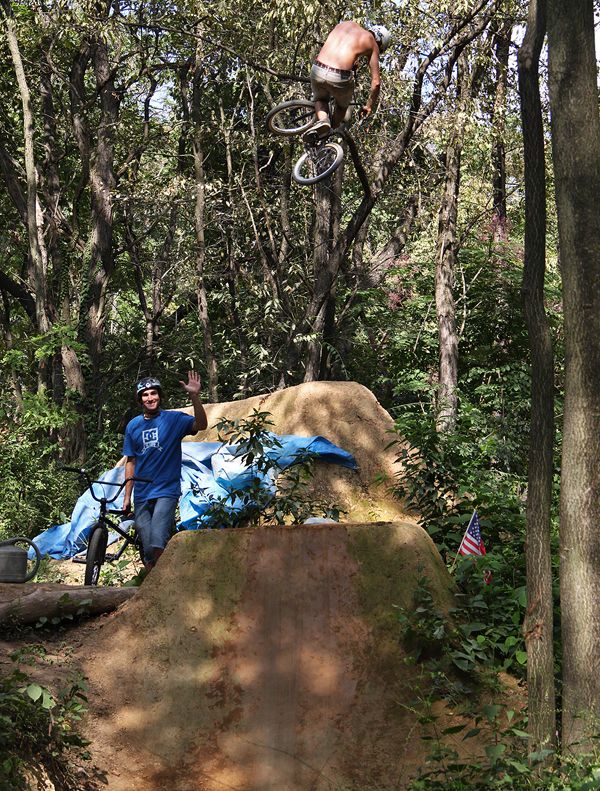 We got to check out Hazelwood, and for some reason they were cool with me taking a few photos. Hazelwood is Brian Yeagle, Chris Doyle, Ryan Popple and Tom Arkus' trails that are insane. So gnarly.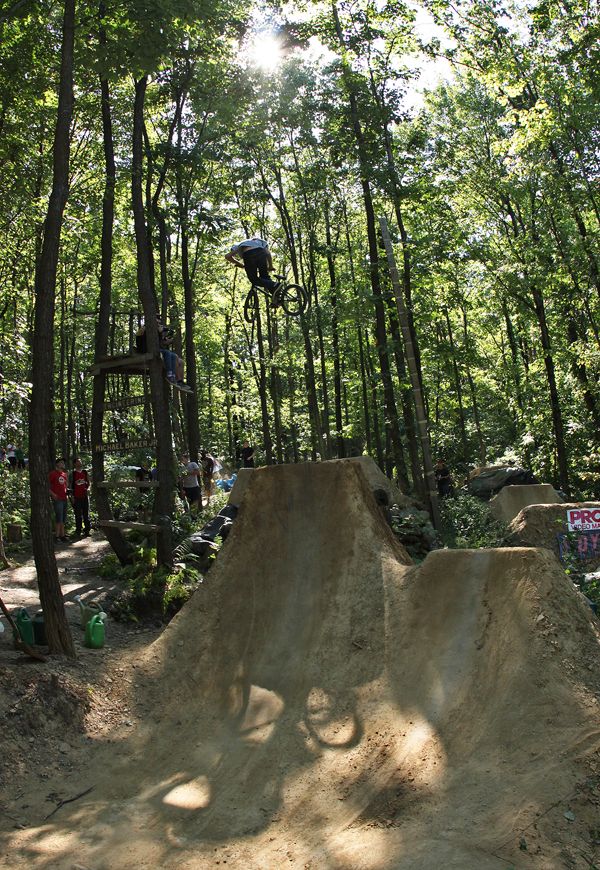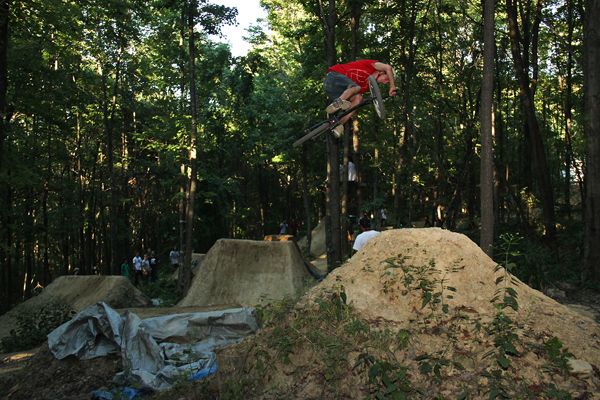 We ended the trip at the Potoczny Welcome Jam. The Potoczny's are some of the best dudes ever and they kick ass at BMX. So many people were at their place for the jam and so many crazy stories and memories come up from that particular weekend.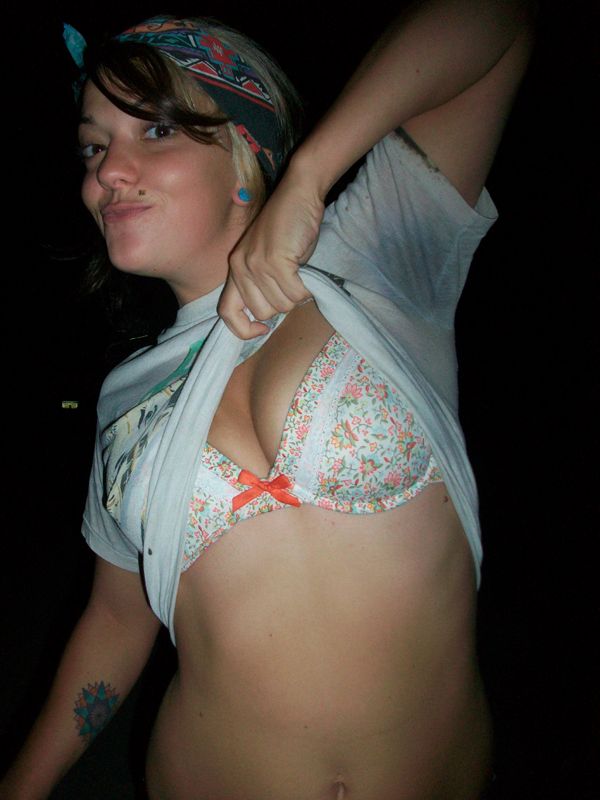 Lisa is rad as hell. She also likes to dump 'em out. Makes her a keeper.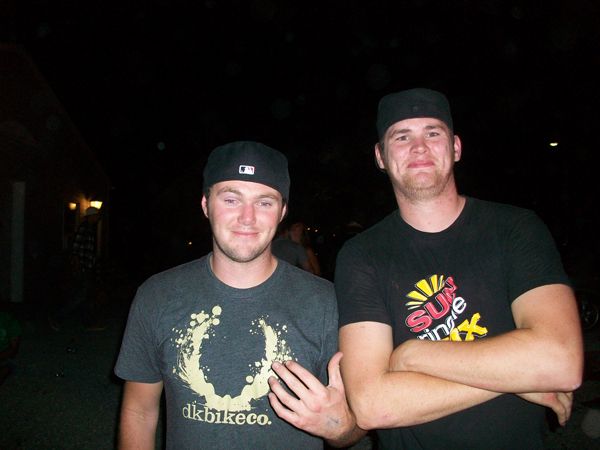 Brothers? The Hunt's or The Wells'? This picture cracks me up because I've heard people always say they looked alike, then at the Potoczny's they both happened to have black hats on and the resemblence was undeniable. I can't imagine how that Waye Rooney guy feels about having two brothers, but he has 'em.
There's a ton of photos from this trip left…
Update 1
Update 2
Update 3
Party Cam: Sun Ringle American Break Dance Tour
Sun Ringle America Trip – Lifestyles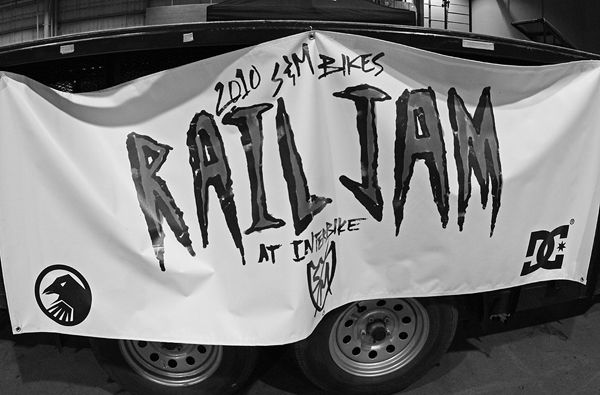 After August, September came up real quick. September is one of those months that have been interesting the last few years because of Interbike. I remember being 19, never flown, never been south of Chicago, never stayed in a hotel by myself… That was until I went to Interbike back in 2008. Life changer. That's really all that can be said. I've got a love hate relationship for Interbike. I love getting out of Minnesota, seeing pretty much everyone, meeting people I've been getting emails from through companies, and just in general having a lot of fun. I hate how much work is involved. It starts out with a lot of energy, then after three 10 hour days, you are pretty much dead. This year wasn't good since the night before Interbike, Brian Osborne and Chris McAfee (Sp) took me out and we got absolutely destroyed at a bar called Blondies. Blondies offers $20 all you can drink, and has had an Albe's sticker in the bathroom for many years. I can only imagine how many BMX riders have fallen to their deal of a lifetime on the strip. I told you, this is why I hate Brian, haha.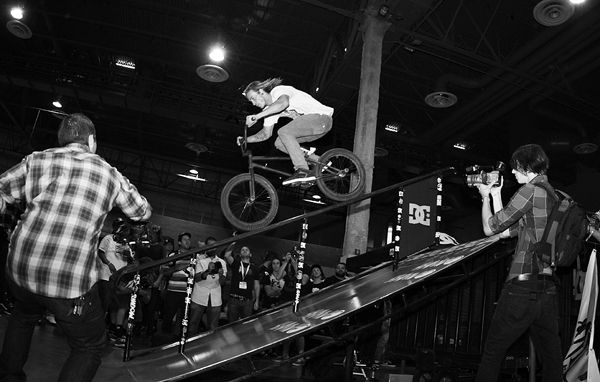 Obviously a high point to mix Interbike up is the rail jam. It's wild watching everyone start going off and pushing each other. The above photo of Dave Thompson ended up being my favorite from this years rail jam and it was a complete accident. I was going through photos when I saw him coming out of the corner of my eye. I aimed, clicked, and hoped for the best. It worked out in my opinion….
This photo is interesting because it was the judges of the rail jam. Combined, each of these guys have a lot of history behind them. One has died a few times, two have some very amazing video parts, and one rode for JNCO's… Wait, Leigh rad as fuck so it's okay. This photo makes me laugh because Van got pissed because he thought I was trying to grab a photo of the scores. I almost felt bad, but my level of caring who won the rail jam was at about 0 since everyone killed it, so I just let it slide.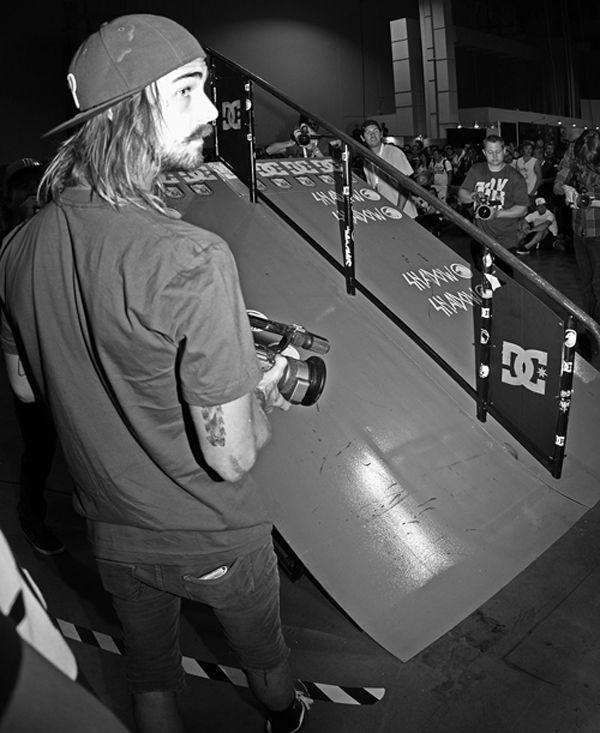 Miles Rogoish is one of those people in BMX that is completely on his shit. He's had his own weekly video series for about two years now, a signature frame and products coming in hot, multiple DVD's he has been involved with riding and filming wise, and has in general created a real good name for himself. I look forward to the times I get to bump into Miles since he's a real interesting dude.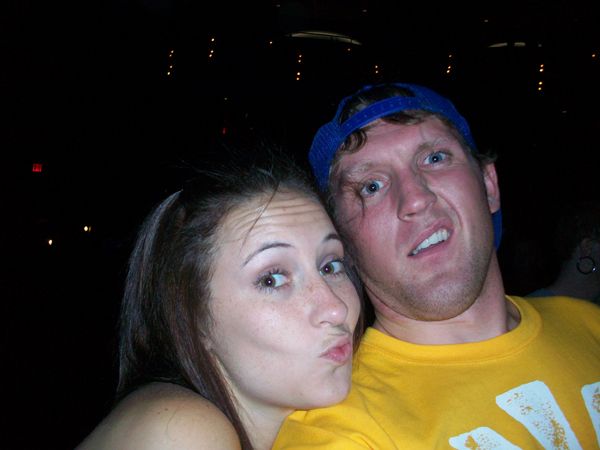 Ashley is well known as being "the girl at the Sparky's booth". In 2008 I was too scared to talk to her (I'm a pretty shy dude sometimes), in 2009 I gave her a high 5 (trying to avoid being a creeper), and in 2010 we ended up being real good friends somehow. It's kind of a weird how that works out. This photo stood out to me because of that timeline.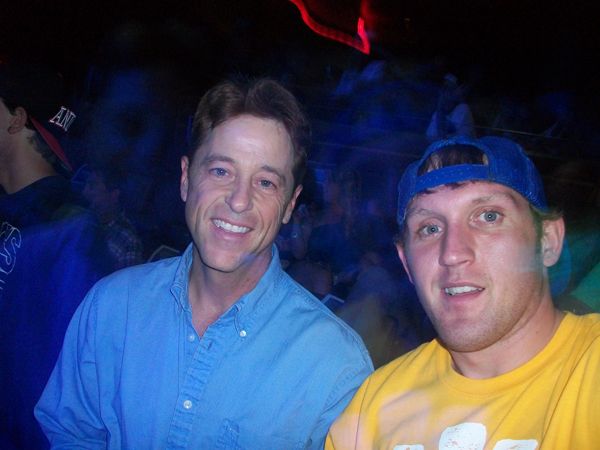 This particular photo is real funny. I was hanging out at NORA Cup, pretty tired from the past few days of Interbike followed by partying, and Cru Jones walks up and stands next to me. Doesn't say anything.. Just hanging out off to the side like me. I think he figured I knew who he was, but I wasn't going to say anything, so he introduced himself. I hadn't had the chance to meet him in the past, given we have been at a few different events the last two years or so. We ended up chatting for a bit, and then he handed me a free drink. That's right, Cru Jones got me a drink. Suck it! Haha.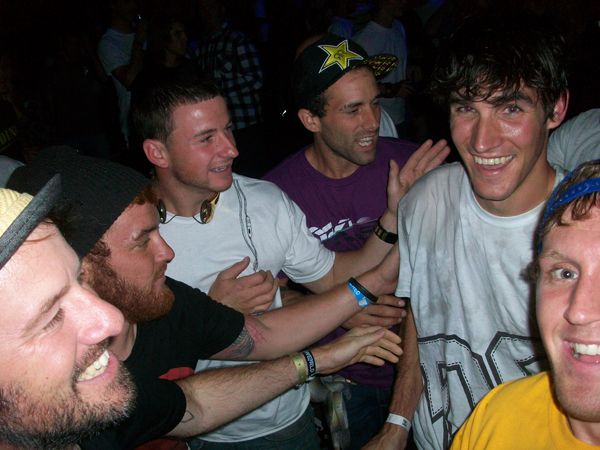 The ender… This particular photo made it to this for a few reasons. Sure, it looks like I'm taking a creeper photo, but in reality it was just Chris being swarmed after he won Dirt Jumper of the year and everyone was going nuts. There's probably 30 people with a similar photo of them with Chris. This photo is crazy to me because 10 years ago or so, he was one of the first pros that really got my interest. Always heard crazy stories from the older guys who saw photos and video parts of him killing it. Then I ended up being at the NORA Cup when he won the award he should have won 10 years ago in the first place. Kind of weird for me I guess.
All of the Interbike coverage.
Rail Jam Scraps
DIG- 2010 S&M Rail Jam Photos
Party Cam: 2010 Interbike / NORA Cup
Since September I've just been chilling in Minnesota riding and working. It was a real busy year and it was good to get some time to chill and not be having to be anywhere every other week. I'm kind of disappointed I haven't gone anywhere in a few months, but at the same time I think it will just give me the motivation to start 2011 on the right foot. Hopefully a trip to somewhere warm, Cali or Texas… maybe both? We will see where things go I guess.
I'd just like to thank everyone who have been apart of my year, the people who put me and the people I was up with for a night or two, and just in general all of the good times. I can't wait to see what the new year brings, and I hope I helped you get psyched on BMX from all the interviews, reviews, photos, and what not. I appreciate you for checking this out! 5707 words later, I am done.