While I was at the Dew Tour there was quite a bit of down time. The people over at Matador had a booth set up for Dennis to do an autograph signing, and asked if I would be into asking him a few questions. I decided it wouldn't be a half bad idea. I just had to wait a bit while Dennis fought off all the high school chicks swarming him. Seriously, the kid is a ladies man. I really didn't have any questions in mind so we kind of winged it. Dennis probably had a million questions thrown his way that day so I wanted to keep it short. Here is just a few questions and some photos I snapped during the weekend there.


Name: Dennis Enarson
Sponsors:
Rockstar, Matador, Demolition parts, Haro, Nike 6.0
How did you feel the whole weekend in Chicago went?
I haven't rode in 3 months, so I didn't expect to do that well. Like making into the finals and everything got me psyched. I felt like I did alright for not being able to ride in a while. It's good to be back on the bike.
How's your shoulder and everything doing now?
It is real good. The whole weekend it didn't bother me at all. I was doing tricks I haven't done in a while and stuff so that was real good. I'm just psyched to be back on my bike.
So I take it you haven't been able to spend much time at your new place. Aren't you still pretty close to your parents house with the ramps and everything though?
Yeah, I live about a half mile away from my parents where my ramps are at. I can just cruise down to their house in two minutes when I want to ride. I like it when I am home definitely.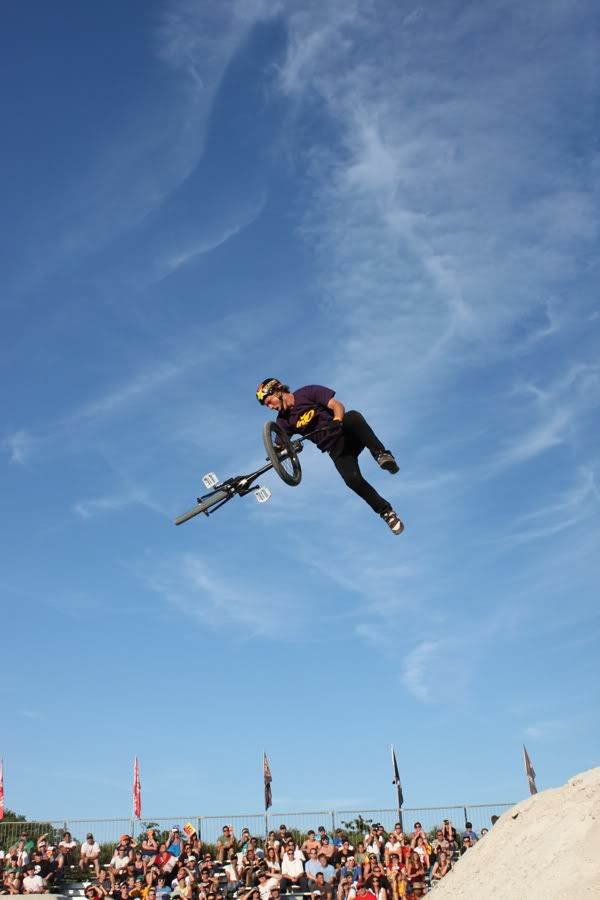 Have you been filming since you got back on your bike?
I haven't started filming for the Demolition video yet, but soon. I did just go on a trip for the new Ride video though. There is another video I am going to have a part in, but that's still a secret I can't really talk about yet. I'm really psyched to get three offers in one year to do parts. It's real good.
Are you planning on filming much around San Diego and your home area?
For the Demolition video I definitely want to film a lot around San Diego and everything, for the other videos I feel like I want to get out and film when I am on trips and everything.
Now that you are done with school do you feel like a lot of pressure is off you and everything?
Oh yeah, school was hard for me. I would be on a trip one day, school the next, then off on a trip the day after, I was always falling behind. It was so hard towards the end of the year, but now that I am done it's all good. I'm really stoked to be able to just focus on riding now.
Yeah, how do you feel about the announcers saying "You can finally start your life now that school is done." and everything?
I don't know, I feel like I started my life a long time ago. Its something to talk about I guess haha.
Contest wise, are you going to the Worlds and everything?
I was going to go to the Wolds, but some Nike stuff came up so I am going to miss out. I guess I always got next year and everything.
Are you still able to ride your local parks and everything when you get time to ride at home?
Yeah, I mean I feel like sometimes I'm not a local at the parks anymore since I am always gone, but its always fun to be able to ride those parks and everything.
Where are you going after this?
I've actually been gone for 3 weeks, so I get to go home for a bit. I go home for a week, then to Portland, and then another week off, then another trip and everything. It's pretty wild. I'm going to be super busy all summer.
Below is a Day in the Life edit Dennis did for the Demolition site.
________________________________________________________________________________
I figure this might go well with this too. I got this press releaseish thing the other day…
"We are running a sweeps on Matadorsnacks.com/sweepstakes.asp. Every two weeks, in coordination with Dew Tour stops, MatadorSnacks.com a new winner will be chosen. All you have to do is enter and you have chance to win. We just awarded a Haro bike signed by Dennis Enarson to the first winner on Monday. We hope that more people will enter to win the sick prizes we have lined up. Right now the sweeps is running a trip for two to the Orlando Dew Tour stop and a winner will be chosen on the 13th. Some of the other prizes include a 42" flat screen, game consoles, autographed bikes, skateboards and snowboards, and more!"