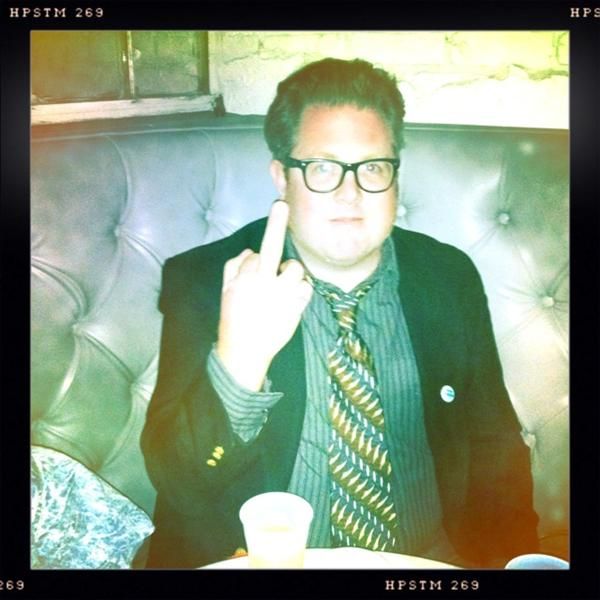 Steve Crandall is one of those guys who I know is always having fun and getting into something. Obviously, he's always on the go with FBM and contributing to plenty of projects like the Least Most. Steve recently took the crew on Megatour and it looked like a good time to catch up with the Crandaddy and see what's new. Take a quick peek…
Name: Steve Crandall

Location: parts unknown.
Sponsors / Hook ups: I sponsor and hook up The FBM and Nice teams with BMX related goods and such. (Nic Ferreria is NIce Manager)… For My bike, Profile, ODSY and Tioga helped out. Thanks guys.
Years riding:
Been riding forever I think, hit my first jump in summer 79 I think, My first official BMX race in 86, Been counting since then, so I guess over 25 years.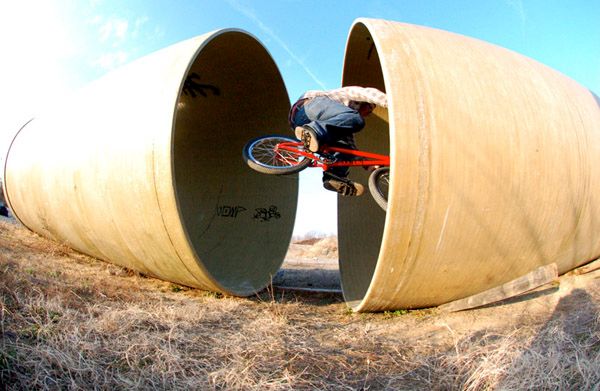 Photo: Latane Coghill
All right, so what's new with you Steve? Didn't you just go on Megatour? How did that go for you?
Mega Tour was sick, Texas in March is phenomenal. The FBM team rides hard, parties hard, and laughs even more so it was a great time. Darryl Nau was also on board as a special guest. He's the human embodiment of a classic Metallica song combined with the best air guitar session ever!
I know you have been in some pretty interesting situations over the years. Did you have any strange encounters on the trip that's worth mentioning?
For Mega Tour we drove around in a School bus painted to look like a hippie Church bus, and I didn't realize we had no taillights till we left Dallas just after Rush hour in the dark, traveling on the interstate. That was sketchy. Overall the whole trip was wild, but no major mishap's, or over the top antics, just steady mobbing on the wild side.
What's going on with FBM these days? Are you guys working on anything fun that you can tell us about?
FBM is good, we are going through a few changes, and continually trying to dial things in… I have a few Iron's in the fire for some potential big fun this year, but its still pending. Currently we are testing FBM headbanger bars-Ginch bro Signature bars, a Tom Blyth Sig. Frame Called the Bellwitch, revamping the 2012 lineup of completes, and are rolling out this seasons FBM Handbuilt frames, which look kick ass, amongst other things…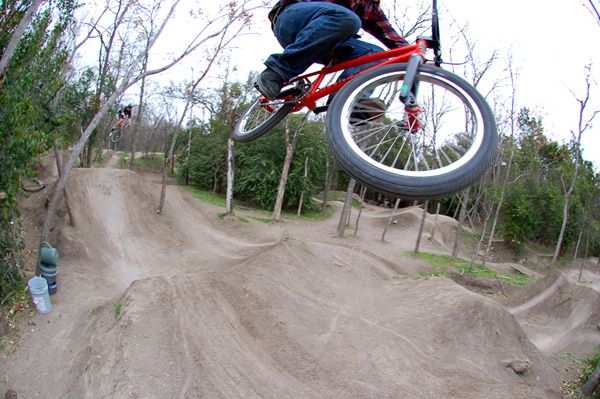 Photo: Joe Rich
How are things going with the team these days? Care to hint at these plans for the summer?
The FBM team is as awesome as it has ever been, a few years ago they were all up and comers, and now they are all starting to really shine, I think that will be more obvious after Megatour, and later this summer, when people start to see more of them all. We will be on the road off and on all season. I love the FBM Team! Thanks for being awesome guys!
Have you been working on any more Brawlin' at the Belmar style contests? I feel like BMX needs another one of those.
This can also be answered above… working on some stuff, but nothing is set in stone. We have been doing a lot of smaller local style Jams, we did one in December at Ramp Riders in St. Louis, where we bought all the riders Pizza, We had a Groundhog's Day jam at East Shore In Ithaca, where we did some best trick giveaways, and this Friday, we just got together "Friday Night Horror" at Anti Gravity in Newport News Va. a jam/ gathering, just to get people stoked on BMX.
I think it's real important for local scenes to have stoke boosters once in a while, just to remind people it's really fun to be a part of BMX, regardless of what kind of riding you are into…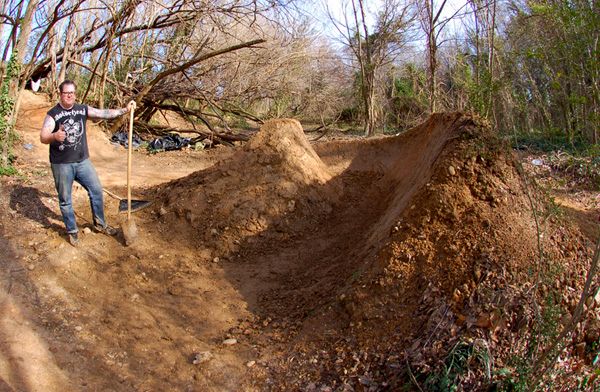 Trails season is almost upon us. Where will you be found with a shovel this year the most?
I have been working on some jumps with My friend Matt for a season and half, its sort of an old man style spot, modest, but fun, and not crowded….
Can we expect a Steve Crandall edit this year?
I'll likely be editing some footage of the FBM team, as for my riding, we'll see…I'd have to step up my game a bit to want to put anything together.
You have been working on the Least Most blog for a while now. What's that site all about for those who don't know, and what have you been working on for that?
Least Most is quite simply Just another outlet for expression, and creativity in the form of Bikes, Music, art, adventure, and the overall pursuit of goodtimes. It is a website that hosts features, videos, has a news blog, as well as an automated Video and rss feed…My friends and I use it as a way to publish the stuff we are interested in seeing, and sharing, to shine a light on some of the people, places and events in our culture that sometimes fly under the radar. I post a lot of my photos and some videos on there, sometimes I shoot bands that I am into and post that, it's all pretty random, but I enjoy it, and people seem to dig it.
Have you been contributing anywhere else lately?
Sometimes I do Stuff on ESPN, and send photos to Netley at CASE magazine…I recently finished a year of monthly stuff with BMXPlus where they published some serious nonsense I put together for them…that was fun.
I don't think a lot of people realize that you are a really good artist. Have you been working on any fresh pieces? Do you have any sort of shows or galleries coming up? Do you have a site where you showcase your drawings and stuff?
I haven't done any paintings or anything recently, I guess I have been spending a lot of time trying to learn how to shoot photos, building dirt piles, traveling and doing FBM stuff…
Oh, so you have been shooting photos? What kind of a setup are you working with these days?
I have a basic setup Nikon, with some Pocket Wizards. and flashes… Chris Hallman taught me about trying to do more with limited resource as far as photography goes, he is the master with that. I'm trying to follow his example.

Evan Venditt – Photo: Crandall


Garrett Guilliams – Photo: Crandall
Is there anything else you have been up to lately that I've missed?
Just trying to have a good life…Thanks to all the good people in my life, and all the people that support FBM!
See you on the road somewhere this summer…