The last few weeks have been awesome with the weather. I've been able to get outside more and more to ride and unless you live in California, Texas or Florida you probably know how good that feels after being cooped up so much this winter. Also, in those last few weeks, I've been running a DK Orbital front wheel. Here's what I thought of it…

Alright, so let's start this off with the basics. The Orbital wheel is a DK Alpha 3/8th's hub with sealed bearings that is laced to a DK Orbit double wall rim with double butted spokes and brass nipples. It weighs in at 2lbs and 2oz.
It's available in the cyan blue that I have, all black, gold, green and white.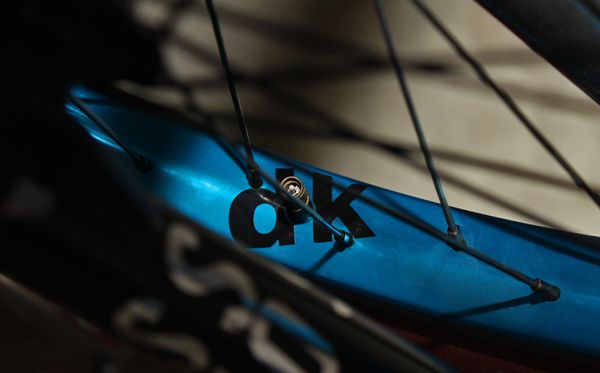 When I first picked up the wheel, I noticed first that it was a pretty rad color of blue and that it was real light. Everything seemed to be put together proper and it spun. Sweet. Pop the tires on and go.
I've ran folding and wire bead tires on this rim. There shouldn't be a difference, and there isn't, but who knows. Somebody might be concerned about this for who knows why? You wouldn't believe some of the things you can learn from peoples searches on Google because of Analytics.
That's all.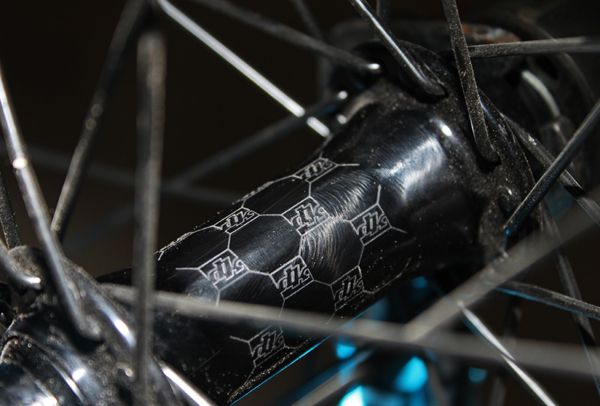 I've for some reason never bought a 3/8th's peg, so I've been running an adaptor piece and it seems to be working fine. I always forget to put it inside the peg, so that explains the gap between the fork and peg on the axle. So far I haven't had any issues with the axle bending or anything. I've been doing some grinding and bonks on it and I'm about 180 pounds of meat, so that's a plus. The hub has also stayed tight, so I haven't had to tighten the cone nuts or anything like that at all.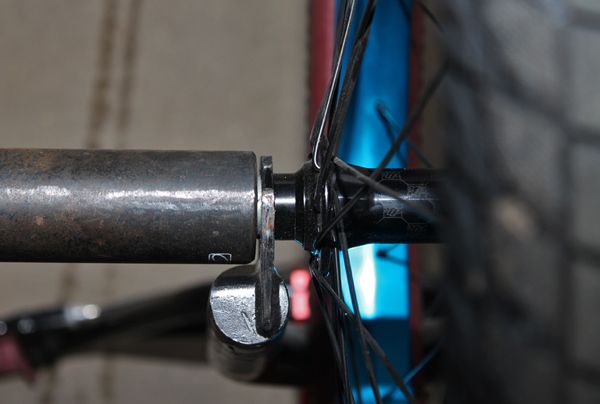 I've noticed the last few days that the spokes are starting to come loose and needs a truing. That'll be pretty common since all wheels need some time to break in and seed fully. I've also noticed a little bit of side to side in the rim, but that's also a pretty quick fix on the truing stand. I like to do sliders so the side impacts will do that regardless.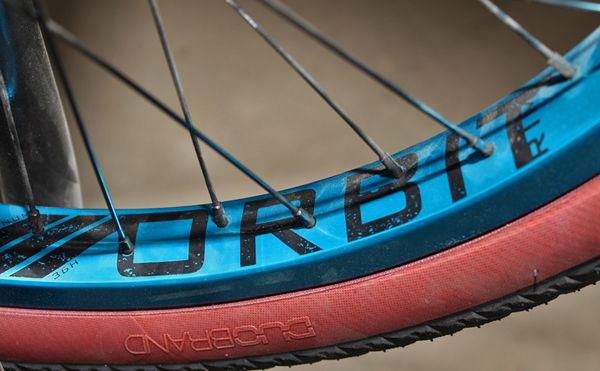 Overall, I liked how light the wheel was, and that it held up well to the riding I've been doing. The blue looked real good, minus it standing out since it's the only thing blue on my bike. The bearings were solid and rolled smooth as well.
I personally prefer female axles since they don't stick out as much and like the more flush look. I haven't cut the non-peg side down yet, but will probably do that since I always get scared it will catch my ankle or something weird like that. I've also noticed that the spokes have been taking a bit of abuse from the grinding, so I'd suggest running a guard if you grind on this wheel.
I'd say if you are in the market for a new front wheel and you are looking for something that comes in a cool color, runs smooth, and is light weight you should consider the DK Orbital wheel. I really haven't had any serious issues with the wheel and feel like it should hold up for a while without too much maintenance required.
You can pick up the wheel for $119.99 on Dan's Comp and for $119.95 on Albe's.