The other day, Steve Crandall hit me up with an email that simply said "What are you doing?". I responded with "Not too much. What's going on?". This isn't normal, so I knew something was up. I just didn't know what. The next email popped up and asked if I would be interested in checking out the brand new FBM full-length DVD "Thousand Yard Stare". Video? What? Hell yeah I would! Shortly after I was sent a sneak peek link with a password to get a special screening. We decided it would be pretty cool to drop the trailer with the review. So you're getting a double whammy today. Check out the trailer that's premiering for the first time above, then hit the jump and check out what I think of the soon to be released video…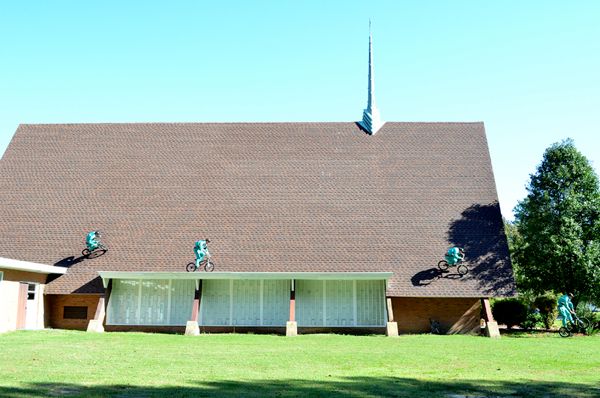 The fact that FBM was doing their first full-length team video since the All Time Low video back in 2001 (not including some of the extended edits, mix tapes, Gypsy Caravan's, etc that they also put on DVD since then) was a surprise to me. Not that I didn't think they were due for it, they were. I was surprised that it was kept pretty low key. I had heard people on the team mention that they were working on a video, but nothing was official or anything, so I didn't expect it to be out for a while. I guess I was wrong.
Going into the video I tried to prepare myself for what I was about to see. Anyone who has seen Albert Street or any of their other full-length videos know what I mean. Fire, booze, explosions, antics, nudity and Lou Bickle eating a light bulb were all playing in my mind as to what to expect. Then again, a lot of the original crew have grown up, had kids, got married, went to jail, got out of jail, work real jobs and matured a bit, so it was up to the new generation to try and make its mark. I had no idea what to expect….
Starting the video out, things were looking like I had expected. Heavy metal mixed to some wild roof and street drops, trails, rails, crashes, a car on fire and a few kooky looking people giving the Thousand Yard Stare. That's a proper intro to me.
After the intro, it jumps into a mix section featuring Eric Holladay, Derek Nelson, Chicken Holiday, Neil Hise, Wormz, Evan Vendatti, Lantane Cothill, Joel Barnett, Dave King, John Tillman, the Ginch Brothers, Zac Costa and I'm sure a missed a few others. A few of the legends on the team mixed in with some of the new guys. Trails, rails, head banging and roof drops.
Eric Hennessey has a full section that was filled with a good mix of trails, pools, street and the Terrible One ramp. Eric kills it on a bike and a skateboard in this section and I was definitely impressed. I should also mention Kenny Horton has a few guest clips in this section and all I'm going to say about Kenny is that he's an absolute beast.
Following that was Garrett Guilliams' section. In all reality, I expected him and Adam to have a Ginch Bro's section, but they both were able to stack enough clips of them absolutely blasting trails and cement parks which works for me.
The next section is what I'm calling the Legends Mix. The section features John Lee, Dave King, Ryan Corrigan, Stew Johnson, Steve Crandall, Rob Ribbs, Darryl Nau, John Corts and Mike Corts. Does the title I gave it make sense? Each dude managed to grab a couple of clips for the video between the trails and street spots. I really wish the Corts brothers would pop up more often. Those dudes are beasts. Hell, I wish all of these guys would produce more clips.
There's also a couple of clips of Jackson Allen and Paul Horan in this mix. I'm a big fan of Jackson and I really wish more footage of Paul would pop up on the regular since he's very, very under rated.
Magilla follows that up with an all trails section to the twangy tune of Fire on the Mountain by the Marshal Tucker Band. I know, you can't grind at the trails, lame… whatever. Trails are coming back, kids. I really enjoyed the chill vibe of this section and it made me want to go ride some trails.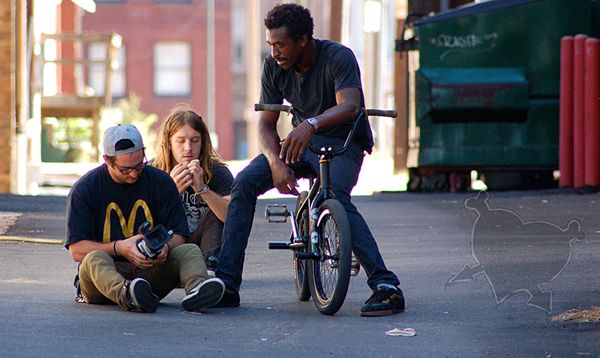 Now, if you street kids can make it through that, you are in for a treat. Tom Blyth has a full section in the video and holy shit is it good. He beat the hell out of himself for this one with some rail destruction, big gaps and wild wall rides. Tom's section is going to get my vote for favorite part of the video.
After Tom is Adam Gulliams. Trails, trails, style, blasting and heavy metal. That definitely works for me.
Following Tom would be the final full section featuring Kenny Horton. I was relieved to see he had a full section in the video since the couple of clips he had in Eric's section wasn't enough. All that my notes I took on this section say is "Kenny Horton – Holly fuck balls. Who falls off of a roof and gets up laughing?" There's some serious rail slaying and roof drops in this section. Kenny is an animal and I see why he got the ender.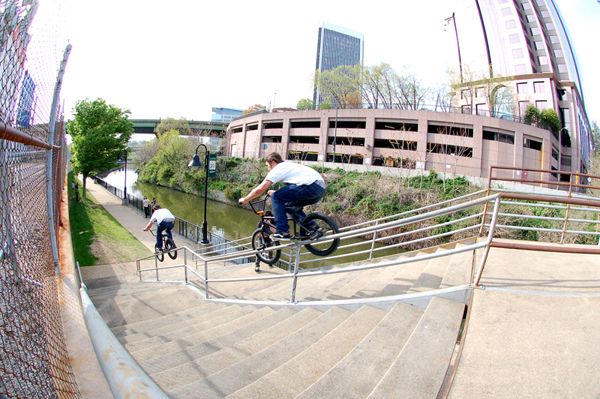 The outtro features dogs humping, windows breaking, more thousand yard stares and that car from the beginning was still on fire.
All right, so that's the break down of the sections. In true FBM fashion, the video featured a ton of guys who are on the team and who are just friends of the family. There were antics, fire, kooks, animals humping and some serious riding. The video definitely stuck to the same style of the past videos. However, I will admit, it was toned down quite a bit compared to how loose the previous crews could get. I'm not sure if that's just due to different generations or if the behind the scenes just wasn't filmed? Maybe that's what is in the 30 or so minutes of bonus footage that I didn't get a chance to see? I hope so.
Thousand Yard Stare runs for about 30 minutes which is just right. Not too short, not too long and it gets you psyched to ride. Add the bonus footage and you should end up with about an hour of goodness.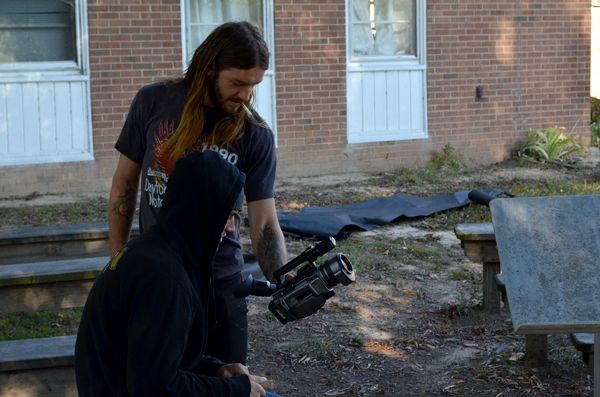 The majority of the filming was handled by Kenny Horton and Latane Coghill with the help of Joe Wisely, Clint Reynolds and more. There's no glide cam shots or really any of the fancy technical style that you see in a lot of web videos these days. It had the clean VX vibe. The quality looked to be high from what It was on Vimeo where I had the chance to check it out. That should mean the DVD quality will be a little higher on your TV and probably best watched from your couch with some pizza.
Steve Crandall handled the editing and did a good job of keeping the video flowing well. There weren't any over the top intro graphics or anything like that which is always a good thing in my book. Keep it clean and simple.
The song list was definitely what I expected with some heavy metal and classic rock. There's no dub step or pop music so I'm sorry if that's what you are into because you won't find it in this. Here's the song list…
Blind by Acme, 
Plastic Bomb by Poison Idea
Johnny B Goode by Chuck Berry
Dawn of Battle By Manowar
My world by the Descendents
Fire on the Mountain by the Marshal Tucker Band
Ami I evil by Diamond Head
Easy By Deer Tick
Doctor Rock by Motorhead
That's a hell of a song list to rock out to. I can dig it.
So what do I think? I think the video turned out real good. It had a DVD vibe to it which is nice since some of the videos I've seen in the past have a weird "this could have been a web edit" vibe. A lot of these guys kicked their own asses for this video and it definitely paid off. If you are into trails, street, rock and heavy metal, good times, pools, cement parks, blasting, fire and or dogs humping then it's something I suggest you check Thousand Yard Stare out. The video should be available soon. I just don't know when yet… Check out the trailer again!