So it's that time already for another product review. This time around, it's a little bit different. The reason for it being different is that Mutant Bikes is based in Portugal and isn't even available in the U.S…. yet.
So lets go over some of the features of the stem that maybe you noticed in the video above. The stem is made out of aluminum 7075 T6. It's 100% machined, from the cut outs on the sides, to the hollowed out inside between the bars and steer tube, hollow bolts by the clamp, and comes with a 50mm reach. Weighing in at 6.87 oz (195 grams) with color options of anodized flat black, orange (Which I think is more of a red, unless they make a red one and I'm wrong), purple and powder coat white.
When I got the stem, it was right about the time the snow started to fall. That means I was stuck driving an hour and a half to ride a decent park, or ride the tiny indoor here a few times to get a feel for the stem. I chose to film my sketchy self at the little indoor for one of the sessions. Feel free to tear apart my sketchy lookbacks and 540's.
I went from an Odyssey classic front load, which has a 53mm reach. So right off the bat I noticed the bars being a bit closer than I was used to. This really didn't seem to cause too much of an issue since it wasn't very long since I upped to the longer frame anyways. I think I was just relieved it wasn't a 48mm reach like the Eastern Decptikon that I rode prior to the Odyssey. Not a bad stem, but that is just too close for my liking.
Installing the stem went smooth and everything looked to be very quality. I did notice that the front bolts were a different size from the fork side bolts. I think it was 6mm in the front and 4mm on the steer tube? I'm blanking on the sizes but yeah, two different sizes. The bolts by the steer tube are hollow though, so that's kind of an easy way to save a little weight there. Along with the machining that also went into it. As you can see from the photo below they hollowed out the inside of the stem to save a few ounces.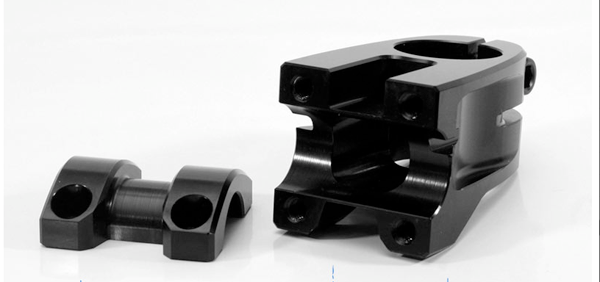 Riding the stem went well too. After a few sessions, I didn't have any issues with the bars slipping or steer tube slipping. Actually, random question. Is there a stem that is available now that does slip? I feel like that issue had been fixed a while ago. I guess I'm just not a big enough beast to make them move.
I haven't had any issues with needing to tighten the bolts down either. There hasn't been any weird noises or anything coming from that either. I was some what surprised since it seems like I'm always needing to at least make one or two adjustments when I put something new on.
So overall, I like the look of the stem. I feel like the added machining didn't effect the strength of the stem at all. I didn't notice any flex, or have any issues where it would make me think it's weak. I was into the color (even though it's a little darker than my frame… Oh well) over the gold stem I had on before. Also, there isn't much there in the weight department, so that is a plus. The overall feel of the stem was like most other front load stems. I'd say if you are into the look and length, this stem would be a good choice.
Here's the deal though. They carry Mutant Bikes in just about everywhere (U.K, Germany, France, Russia, Spain, Latvia, Singapore, Poland, Canada, Australia and Portugal) except for the U.S. So that does pose a problem for anyone in the U.S looking to get their hands on the Sin stem. I'd imagine it shouldn't be too long before they are available here, but then again I'm no distributor specialist.
If you have any questions about the Sin stem you can email Mutant Bikes@Gmail.com.
Here are a few more photos of the stem in different colors…