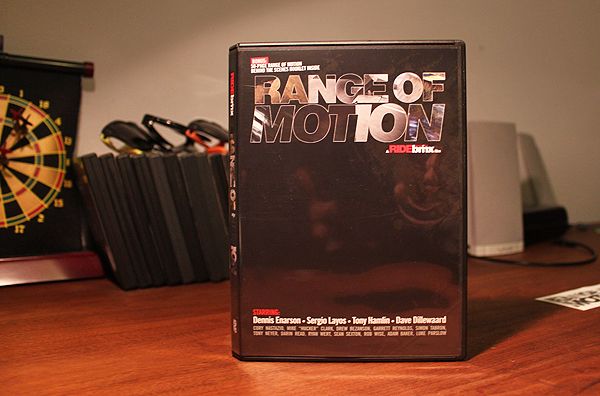 Ride BMX recently released their newest video titled "Range of Motion" for the world to see. The video is based on three trips featuring some of the best riders in the business and taking them to some amazing trails, cement parks, and street spots. Alright, obvious enough… Here's what it's really all about.

First off, the video is just stacked with riders. There are appearances from one clip all the way to a full parts from Tony Hamlin, Dave Dillewaard, Dennis Enarson, Sergio Layos, Mike "Hucker" Clark, Caleb Quanbeck, Mark Potoczny, Darrin Read, Simon Tabron, Ryan Wert, Drew Bezanson, Adam Baker, Cory Nastazio, Luke Parslow, Tony Neyer, Sean Sexton, Garrett Reynolds, Kyle Hart and Rob Wise all stacked into about 33 minutes. You can't really go too wrong with those names right?
The video is broken down into an intro, Tony Hamlin section, cement section, Sergio Layos section, trails section, Dave Dillewaard section, street section, Dennis Enarson section, and then the credits.
Range of Motion also features a crashes section which should have been titled Tony Hamlin falls hard… a lot. Followed by an extra footage section, staff section (Fat Tony, Ryan Fudger, Jeff Z, and Keith Mulligan), Trailer, and Droppin' in with Nasty and Parslow which basically just consists of Cory and Luke talking about what they thought of the trip, and talking about some funny stuff.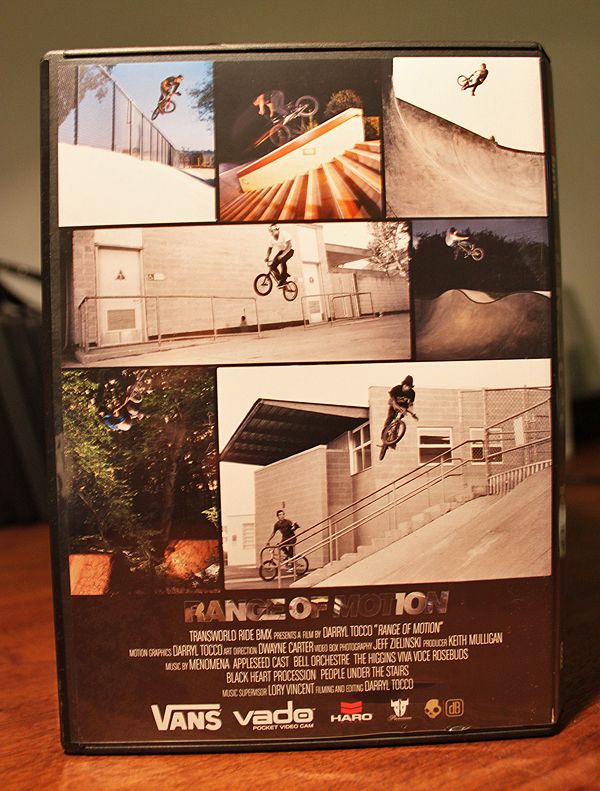 Going into the video I was expecting 3 big mix sections for each part of the trip (Street, Cement, and Trails) and if that was the case, I would have been pretty bummed. Luckily, it was broken down into 3 mixes and 4 full parts as I stated above. I'm far more favorable for full sections for riders in DVD's just because a web video is more where you would expect see a mix in. However, this video was filmed in a pretty short period of time, so it's understandable that there were only a couple full parts.
The mix sections of the video was pretty good though. I expected a few more clips out of a couple of the guys like Garrett Reynolds, but I think he probably had to save some clips for the Deadline video and the 90 other things he has obligations for.
If I had to pick my favorite part from the video overall, I'd say the Mike "Hucker" Clark clips due to the number of "what the fuck"'s I dropped. Has anyone else noticed this funny giggle laugh he makes when he falls? It's scary to think somebody can drop 30 feet from the sky and laugh about it. The trails spots were epic overall, and I just was real into what Hucker brought to the party. That doesn't mean the cement and street parts weren't good. It's just rare to see footage of some of the trails these guys got to ride on these trips, so I appreciate that. The cement parks were pretty cool, but it seemed like that section was a little shorter. The street mix had a lot of really good riding and spots. It's hard to say "I wanted to see this" because when it comes to street it's pretty unpredictable, but the guys made due with the spots they found.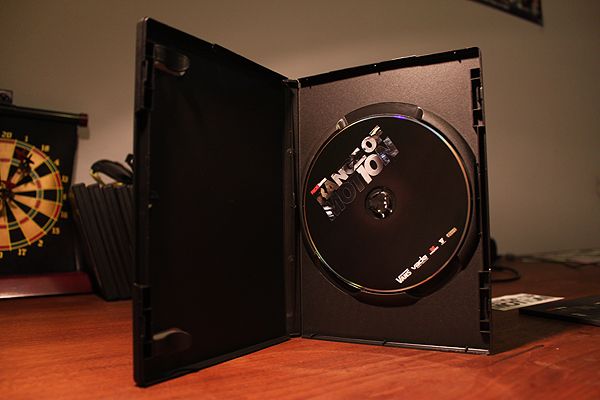 I think Ryan Wert is a good example of what it takes to make an impression on making a name for yourself in BMX these days. Basically, from my understanding he just showed up at all the spots they were going to and ended up getting a ton of clips and really wasn't supposed to be in the video at all. I'm not sure if that's how that actually went down, that's just what I heard. Either way, that is the way to make a name for yourself. Plus, I had the chance to hang around Ryan in Chicago (I think that's where I was?) and he's a pretty wild dude as is.
Tony Hamlin's presence in the video is awesome. He has a ton of great clips, but a lot of non-riding moments that were funny too. Some stuff goes down with a security guard or employee of some sort at a spot and Tony goes nuts on the guy. Not Mike Vallely nuts, but degrades the shit out of a guy mentally. That, and the crash section might have been named after him since he controlled about 30% of that part of the video also.
The music in the video is really chill with artists like Appleseed Cast, The Higgins, Rosebuds, Viva Voce, Black Heart Procession, and People Under the Stairs. All of which I've never really heard of before. No heavy well known rap or rock, just chill music to go along with the riding.
The majority of the filming and all of the editing was taken care of by Darryl Tocco. I think that should speak enough to you that you know it is put together well. However, there was a lot of clips that had multiple angles of that I was a little confused for the need for? Otherwise, I can't really complain too much about the way the video was put together and filmed. Darryl is on his shit.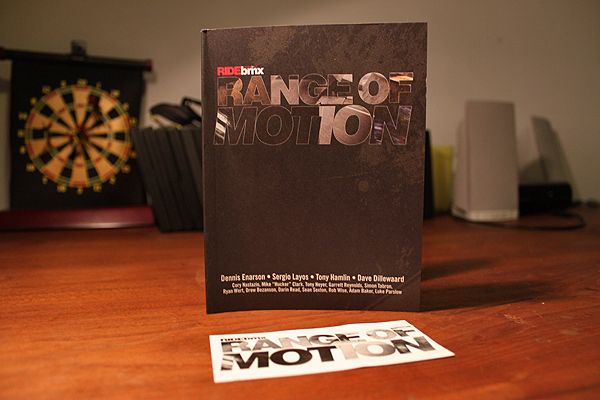 Alright, enough rambling about random parts of the video. Overall, it's a video put together by Darryl Tocco, with a really solid line up. I wish the video had more time to film so that more of the guys could have produced more clips (33 minutes is a good video length to get psyched to go riding though). The concept isn't a bad idea though (definitely not Flipside), and since videos are pretty hard to get a return of your investment I still give props to the Ride BMX guys for throwing down some cash to fly a bunch of riders out on a few trips to make it happen. I'm assuming Vans, Vado Pocket camera, Haro, Premium, and DB(?) all had some cash invested in making it happen also. The little photo book that comes along with the video filled with photos from all the trips is pretty cool, also. It gives you another perspective of how the trips went other than the video. So I'd say check the video out if you are into seeing a good mix of really good riders, with some amazing trails spots and good park and street spots.
The video retails for $24.99 on Dan's Comp, $24.95 on Albe's. Which means it is available now. The price is a little higher than most videos now days, but that's because they put in work on the book which features a ton of Jeff Z photos, and it actually comes in a case unlike the usual cardboard/paper slips most videos can be found in now days.
You can check out a bunch of the trailers, photos, and other things that went with this video on the Ride BMX website right here.
Range of Motion from Ryan Fudger on Vimeo.