(Fact: It's hard holding and focusing a Canon T1i while holding a flashlight)
After close to a year of knowing about Subrosa's Double Top Tube Pandora in the works, it was finally sitting in my garage waiting to be put together. I had been drooling over it since I rode Kyle Hart's prototype a while back, and really wanted to get some solid time on it. I've had the chance to ride it for a few weeks now and here is what I thought of it.

Now days it is hard to tell the difference between frames unless you were to build it up and ride it. The number one thing about this frame is that you can tell the difference between frames because of the two top tubes. Sure, this isn't the first frame to do it, but it is the first legit one in at least 8 years (at least that I can remember). This has been the biggest attention getter for people when they see it. It has also been the biggest factor for deciding if it is "sick" or "gay". The results are mixed when people look at it. Either it hits them with this need to talk about how badass it is, or it rubs them the wrong way and before you know it they are talking about how they would never ride it because of the two top tubes. The only problem with this is that Ryan Sher got exactly what he wanted. The frame doesn't need stickers and you already know what it is.
Alright, so here's the deal. I went from a 20.5″ Federal Hamilton to this frame. I opted to go with a 20.75″ due to wanting to try a little longer of a frame and just give myself something that would probably be better fit for the usual riding I'm doing. The frame also features a full 4130 Sanko Chromoly frame with a double butted down tube. 75 degree, CNC machined, and heat treated head tube. A 71 degree, internally and externally butted seat tube, with an 8.5″ stand over height and a integrated pivotal post. Internally and externally CNC machined, heat treated mid bottom bracket that has a height of 11.6″. Along with a 13.75″ chain stay, that has 5 mm thick drop outs, CNC machined details, that are also heat treated. It has low profile removable mounts, with removable cable guides. It comes in at just around 5 lbs even.
Upon the first few "adjustment" sessions I snapped my chain, and did a turndown that knocked my seat loose. The chain snapped due to me hustling to put it back together and bending a plate. I knew it was coming. The seat came loose because it wasn't tightened down right and was sitting on the ridges of the pivotal seat. Both my fault. Otherwise, I didn't really have to adjust much else besides my chain coming loose after a few ice picks and stuff. That was a good sign. I've never really had much luck with the removable brake mounts, or headsets staying tight after the first go for some reason.
What I noticed right off the bat was the rear end was longer than the Hamilton (obviously.. that thing is TIGHT). I was stoked on the longer back end because it allowed me to be a little more stable while jumping and everything. I also noticed my bike felt more balanced. The front and back ends were spread out more so it allowed everything to be more even. I like that too. In general I was a fan of the geometry. That doesn't apply for everyone either. Some people might prefer a shorter top tube, shorter or longer back end. I think I was mostly just ready to change it up a bit and longer geometry just ended up being what I was looking for.
So lets point out a few of the features of the frame. The twin top tubes is clearly the biggest feature. I've been asked what the point of it is and if it changes anything a bunch. The answer is.. it's all cosmetic and really doesn't act as anything more than a regular top tube… except for surfers. Those are definitely easier. The weight of the frame doesn't seem to get hurt too much by having two tubes and gussets to keep it stiff. I figure there is probably about the same metal in the two tubes as there would be one since they are smaller. When riding the frame, you don't notice the two tubes at all either. I basically forget I have that the second I start pedaling.
Built in integrated seat post. Alright, I'm all for pivotal seats and posts… but this is something I could do without. I'm a fan of having my seat a bit higher (maybe another inch tops) than the set spot on this frame. Then again, I'm sure there are tons of kids who prefer their seat slammed. etc. etc. Shit, Ryan Nyquist wouldn't know where his seat went on this frame.
The seat stay brace is badass. If you just glance at it, you don't really know what it is.. but if you look closely you can see a skull in there. That is pretty rad. Take a look…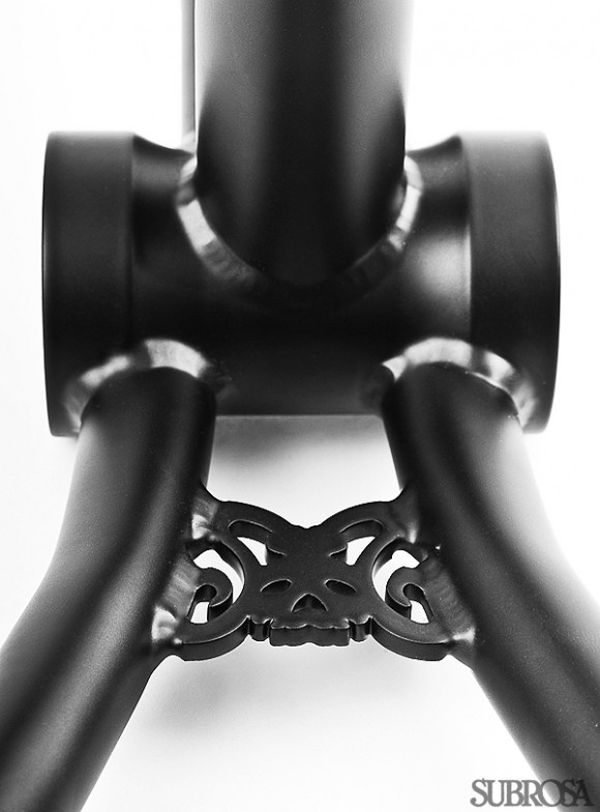 I should also mention that since the top tubes are separate, it allows for them to go all the way down to the drop outs. It's a smooth look, and a couple less welds to worry about. It's not a big deal to me. I could do with or without it, but if you are into looks then yeah it's a feature.
This doesn't effect any of the brakeless kids out there, but I was bummed when I realized they didn't have drilled tabs on the head tube. I was really looking forward to throwing my gyro back on. Given, it isn't hard to have a shop do it, or even get the kit from Albe's to do it myself… I'm just lazy and not into letting somebody probably mess up, or letting myself mess up like I did on an old frame.
So overall, I'd say this frame is good. If I was able to make a few changes like the seat post and gyro tabs being pre-drilled I would. Otherwise, I'm stoked to have the frame since I wanted something a little longer and everything. If you think the twin top tubes is sick, this might just be for you. If you think it's gay and pointless… well, you don't have to party like this. Subrosa still offers the Pandora frame with a single top tube.
If you are looking to pick one up, you might have to act quick. I heard that Subrosa is almost all sold out of the frame already. That doesn't mean you can't pick it up at a local shop that carries Subrosa or goes through Sparky's, or on Dan's Comp ($339).