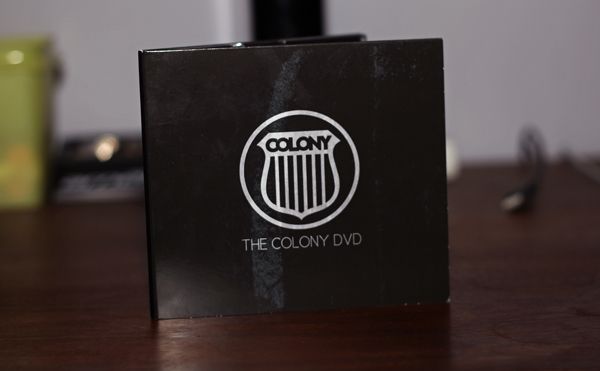 Over the course of the last two years, the Colony team have been traveling the world filming. They kept it all pretty hush-hush until recently for the majority of BMX which is actually pretty hard these days. When it was announced they were dropping a full-length, people seemed to be pretty excited and with the team they have these days, it's no wonder. Colony had Sidewall send me over an advanced copy of the video to check out along with FIVE copies to GIVEAWAY. All you have to do is "Like" The Union on Facebook and then comment or like the photo of the cover I'll have posted on the wall and I'll pick the winners next week. This is what I thought of the video…

Going into this video I had some expectations. I had been hearing a lot of good things and I knew Stewart Munro was handling things. If you aren't familiar with Stewart, he's definitely one of the top guys behind a lens in Australia these days and has produced a bunch of different things like These Days that came out back in 2008. I also know guys like Ryan Navazio, Justin Kosman and Terrell Gordy had contributed a few clips, so it's not like they were using the nearest homeless guy they could find to hold the camera.
Getting into the video, I was definitely a fan of the intro. It really gives you a chance to put a face to a name. I feel like I could identify a lot more people based on how they ride their bikes over what they look like these days so it was, in my opinion, cool how they did the intro over just riding clips like a lot of videos do.
I'll try and sum up each rider with a few notes I took of each guy in the order of their appearance. First up was Mick Bayzand. I'm psyched he had the opening section since his whole part is filled with good spots and he absolutely sends it on some big and steep rails. His pegs get a ton of use and I think you street guys will be real into this.
Next up was Alex Hiam. I won't lie, I was excited to see what Alex could come up with. He's so young, but could put a lot of pressure on some of the bigger named pros in a game of B-I-K-E. Alex didn't disappoint with his technical park riding and just in general amazing bike control with still being just a little guy. Plus, he held his own on the streets which was cool since I feel like that side of him doesn't get seen on the web much. Keep your eye on this kid in the future, he just keeps getting better.
Following Alex was Liam Zingbergs who has some crazy nose balance and keeps moving at a good pace. I was definitely into this. Liam shares a song with Brock Olive. If you're a fan of barspins, I think Brock will keep you entertained since he definitely has them on lock.
After those two is the man behind this whole project, Clint Millar. This section had me cringing. Not because the riding, but because I was expecting to see clips of him almost ripping his foot clear off. I can't handle seeing that shit, so I was trying to prepare myself for it. I'll tell you, Clint did the world a favor because in his own words "Yeah, nothing on my crash in there as it is too gruesome". Sorry to bum you out or give that away. Otherwise, Clint's section kicked ass. Plenty of front brake, 4 peg man status riding. If you are looking for Rider Owned brands to support, I think this should give you more than enough reason to back Colony.
Following up Clint was Pete Radivo. His section is filled with technical riding and big stuff, but his signature superman seat grabs make this section that much better.
The Family section consists of Shane Badman (flatland), Broc Raiford, Peta Shepherd, Bruno Faucon, Steven Moxley, Attila Godi, Paddy Gross and Simon O'Brien (flatland). Everyone produced some real solid clips and I was left wishing Steven Moxley had enough time to film a full section for the video.
Another section I was excited for was Cooper Brownlee's. Anyone who follows the Australia scene, his photo, video, Focalpoint or Colony work is aware of Cooper's amazing talents behind the camera and his love for the Australia scene. Well, it turns out he's also a shredder on the bike. His section is filled with freecoaster goodness. Plus, he used You Got It by Roy Orbison which was a good choice.
Ryan Guettler was one section I didn't have the bar set too high. Not because I'm not a fan of Ryan, I am. It's just during the filming for this he was plagued with injuries and double shoulder surgery which took him out for a huge chunk of filming time. I was pleasantly surprised when I realized he still managed to produce a full section. Plus, I think his section was the only one with trails footage now that I think about it?
Chris Courtenay pulled through with a solid street and park mix with plenty of good stuff. His ender is super wild.
The same goes for Marnolds section. He's got some serious ice control and just in general can send it down some big rails. Impressive.
Now, to my favorite section. Tom Stretton. Now, there was some anticipation for this section since I kept hearing a ton of good things about it. This section did not disappoint. Tom's got some real unique riding with some crazy front end balance. He makes everything look super smooth and just in general awesome. I became a much bigger fan of him after seeing this. In my opinion, I think it would have been a good ender section. This was my personal favorite.
The ender actually goes to Mr. Zac Miner who I think if Ruben Alcantara was doing the review, would be his favorite section. Zac rides fast, hits a ton of gaps and even blasts a few massive wall rides. His ender is huge as well. I definitely am a fan of his style of riding.
The video also comes with 23 minutes of outtakes, crashes (No clips of Clint's foot flopping…thankfully), Grindbox edit, Swansea edit, Marnold and Cooper HFWI.. I have no idea what HFWI means, but this edit could of seriously been a section in the video. It was so damn good. Then there's a slideshow with a ton of Cooper's photos to check out.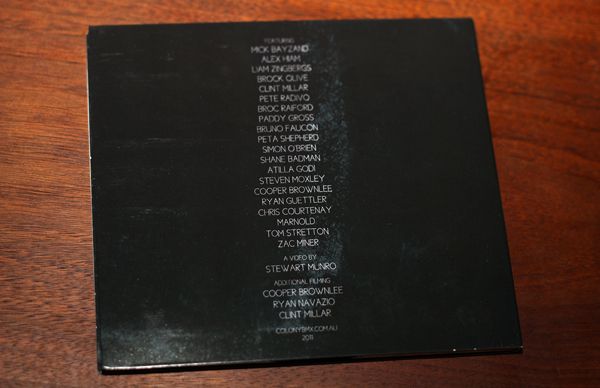 As I said before, the majority of the filming was handled by Stewart Munro with a ton of help from Cooper and Clint for second angles and everything. There was a good chunk of clips filmed by Ryan Navazio along with a few from Kosman, Terrell Gordy and a bunch of others. I'm going to give Stewart super bonus points because there's a few situations like a broken lens, and getting ran into and he's totally cool with it, laughing and everything. That's what's up. Overall, the filming in the video is real good. Clean shots, different lenses used so it's not just the same throughout the whole video and in general an easy video to watch.
The editing was handled by Stewart and as expected he did a solid job. Everything was put together smooth and the video flows into each section real well. There's no over the top motion graphics and there's not excessive film burns like some people were bitching about in the comments on the trailer.
One thing I was bummed about was that there's no sound track. I honestly hadn't heard 90% of the songs in this video and it would have been nice to have that since I was into a lot of it. It's a real good mix of chill, laid back indie music. Maybe I can get Stewart to send through a song list so you guys know.
Overall, I think the video turned out real good. The guys all put in some serious work over the last two years. They all did a real good job of keeping things quiet so people didn't already know what to expect in the video. I became bigger fans of guys like Tom Stretton, Alex Hiam and Mick Bayzand because of this video. Would I recommend picking up this video? Yep. I would. I've watched it twice already and planning on taking it with me this weekend to show a few friends so I can watch it again. It has a real chill vibe with plenty of good riding that gets you psyched and leaves you wanting to ride.
The video comes out TOMORROW (July 16th) Worldwide, so I don't have a price or links… yet. I'll make sure to update this after it's out. If I remember right, it's going to retail for about $9.99 here in the U.S (don't quote me on that) and it will be available EVERYWHERE Colony is available. That means Dan's Comp and Albe's will have it to order here in the U.S and most good bike shops that carry Colony should be able to get it. Shops can hit this link to find out what distributor they need to contact to pick up the video.
Of course you could just try and win a copy, right? All you have to do is "Like" The Union on Facebook and then comment or like the photo of the cover I'll have posted on the wall and I'll pick the winners next week.