Rich Hirsch is a interesting dude. He has some really interesting insights on things and I feel like he has had some influence on what BMX is today through his brands and other things he has been associated with. This was an interview that was long over due, and due to him being laid out from some back surgery I managed to get one out of him. Lets see some love for Rich in the comments.
Name:
richie hirsch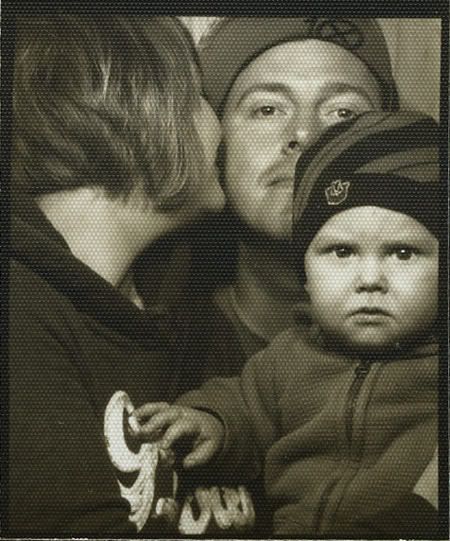 Location:
portland,or
Years Riding:
20 off and on
Lets kick it off with the back surgery, why did you get it, how did it go, and when will you be back on your bike?
I ruptured a disc in my back Christmas day and didnt actually know until about a month ago. I had so much pain it got to where I could barely walk and it took 4 different doctors and 5 months before I could get an MRI which led to a surgery I just had.I think it went all good and i might be able to cruise around as soon as 6 weeks…stoked.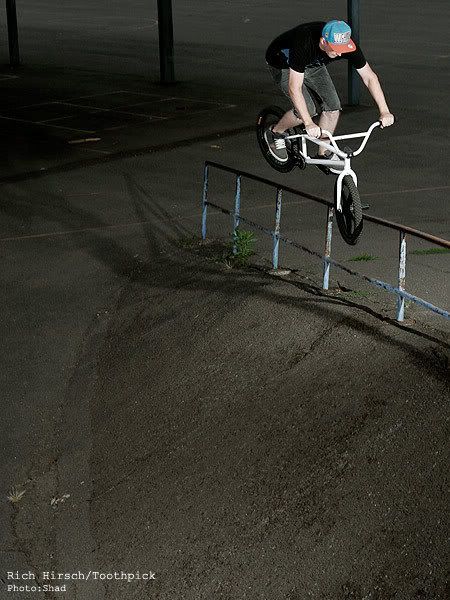 What are you going to be doing with all the down time from riding? I imagine a lot of blogging on Defgrip?
I doubt it I'm not much of a blogger… I tend to update it just enough to scrape by, and im not doing much other then taking pills and watching tv lately. I'm working on lotek and Fremont all the time though while I'm stuck sitting around.
Right before you went under the knife you had a prototype of your new frame in a bike check, what is the difference between your frame and all the rest and when can we expect to see it available?
Basically I like the roomy feeling of long bikes but the quickness of short bikes so I changed the geometry around in a way I don't think is currently available and it feels perfect. The designer over at subrosa then took my geometry and applied some crazy new shit to it that they will explain(soon) way better then I could. Change is always fun. It also has a low top tube which I've always loved… I grew up riding basic sluggos which had super low top tubes and made turndowns table tops and a lot of 180 tricks feel better on my shins.
Any other Subrosa news or signature items coming from them?
I don't think so… I actually thought they were only making one of my frame for me to ride so I'm pretty stoked to hear it just went to production.
How about things at Lotek, any new product lines or news going around over there you can let us in on?
There's a lot right now, here's a list of what's in progress:
Lotek sf DVD
Defgrip shoe
Fremont videozine
Chase fremont jeans
Dakpack
Fremont ian shoe
Dehart shoe
Fremont snap back baseball caps
Behind the scenes lotek sf videos on vimby.com
Custom made insoles
New shoe colors coming late July
Thats all I can remember right now
What about Mosh any other big news or signature things coming around?
I don't think so… I changed my mosh seat up a little and I'm waiting for a sample but nothing much. Mosh just went on an Australia trip the same day I got surgery.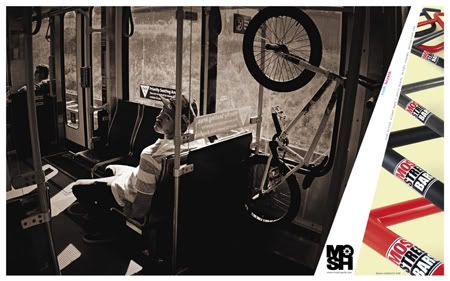 Being a busy guy with a business and everything have you been finding much time to ride?
When my backs good I ride most everyday for at least a few hours… Thats what its all for really.
Where are some places you have had the chance to travel to this year?
Nowhere to crazy just back and forth from California a fair bit. When my backs better I'm going to Columbia with mikey and then over to the 70s house in Brighton and then Prague for a lotek team trip.
Where are some of your favorite places to ride or just types of things to ride?
I really like riding anything, driveway bank, dirt jumps, flat bars, etc. Burnside is my favorite though.
Any big road trips planned at all for filming video parts or web edits?
Just a lot of SF and the above mentioned.
What is a recent new trick you have added to the list?
Walking
Believe it or not Rich cannot do what trick?
Run
What is the best and worst parts of owning your own business?
The best part us being able to pay the bills doing what I love, working with my friends. There's no negative part.
How do you feel about BMX right now with it being in the olympics, getting cut down in the x-games, being on tv a bunch, everything online, people hating, everything in general?
None of that has anything to do with BMX in by world. We ride and hangout and there isn't ever any negativity in anyone I ride with, work with, or meet so shits good. People only hate when there jelous and i think we can agree there's no need for any of that in BMX.
If you could change anything about BMX what would you change and why?
It would be nice if we were allowed into all the parks.there's a park a few blocks from my house I'm not allowed to ride.
Who are some of the most influential people in BMX in your eyes?
Chris moeller is the originator. He created the blueprint we all follow. Other then that anyone that does there own thing.
Outside of BMX and work, what are some things you are into?
I listen to a lot of music and shoot a fair bit of photos.
What are some things you would like to accomplish in the next few years?
Keep staying alive and raise my son.
If you could have any super power, what would you choose and why?
Im good.
What is the "perfect day" for you?
Some tasty waves and a cool buzz and I'm fine man.
If you could have 3 wishes granted, what would you choose and why?
Never have to get a real job
A old ass car that never breaks down
Popeyes for every meal without a heart attak
What are some bands you are really into? Any you suggest people to check out?
Sub society
Greyboy
Duna
The grouch
Roy ayers
Sebastien tellier
The kinks
New order
Husulah
Little brother
Mac dee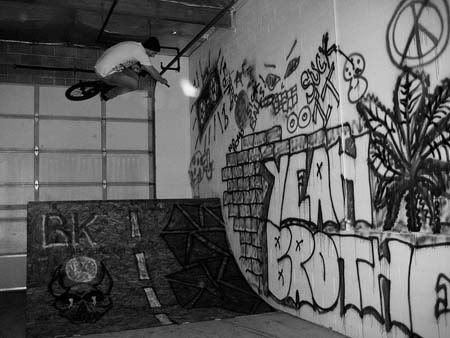 Any videos/movies you are into right now?
Zeitgeist
Dead bang
Goods s.o.s.
You seem to be on-top of the trends, what is the next big trends in BMX?
I don't really mess with trends… I think a lot of the dudes I hook up are pretty popular. The only trend I'm trying to keep around is affordable shoes and having fun.
What are some of your favorite websites?
Not a big fan of the Internet.
What is the best advice / quote you have ever received?
My Dad always told me its better to shine then reflect.
What do you think you would be doing if you never got into BMX?
It wouldn't have been good. Probably Meth with its popularity around here.
What kind of advice do you have for people who want to start their own business?
You won't ever be happy if money is your motivation. Find something you love and stick with it, or don't, fuck it…. Just have fun.
What about kids just getting into BMX?
Get dirty, its fun.
Any kind words to the anonymous shit talkers?
Let's go ride sometime…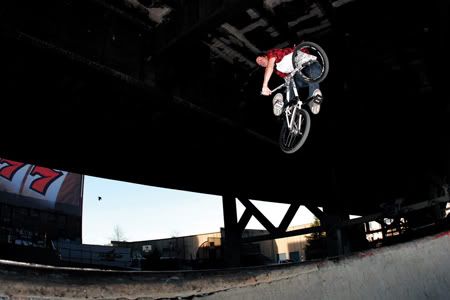 Do you have any shout outs or thanks?
My dad, lori, Kingston, Joel gurga, ron bonner, Heath Pinter, Ryan sher, ron bonner, robbo, shad, eddie, chase, ian, mikey, marco, wolfdick, ian Morris, blackrain, odyssey dudes, Harrison, all my distro, all the lotek family, everyone who has ever bought a pair.
Anything else you would like to say?
Its just a hobby have fun with it…

Oh yes, Rich's Odyssey part from 2003.