I won't lie when I say Rob is one of my favorite guys to watch ride. He has some awesome one-hand tables, and just in general good style. I've wanted to ask him some questions for a while, and I've finally got the chance. So check out what Rob has to say, along with a crazy story, some photos and videos, and then leave him some love in the comments!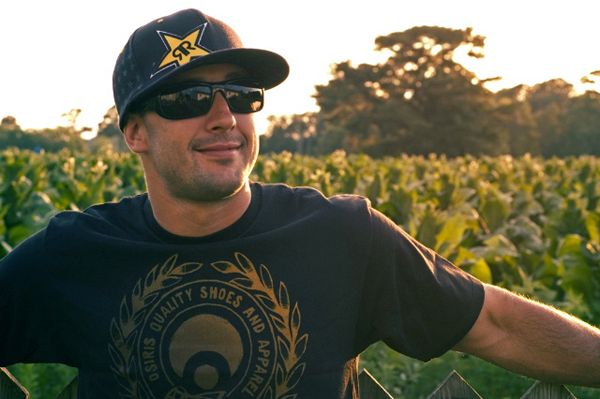 Photo: Ty Morrow
Name:
Rob Darden

Location:
Greenville, NC
Sponsors:
Premium Products, Rockstar Energy Drink, Osiris Shoes, Arnette, Xbalm, Skullcandy, Ogio, Team Blowin It
Years riding:
16
How are things going with all your sponsors these days? Any signature goods, trips, videos, or anything good going on that you can tell us about?
Everything is going strong with my sponsors, we have a great relationship and I love working with everybody. I don't have any signature products in the works, just working/helping with products. There are no team trips planned as of right now, but I am sure there will be some popping up when things calm down a bit and everyone can get together.
You have been super busy traveling all over this summer for contests. How has everything been going as a whole with the contests for you?
Everything has been going great! Contest for me is like taking out a flock of birds with one stone, I get to do and see a little bit of everything which fulfills my life. I don't take contest serious, I mean of course I want to do well but if I don't its not a big deal. There is no way that I would travel across the world and let a 60 second contest run ruin my trip, there is so much more to it then that.
Have you been on any other trips that didn't have anything to do with contests at all?
Well I always take a couple trips a year with my wife, usually to a tropical island where there is no BMX. Earlier this year we went to St. Lucia which is in the southern Caribbean, I am ready to go back now, haha. A trip with no bike it a true vacation for me. Other then that I just went to Denver for a week to start filming for Still Searching, good times!

Photo: Jordan Vilonna
How long do you get to chill at home now? Where are you off to next?
I just got back from the Portland Dew Tour, I got 10 days at home and then I am off to Hamburg Germany with Josh Harrington for the T-Mobile mini ramp event. Were going to stay five day's after the event and head down to Rotterdam to film for Still Searching. I have Heard a lot of good things about Rotterdam and really looking forward to it.
You have been killing it the last few years in general… Was there a day when you decided you just had to step it up again or did it just start working out?
I think things just started working out. I changed my lifestyle which definitely helped out. But there was never a point where I said I need to step things up. In the end it is all about having fun, usually if I am having fun I do well.
Do you ever find yourself getting burned out on bikes having to be somewhere all the time and everything? What do you do to keep things fresh?
I definitely get burned out, I usually can tell how burned out I am when I get home from a trip and see how long it takes me to get my bike out of my bike bag. A week has been the longest. But just as much as I get burned out on traveling I get burned out being home, a little bit to much of either and I start to freak out. A chillaxin day at the beach with my girl will always do the job though.
So Josh Harrington has been working on his next video, how has filming for that been going?
Yeah we did our first trip for the video in Denver right before the X-Games this year. The trip was very productive and it was awesome to get the boy's back together, the heckling never stops. I am really looking forward to more trips.
Out of all the places you have had the chance to ride in your life, where do you wish you could ride again and why?
Australia is #1. But not just for the riding, it has to do with everything that comes with it. There is a lot more then just riding and AUS is great.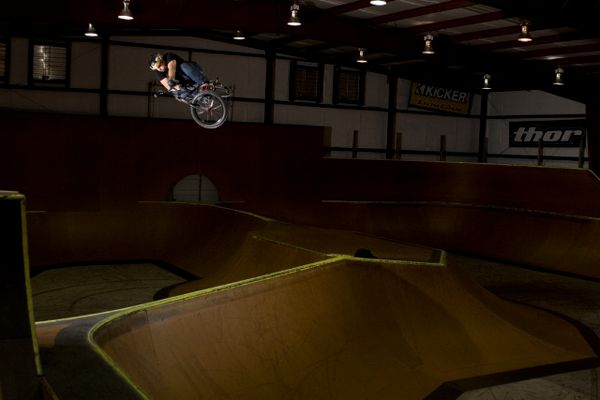 Photo: Jordan Vilonna
What is one or two jobs you had before BMX worked out? What do you think you would be doing if you never got into BMX?
Before I moved out to Greenville I was a union painter in Cali. My dad owns a painting company in the Bay Area and I was going that route out of high school. That is definitely where I would be if riding did not take over, not my ideal job, but it was just something that I was always around and easy to get in to cause of my dad.
What are you up to when you aren't riding or on a plane somewhere?
I am a morning person so I usually hit up the gym while my friends are still sleeping, spend time with my wife and dogs, dig at the trails, go fishing, work around the house, hit up the pool. That's usually what my day looks like.
You work out quite a bit right? How important do you feel it is for people who ride to work out?
Yeah I hit up the gym 5 or 6 day's a week, It is just something that I am addicted to for general health. I feel it's really not that important at all for people who ride to work out, it definitely helps out with crashing and recovering. But BMX is about technique and you don't get that in a gym. The gym for me is all about feeling better in everyday life, the better I feel the better I feel on my bike.
I know the Aussies like their Jack Daniels from Twitter, what's your drink of choice?
My choice of drink is Jack as well. I'm not claiming anything but I may have been the first to bring over a bottle of Jack to AUS and show them how to do it.
Speaking of Twitter. How into that are you? I know I see you drop a line every now and then.
Yeah I got sucked it to the whole Twitter thing. Its just like have email, text, instant messaging all in one. But just some of the random shit that goes down on there has me always coming back for more. FOLLOW ROB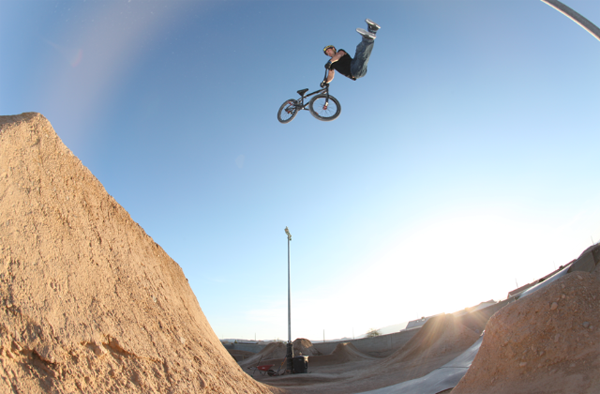 Photo: Pete Demos
What is the craziest thing that has happened to you lately?
Well this actually went down a few days ago in Portland at the Dew Tour. I was walking back to my hotel with my wife and mom, a bum was walking towards us but I didn't see him cause I was looking down at my phone. So he gets up to us and my wife and mom had already moved out of his way, I almost ran in to him cause I was looking down at my phone and I said excuse me and moved out of his way. As he passes me he punches me in the dick, I turned around immediately yelling at him as you can imagine. He keep walking for like 30 feet while I am yelling at him then turns around pulls down his pants, get his dick out and starts stroking it. I just said WTF you win. Shit was crazy!
Approximately how many dollars have you spent on strippers in your life?
I would say around a $100, not in to strip clubs at all. Last time I spent money at a a strip club was a few years ago, I got Ty Morrow his first lap dance. That was money well spent.
What would it take for you to go a round with some UFC fighter? Have you ever thrown down in a fight before?
Just some training really, I would want to put in a good year for sure. I have thrown down before, I have got my ass kicked and have kicked some ass. But if shit is going down I'll fight to the death!
What is the first song to come to mind?
Wyclef Jean "Worriorz" that was the last song that played on my playlist and it's stuck in my head.
What about first movie?
The Goods, I'm trying to see that soon, possibly this afternoon.
Do you have any favorite websites?
Just the usual BMX sites to catch up on all the shit talking. The Come Up, Vital, Ride, Fatbmx, Defgrip, MSN Money, Yahoo Finance, Twitter.
Where do you see yourself in the next few years?
Right where I am now, maybe with a bit more responsibility's, raising a child. I am pretty happy where I am in my life. I have always lived my life one day at a time and things have seemed to work out.
What is the best advice you can give a person?
Follow your dreams, don't let anyone put you down or tell you you can't do something. Everything is in reach you just got to want it bad enough. Stay Strong!!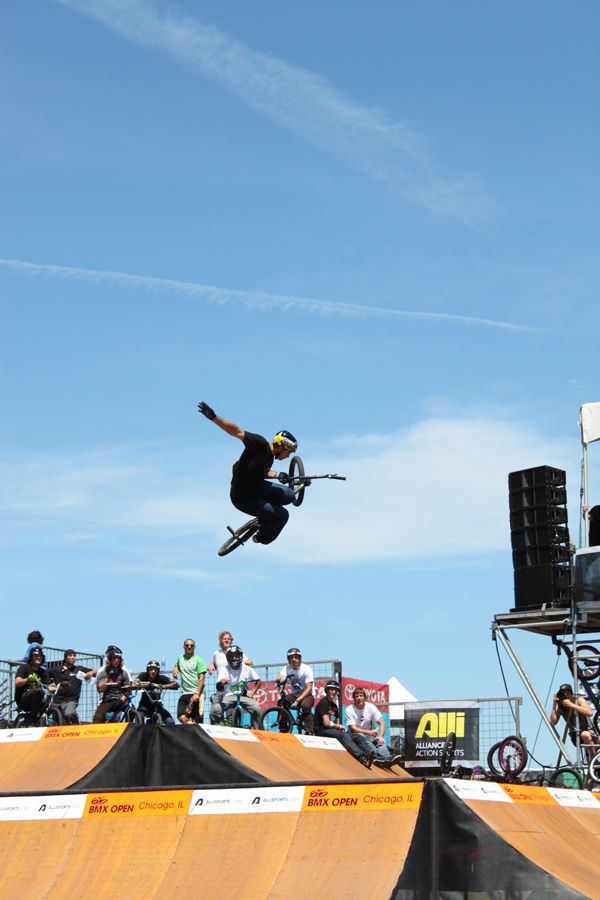 Photo: Kurt Hohberger
Do you have any shout outs or thanks?
For sure, I would like to thank my wife Allison and my parents, all my sponsors for there support, Premium Products, Rockstar Energy Drink, Osiris Shoes, Arnette, Xbalm, Skullcandy, Ogio, Team Blowin It. Andy Zeiss for getting me over seas so much this year, Ryan Nyquist, Josh Harrington, OGK, 1809.
Anything else you want to say?
Grip it and rip it!