I first came across Ryan back when I used to spend endless hours over on Bikeguide a few years ago. I remember him always having some decent edits and being a rail shredder. Well, over the years he continued to progress and lately has been popping up more and more with better and better edits. I figured it would be cool to see what he's up to these days. Plus, with him being added to the DUB team it worked out even better. Check out what Ryan has to say, some photos and videos then leave him some love in the comments…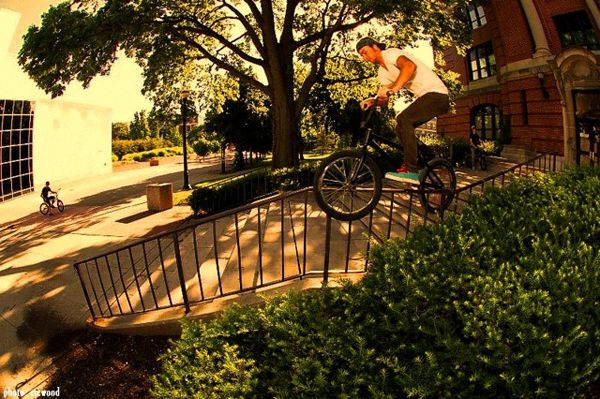 Name: Ryan David Howard

Location: Springfield, oh
Sponsors: DUB BMX
Years riding: Oh god, about ten years or so.
What was it that first got you into BMX? Any early memories come to mind?
There was a bike shop in a little shopping center by my house and I'd always see guys riding flatland and thought it was the coolest thing ever. I bought a BMX Plus with Allan Cooke on the cover around the same time and was stoked ever since.
I saw the other day that you got added to the DUB team along with David Grant. How did that all come about, and what can we expect to see from all that?
Jack talked to me one day and said they were adding to the team and that it would be sick if I was apart of it. As far as I know, David and I are the only U.S dudes on the team which is awesome because I love David N/H. The rest of the team is all guys whose riding I've always been really into. I think David and I are gonna do a split welcome to the team edit kind of thing as soon as the weather is deece.
Do you have any other sponsor stuff going on these days? I feel like you should be getting eaten up by some brands with the way your web videos go.
I haven't really ever talked to any companies, I always feel weird about that stuff. I feel like it would be cool to get help to travel more but really I don't have a problem buying bike parts or going on trips with friends. Plus, there are so many kids out there that can ride anything and are so much better than I'll ever be.
Speaking of web videos, I know you had one drop a couple days ago. Have you been working on another web video or video parts lately?
Nothing really besides a welcome thing for DUB. I'm always riding and filming stuff but usually I focus on filming my friends and try to film things of myself if something catches my eye or I think it would be cool. I get bored with set ups at home so I try to film more stuff when I'm riding out of town.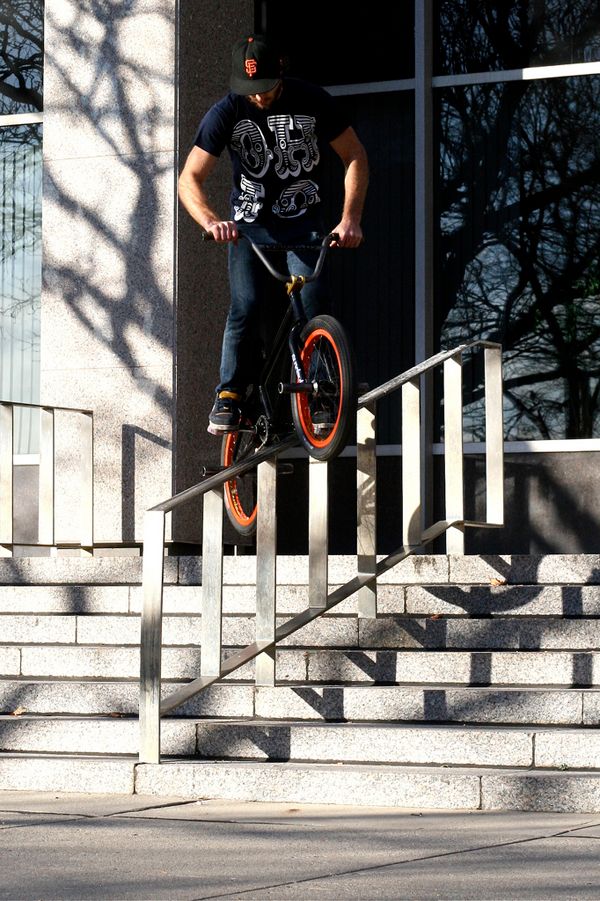 You are pretty notorious for being able to tear a rail apart. What is it about rails that attracts you to them? It seems like some people love them and others absolutely hate rails.
I don't know I guess I like rails because I'm good at them. I try to play up my strengths and hide my weaknesses haha. I've never really been afraid of rails and I always looked up to Vic Ayala and Vinnie Sammon and those guys killed rails so I wanted to do the same.
Have you ever looked at a rail and walked away because you were scared of it, or did the rail walk away because it was scared of you?
I'm no Kachinsky so rails are never scared of me. I walk away from rails all the time. I get bored with just double pegs so I'll pass on a rail if that's all I can do on it. I like a rail that is unique or awkward or one that I can session with different tricks.
In your own opinion, what's the craziest grind you have done? Would your friends disagree and say you have done crazier?
I don't know probably the L rail to over I did in Goin' for Broke a few years ago. It was one of the only rail tricks I've filmed that scared the shit out of me. I've done a lot of tech combo grinds on skatepark rails but nothing is crazy on a foot tall rail. I'm always looking for real rails to try those tricks on.
There have been a couple well known people in BMX that have come out of Ohio like Tony Neyer and Catfish. What's the scene like where you are from? Any up and coming guys you think people should keep their eyes out for?
There is a lot of amazing guys from Ohio. Troy Merkle and Tony cherry are two guys that live near me that I don't get to ride with much but are both so good. Brandon McCoy is another. The kid can ride it all. He can do Dew Tour's all over a skatepark, kill a set of trails, backwards manual for miles in a parking lot, do tricks on big gaps on street then session a rail or ledge on my bike. Matt Skaggs is the person I ride with the most and peoples minds would be blown to see half the crazy tech stuff he has done over the years.
Where are you usually found riding these days? Do you find much time to travel?
Usually I ride at home in Springfield or I try to go ride Dayton, Columbus or Cincinnati if people are down to ride. I have all the time In the world to travel but not always the funds or peoples to go. Lately my friends and I have been traveling more thanks to scheming at Wal-Mart..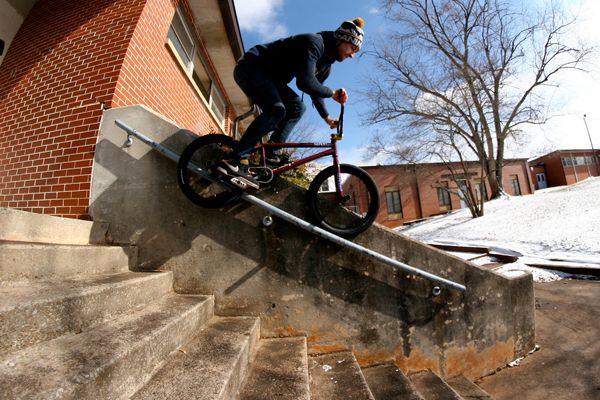 Do you have any trips planned at all for 2010 yet?
Another trip to Georgia has been talked about for the end of this month, I believe, but I don't know for sure. I want to come back to NYC this year, but I say that every year so we will see. Going to Texas has been talked about too, but I don't know yet.
If you could go on a road trip with only 5 people and a big budget, where would you go and who would you bring?
Matt Skaggs, David Grant, Brandon McCoy and my friend Greg that used to ride. I'd want to go to Barcelona. I've wanted to go there ever since I saw Fit Barcelona Vacation. The spots look amazing. Spain looks really beautiful as a country as well n/h.
I feel like I remember seeing some of your earlier edits on Bikeguide over the years. Was filming and editing something you just picked up on through bikes or is it something you are trying to take a little more serious?
I just picked it up from riding. I really enjoy filming a lot. I'm not the best in the world at it, but I like doing it and am always Learning new things. I wouldn't mind one day getting more serious with filming and being able to get paid to do it, but right now I'm content filming my friends for fun.
What do you think you would be up to if you never got into BMX?
I'd probably be working a job I hate with a wife and kids that I don't like. Being miserable.
What are you usually up to when you aren't riding?
Hanging out with girls, drinking with buds and spending too much time on facebook. Just normal stuff I guess. Nothing too crazy.
So what do you do for work? Are you going to school as well or just working? If you went to college, what for?
I never went to college. I was all set button but I got the oppurtinity to travel with Season bikes so I did that and kept putting school off. I regret not going to college now. I'm proud to at least have a high school diploma. I'm blown away by how many people in BMX and skateboarding that didn't finish high school. I work at a small Italian resturant and it's not the best job but at least it pays the bills and I actually enjoy it.
After a proper Facebook stalk, it would appear you have a thing for shoes. Care to explain?
I've always been into shoes but the last year or so I've gotten pretty addicted to Nike SB Dunks. I have stacks of boxes of shoes I've never even worn. It's kind of ridiculous considering I don't make a ton of money and I'll blow a full check on shoes haha.
You seem to be a pretty laid back dude. What makes for a good night out for you?
Just hanging out watching a movie or out with BMC drinking and being assholes, tearing stuff up.
Have you ever been arrested or put into some crazy situation where you thought you were going to die?
Nothing too crazy that I could have died from I don't think. I've been arrested for riding bikes and petty stuff like that. I was looking at felony vandalism charges once because of an ex-girlfriend turning me in for a stencil I painted. That one sucked.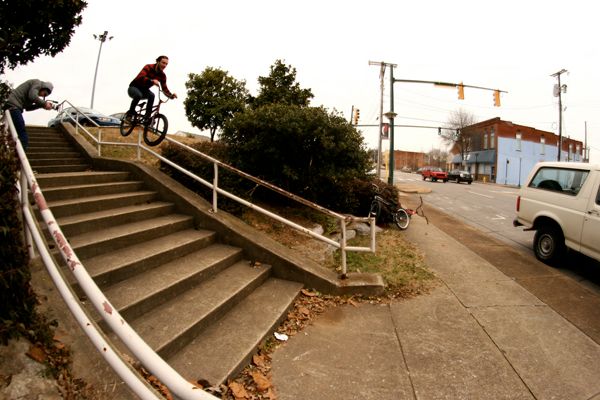 What's the last song you heard, movie you watched and website you visited?
I'm listening to number of the beast right now. I watched Role Models last night and I visited facebook right before I started these questions.
What's the dirtiest thing you have ever done to a girl? Was she impressed?
Haha I just the other night fucked a 17 year old girl in her ass rough as hell for about 25 minutes. She was pretty into it. I was stoked.
If you could go back and relive any day or moment in your life. When would you go back to and why, and would you change anything?
Past is the past for a reason. I wouldn't go back or change anything. You learn from everything you do.
Who or what are the biggest influences in your life?
Satan, BMX, friends, Slayer, my parents, cats, Razor Ramon
Do you have any good advice?
Do you. Don't worry about what others have to say. As long as what you do makes you happy that's all that matters. People will hate no matter what.
What about shout outs or thanks?
Thanks to you for the opportunity to do this interview. Thanks to Casey @ Season bikes and Bud D @ persepectivesbmx.com for allowing me to have parts In their videos and taking me on so many trips years ago. I appreciate it all. Thanks to anyone that ever posted a photo or video of me. There is so much better stuff out there, so thanks for being into what I do. Thanks to all my friends; Matt Skaggs, Ricwood, Nick Wooden, David Grant and the rest of the Muncie dudes, Brandon McCoy, The Sex Machine, Will and any friends I forgot. Thanks to anyone who showed me their spots or let me sleep on their floor. Thanks a lot. Thanks to Wal-Mart's no receipt return policy. Thanks to The Come Up for existing as a place to talk shit. Thanks to Glen Danzig for being badass.
Anything else you want to say?
Kids shouldn't take BMX so serious. It's just a good time…