Sometimes when I am surfing the different forums I check out I come accross people I am really stoked on. In this case I saw a video of Ryan that his friend had posted on Bikeguide and I just had this urge to get an interview with the kid. So his buddy Ginger (I forgot his real name =/ ) got me in a contact with him and this is what came from it. The kid rips! All the photos in this interview are from James Wade.
Name:
Ryan Lloyd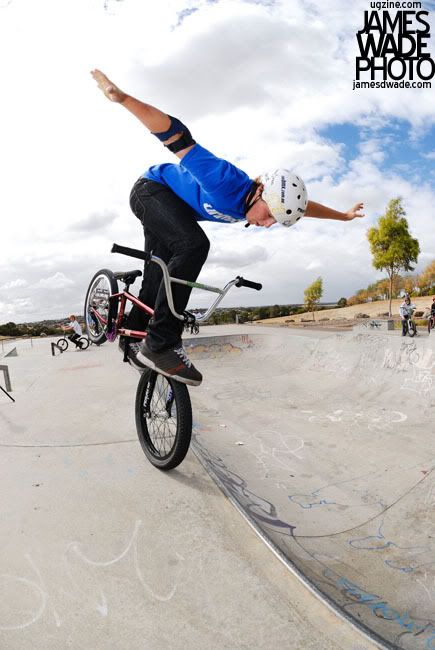 Location:
Blyth, South Australia, Australia
Sponsors:
None
Your riding is real impressive, how long have you been riding?
Thanks. I've always ridden bikes since I was a little kid but I only really started getting into it about 5 or 6 years ago. I'm 18 now so when I was around 12.
Did you race at all when you were younger?
Nah never. I've only really ever been interested in jumping stuff and going fast.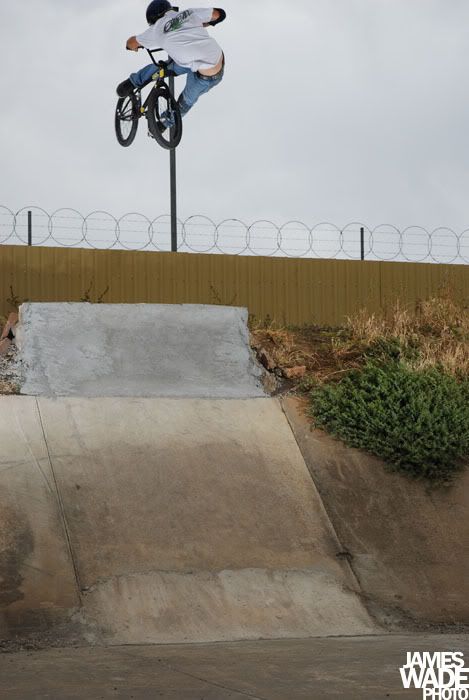 From a recent video it would appear your a blaster, are you all bout the big tricks or do you have some tech stuff?
I wouldn't really say they're big tricks. Haha. Yeah I love to get tech aswell. Depends on the mood I guess.
What are some of your favorite tricks?
At the moment I am having heaps of fun doing tuck no hander airs and tables. It changes all the time.
What is one trick you cannot do for the life of you?
fufanu's cause I don't run brakes!
Your from Australia, is there something about Australian's that make you guys so good?
Vegemite maybe?
Who or what are some of the biggest influences on your riding?
Just watching guys like Aitken, Brian Foster, the Forte bros, Corey Bohan, Gary Young and Chase Hawk in videos. I love to watch anyone that goes fast and high.
Are you into the contest scene or are you more of a chiller?
We'll in SA there really isn't a contest scene at all. So just chillin with my mates and hitting up Adelaide every now and then is real fun.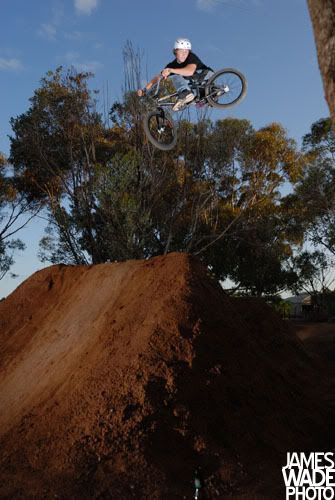 Do you have any plans for trips with your friends, contests or anything like that for 08′?
I've got nothing planned at the moment. A mate of mine is moving to Melbourne so I hope to go visit him at some stage.
You just had a really good edit of you come out, are you filming for anything in particular or just kind of doing your own thing?
Nah nothing in particular. Its funny cause at around 2am last Saturday in Adelaide me and my mate Tim decided to get some clips on his dads camera and I just made a small edit out of it and yeah. I guess it turned out ok. haha
If you could only do one trick for the rest of your life, what would it be and why?
Probably turndowns cause they took me sooo long to learn. And you can do them on anything.
If you could only ride one place for the rest of your life, where would it be and why?
Some real good trails or a real flowy park. I love the feeling of just flowing around.
Have you had the chance to travel to ride much at all?
Not yet. I haven't even been outside SA to ride. The furthest I've travelled to ride is probably 3 hours away!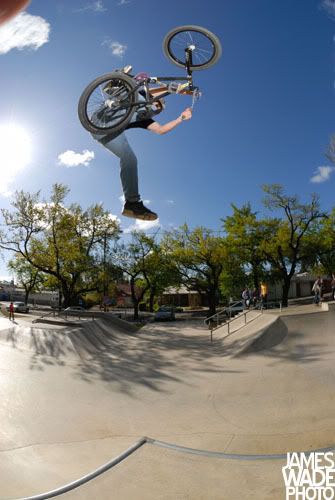 Where are some places you would really like to go someday?
I'd love to go and see the trails scene over in the UK. Anywhere in Europe or the US aswell. And I'd like to see more of Aus as well. haha.
What are some companies your really digging?
I really like United and Odyssey's stuff. I'm getting the new United 40 frame real soon so that will be sweet! and all odysseys parts are just dope!
What do you feel about the scene in Australia?
Well the scene in SA at the moment is real strong. There are jams on all the time and lots of real good riders. It's really good.
Who are some of your favorite people to ride with?
All the Clare kids, you know who you are! And all the Adelaide dudes as well. It's always real fun when I get to ride with those guys.
Where are some of your favorite spots to ride?
My trails are always a favourite but lately its just been too dry to ride them. I ride Clare skatepark all the time. Adelaide city skatepark is real good and there are lots of other good parks nearby.
What do you think you would be doing if you never picked up a bike?
I'd probably still be playing Aussie rules football and cricket!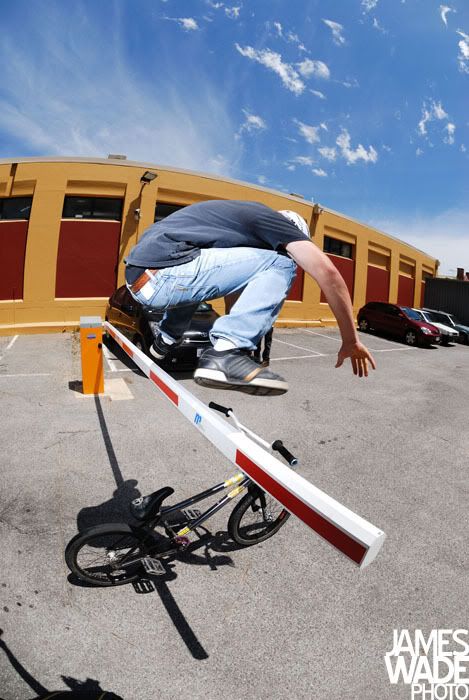 What does BMX mean to you?
Freedom to be creative and cruise around exploring new places.
Outside of riding what are some things your into?
Going to the beach, hanging out with mates, spear fishing, body boarding, jetty jumping, anything fun!
Are you in school at all?
I finished yr 12 last year. Now I'm just working with my dad as a builder.
You edited your video of yourself, what are you using to film and edit?
Those clips were filmed on a canon ixus photo camera. And I just used Microsoft movie maker to edit it. Pretty basic. haha
If you could spend the day with anybody alive or dead, who would it be and why?
My Grandpa Schroeder (my mums dad) and Grandma Lloyd (my dads mum) cause I never got to meet them.
What are some of your favorite riding movies and regular movies?
All the props dvds, Chill bro, Fitlife, any decent web edits. Regular movies would be the Castle and Lords of Dogtown.
What kind of music are you into, any bands you suggest people to check out?
Not really into any particular stuff. Rock, instrumental, pretty much anything with a good beat.
What are some of your favourite websites?
ugzine, vitalbmx, rideuk, bmxonline, defgrip, unitedbikeco, focalpointbmx
If you won the lottery, what would you do with it?
Go on a world trip with the family, give some to charity, buy some land and build trails, open up a bike shop.
How do you feel about Myspace?
I have one. I don't have a mobile phone so it's the only real way I can chat to the Adelaide riders.

If you could do anything as a career other than riding bikes, what would it be and why?
Anything in the bmx industry. I can't think of anything else I'd rather do.
What are some things you would like to accomplish in the next few years?
Just to stay healthy and continue to have fun riding my bike. I would love to travel around as well.
Is there anybody you would like to give a shout out or thanks to?
Firstly God for keeping me safe and giving me the ability to ride, all my family and parents for their support, all my friends, all the Clare kids and Adelaide dudes who I ride with, James for taking the photos, ginger for posting the vid on bikeguide which resulted in this interview, cheers mate. And Kurt at bmxunion for hooking up the interview. Thanks heaps guys!
Anything I forgot you would like to add?
Have fun!!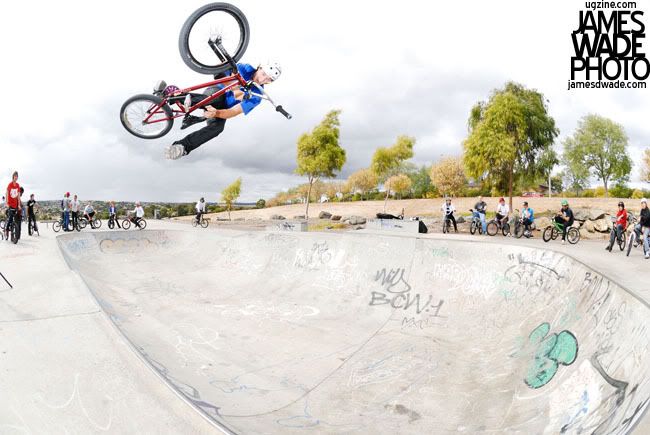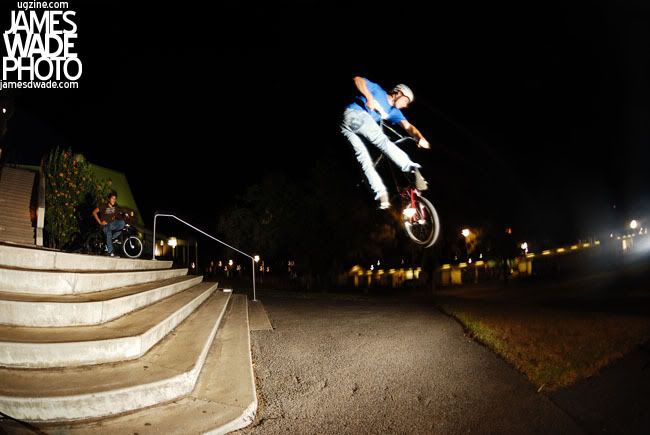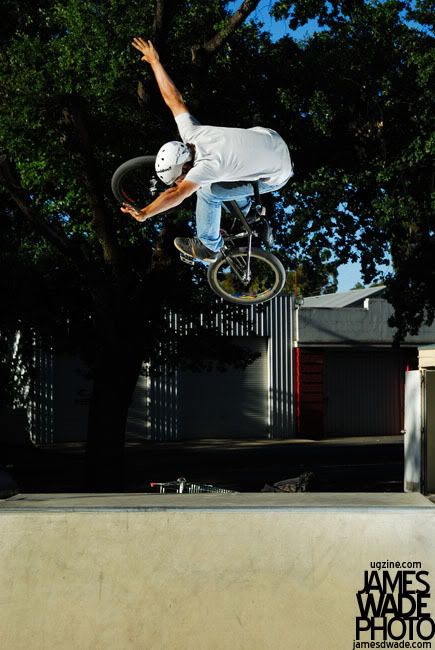 A little edit from Ryan Lloyd on Vimeo.