Sam Lowe is a shredder from Canada. That's practically an understatement. What if I said he was a storm chaser from Vancouver? Do they even have tornados there? You will get that after you read this… Sam has been on the down low lately recovering from some injuries, but is back in the game. I shot him some questions to see what he has been up to lately. Check out what he has to say, then leave him some love in the comments.
Name: Sam Lowe

Location: Originally Halifax NS, currently in Vancouver BC
Sponsors: Primo, Wethepeople, Etnies, Timebomb, and 3ride.
Years riding: About 10
What got you into BMX in the first place? Any early memories come to mind?
A friend of my dad, his son had a chrome dyno, and I always thought he was the coolest dude on earth. He always had sick Nintendo games and cap guns and shit, so as soon as I saw that he had a BMX I instantly wanted one. My dad bought his old beat up supercycle with pegs that I rode for a few months and ended up cracking it a few times…it was a pile of shit but I loved it. My dads buddy re welded it a few times, until one day I opened up my garage to get my bike and my dad had a brand new shiny huffy flatbed waiting for me. That was the beginning. Thanks dad
You have quite a few sponsors these days. How are things going with all of them? Do you have any trips, filming projects, signature products, or any changes in the works you can tell us about involving your sponsors?
As of right now Im heading to interbike and riding the Fit/S&M rail jam, then catching a ride back to LA and spend a few days out in Corona with Jason Enns. After that head home for a bit and hopefully go to Portland before the shitty NW weather starts. We are in the process of filming for a Wethepeople video, but I've been hurt for the past few months so I haven't done much for that. I'm gonna try and fire off a few clips before the deadline, but I probably won't have enough for a section. Also, we are trying to do a 3ride DVD before next summer, so theres a few trips lined up for that aswell. Should be good.
It seems like the Canadian scene has been blowing up huge the last few years. How's the scene where you are living these days?
The scene in Vancouver is good. There are tons of amazing concrete parks, real good street spots, some dedicated trail dudes that have built some amazing trails. I don't ride trails but I'll still go and hang out and watch the crazyness that goes on.
Who is your usual riding crew these days? Any up and coming guys you think people should be keeping their eyes out?
I don't have a huge crew of people that I ride with on a daily basis, normally I only ever ride with one or 2 other people. The normal crew is Andy Roode, Kym Grosser, Mick Bayzand, James Steele and Surrey Steve. Theres always people coming through that we end up riding with too..none of us are really into riding with a big crew so its normally just a couple of us cruising around talking shit having a good time.
Where can you usually be found riding these days? Where is your favorite place you have had the chance to ride over the years?
These days it seems I'm always just cruising around downtown. Its a pain in the ass to get to all the skateparks, so I normally just ride the skateplaza downtown and cruise the streets. My day off is Monday so normally every monday we get up early and make the most of the day and try and film some stuff or venture out to a skatepark. I love Mondays. I would probably say LA is my favorite place to be. Cant beat the good weather, good spots and good people to ride and chill with. Halifax rules too, I hated it when I lived there, but now when I go back I love it. Lots of cool kids that shred and the best spots ever. Outside of north america, definitely Ireland. I was over there for the first ride to glory trip and got hurt as soon as I got there, but that place is deffinitly on my list of places to go back to.
It seems like the weather will be turning cold again pretty fast. What are your plans for the winter? Any trips south to find some warmth or anything?
I fucking hate winter. It rains every single day all day from november until march, in Vancouver. I definitely plan on getting out of here as much as possible over the winter. It's pretty depressing being up here and not seeing the sun for 5 months straight so its real nice to fly 2 hours south and be in Cali heaven. I've also been meaning to go hang out with my buddy dave in Athens, Georgia so maybe I will head that way this winter at some point.
You took a few weeks off your bike a few months back due to a hernia. How did the surgery and everything go? I'd imagine you are back to 100% by now?
Yeah, I was hoping it was only gonna be a few weeks, but I had to wait forever to get the surgery so I'm still recovering. It healed up really good though and I feel 100%, but I'm gonna take it easy for the next few weeks and let it heal up proper so it dosent happen all over again. That was the longest I have ever been off my bike and it sucks. I'm pretty happy I didn't die though, barends saved my life.
What do you think you would be up to if you never got into riding?
I have no idea. I have been riding for so long I couldn't imagine doing anything else. I remember when I was younger I always wanted a drum set and turntables. Maybe I would be into that? hard to say. My life would probably be compltetly different if it wasnt for the bike. I had a plan in 7th grade to move to vancouver and ride my bike, and I'm glad that I stuck to it.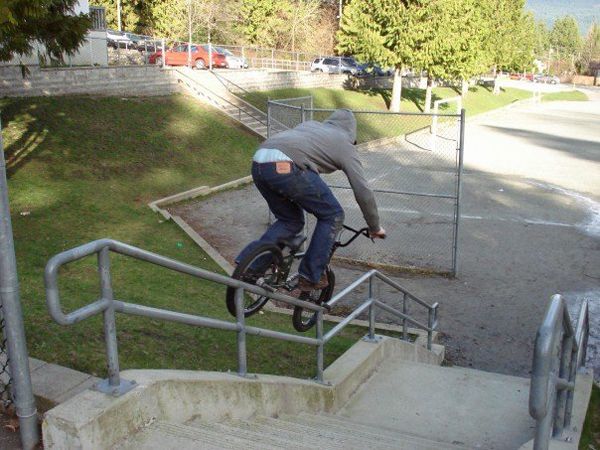 What are you usually up to when you aren't riding or working?
Not a whole lot. Lately I've been cruising around scoping new spots after work, chilling at the beach, out filming someone, drinking beer with Andy and hanging out with my girlfriend Kim watching movies and chilling.
If you couldn't work at 3Ride, and couldn't do anything involved with BMX, what could you see yourself doing?
I love BMX. I want to be involved in BMX forever. I don't know what I will end up doing, but I definitely want to stay in the industry doing something. I didn't go to university and I have never really been interested in anything else. The only thing that I have ever wanted to do aside from bmx is someday go chase tornado's. Tornados are facinating and I would love to see it first hand.
So do you even plan on going to college then?
Never went, and probably never will. I will proably take some courses of some sort later in life if i ever need too, but i cant really see myself ever being a full time student.
How are things with the lady going?
Things are awesome. She kicks ass. The average person would look at us and how we interact with eachother and think that we were both semi retarded, we have lots of fun together and I love it. Love you stoops!
Maybe it's just me, but you look like a beefier dude. Do you work out at all? You ever get into any fights or anything like that?
I definitely do not work out. I probably should though, 3 months of sitting on my ass doing absolutly nothing has taken a bit of a toll on me. I have recently started to change up my diet a little bit. I stopped drinking soda and eating shitty fast food and I already feel way better. I have been in a few scraps over the years, but I try not too. Fighting sucks, but sometimes it's unavoidable. there are a lot of douchbags out that think they have to proove how tough they are, so sometimes you gotta do what you gotta do. It's scary these days. people are crazy and you never know when youre gonna fight the wrong dude and end up shot and dead.
So do you even plan on going to college then?
Never went, and probably never will. I will proably take some courses of some sort later in life if i ever need too, but i cant really see myself ever being a full time student.
So do you even plan on going to college then?
Never went, and probably never will. I will proably take some courses of some sort later in life if i ever need too, but i cant really see myself ever being a full time student.
What kind of music are you into?
I listen to a wide variety. Mostly hip hop, but im into lots of stuff. im guilty of listening to alot of pretty gay music that i normally wouldnt want anyone to know that i listen to…Avril Lavigne and Jack Johnson, but for the most part im into hip hop.
What was the last movie you watched?
I'm the worst movie person ever. I can watch a movie and by the next day, I already forgot what movie I watched and what it was about. I watch Trailer Park Boys on the regular though. That is by far the best movie ever made. Countdown to Liquor Day Boys! Can't wait.
Do you spend much time on the computer these days? Any favorite sites?
Yeah, I'm here a fair bit. I normally check out The Come Up and Defgrip, that pretty much covers everything BMX. Aside from that, Hotmail, Facebook, and CNN to see whats going on in this crazy world we live in.
What's the dumbest thing you have spent your money on lately?
A friend and I ate Denny's the other night after a night of drinking and I think I spent 40 bucks on nothing but dessert and milkshakes. That was pretty dumb I think, but at the time it kicked ass.
It seems like a lot of BMX is obsessed with cats. Do you have any pets or anything?
My girlfriend Kim and I have a big fat black cat called Lilly. Cats are the best, they take care of themselves for the most part and are cool to hang out with. My other little buddy lives in Halifax, and his name is Eddy. He rules.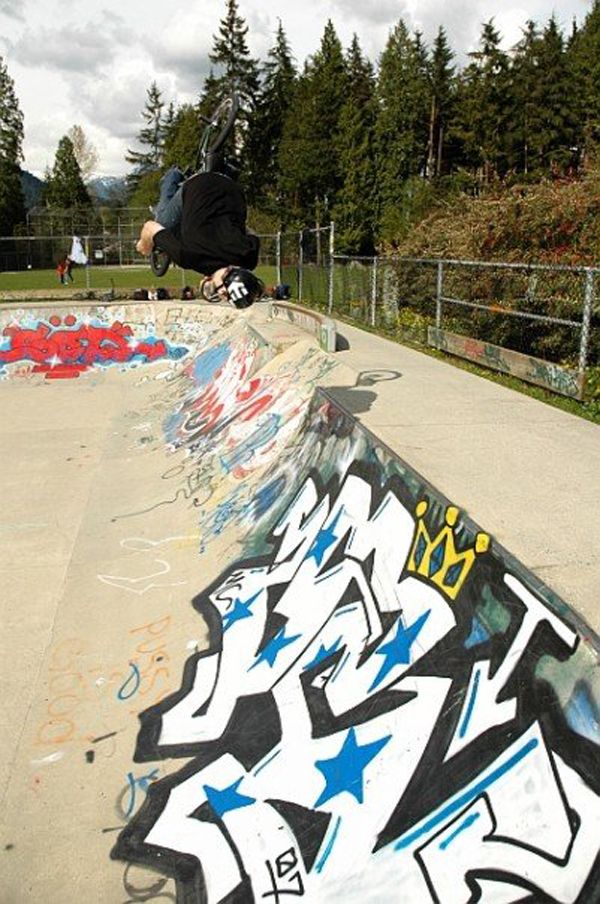 Who or what are the biggest influences on you?
When I was growing up, I watched everysingle video that came out, and read every magazine cover to cover 100 times over. I'm pretty sure both of those had a big influence on me. These days it's hard to say. The only person that I think has ever been someone I really look up to would be John Heaton. He has helped me out so much. We have had some long talks and I have learned so much from that dude. I definitely consider him a one of my best friends for life.
Where would you like to see yourself in a few years?
Hopefully no longer living in Vancouver. I love it here, but it's not where I want to live forever. My family is on the complete opposite side of the country, so I want to be closer to them. My girlfriend and I have been talking about moving to Toronto so that is definitely something that will happen eventually. ..
Do you have any shout outs or thanks?
My parents for all the help over the years. I can't thank them enough for all they have done for me. My mom follows BMX more than I do these days and I think that is awesome. My amazing girlfriend Kim for putting up with all my shit over the past 4 years,shes a trooper. Brad and Michelle at 3ride, Jay Miron and the crew at Tenpack, Harry, Klaus, and Rob at WTP, Nate, Barney, and everyone at Primo, and Dave Birnie at Timebomb, John Heaton, Jason Enns and all my bros. Thanks everyone.
Anything else you want to say?
Keep poppin'