Sean is on fire. The guy rides with so much talent that it makes me wonder what he isn't capable of doing. He is all over these days traveling so I was surprised I got a chance to catch up with him and get this interview!
Name:
Sean Sexton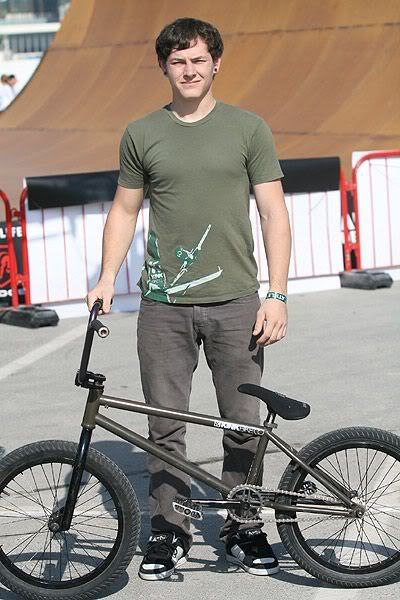 Photo Credit: Fat BMX

Location:
tempe, az
Sponsors:
kink bikes, empire, mosh, vans, and kronik energy
Years Riding:
14
Your kind of all over right now with traveling, recently in Brazil for their X-games, how did it go for you? Any highlights?
brazil was pretty rad, i had a great time and ended up getting 2nd place so im pumped. as for highlights, id say everything that garret did..haha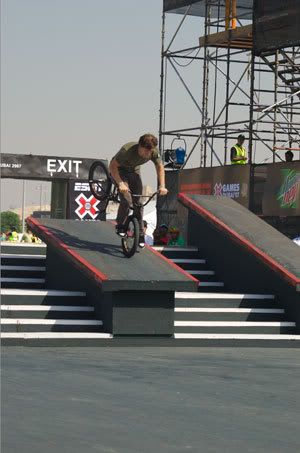 The next stop for you is a trip to Europe with some of the Kink guys, what are your plans over there?
im going to england with darryl tocco in may, and were going out there to film and chill with the seventies guys at their place in brighton. should be dope.
After Europe do you have some time to chill or where are you going?
a lil bit, but I go to austrailia on may 20th I believe for a mosh trip, then I come back and meet up with the kink dudes in philly for another kink trip..pretty busy i guess..haha
When you first started riding did you ever imagine going all over the place like this?
not really, but im real appreciative of everything thats come to me, and i just love to ride my bike so it all works out, you know?
You had a whole bunch of really good clips in the new Props 68, what's your next video appearance? The Kink Video? Mosh web edits?
thanks bud, I basically plan on finishing the kink video, then filming for the empire video, and whatever else is going on after that.
Your flairs are indescribable, what is the weirdest or smallest thing you have flaired?
probably the bank in the props from the kink trip, it was pretty small and weird..
I am sure everyone wants to know what are you NOT able to do on a bike?
a lot man, alot..haha
Where is your favorite spot you have ever had the chance to ride?
probably these cool bunkers in san fran..they were bad ass.
Where are some places you want to go to at some point?
hawaii, sweden, I guess everywhere that I havent been basically.
What is the trick to turndowns?
grip it and rip it.


Photo Credit: Kink
If you could only ride one spot for a year, where would it be and why?
wow, id say heaths trails in corona..because its the most ballin shit ever. ha
Who are some of your favorite people to ride with?
dirty dan bogard, chase hawk, jason owens, kc badger, jay roe, tony hamlin ,tom dillon, tony cardona, darryl fucking tocco…yeah
How do you feel about contests like the X games street? Where do you hope they go?
its a pretty cool contest, I think they are getting the idea down the more street comps they have so, hopefully summer x games street will be even better. i just hope they keep having them.
Do you have any signature stuff coming out from Kink or any of your sponsors anytime soon?
I plan on putting a frame together pretty soon, and coming up with some ideas for shirts and grips here and there so..im pumped
Any other sponsor news you can tell us about?
not really, haha
How do you feel about so many people being stoked on your riding?
uhh, its pretty cool i guess..i dont know how to answer that??
Outside of riding what are some things you are into?
drift, chill with my buddy's, listen to music, and keep it real i guess
What are some things you would like to accomplish in the next few years?
move to austin, and travel my ass off
Did you ever go to college or anything?
nah
What do you think you would be doing if you never picked up a bike?
welding and fabricating shit for race cars
What are some bands you are into? Any you suggest people to check out?
band of horses, lil wayne, mgmt, bob dylan, kylesa, willy hutch, outkast.. check out kylesa, they rip.
Before you started being so busy with riding, what did you do for work?
welded at full race


Photo Credit: Kink
Do you spend much time on the internet? Any favorite websites?
a lil bit. nah, none..haha
What are some movies you suggest people check out?
kat williams and eddie murphy stand up..
If you could spend the day with anybody, alive, dead, fictional, who would it be and what would you do?
id spend the day with lil wayne…
What is the weirdest/craziest/whatever story you have with the cops or security gaurds?
none really, im a good kid
If you came into a large sum of cash, what would you do with it?
spend it
How do you feel about hookers, drugs, partying, and fireworks?
there tight
What is your favorite quote, or best advice you have ever received?
grip it and rip it, best advice…wrap it up.
Who or what are some of the biggest influences in your life?
music, and friends pretty much
What are some tricks to traveling you have learned?
buy a camera, pack a lot of socks, and have fun
What kind of advice do you have for kids getting into BMX?
grip it, and rip it
Any shout outs or thanks?
big thanks to all my sponsors, you guys rule. jay roe, darryl tocco, heath pinter, jack at kronik, joey g, tina and tom at empire, and anyone else i forgot..
Anything else you would like to add?
safety first